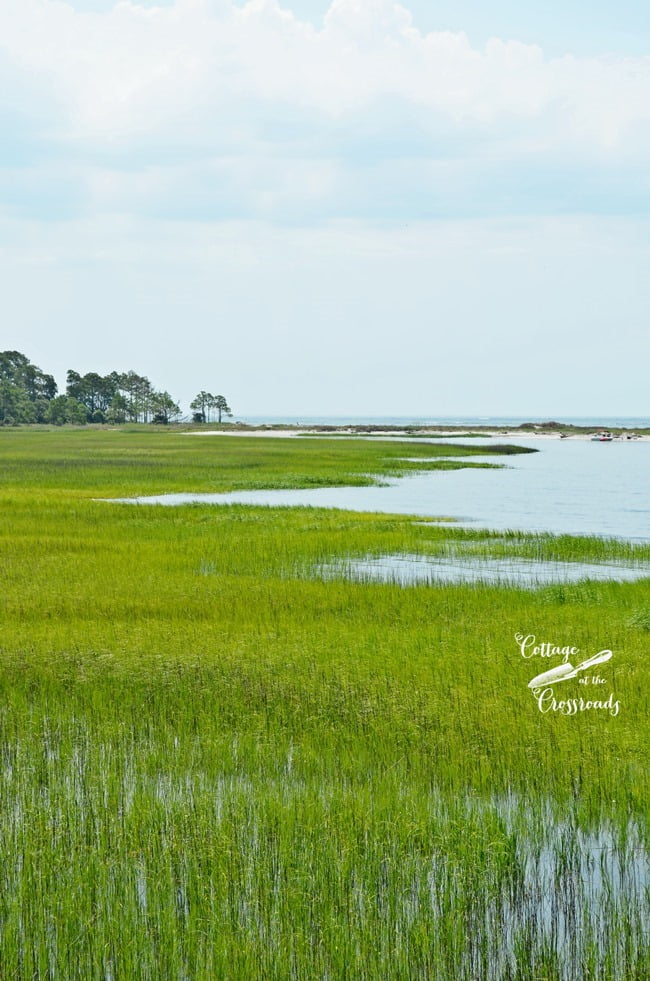 Leo and I made a quick trip to the Lowcountry last week. Leo's son called and asked us to come spend a few days with them on St. Helena Island, a remote and beautiful island off the coast of South Carolina. It is located not too far from Beaufort.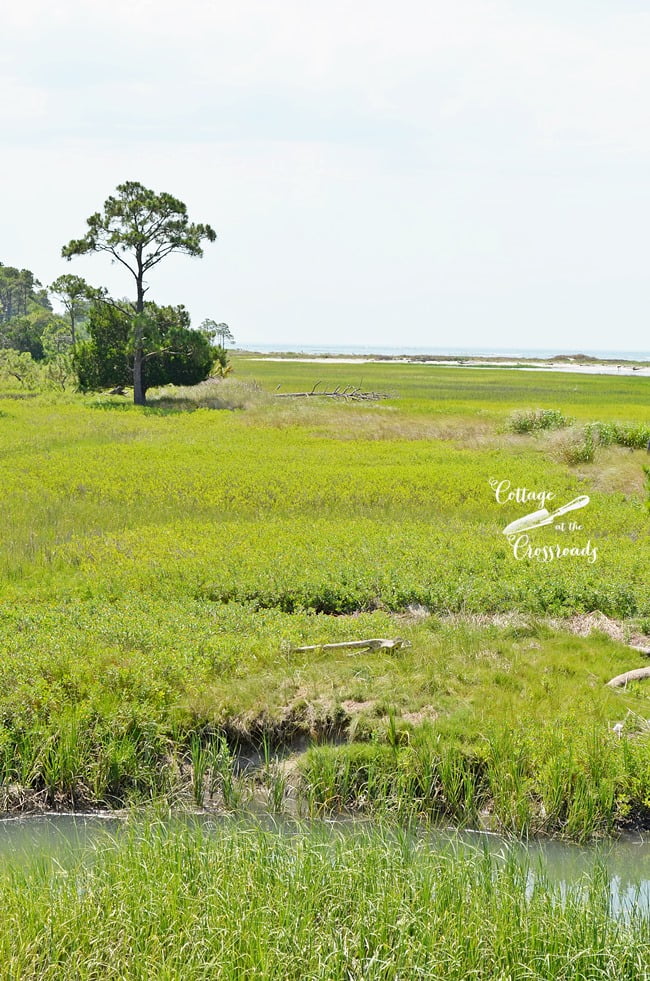 Upon arriving, I was assaulted with the distinctive smell of pluff mud, the brownish-gray sediment that lies at the bottom of salt marshes. Once that smell gets in your blood, it is like a return to home when you get a whiff of it again. You see, Leo and I lived in the Lowcountry for almost 15 years, and although we love where we live now, we do miss the natural beauty of this area.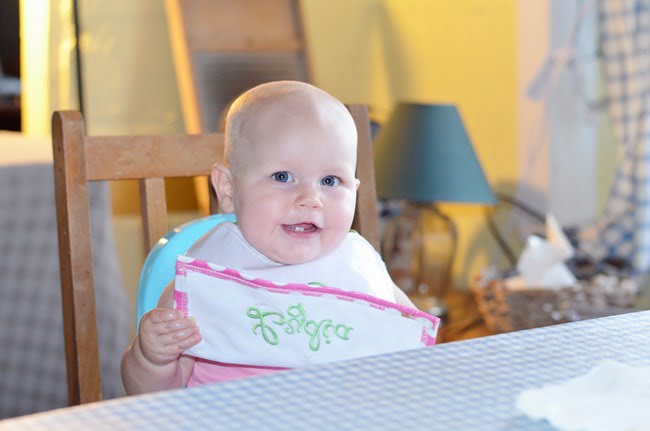 And we miss this natural beauty, too! This is Lydia sitting at the dinner table where we were about to chow down on a Frogmore Stew. Another one of the things that we miss from the Lowcountry is fresh shrimp, and Leo and his son made a run to a local seafood shop, the Gay Seafood Company, to get some fixins to make the stew. It just so happens that the name of this dish originates from the area called Frogmore on the little island where we were staying. And although there are several versions of who created it originally, the most accepted one is that Richard Gay, the owner of the same seafood company where they purchased the shrimp, created the concoction while cooking for over 100 fellow National Guardsmen during the 1960s. Supposedly, he brought the recipe home to Frogmore and starting putting the recipe at his seafood market while selling all the necessary ingredients to make it. Well, whoever created it was a genius, in my opinion, because it's one of my favorite things to eat. And little Lydia was introduced to this delicacy, too!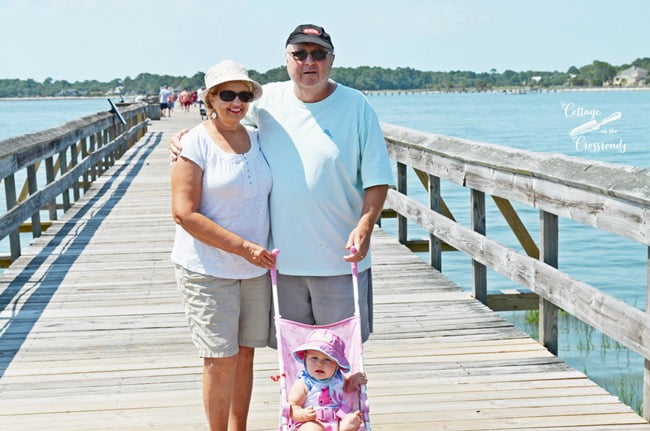 The next day we drove to Hunting Island State Park, and walked out onto the pier there.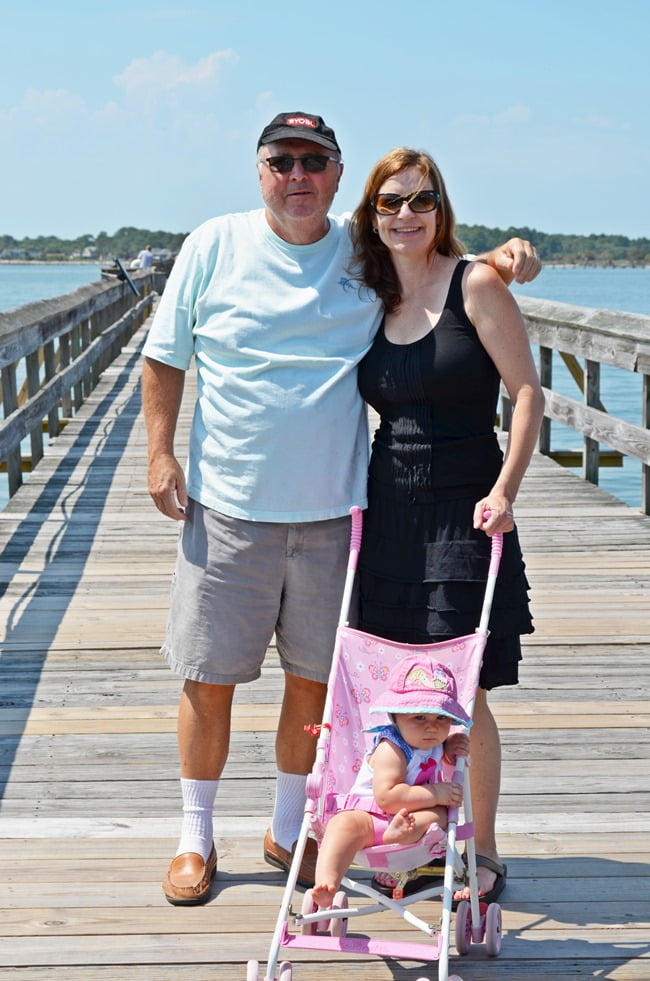 Here's Leo with Lydia's mother, Katie, who was showing us around the island.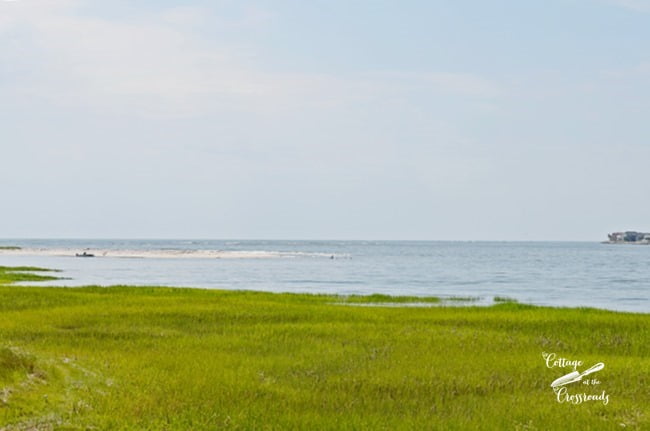 I, of course, was snapping photos of the gorgeous scenery.
To me, there is nothing prettier than the beautiful marshes of the Lowcountry, especially when the spartina grass is so green.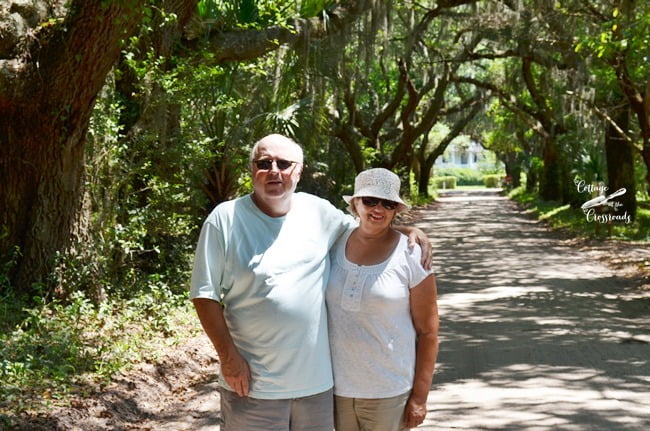 We drove down the half-mile long avenue of the oaks that leads to the Coffin Plantation, which was built in 1801. You can see it at the end of the avenue in this photo. I was soaking in all this natural beauty.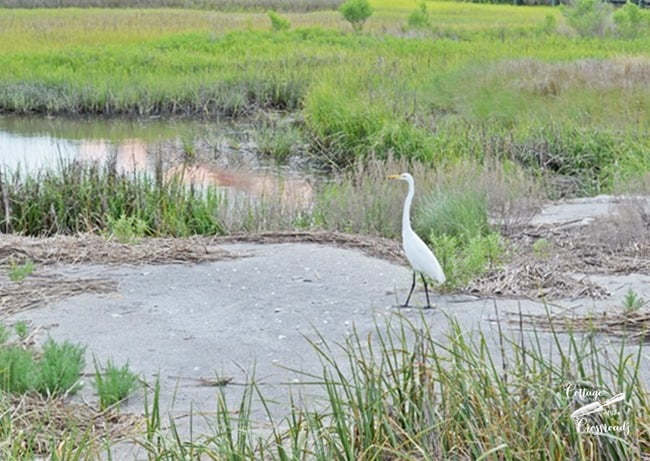 And speaking of beautiful things, I took this photo of a white egret last year while on a trip to Charleston. Don't you think this would make a beautiful painting?