About a month ago, Leo and I made a quick trip to Beaufort, SC, a charming small town located on the coast. It's a wonderful place to go for a quick getaway as there are plenty of things to see and do.
I don't know about you guys but I have been chomping at the bit to do a little traveling ever since we got fully vaccinated. But I also felt a little apprehensive about making a trip because it's been so long since we've gone anywhere!
This post may contain Amazon or other affiliate links. As an Amazon associate, I earn from qualifying purchases. If you purchase anything through any affiliate link, I may earn a small commission at no extra charge to you. All opinions are my own.
The perfect solution presented itself when Leo signed up to be in the Super Senior Lefty Righty Tour Ball Championship Golf Tournament at Parris Island.
The Legends Golf Course at Parris Island is located on the marine base and was a course that he hadn't played. I will have to say that there aren't many courses in SC that he hasn't played so he was looking forward to the tournament.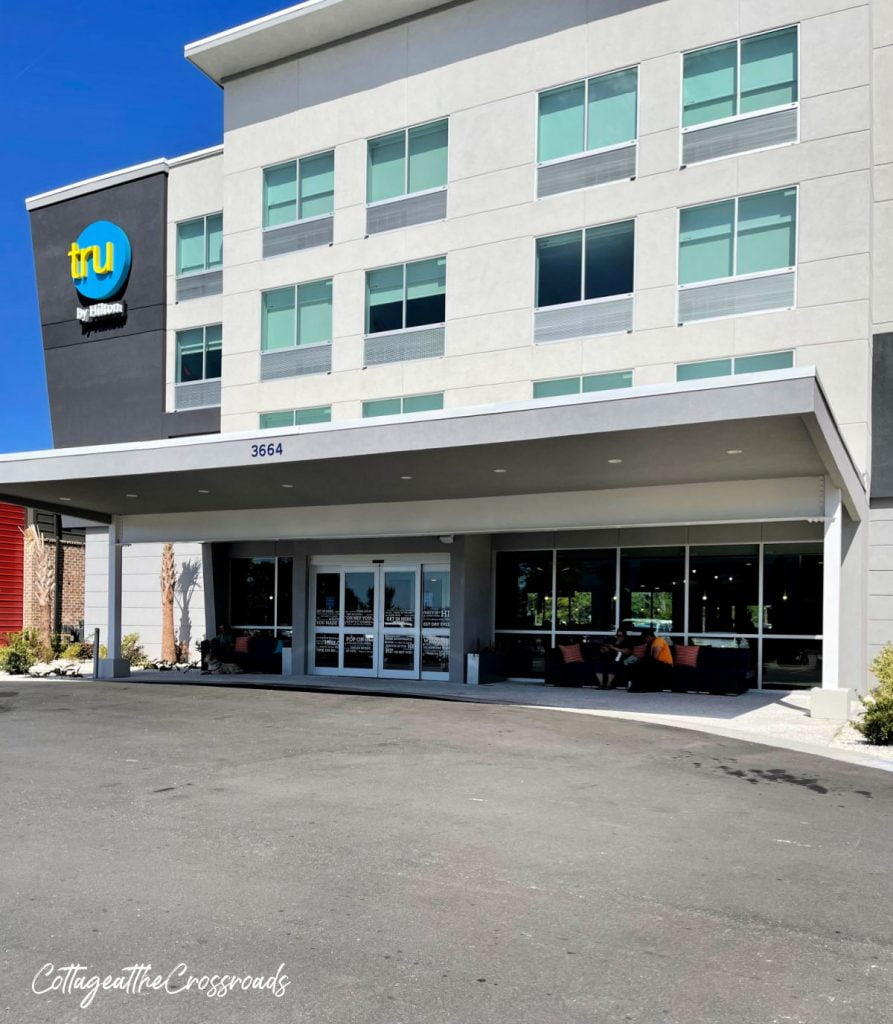 Since we were only going to stay two nights, we booked a room at the Tru by Hilton Hotel on the outskirts of Beaufort. We chose to stay there because it is new and we were not going to be in the room very much.
And it was very clean but the rooms are on the small side. I kept waking up hot during the night. Not sure if that was the hotel's fault or mine! LOL!
Next time, I would find a cozier and more charming place to stay such as a B&B.
After arriving, Leo and I went in search of a place to eat seafood and the girl at the desk recommended the Fish Camp located at Port Royal.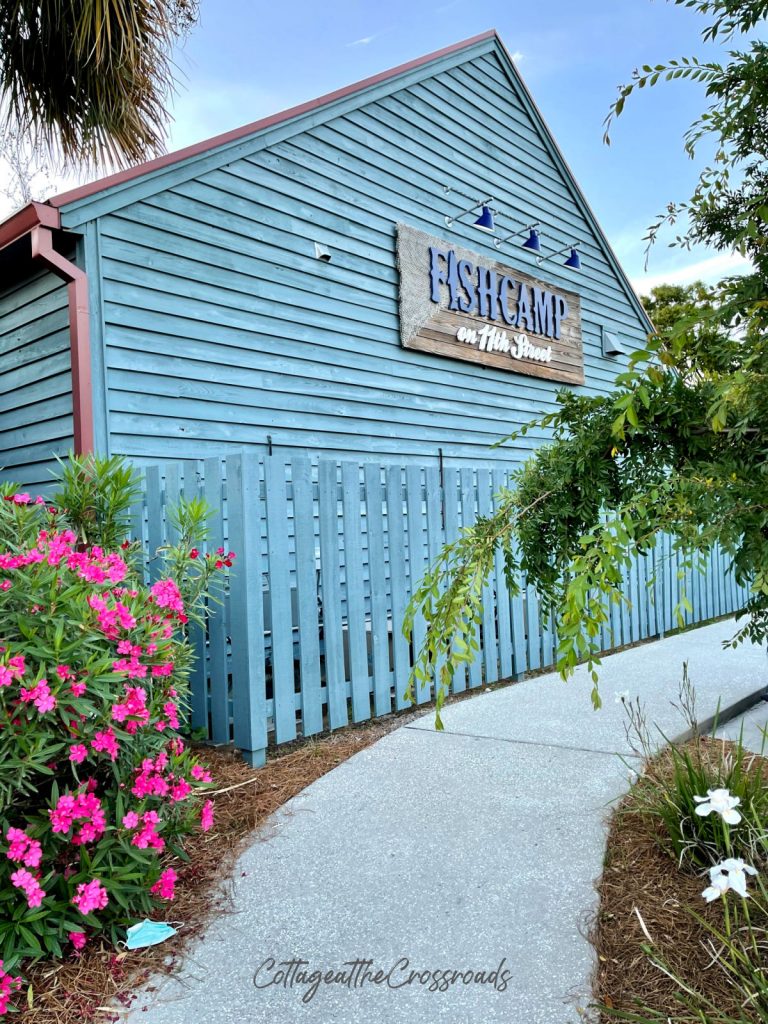 After a short drive, we arrived and took a seat outside while waiting for a table. No, that is not my mask that you see in the photo! But that was the first time I did not wear a mask since we were outside. Oh, halleluiah!
Now, don't let the name Fish Camp throw you off because it was a wonderful restaurant located on the docks.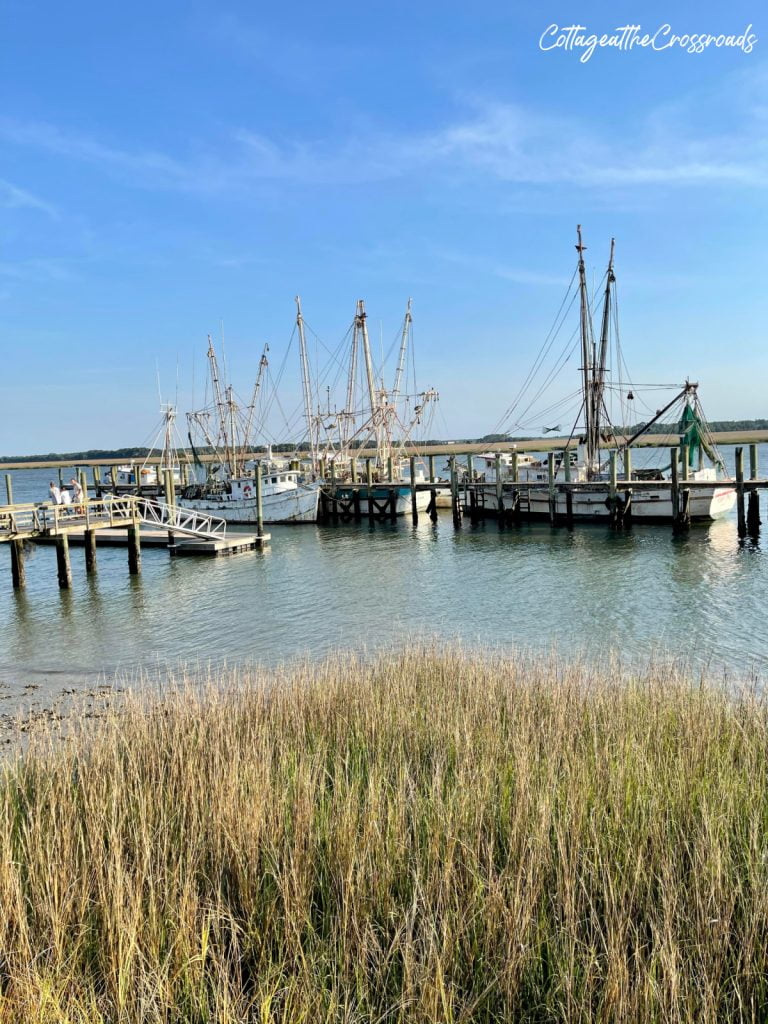 This was our view as we were outside having a glass of wine.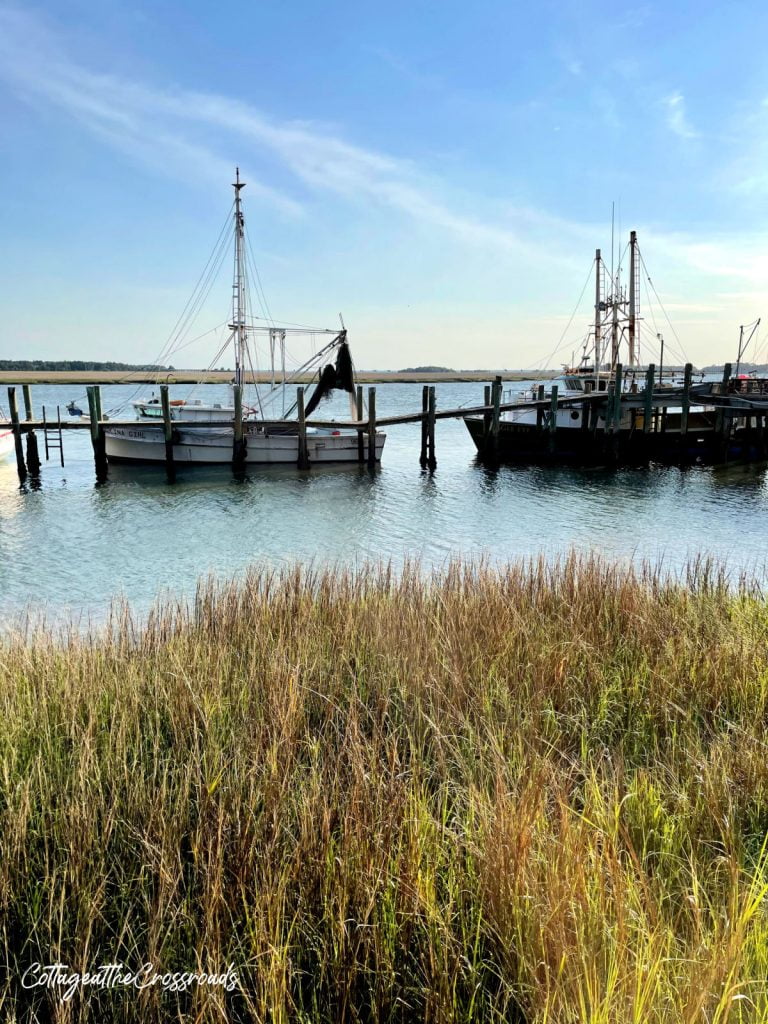 Such a wonderful place to watch the sunset! The food was excellent and we returned there the next evening to eat again.
One of the things that Leo and I miss a lot since we moved inland is great seafood and we got our fill on this quick trip!
The next morning we got up early and Leo and his partner Ray headed to the golf course and his wife and I took off to do some sight-seeing and shopping.
We headed to the historic downtown area of Beaufort. One of the wonderful things about Beaufort is that it still has that small town atmosphere with no traffic that you encounter at its sister cities of Charleston and Savannah.
Downtown Beaufort
The historical downtown area is filled with beautiful old homes, museums, and tours. We chose to hit the shops.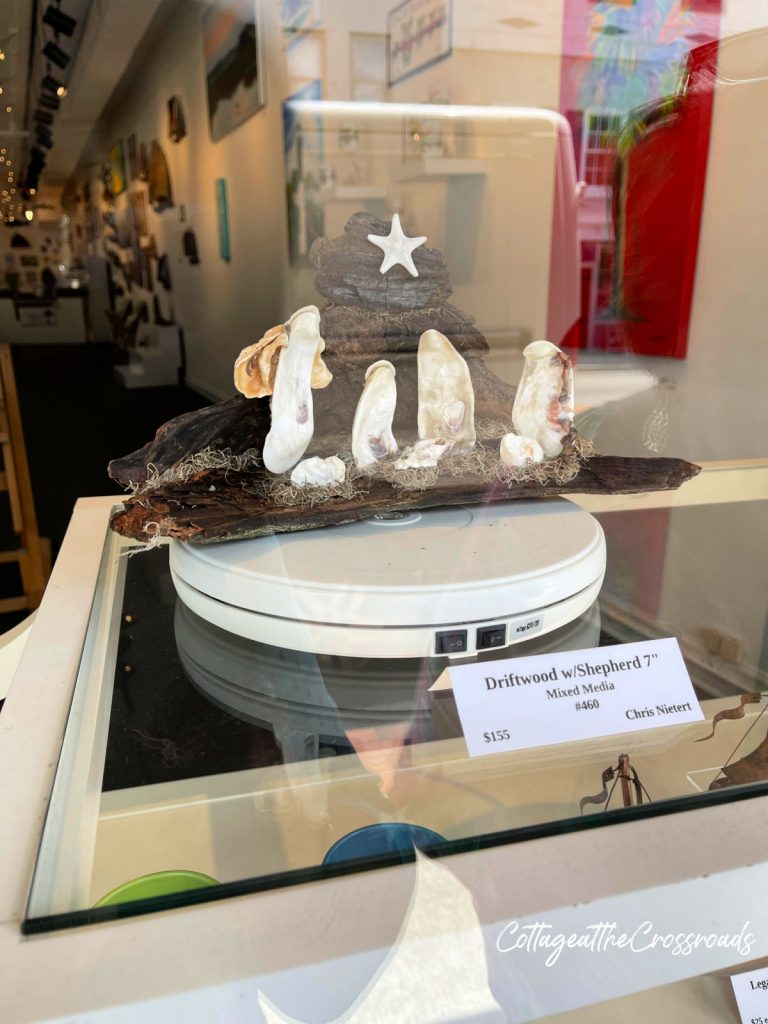 This art gallery had some unique items made from oyster shells such as this nativity scene.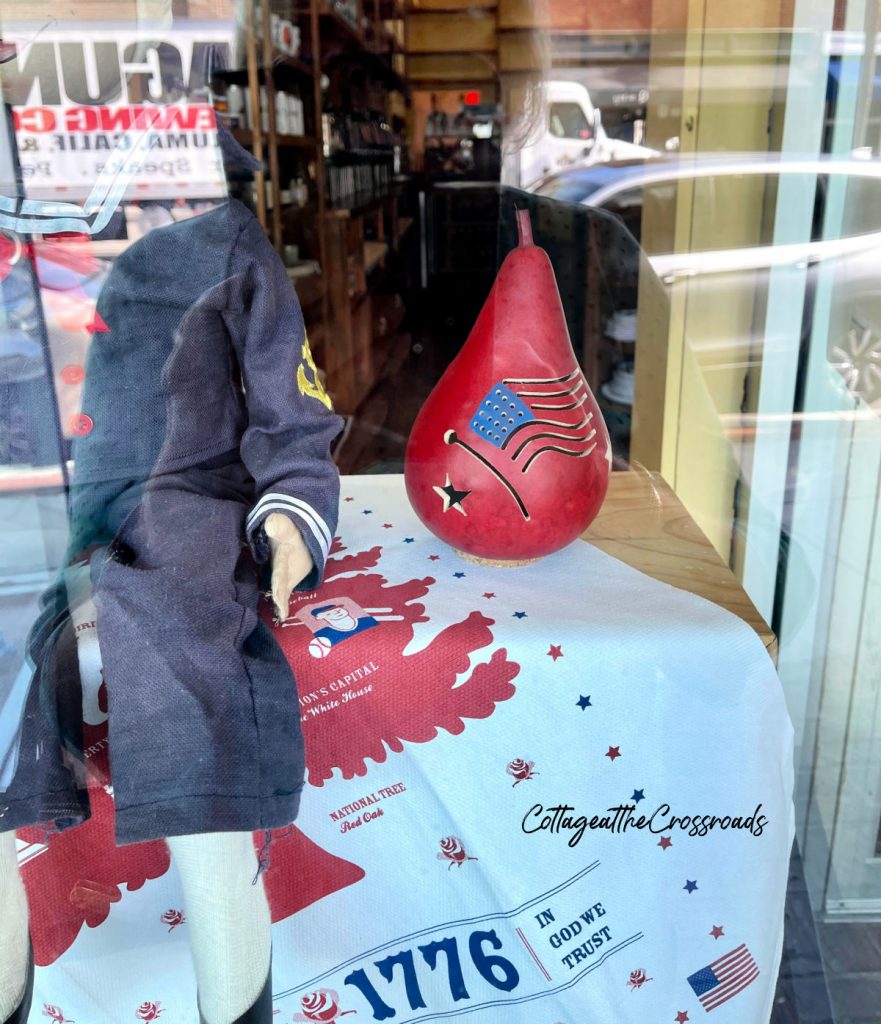 Another shop had a wonderful display of decorative gourds for every season. I purchased some wonderful balsamic vinegar there from the owner, a retired school principal (I'm a retired school teacher, remember?)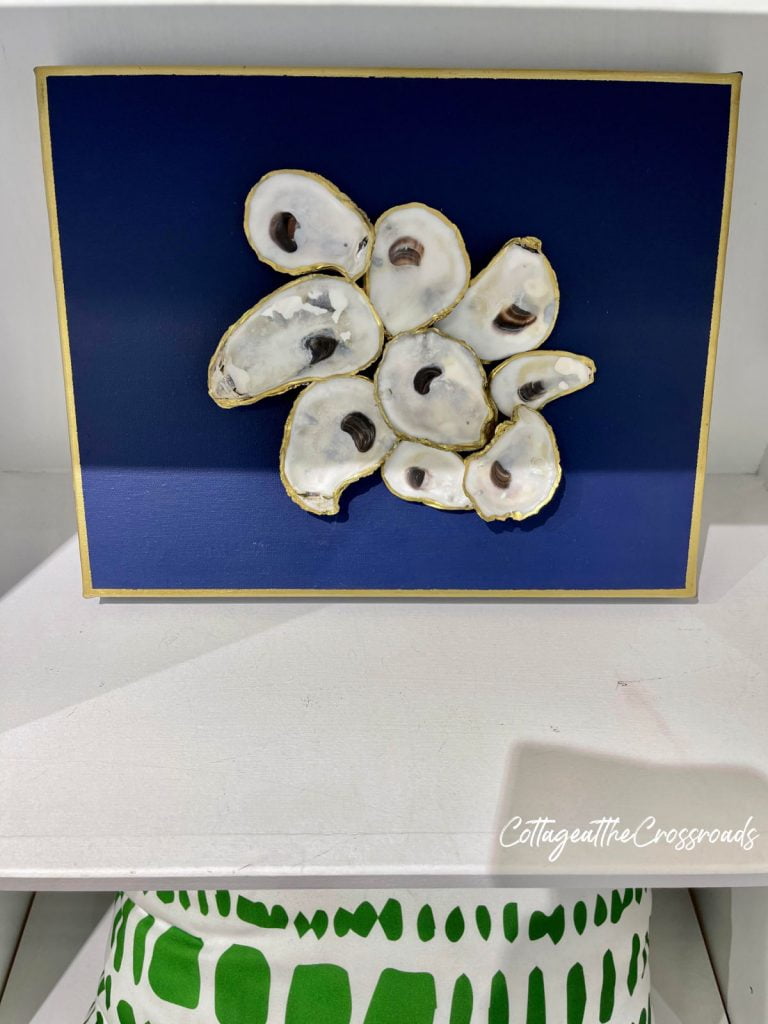 In another shop I saw these oyster shells displayed on this dark blue background. I thought that looked like an easy DIY project for me to do.
After Gwen and I hit all the shops downtown, we rested for a while on a swing at the Henry C. Chambers Waterfront Park located just a short walk from the historic area. It was fun to watch the boat traffic and the swing bridge open and close.
port royal
From there, we headed over to Port Royal, a real gem of a small town that is so picturesque. We wandered around in an antique store and several local shops.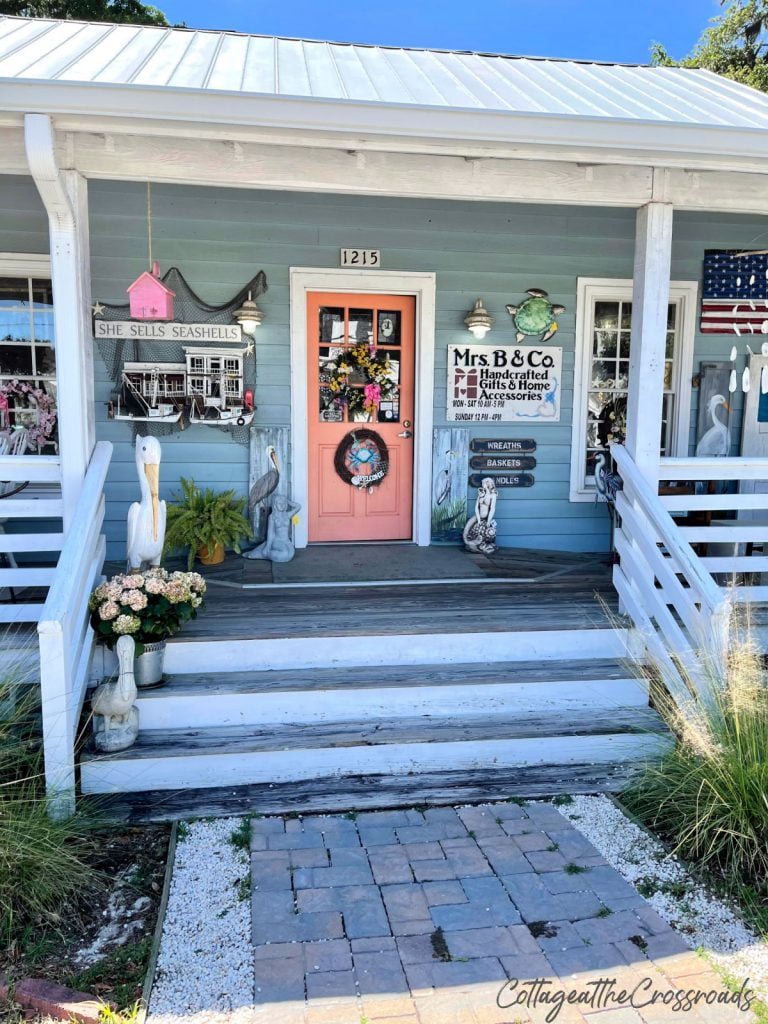 This particular one had all handcrafted items where I bought a gift for my sister-in-law who was taking care of Lucy, our dog.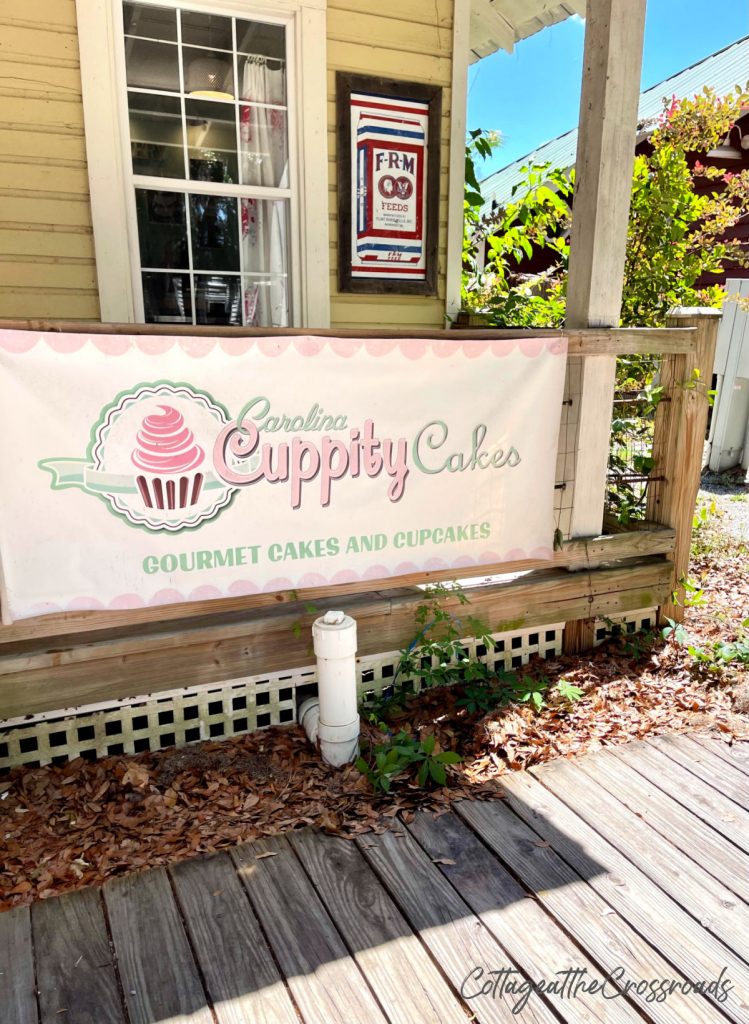 And look at this adorable cupcake shop that we found. The cupcakes were superb!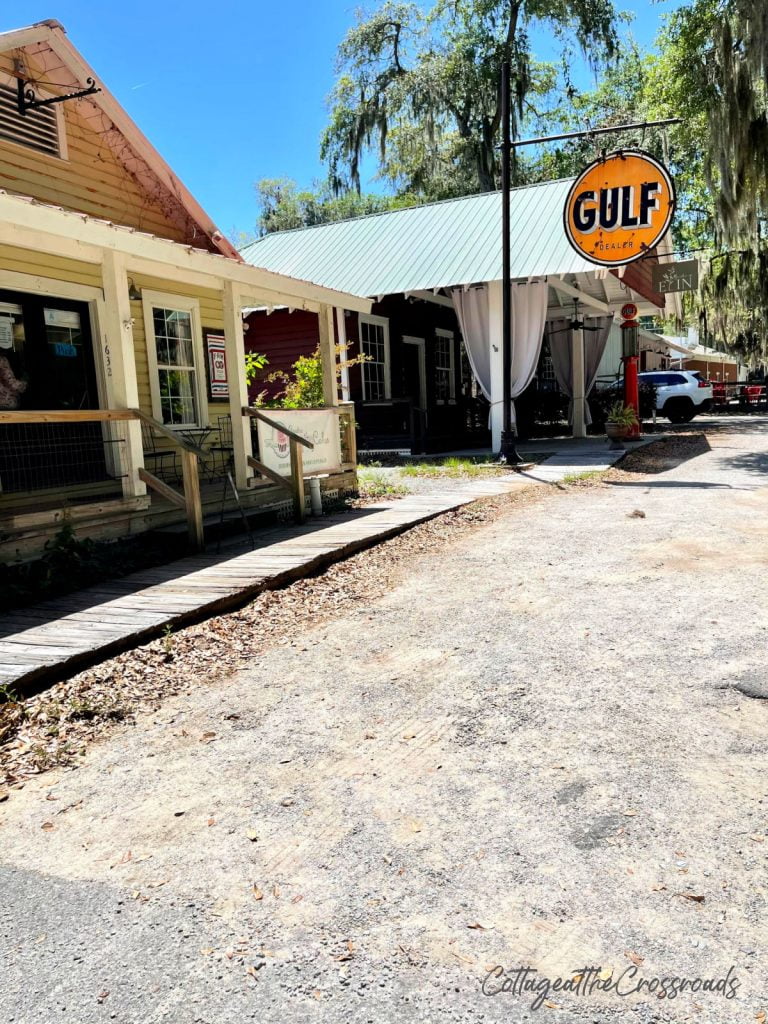 Next door there was another interesting shop with the Gulf gas station sign. Unfortunately, it was closed and the girl in the cupcake shop said that she didn't think it would reopen. It is just a miracle that any of these small businesses survived but this one didn't.
Gwen and I rode around looking at houses in Port Royal. I was surprised to find that the prices were not unreasonable.
If Leo and I were to ever move to the Lowcountry again, I would choose Port Royal to live. If you are looking for a place to retire that is charming and moves at a slower pace, this is it.
We liked this area so much that we came back to eat dinner at the Fish Camp again (yes, it was THAT good!) and Gwen and I returned the next day to hit more of the shops.
Lady's Island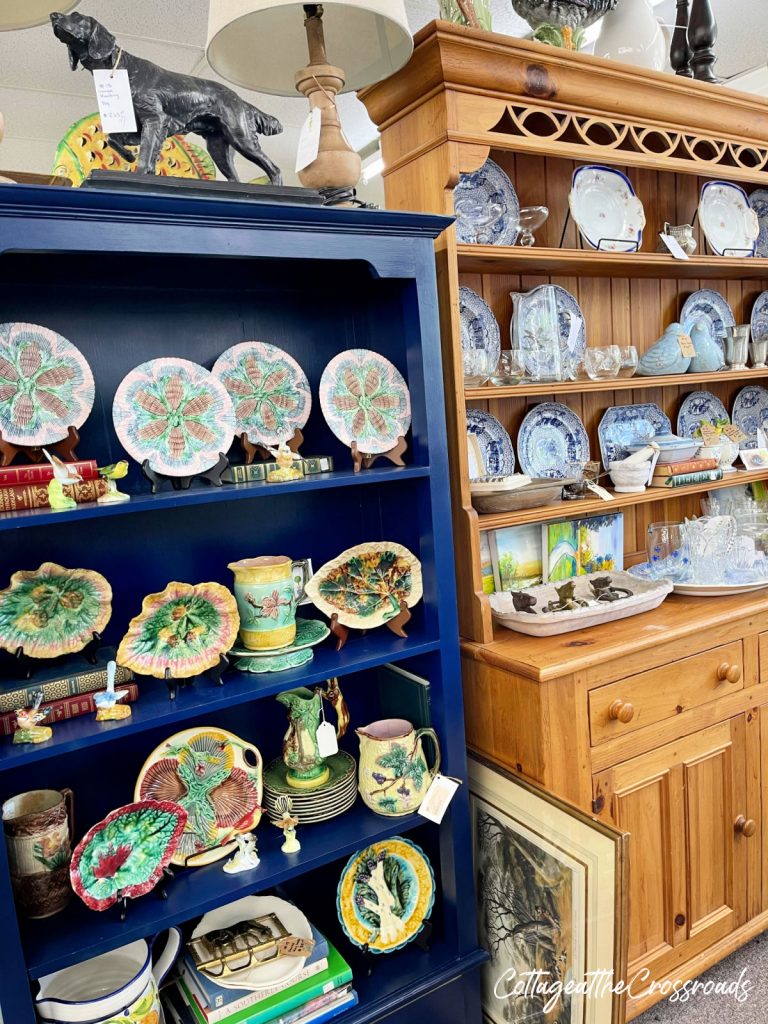 Gwen and I hit an awesome Habitat Restore in Beaufort the next morning where I found a few deals and we asked someone where the best antique mall was located. They told us how to find the Collectors Antique Mall on Lady's Island.
Oh my! It was a great place and I found a few things, of course. But I must have spent many minutes perusing the majolica that you see displayed in the photo above. I have always wanted to start a collection of this unique pottery.
Since Beaufort SC is only about a 2 1/2 hour drive from the Crossroads, I think I will be going back to this place for some majolica and a round pine table that I cannot get out of my mind!
There is so much to see and do in the beautiful Beaufort SC area to match any of your interests. From history to nature, you'll find it all here in this small southern coastal town.
It makes a perfect quick getaway location!
If you've ever been to this area, tell me your favorite places and things to do here.