Although renovating our 100 year old home is a daunting process, we're starting off the year with lots of renovation plans for our home.
Gosh, friends! I'm so excited to share with you our plans for renovating parts of our home. We are nervous to undertake all of this, but it is necessary.
We have lived here at the Crossroads for almost 10 years. This house was built by Leo's grandfather, has undergone several renovations, and is the house that Leo grew up in.
Before we moved here, we completed quite a few cosmetic changes to the house but did not make any major structural changes.
It was about 2 years ago that we realized that we needed to do some major repairs to the house. It was about that time that we had to tear out our bathroom, take it down to the studs, and have the joists underneath the floor replaced. That repair cost about $5000, but included a new shower stall, tile floor, and toilet.
About the same time, we were dealing with cupping floors in the dining room due to a slow leak from the water heater. Temporary repairs were made until we could decide what to do. And no, the insurance company would not cover the damage from a slow leak.
And we have been delaying putting on a new roof because we (well, mostly me) wanted a metal roof.
During Hurricane Matthew, our carport was blown down and although the insurance company paid us for the damage, we never replaced it.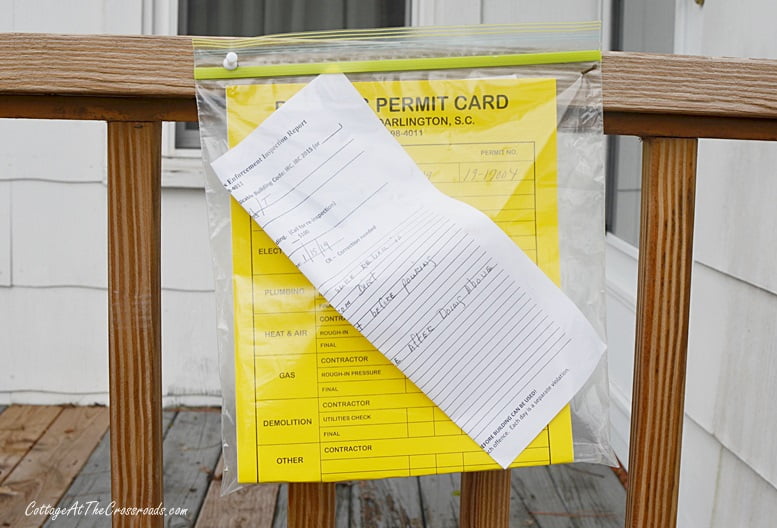 All these expensive repairs had us thinking that perhaps it would be better for us just to move out of this old house! And we certainly gave that a lot of serious thought during the past year.
But we decided against moving and for the past few months, we have been making our renovation plans. And I'm happy to report that the work has already started.
We decided to make some changes to the back of the house before the new roof goes on.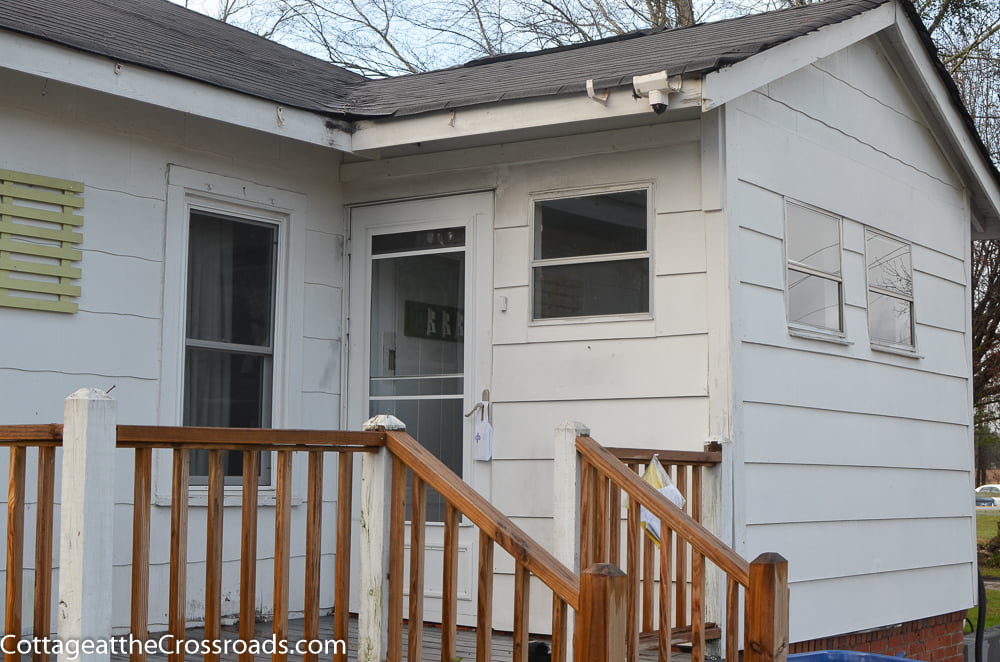 This part that is jutting out is our back porch/laundry room. The roof line back here is changing so that the deck will be covered by the new metal roof.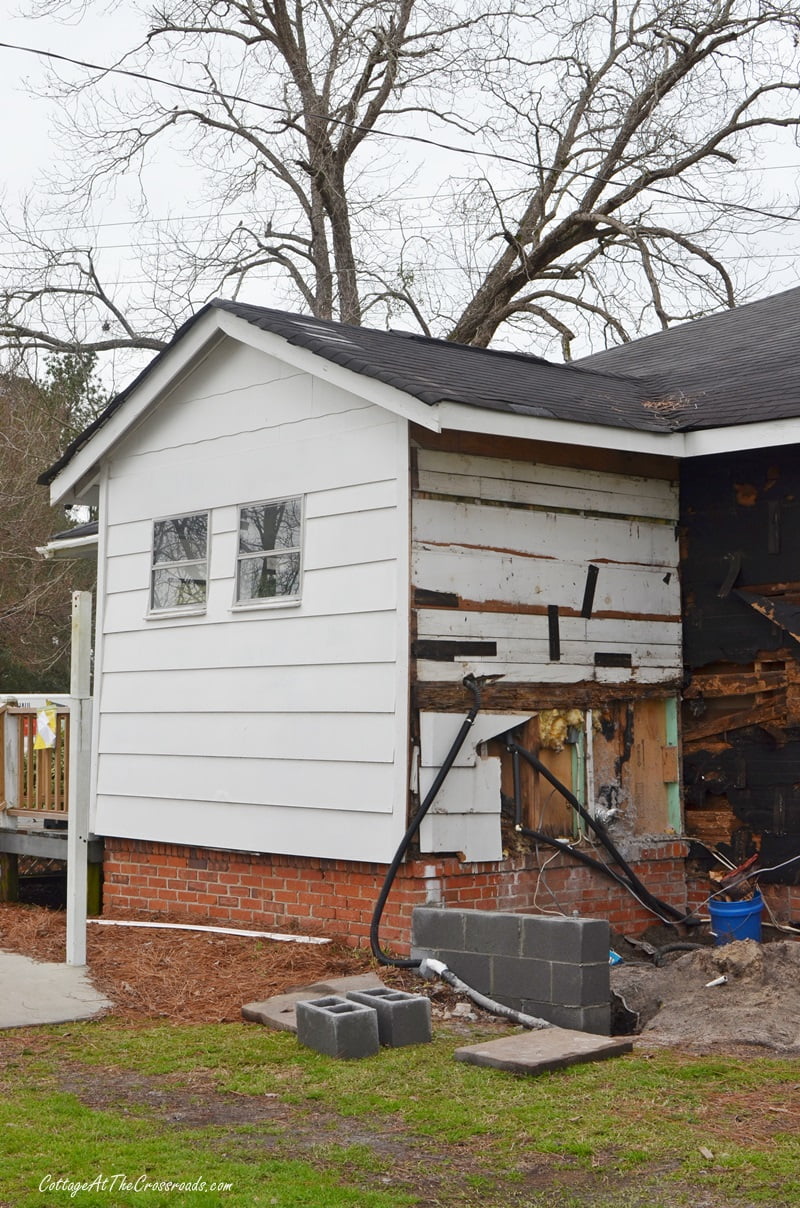 The pump house has already been ripped off this side and footings have been dug and poured with concrete.
What we plan to do is to borrow 4 feet from this side to push back the washer and dryer inside the laundry room, making the room more spacious.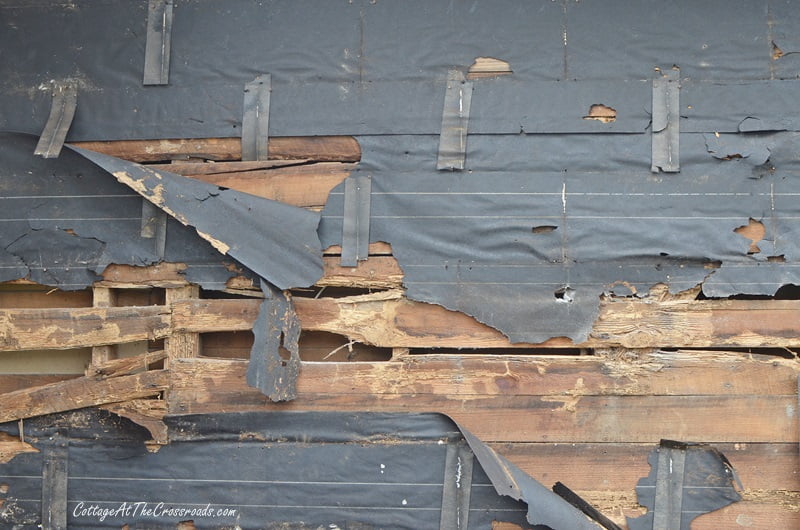 The siding has been ripped off this end, and you can see the old wooden boards which are on the other side of the kitchen. Y'all, there was absolutely no insulation in the wall!
Seriously, I have had to warm the dishes and coffee cups during really cold days! All of this will be replaced and insulated.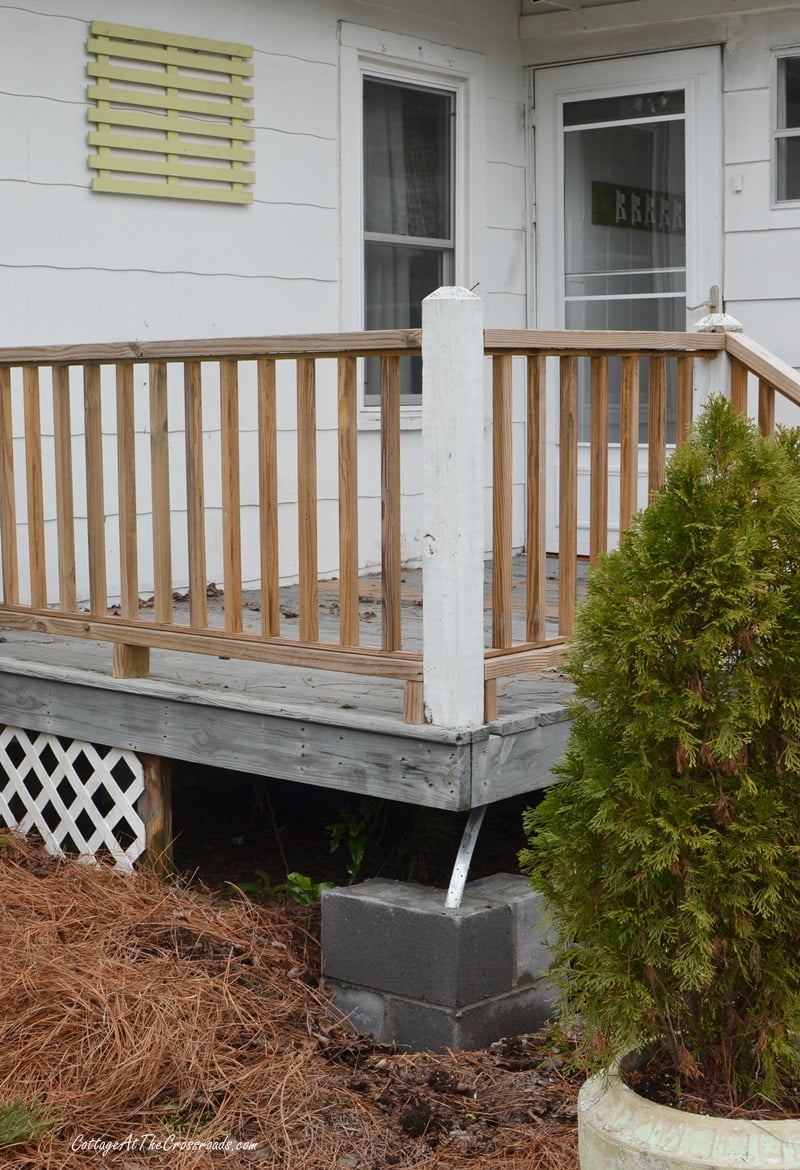 The window that you see above is coming out as part of our plans for the room that used to be our office. (Everything has been moved out of that room in preparation of the work to be done.)
The back door will be replaced as well as the small metal windows that are on the porch/ laundry room.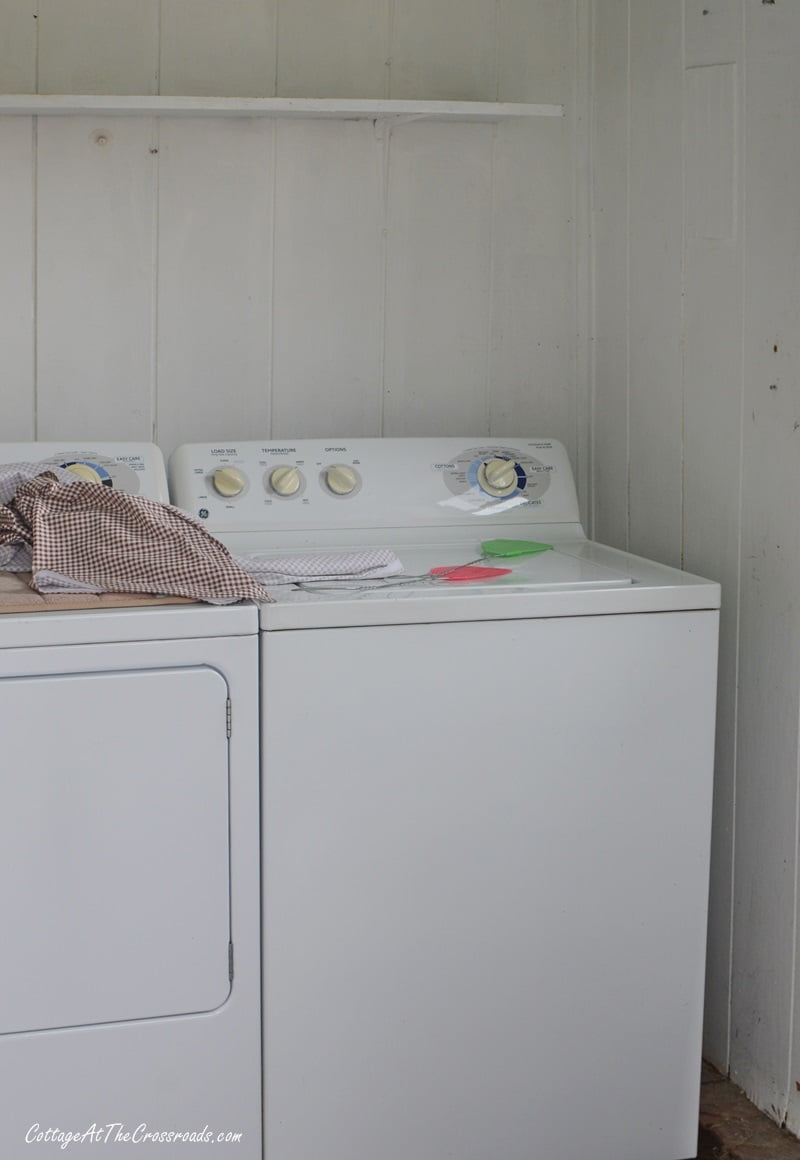 Everything but the washer and dryer have been removed from this room. Our contractor has kept them hooked up until the last possible moment for our convenience.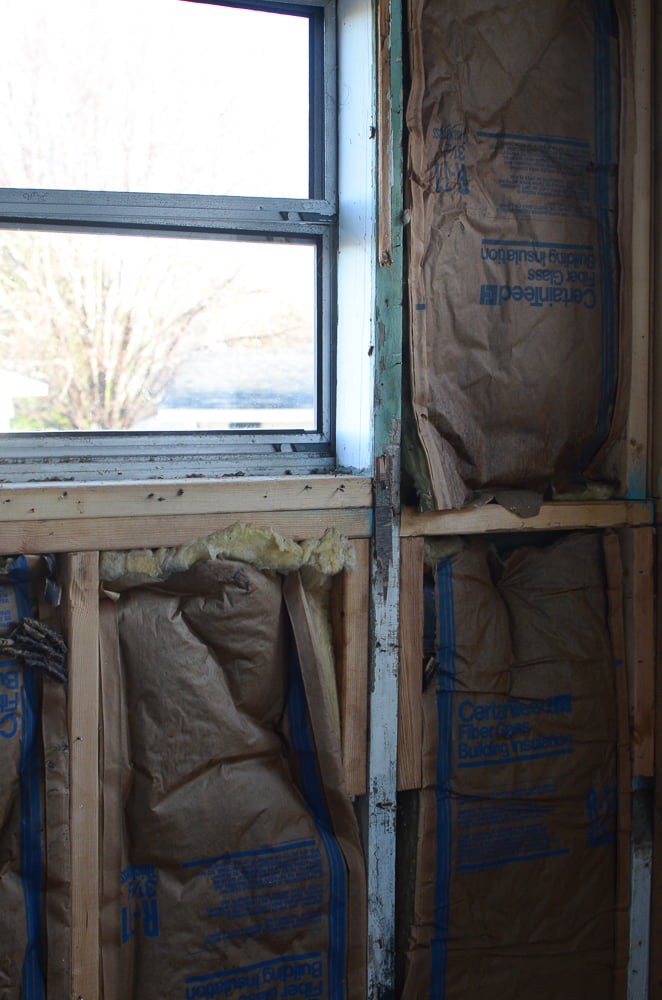 The walls have been pulled off revealing insulation in this room.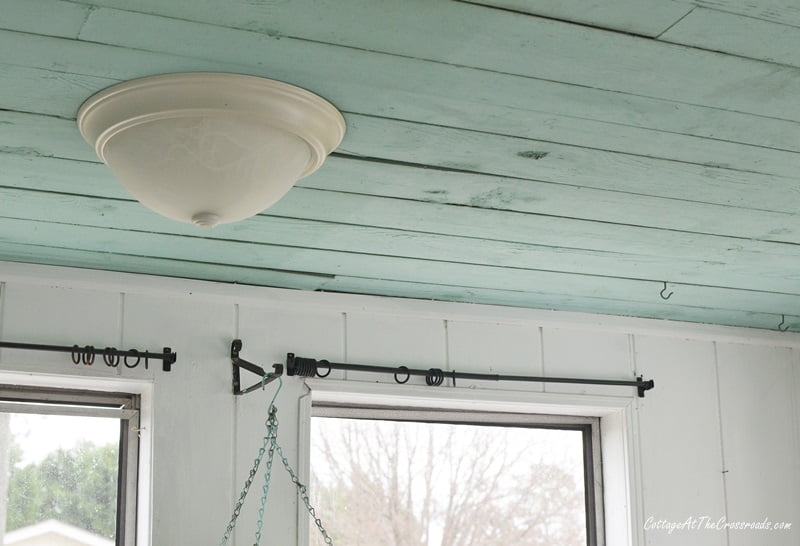 The only thing that I'm sad to see gone is the aqua plank ceiling! You betcha I'm saving those boards for future project.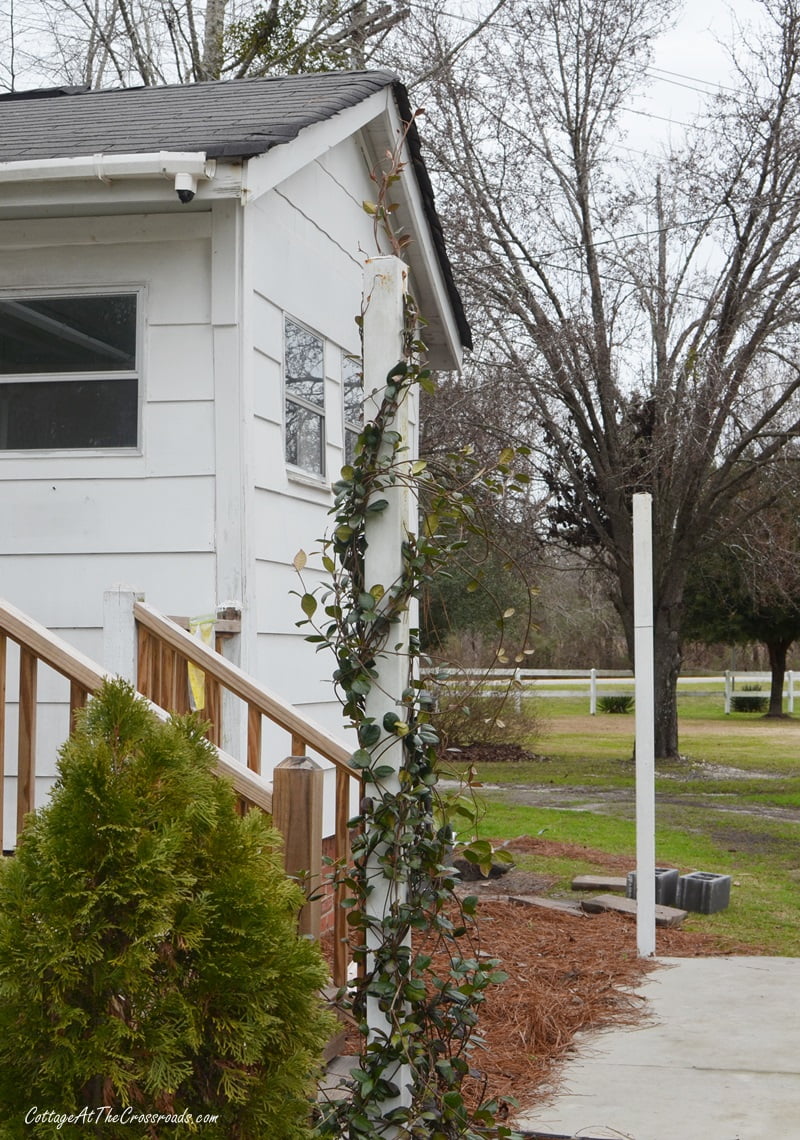 The metal carport poles (and my Confederate jasmine vines) are already history!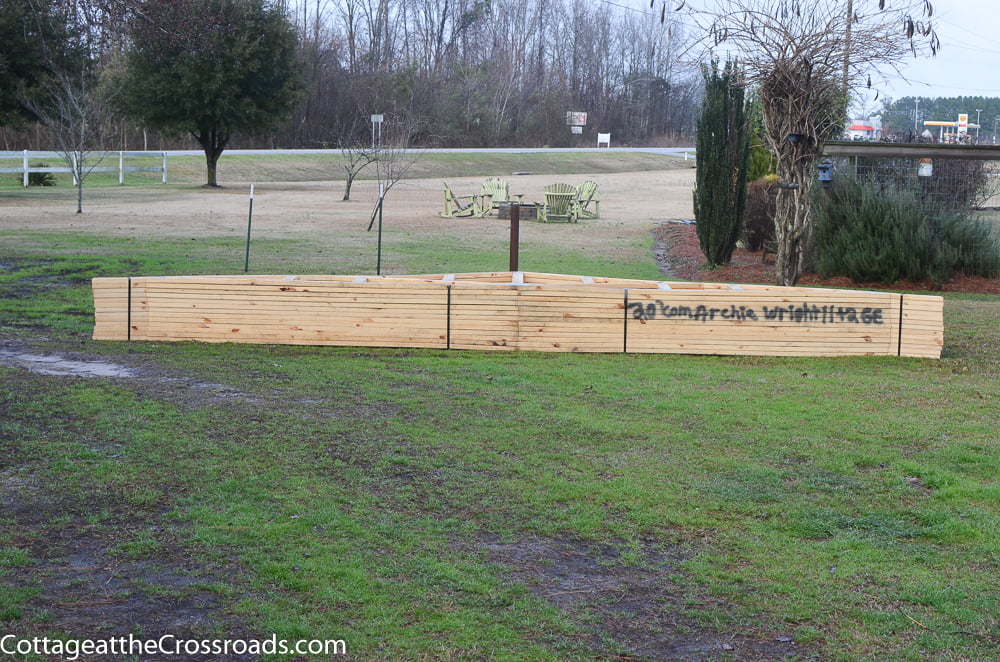 The trusses for the new carport have already been delivered with the construction of it to start this week.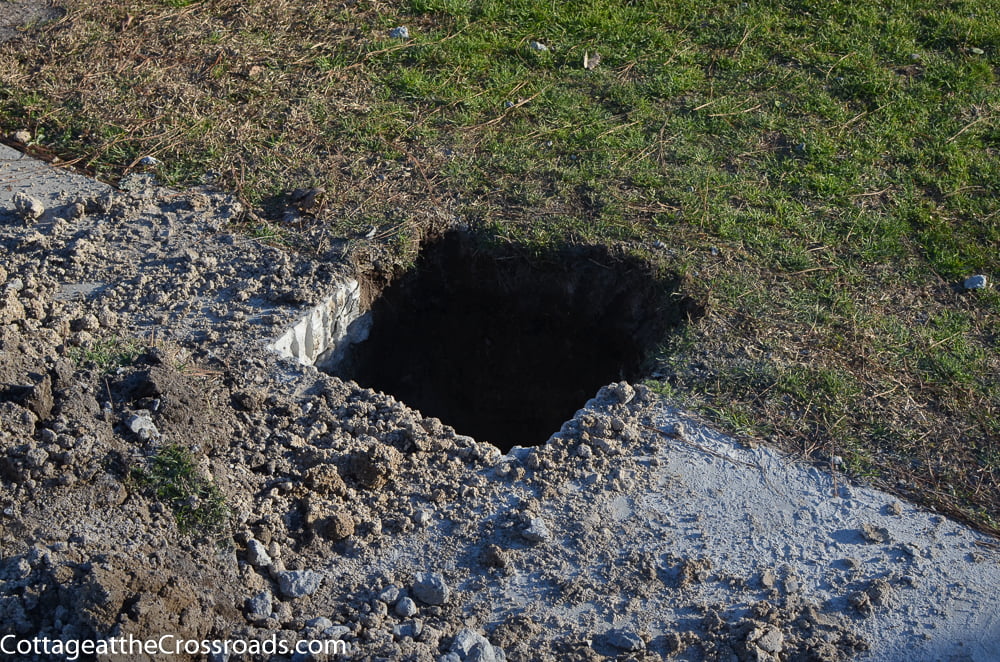 Huge holes have been dug around the concrete pad for the support poles for the carport.
Now I think you can see why I've been silent on the blog for a while. I've been very busy cleaning out rooms!
I plan to give weekly updates on our renovation progress along with specific tips just in case you're planning any renovations. I hope you follow along to see what new life we can breathe into this old house.
My first tip would be to allow plenty of time for the acquisition of permits.
And once you have your permits, then you need to find every bit of patience that you can muster because the inspector has to come out and approve every tiny bit of work before work can proceed.
Whew!
bdb79a6b11fe2d3d2d1d55861846caaaef910d44765b37c2ee