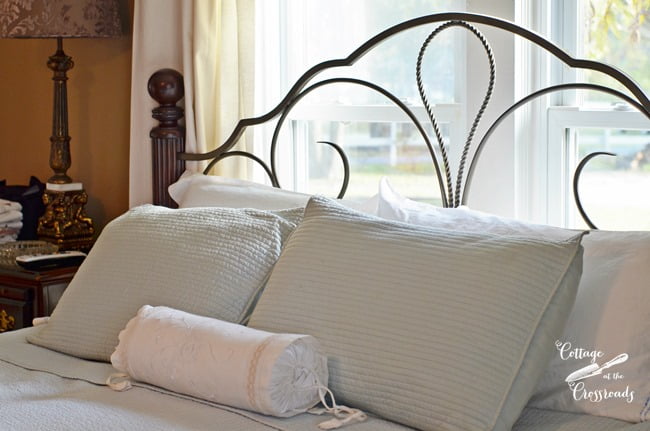 Pssst! Come closer! I want to tell you about something! Underneath these covers are the softest sheets imaginable! They are called Second Skin sheets by Perfect Linens and both Leo and I agree that these are these are the most comfy, cozy sheets that we have had in a long, long time.
Disclosure: This is a sponsored post written on behalf of Perfect Linens. We were given a free set of sheets to review but as always, our opinions are honest and our own.
Do you remember the days of when your cotton sheets had been washed so many times that they had the most wonderful, buttery soft feel? And how many times have you been disappointed with new sheets that no matter how many times you laundered them that you were never able to duplicate that softness?
I don't have to search any more for soft sheets because these Perfect Skin sheets are the answer! They feel like we've slept on them for years!
"Unlike most cotton sheets that are soft, 'Second Skin' performs more like microfiber sheets that are known for their pliablilty. But unlike microfiber/polyester sheets, cotton is airy and doesn't cling. You feel snug, with that 'tucked in' feeling, even during the summer months."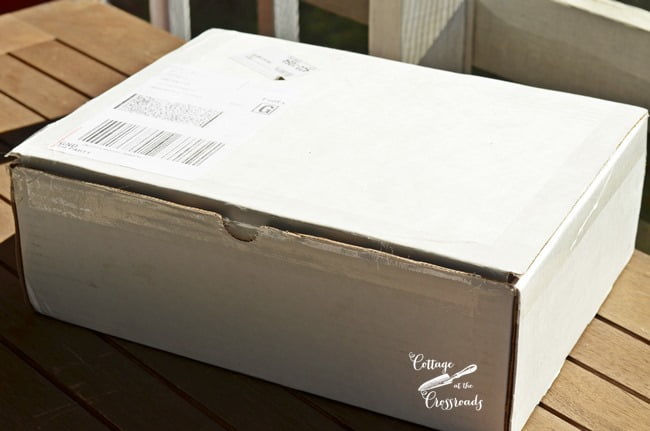 From the moment that the new sheets arrived, I was impressed.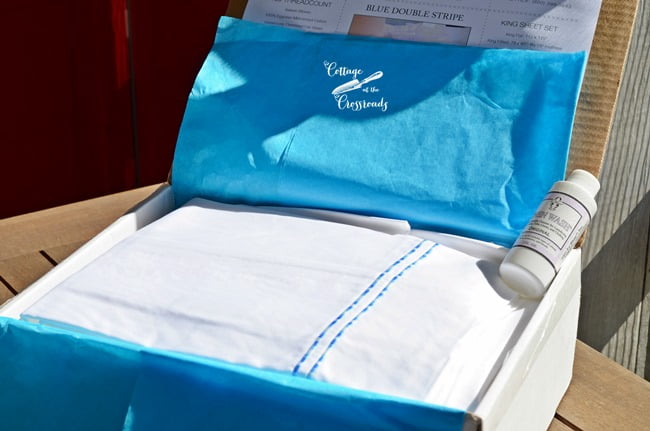 The king sized sheets came perfectly folded and wrapped in tissue paper with care instructions included. I selected the blue double stripe embroidered design but there are other designs and colors available as well as unadorned ones that will go with everything.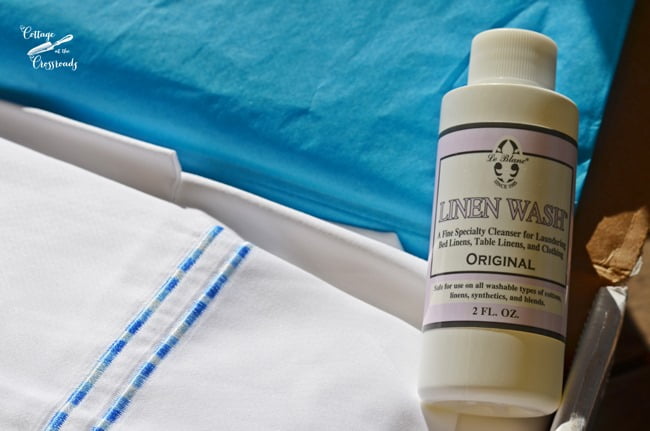 They even included a sample of some linen wash which I used to wash them before I put them on our bed.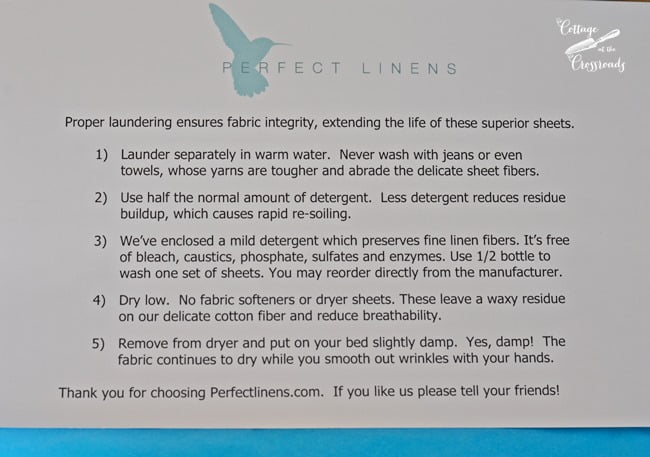 I just love it when a company gives helpful advice to extend the life of their product! I followed these recommendations, even the part about removing them from the dryer while they were slightly damp.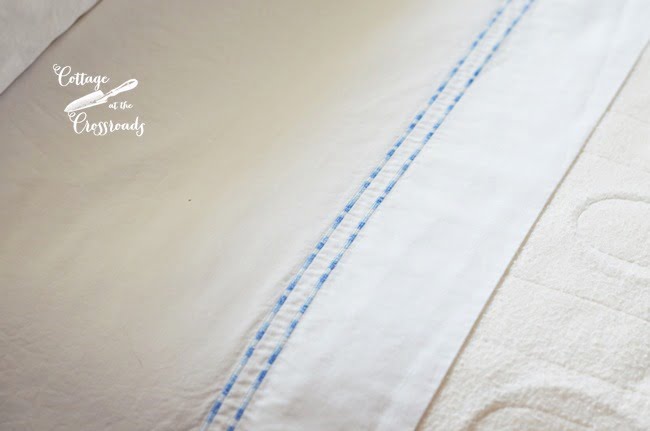 The very first thing I noticed when I was putting the sheets on the bed was that the elastic on the fitted sheet went all they way around, guaranteeing a perfect fit for all but the ultra deep mattresses. Our mattress is 12 inches deep, but these sheets will fit mattresses up to 19 inches deep. When I put on the top sheet, I realized how generously-sized it was. I was able to tuck in plenty at the bottom as well as have plenty to turn back at the top to show the pretty design. I don't know about you, but I hate a skimpy top sheet!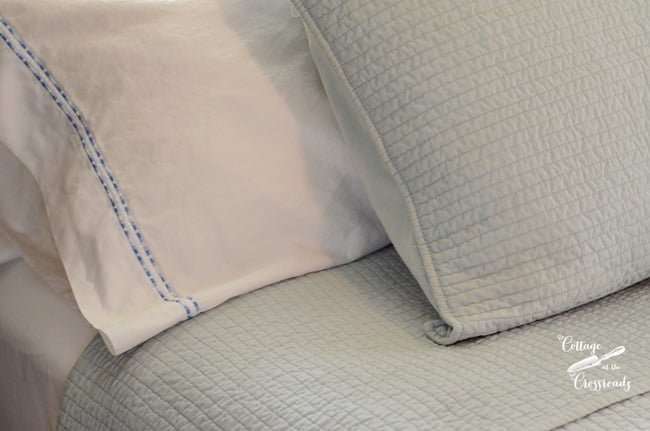 The pillow cases didn't need ironing. I just smoothed them out with my hands. It's a good thing because I rarely pick up an iron anymore!
And the first night the new sheets were on the bed, Leo noticed their softness immediately. One of our greatest pleasures is to get into a bed with freshly laundered linens and having those linens to be so soft was heavenly. We have actually been sleeping on them for a few weeks and I've washed them 3 times since. And I will have to say that these are the most comfortable sheets I've ever had and I'm more than happy to share them with you.
Just how does Perfect Linens achieve such softness with these sheets, you may ask.
"They are a result of a natural enzyme process that removes molecules from the cell walls of the cotton, making the fibers easier to bend. The enzyme process is permanent so the suppleness cannot wash out. Sateen-woven with fewer yarn-locking intersections per square inch to further reduce stiffness. The 400-threadcount Egyptian cotton construction is mid-weight and ensures durability."
Perfect Linens is the only website that specializes in bed linens so they are the experts. Everything has been researched, tested, and analyzed to give you the perfect product. They are so confident that they guarantee shipping for returns! How about that? They've done all the work for you and it's so convenient to order from their website.
Don't tell anyone, but some of the people on our Christmas list may be receiving some of these Second Skin sheets as their Christmas gift. All I have to do is order them and then wrap them when they arrive. It just can't get any easier.
And I'm happy to announce that Perfect Linens is giving our readers a special discount of 15%. All you have to do is to enter the code Crossroads15 when you order.
And a special thank you goes out to Perfect Linens for providing us with a set of these sheets. I'll be a regular customer from now on!