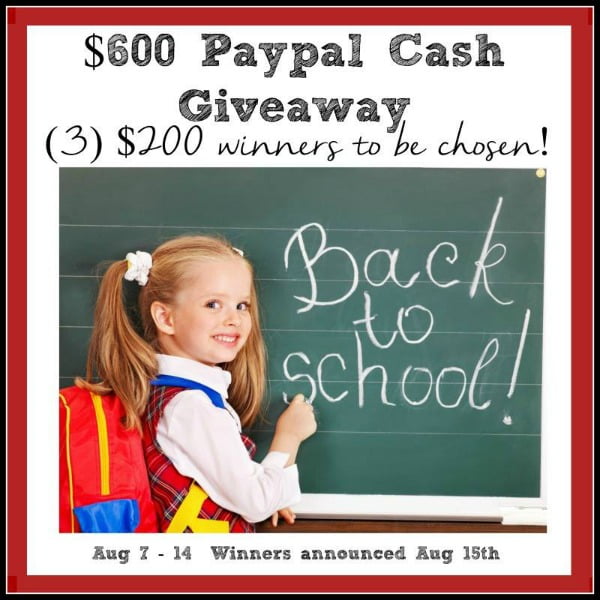 It's that time of year when a lot of people are getting ready to go back to school. And it can get EXPENSIVE! Last week Leo and I took 3 of our granddaughters back-to-school shopping. By the time we'd bought supplies, clothes, shoes, and new backpacks, we had spent a lot of money!
But we're more than happy to help them be successful in school, and part of that success comes from having the right supplies on the first day of school.
So, to help everyone out, a group of some of my blogger friends and I all pitched in some money in order for us to have this fantastic Paypal cash giveaway!
And there won't be just one winner, there will be 3 winners with each one receiving $200 in Paypal cash. This giveaway is open to our international friends as long as they have a Paypal account.
The only mandatory thing you have to do is leave a comment letting me know what you would do if you won the giveaway.
Then you have up to 60+ more chances to enter by simply by liking and following the following blogs. Please note, Facebook and Pinterest do not have anything to do with this giveaway, nor do they endorse it in any way. No purchase is necessary, and following and liking blogs only offers extra chances to win. It is not mandatory. The giveaway begins today (August 7) and ends on August 14 at 8 PM. Winners will be announced August 15 and funds will be sent via Paypal as soon an everyone has been notified.! Good luck everyone!