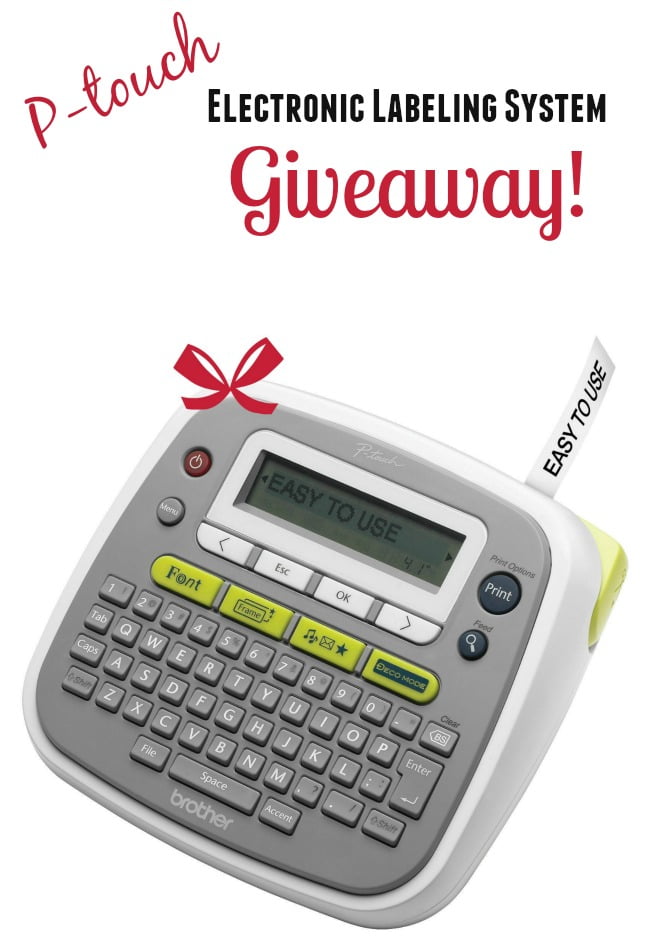 Woohoo! We're giving away one of these P-Touch label makers by Brother! Wouldn't this make a nice gift for a DIYer or a crafter on your list? Perhaps you'd like to treat yourself with something that you've wanted. If so, go ahead and enter our giveaway by following the directions below.
In the meantime, are you searching for a last minute gift for a DIYer on your list? Well, look no further because the PT-D200 label maker by Brother will be a very welcome and appreciated gift for people of all ages. It's very easy to use and your recipient will be making labels for all sorts of things.
This post may contain Amazon or other affiliate links. As an Amazon associate, I earn from qualifying purchases. If you purchase anything through any affiliate link, I may earn a small commission at no extra charge to you. All opinions are my own.
I have had a label maker by Brother for about 5 years, and I have used it for all sorts of organizational reasons.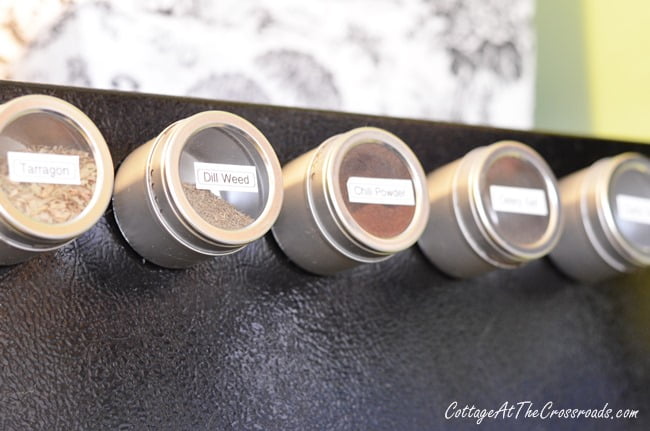 I don't know if you've noticed my magnetic spice containers on the side of my refrigerator or not. I created these labels a long time ago and they are still sticking to the containers as well as the first day I made them.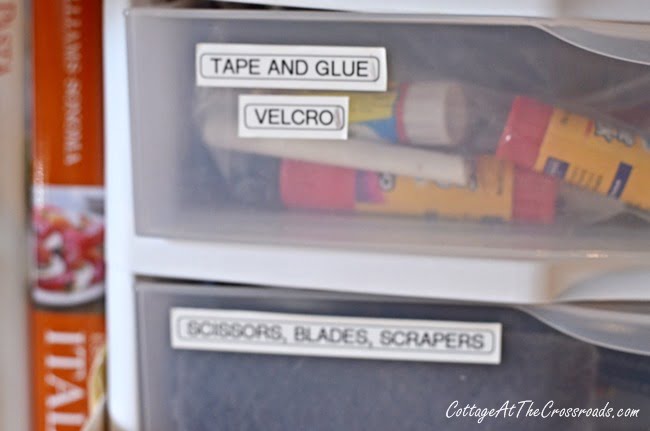 In the office, I have the drawers labeled on these plastic bins. Leo says it sure helps him find things in there.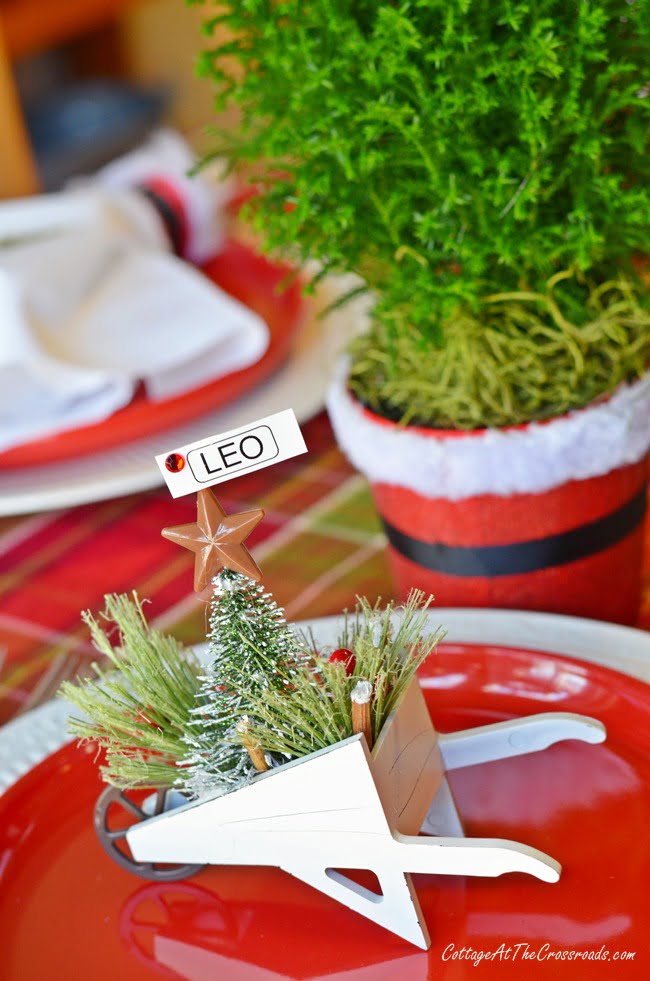 But since I was sent the new P-Touch label maker to try, I've been coming up with all kinds of ideas of ways to use labels. Here I've made name place cards for our Gardening Santa Tablescape. All I did was to print a label, hot-glued a little rhinestone jewel onto it, and attached it to the ornament! So stinkin' cute, but most importantly, quick and easy! You could easily turn any ornament or pine cone into a name place card in time for your Christmas gathering.
And speaking of gatherings, a few family members will be receiving some of my pickled okra soon. Long after the ribbon is removed, the recipient will always know the contents of the jar as well as when it was canned just by looking at the labels.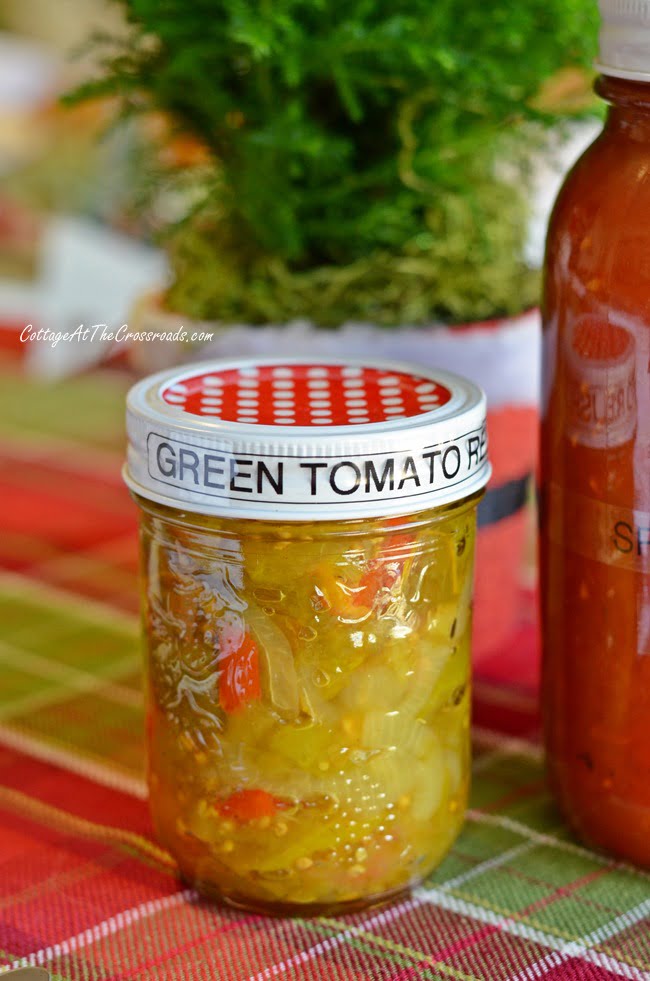 Or, if your jars have a decorative, raised surface, you can easily attach the labels to the screw bands.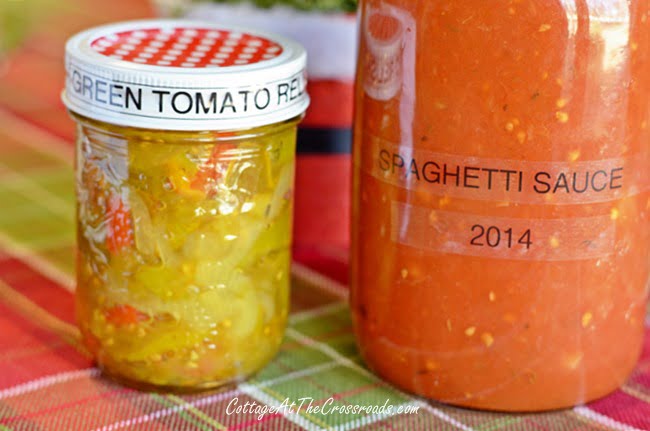 Either way, I'm loving the my new Brother PT-D200 Label Maker. It has many more options on it than my old label maker, and the tape cartridges are so easy to pop in and change. And there are so many new types of tapes that you can get such as fabric iron-on, extra strength for rough surfaces, and flexible ID ones for wrapping and flagging wires and cables. They've even made it easier to remove the back from the tapes now with their "crack and peel" method. And all the tapes come in a variety of colors and sizes.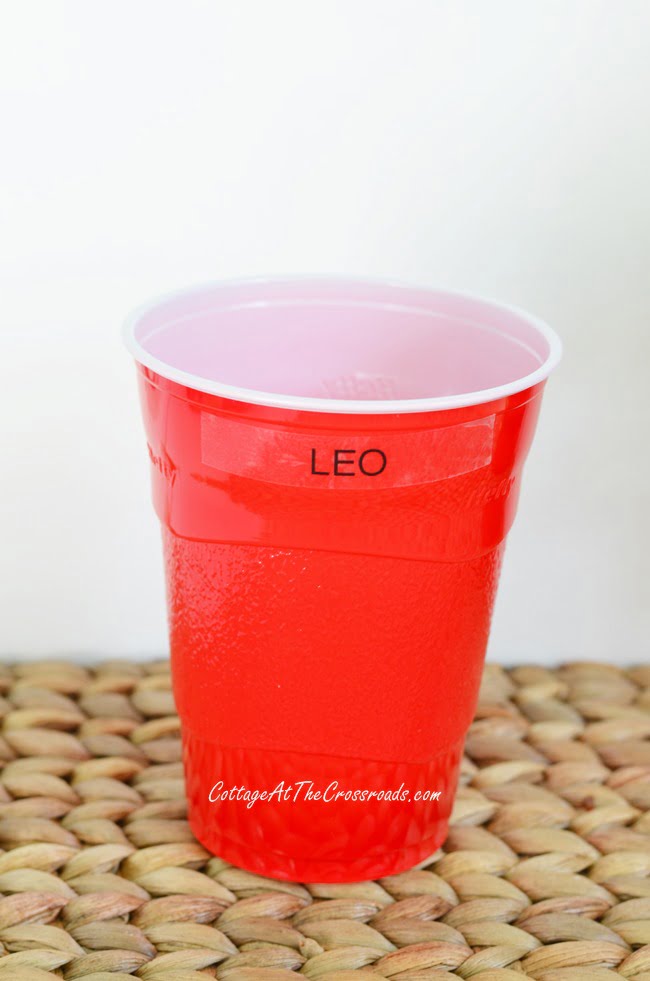 As many of you know, we have a great big family gathering here at the Crossroads on Christmas Eve. You wouldn't believe how many disposable cups we go through in a matter of hours! Last year we attempted to write names with a permanent makers on the cups, but that didn't work so well. This year I'm pre-labeling names on the cups to cut down on the waste. So after our new label maker arrived, Leo and I created a few labels for these plastic cups and tested them to see if the labels would continue to adhere when the cup started sweating or was rinsed out, and I'm happy to report that they did. Now we have some wine drinkers here on Christmas Eve, too, and I'm working on making some wine glass labels. You can tell I'm having fun with my new Brother PT-D200 Label Maker, can't you?
So, if you have a DIYer or a crafter on your list that would like a label maker, you can click HERE to find the closest retailer. All you have to do is type in your zip code and find the closest vendor such as Best Buy or Staples. You can even order it online from Amazon through my affiliate link here: Brother P-touch Home and Office Labeler (PT-D200)
And if you'd like a chance to win one Brother PT-D200 Label Maker, just leave a blog post comment telling me how you'd use it! We'll choose a winner this Thursday at 6:00 PM EST. The label maker will be sent from Brother, so I can't guarantee that it will arrive by Christmas! Giveaway is open to residents of the continental United States only.
Good luck, everyone!
Disclosure: I was provided with a label maker to try as well as one for the giveaway, but all the opinions are mine.
Giveaway is now closed and the winner is Joanne Aller!