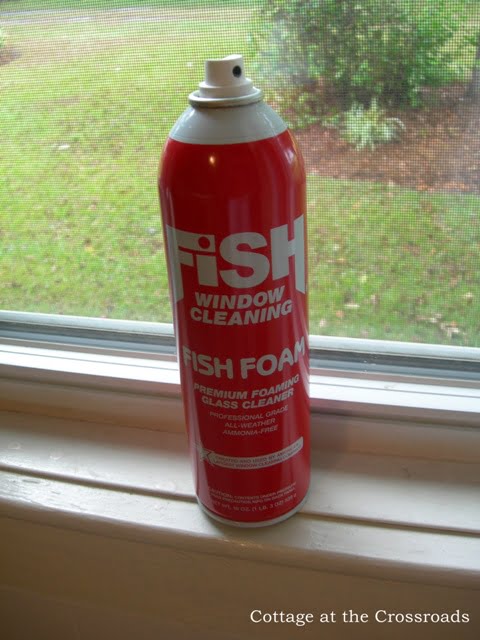 I'd like to introduce our newest sponsor at the Cottage at the Crossroads-Fish Foam.
Fish Foam is an incredible window and glass cleaner. It was designed for the professional window cleaners at Fish Window Cleaning and is now available to the public.
I first read about Fish Foam on Susan's blog Between Naps on the Porch and I had been wanting to try it for a while. So I was delighted to receive a can of it when we attended the Haven conference.
And I know you're probably wondering, "Why is it called Fish Foam?"  I was wondering the same thing when I first heard about it, but there is nothing fishy about it! It's simply named after the professional window cleaning company that uses it.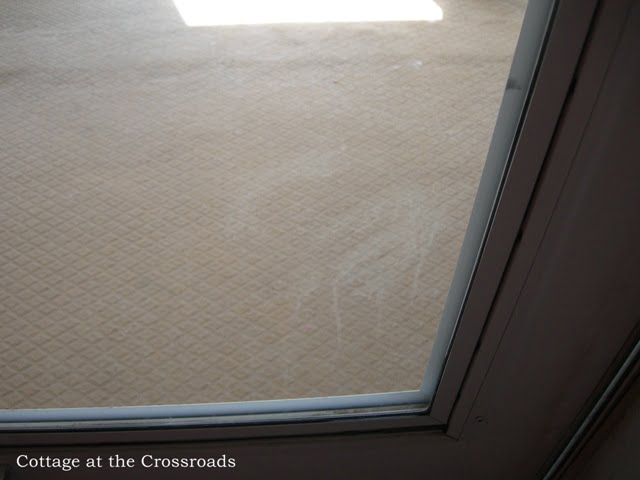 So I went around the house finding windows and glass that needed cleaning. I didn't have to look very far because the storm door on our house needs constant cleaning because of……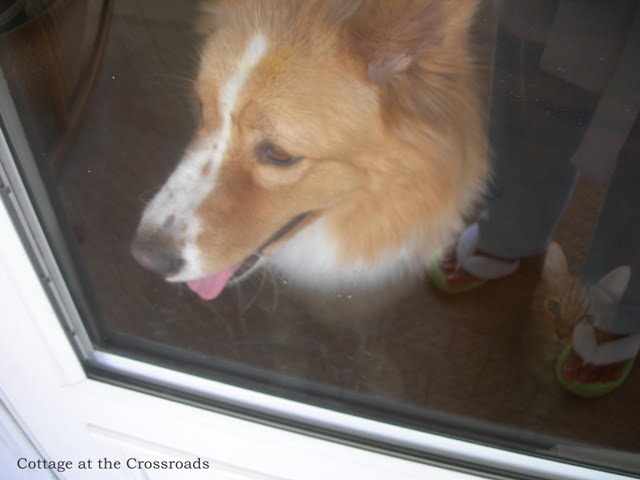 Yep! I'm sure many of your can identify with this!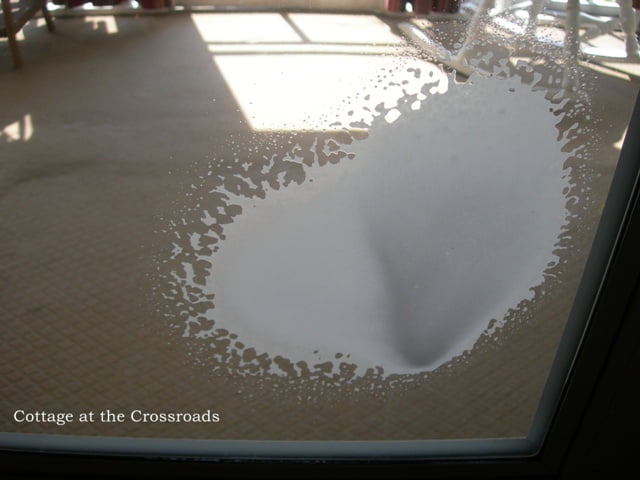 What I really love about this product is that it stays in place. There is no running down and dripping at all.  You know, I have never been satisfied with that famous blue, ammonia based cleaner that runs down before you can wipe it, and then you have to wipe it again and again because it streaks. Well, never more, because I have Fish Foam!
Cleaning with Fish Foam is effortless. Just spray and wipe, and your windows are sparkly clean. And there is no smell because it is alcohol based.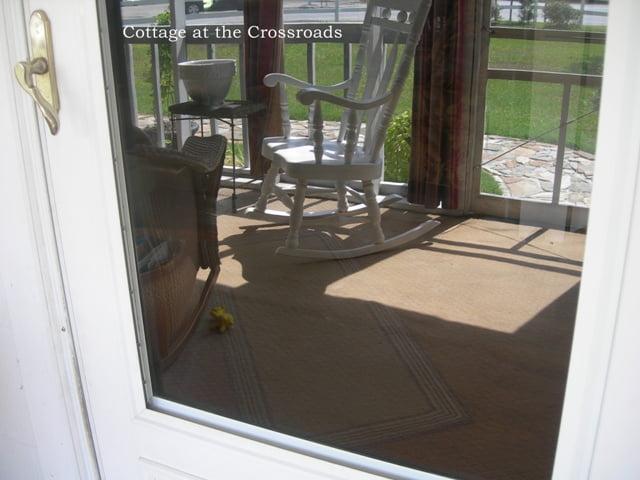 Look! No streaks and no more doggie slobber!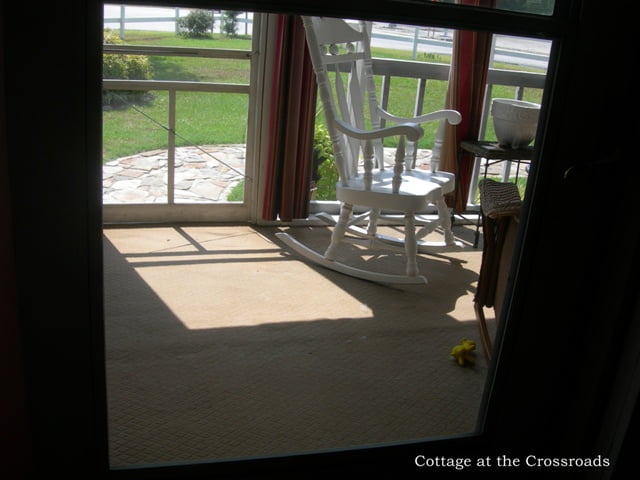 Clean as a whistle. Wish I could say the same for the front porch!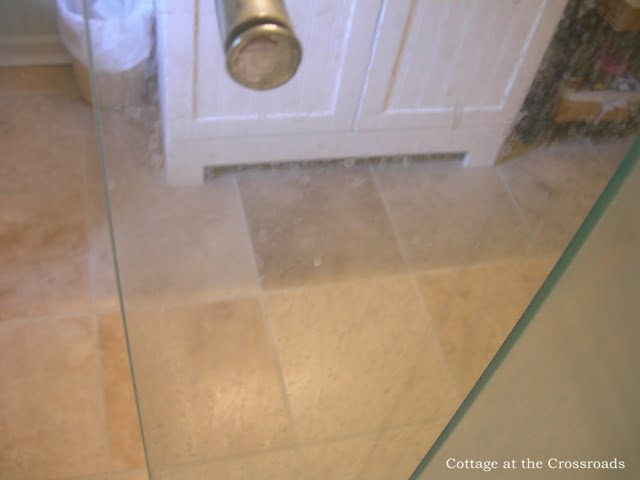 But the true test came when I used the cleaner on these dirty shower doors. I'm almost ashamed to show you these dirty doors, but that's real life around here at the cottage. I ran out of shower cleaner over a week ago, that's my excuse!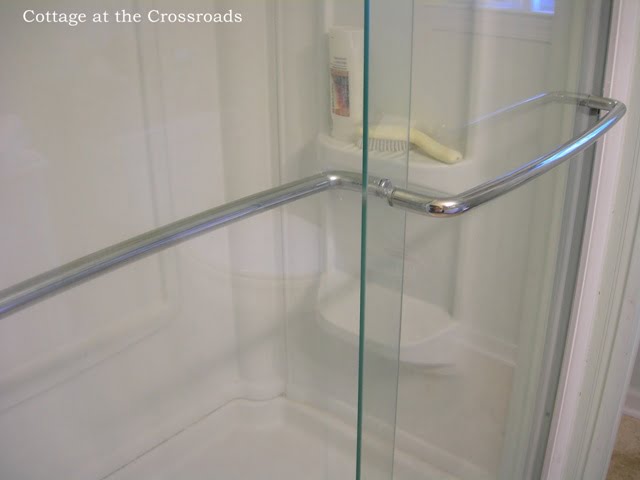 Look at them now! They really have not been this clean and sparkly since they were new!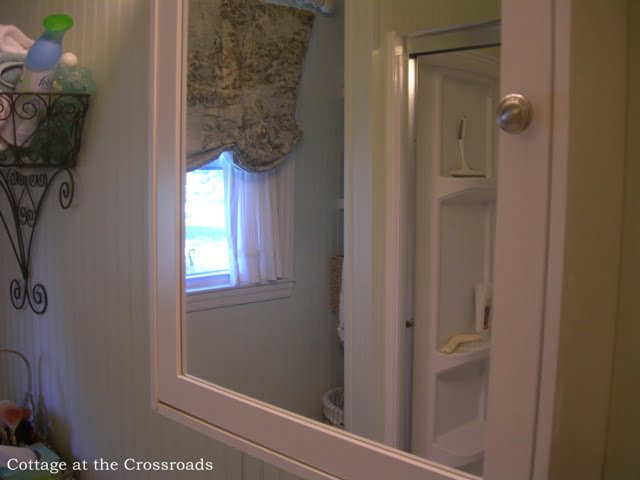 So I cleaned the mirror on the medicine cabinet in the bathroom. It was full of toothpaste splatters from when the grandgirls were visiting. Ah, nice and clean now!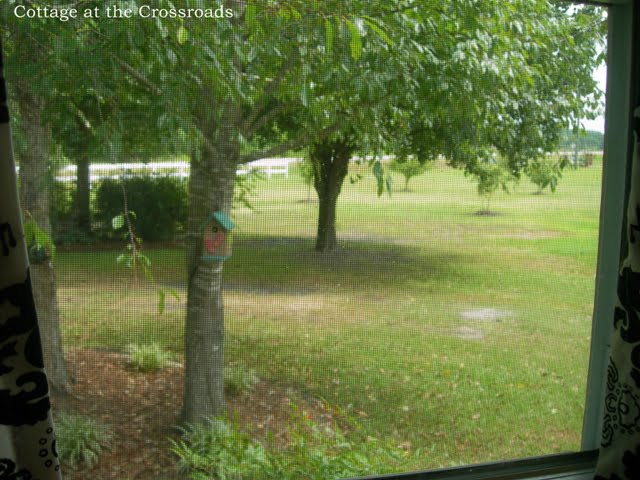 I couldn't wait to clean my kitchen windows with Fish Foam. They were loaded with tomato splatters from when I was doing all that canning of tomatoes last week. But what I learned is that you can't get a good photo of a window that has a screen on it, but I learned how fantastic this cleaner is!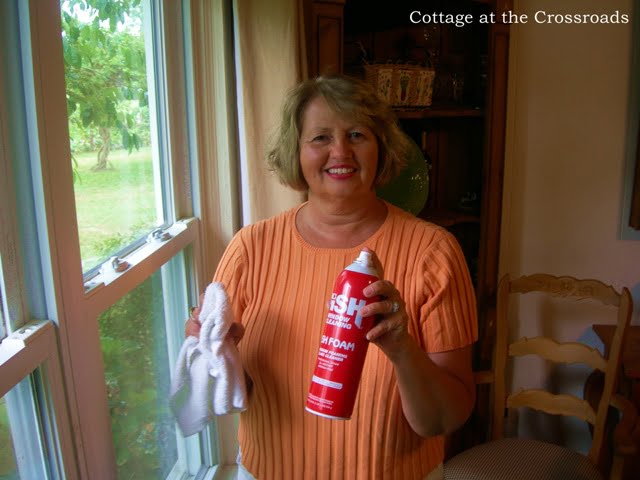 I'll have to say, hands down, that this is the best window cleaner that I've ever used.
So, how do you get some of this Fish Foam and how much does it cost?

Click on the box to visit their website and order some.
In the meantime, Fish Foam has generously agreed to give away 3 cans to one of our lucky readers.
To enter the giveaway,
Just leave a comment on this post telling me what you would clean first with this awesome cleaner. You don't have to have a blog to enter, but you must be a follower of our blog in some way such as by email, Facebook, Twitter, Pinterest, or  a Linky follower.
 For a second entry, like Fish Foam on Facebook.
That's all you have to do. The winner of the giveaway will be selected and announced Monday, July 16, and the winner must live in the continental US due to the cost of  shipping.
Disclaimer: Fish Foam is a paid sponsor of our blog, but my opinions about this product are totally honest and my own.
Thanks again to the fine folks at Fish Foam for becoming sponsors of our blog and thank you, readers,  for supporting our sponsors.