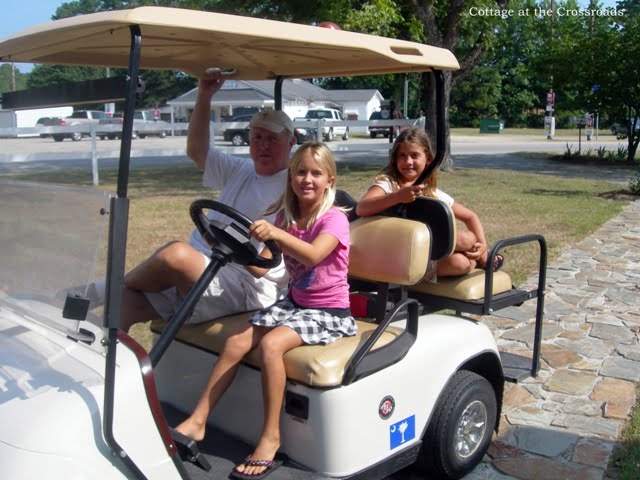 We hope everyone had a great July 4th! We sure did at the Crossroads. Two of our granddaughters were visiting, and we had a grand time singing patriotic songs, swimming in the  pool at  Governor's Run Country Club, grilling out, and riding around in the golf cart.  Family friends Jason and his wife Stephanie brought their kids over along with a stash of fireworks and we lit up Windham's Crossroads with Fourth of July cheer.
Now we are ready to present our very first Featured Followers.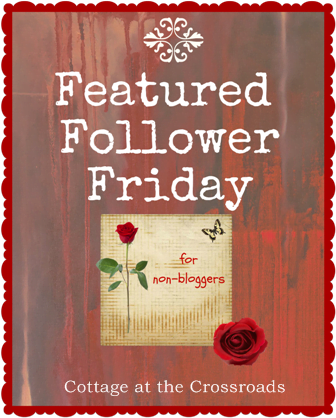 We're offering our followers (non-bloggers) an opportunity to show off their projects. We have two featured followers this week. Let me introduce you to Paulette, who has been a loyal follower of the Cottage of the Crossroads for a long time.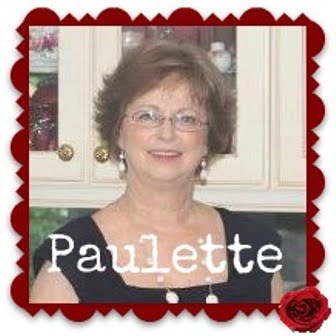 Paulette follows our blog, and she is also a Facebook friend. I've seen a lot of her projects on Facebook. She grows beautiful roses and bakes some awesome-looking cakes. We've never really met, but we've talked about how we should because we have so many things in common.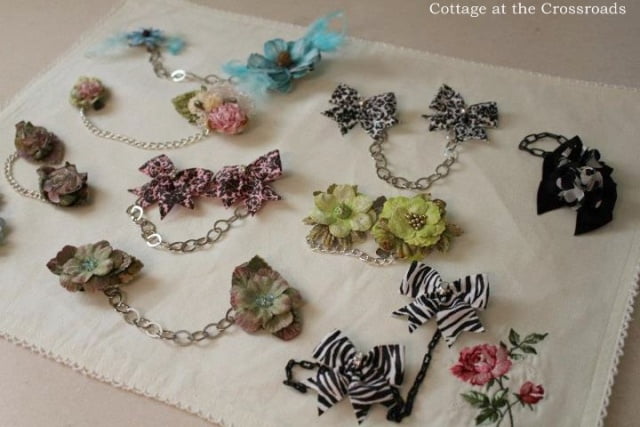 Paulette's recent project has been making sweater clips. You know how you work in an air-conditioned office and you just want to throw a sweater around your shoulders. You don't want to stick your arms through the sleeves of the sweater, but you need a little something to keep the sweater from slipping off your shoulders.  Well, Paulette remembers having sweater clips a long time ago, but she just couldn't find any now. So she decided to make some of her own using clip-on earrings and chains.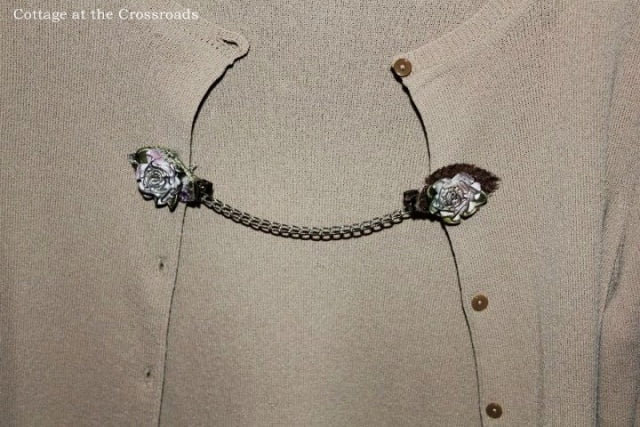 Here's  some clips on a sweater set and look how pretty they are. Jewelry for your sweater!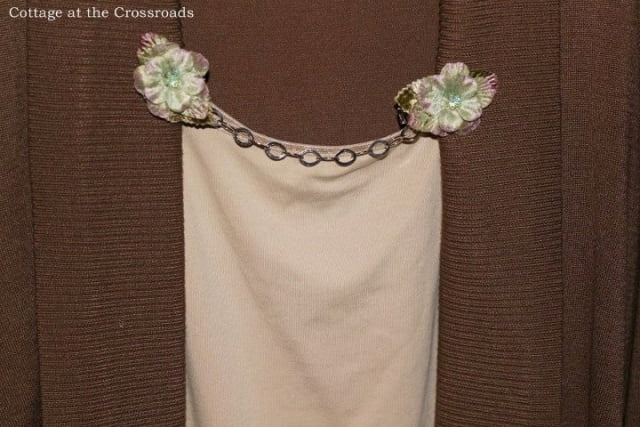 Look how good this looks on a different sweater.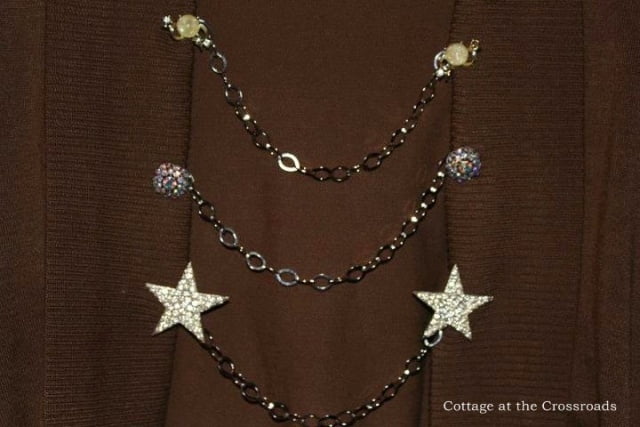 She has made a variety of clips. She said that it was just one of those things that once she got started making them, she couldn't stop.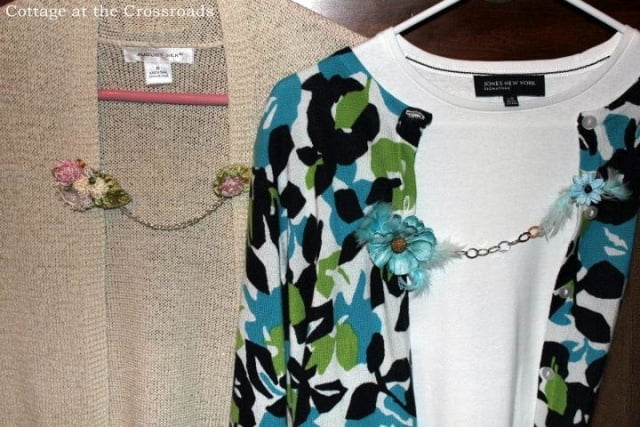 I asked Paulette if she was planning to sell her creations and she said that she wasn't. She just likes to be creative and make things. She's on the lookout for vintage earrings that she can use in making more of these. (They look like the perfect gift to me!)
Thanks Paulette for allowing us to share your project with our readers.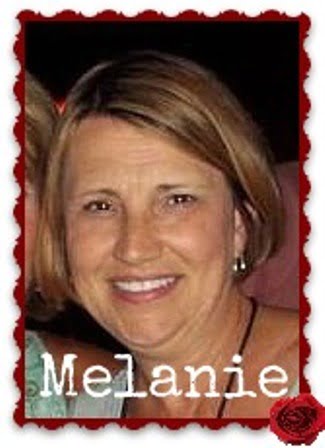 Another featured follower for this week is Melanie.
Melanie sent along some photos and explained that her interest was in frugality. She loves to take other people's throw aways and turn them into treasures. For instance, this ivy topiary was in a discard pile at Lowe's in the dead of winter. It was close to death, but she nursed it back to health, and it has flourished under her care for many years now. (I need to know her secrets because I am notorious for killing ivy!)
This is a hand-sanitizer bottle that Melanie embellished with stickers after she removed the product label. Sooo much nicer looking than a plain, ole bottle!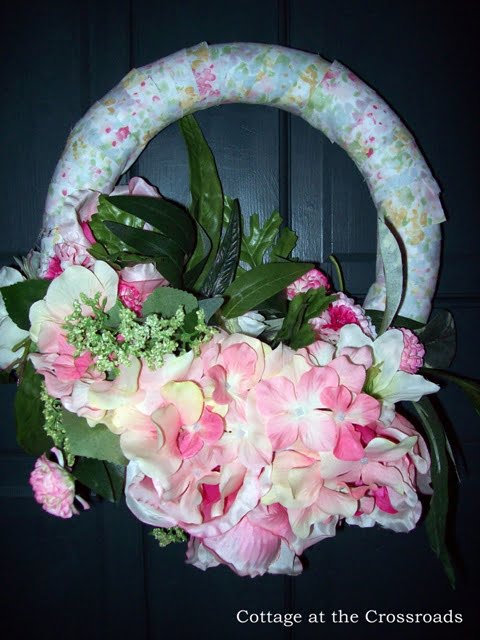 Melanie made this pretty wreath using some scraps of fabric and some artificial flowers. It looks great on her door!
Melanie sent along several other photos showing how she repurposes items that have been cast off by others. I suspect that she has been frugal long before many of us have ever thought about being.
So thanks Melanie for sharing some of your projects with us.
If you'd like to be a featured follower, click HERE. We love and appreciate our followers! Be sure to check back next Friday for more of our featured followers.