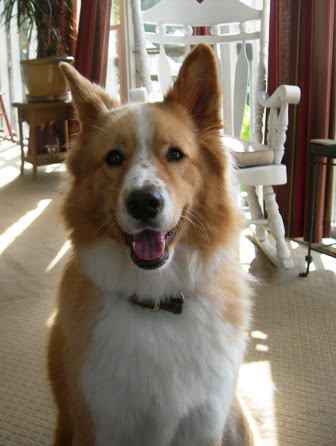 This is our dog Lucy. She is a great pet. She's not perfect, but we sure do love her.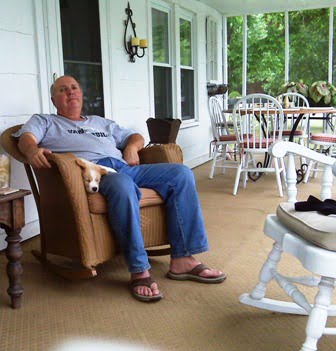 Here is Lucy when she was a puppy. It's hard to believe that that little furball turned into the 75 pound sweetheart that she is now. Lucy is a rescue dog. We got her from a local person whose dog had a litter of puppies, and she was the last one left. The fellow told us he was going to take her to the pound since no one had taken her. We took one look at her and said, "Oh, no, she's not. She's going home with us."
Lucy is a mixed breed. We know she is part collie and part lab, and who knows what else. Not long after we got her, she exhibited aggressive behavior. She was a wild and crazy dog, so we hired a trainer to work with us. It really didn't help that much. We found out she responds better to a lot of attention and affection.
She loves to give hugs!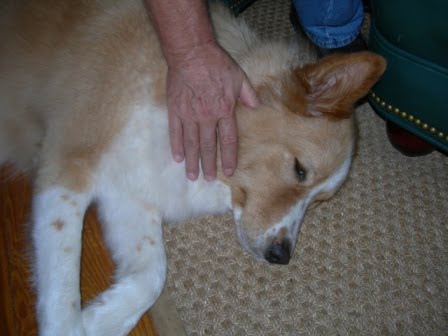 Her favorite spot is beside Leo's chair where she gets lots of rubbing. She's spoiled, but that's ok.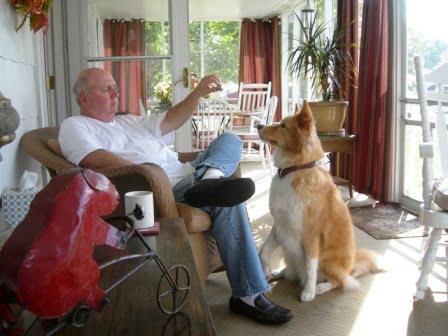 Lucy goes everywhere Leo goes. If he goes somewhere in his truck, she's in the passenger seat.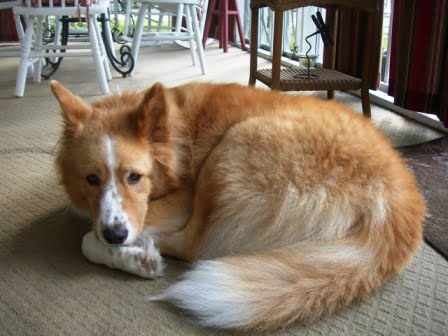 Now that she's almost two years old, she's not wild and crazy anymore. A few months ago, her back left knee slipped out of joint. It continues to happen occasionally, and she has mellowed since this happened.
Lucy is the perfect example of why everyone should try to rescue a dog. They give you more love than you can ever imagine.
And now, drumroll please, I'd like to announce the winner of  our $50 Pottery Barn gift card. It's Jordan from the blog The 2 Seasons! Click HERE to visit this unique blog co-written by a mother and daughter team.
Thanks to all of the 170 entries who helped celebrate our blog's first anniversary. Your visits and support are always appreciated at the Cottage at the Crossroads!
I'm joining: