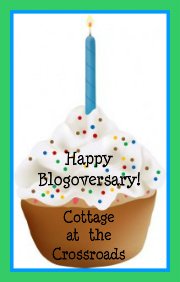 Our blog is one year old! Woohoo! It was this time last year that I decided to start a blog. I put up my first tentative post on January 5. Leo had already been blogging for several years, but his blog was about real estate.  Since the real estate market was so slow, he decided to join me in my blogging venture. So we became a blogging team on January 13.
When we started our blog, we thought it would be a great way to record what we were doing. Sort of like keeping a journal.So for the past year, we wrote what we were doing around the cottage. I had no idea if anyone would be interested in our daily life. But we just wrote about our garden, what we were cooking and eating, our projects, and a little decorating. In the beginning, I was clueless about photography. Leo used to tease me about cutting the tops of people's heads off in photos that I took. But through blogging, I have discovered a new passion and interest in photography.
I had no idea what an impact blogging would have on my life. Through the internet, I have established connections to so many wonderful, supportive people. I never imagined that I would make so many new friends. And through the blog, I have reconnected with many people that I grew up with and at the same time, stay in touch with faraway friends. And most importantly, the blog allows Leo and I to share the cottage at the Crossroads with our family members so that they always have a place to call HOME.
We are so thankful to our readers, followers, and subscribers.  We appreciate your visits and your comments. So what better way to celebrate than to have a giveaway!
We're giving away a $50 gift card from Pottery Barn! When you win, you won't even have to leave your home to shop. The e-card will come to your email address. You can shop online, or if you're lucky enough to have one near you, you can shop in one of their fabulous stores.
Here's a few things that are under $50 that I might pick out.
Look at this adorable Moo Cow Creamer that they are selling for $19.50. I really want to start a collection of these ever since I saw Richard's collection of creamers at My Old Historic House.
I'm really liking this large Rhodes Kitchen Crock that's $39.00. It would hold a lot of kitchen utensils.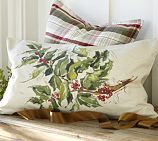 I might would order this Painted Holly Branch Lumbar Pillow Cover that is on sale now for $30.99. I saw it in the store near Christmas and really wanted it then, but I didn't get it. Like this price much better!
Pottery Barn has a lot of items with free shipping right now such as this gorgeous Love Letter Table Runner for $49. 00.  Would be so pretty for that special romantic dinner!
But this giveaway is not about me. It's just a small token of our appreciation of you, our readers.
To enter this giveaway:
Leave a comment on this post and become a follower or subscriber of the Cottage at the Crossroads. If you are already a follower or subscriber, just leave a comment telling me so.
If you post about the giveaway, or put the giveaway on your sidebar, you get an extra entry. Just leave a comment telling me you did so.
The giveaway is open to anyone from any country. If you do not have a blog, leave your email address in your comment so that I can contact you if you win.
The drawing will be Tuesday, January 31 at 5:00 pm, Eastern Standard Time.
Remember, you can't win if you don't enter! We are looking forward to hearing from you.
Disclaimer: We have not been compensated by Pottery Barn for this giveaway. We just like Pottery Barn and thought you would, too.
I'm joining: