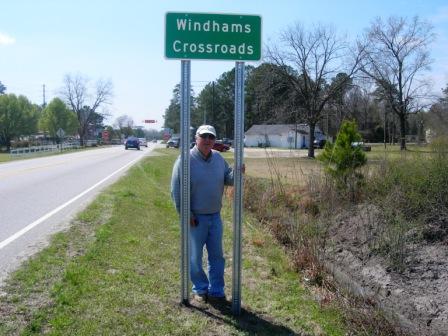 Even though Windhams have lived on this land for several centuries, and even though Windhams Crossroads has appeared on county and state maps forever, we have finally been recognized as a community. Today Darlington County erected four Windhams Crossroads signs, one for each direction of the Crossroads. It took several months of phone calls and a great deal of persistence on the part of Leo to get these signs. It was important to him that the Crossroads retain its identity as the home of so many generations of Windhams.
Here's another sign (of spring) at the Crossroads. In a previous post, I wrote about how we had relocated and painted an arbor. Yesterday Leo and I rode over to Forest Lake Greenhouses to find some climbing roses to plant around the arbor. They had a fabulous selection and it took us forever to decide on the variety, but we finally choose All Ablaze. They will be cherry red, double ruffled, and repeat bloomers if all goes well.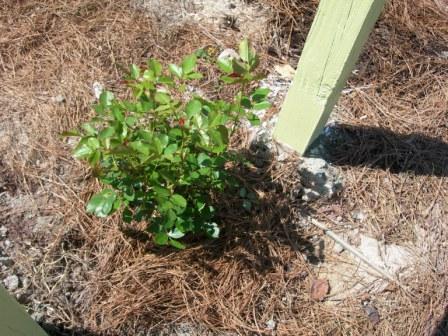 Remember how I mentioned that I wanted a barrel to go on top of a stump in front of the shop? Well, we found one and while we were at the garden center yesterday, I picked out a few plants to go in the barrel.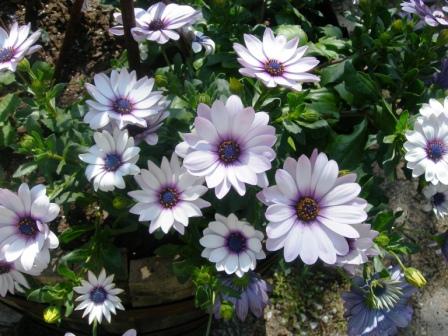 This plant is called Summertime which is an African daisy.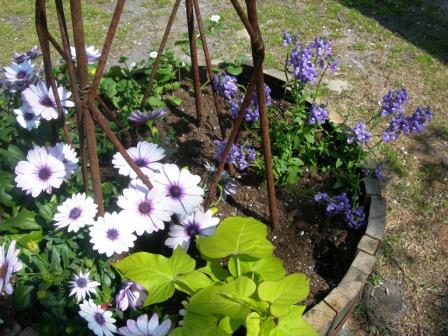 The other plants in the barrel are bluebird nemesia, sweet potato vine, and giant snowflake bacopa.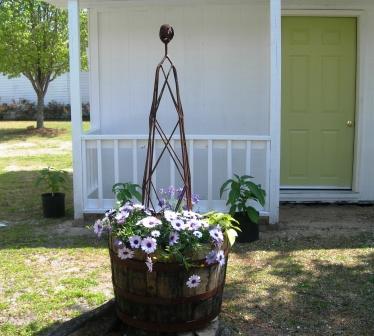 See the rusty trellis?  I've had this piece of yard art for years. I need some sort of climber on it. Do you have a suggestion?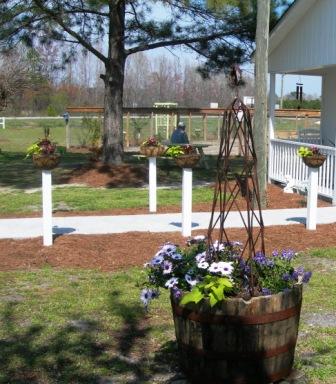 There is Leo sitting under the pine tree playing with our dog Lucy. Do you see those flower baskets on the posts? They were an idea I got from Southern Living magazine last summer. An article showed how a lady named Pamela Crawford, who lives near Atlanta, GA, created the most amazing baskets on posts. Here is a picture of her beside one of her baskets.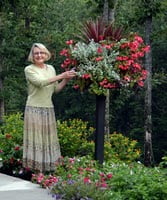 Didn't I tell you they were amazing? Pamela has a blog and has written the book Instant Container Gardens, which you can find at Barnes and Noble. Anyway, Leo put up some posts for me last summer as we were building the apartment for my mother in our backyard. This is what the baskets looked like last year.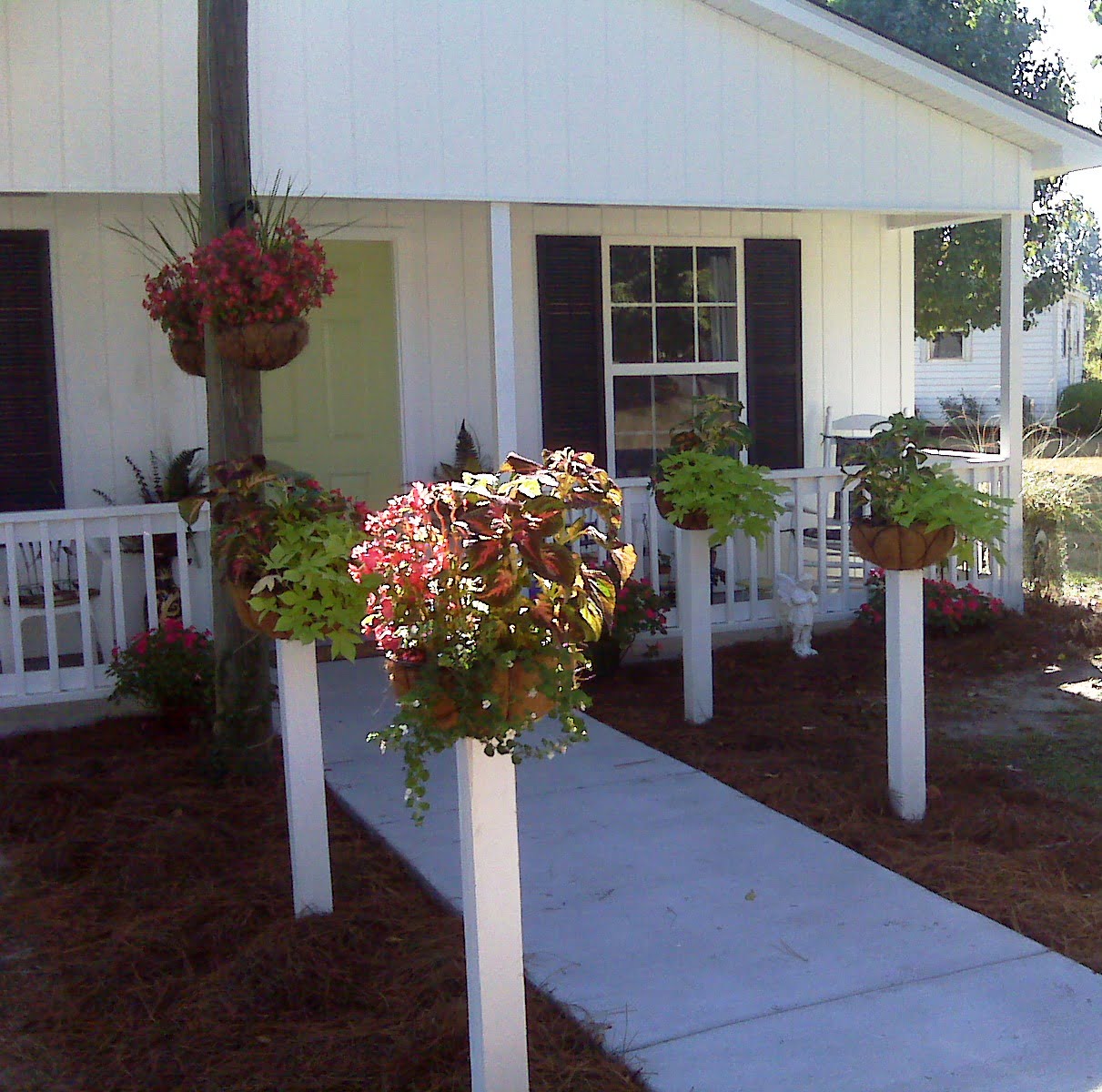 They looked great until winter came.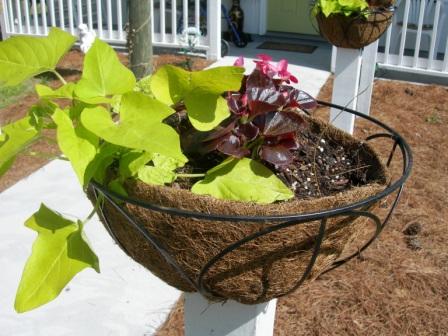 Yesterday I planted begonias, sweet potato vine, and some seeds in each basket. They should be nice and full in about a month.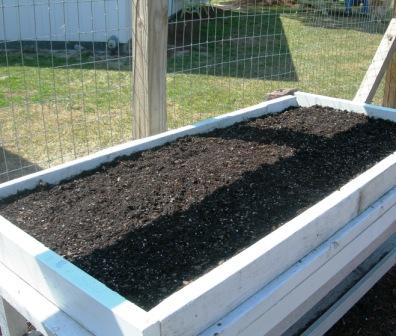 This is an herb bed that Leo created for me. I put basil, oregano, thyme, and parsley seeds in it. If they all germinate, I'll have to transplant some of them to the garden. Don't you think I need a little sign above my bed? Could be another project on the horizon!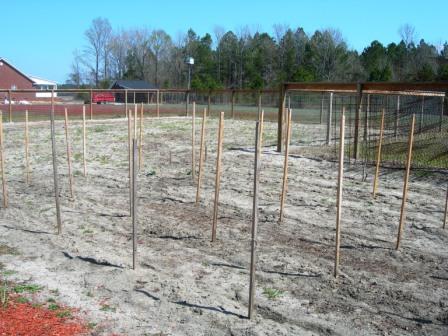 English peas and Sugar Snap peas were planted last Friday. As soon as the plants emerge, I'll put twine on those poles to support those babies.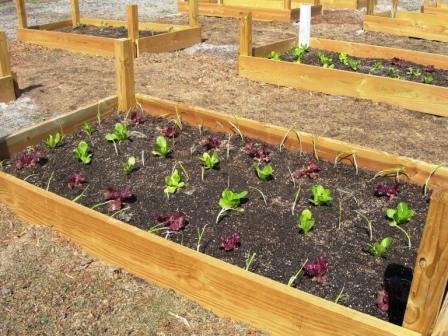 The lettuces and onions we planted last week are coming along. I swear I think they grow overnight!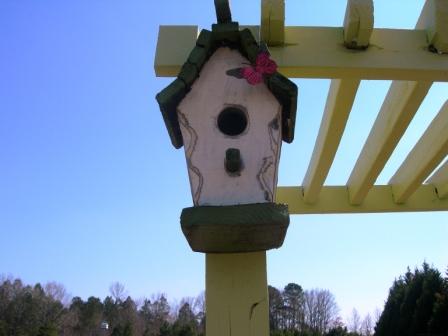 And bluebirds have taken residence in the new birdhouses on the arbor. I hope you are seeing signs of new life where you live, too.
Till next time, Jane