On Mondays, Leo and I like to go the So-Lina Auction.  http://www.so-lina.com/ It's  about 5 miles from The Crossroads. The first time we went, we thought it was the most unusual auction we'd ever seen. Sellers spread out their wares in a huge field and the auctioneer rides down the rows in a golf cart.
It's an absolute auction, so you can get some really good deals there. There's a lot of junk, but you can score a find, too. Like the day I spotted a Wagner roaster and my winning bid was $20. (Most of them go for around $75.)  And the day we got 3 huge, green planters for $30! They're in my flower garden now. But it's also a great people-watching site, a little more diverse than the mall.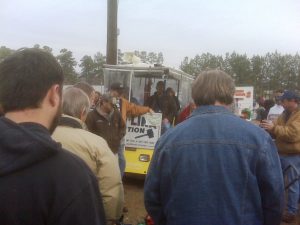 Come join us one Monday. You'll see some real characters and get some good deals, too.