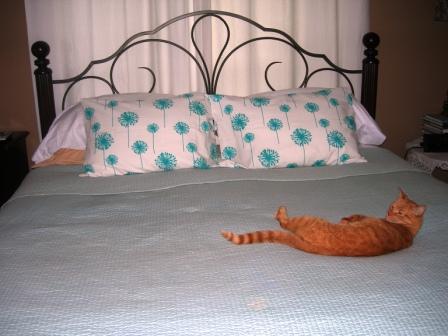 A few weeks ago, Rene from Cottage and Vine had a giveaway and I won! A lot of you may already know Rene from her wonderful design blog. But if you haven't been to her blog, then you need to visit. I started following her blog about six months ago. Rene and her family live in this awesome cottage with this beautiful vine over the front door.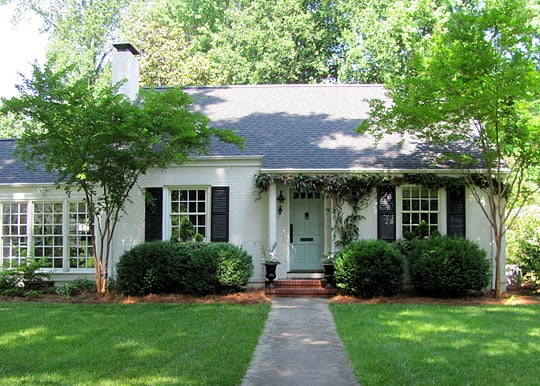 Hence the name of her blog Cottage and Vine.
One of Rene's sponsors, Fabulous But Frugal, donated two queen sized pillow shams, in my choice of fabric, for the giveaway. This website has throw pillows, lumbar pillows, and pillow covers done in gorgeous fabrics at great prices.
I chose this wonderful, stylish dandelion print in turquoise for my shams. This print comes in pink and green, also. Go here to see all fabrics that are available.
Henry likes the new pillow shams.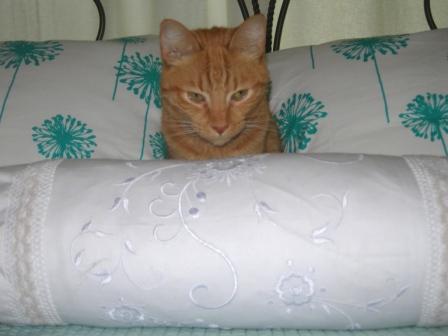 Henry looks like a kitten, but he's 10 years old. He sleeps with us every night.
I chose the turquoise fabric to go with our other linens in the bedroom. While you're here, I'll show you the rest of the room.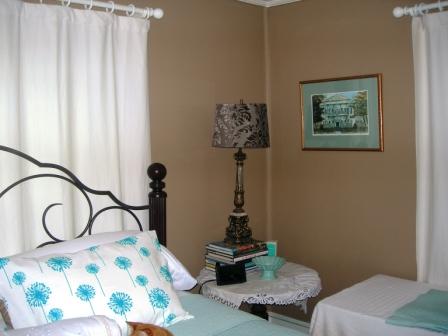 In the corner is a print that I treasure. It is a print of the Lace House in Columbia, SC. It was given to me by the faculty and staff of Harbison West Elementary School when I left there to move to Mt. Pleasant, SC. It always reminds me of good times and good people.
The lamp on the table is one of a pair that Leo bought for his parents back in the 1970s. They were old then. We found them in the storage shed when we moved here. They do have some new lampshades on them. There are cherubs on the base of the lamps.
If you are wondering what the large rectangular thing is beside the bed, it is Lucy's crate.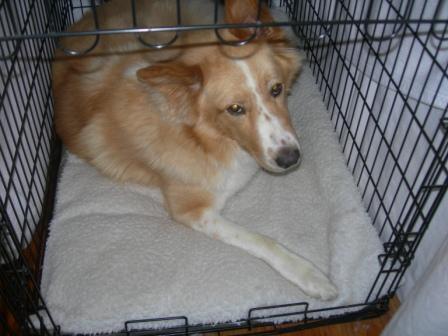 Lucy is a rescue dog. She was Leo's birthday present last year.
The color scheme for the bedroom was dictated by this Low Country print that Leo has had forever. I love its soothing colors. So when we moved to the Crossroads, we decided to put it in the bedroom.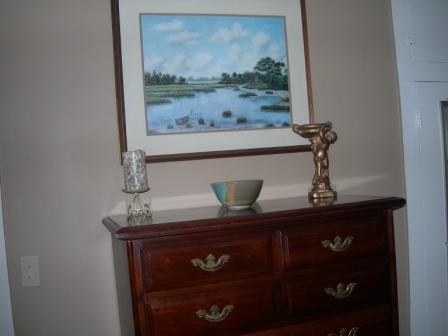 The piece of pottery on top of the dresser was given to us by Leo's son, David.
The walls in the bedroom are painted with Valspar's Coffee. Very appropriately named paint since Leo and I both love our coffee. The color looks great with this white cabinet that we've had for a while.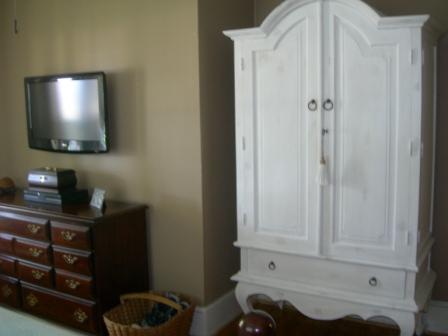 This cabinet is a very important piece of furniture in our bedroom because it holds a lot of clothes. That's because the closet in our bedroom is very tiny.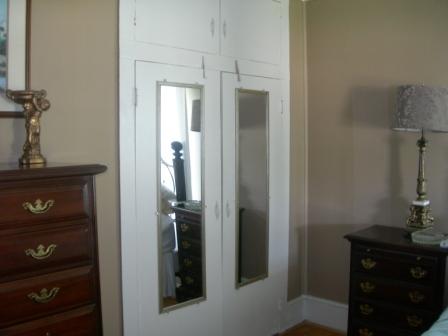 Now hold on to your seats. This is the ONLY closet in the entire house!  We took out a small closet in the guest bedroom when we were renovating in order to make more room in the bathroom. So this is it. (Actually, we do have some storage in our office for more hanging clothes.)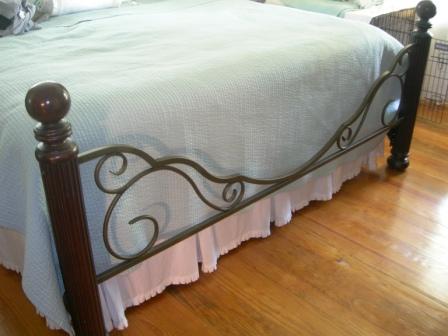 In this photo, you can see our footboard and the gorgeous pine floors that we had refinished before we moved in. We don't have rug in our bedroom because we have pets, and it's much easier to clean a bare floor.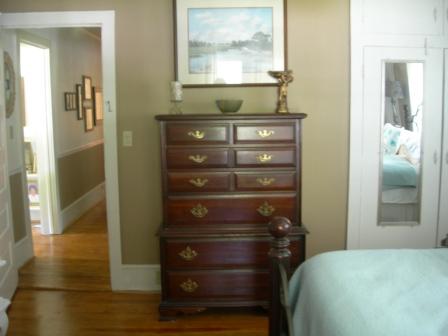 We used the same coffee color in the hallway leading from the bedroom. The color looks great with the aqua and the turquoise colors in the bedroom.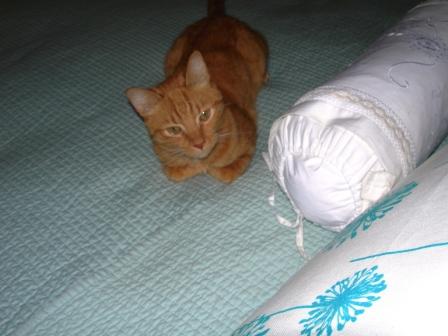 Henry loves the new pillow shams and so do we! So thanks Rene and Lisa for those great shams that you sent my way. And I hope you've enjoyed seeing another room at the Cottage at the Crossroads.