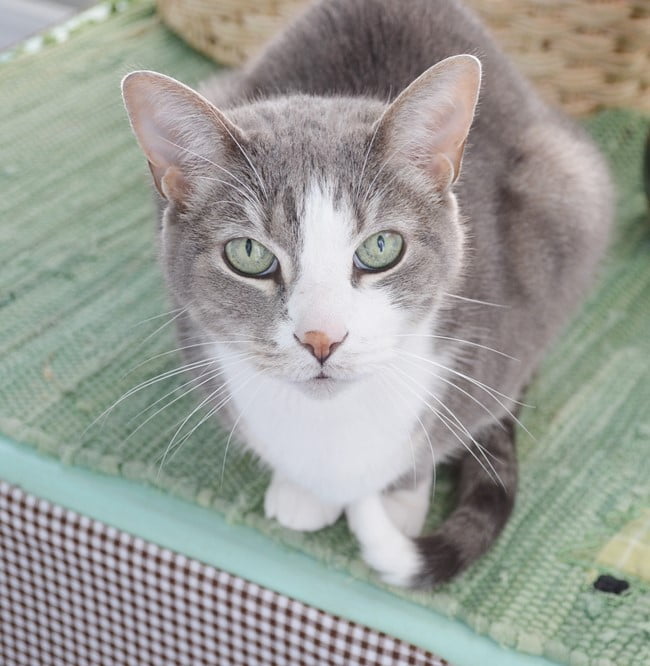 It was exactly 2 weeks ago today that we had to put our cat Rascal down, and this memorial post is the hardest post I've ever had to write. I debated whether to post about this or not, but then I felt like many of you dear readers who have been following us for a long time would wonder what had happened to him. So I'm sharing how difficult the past two weeks have been. And any of you pet owners who have experienced this can definitely relate to my devastation. There have been things that I could have been cleaning and organizing, phone calls I should have made, projects I needed to begin, etc. but I just have not felt like doing any of those things. Even I have been surprised by my depth of sadness. But now that some time has passed, I'm able to tell you about losing one of our fur babies.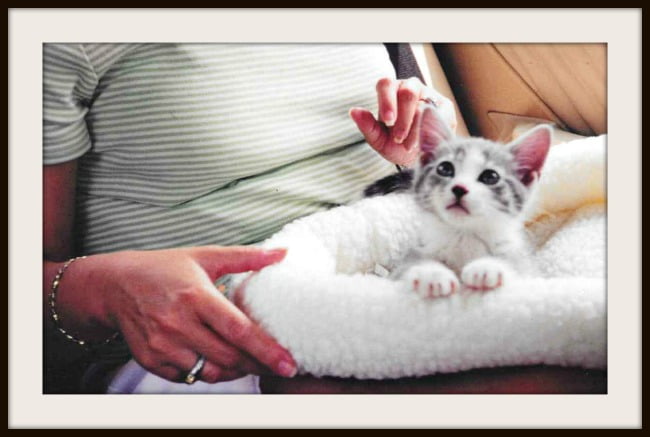 Rascal came to live with us almost 17 years ago when we rescued him out from the animal shelter in Columbia, SC. We had moved into a new home the year before and I had been begging Leo for a pet. Our friend Trish, who had several cats, urged us to get a cat. But Leo always had signs of being allergic to cats whenever we visited her home. But one weekend when we were visiting Trish and her husband, Leo relented and we all hopped in the car and drove to the shelter before he could change his mind! It didn't take long to choose Rascal because, as you can see in the photo above, he was so darn cute! We made a quick stop at a pet store to buy supplies that we would need, and then Leo and I got in the car and drove back to our home in Mt. Pleasant. Leo dubbed him Rascal and he certainly lived up to his name by promptly climbing the curtains and scratching the furniture. I hate to admit this, but we soon had him declawed, which I will never do such an inhumane thing to a pet again!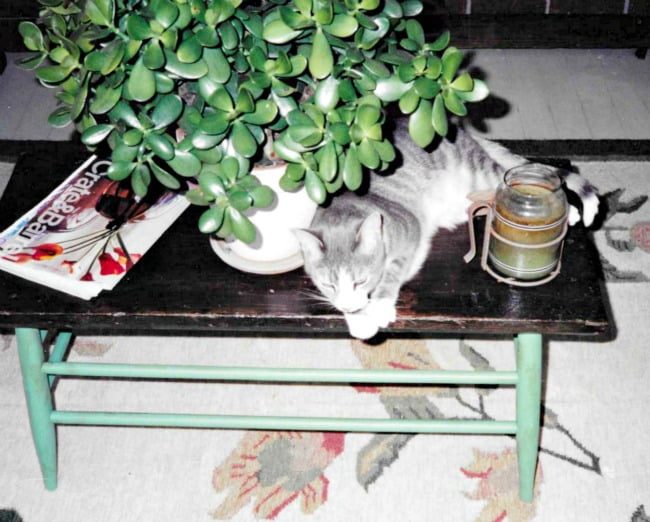 Rascal loved to spend most of his time on our large, screened in porch that we had on the back of our home. He also loved to be held, and I can even remember my friend Susan loaning me an arm sling (she is a nurse and had access to them) and I would carry young Rascal around in the sling as I tried to work around the house. Eventually he outgrew the sling, but for years we always had this game at bedtime. As my feet would leave the floor to get into bed, he would grab my ankles and try to nibble on them. To say that he had personality is an understatement!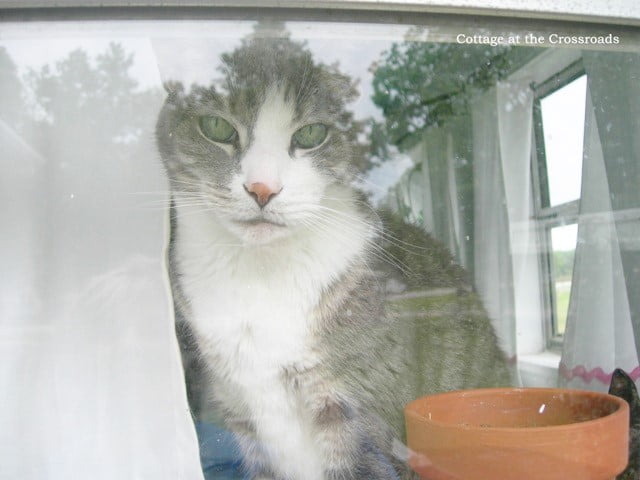 Rascal transitioned very well when we moved to the Crossroads over 6 years ago. He was content to live out his life as an indoor kitty, never trying to escape out the door. We put up a ledge underneath this window on the back porch just so he would have a perch to watch the world go by and to catch the morning rays of sunshine. We even had the front porch screened in mainly for the pleasure of our cats.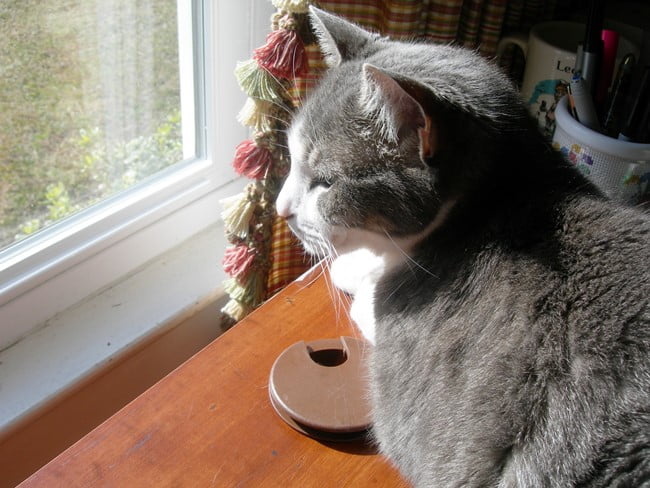 Rascal liked to move around the house during the day following the sunshine. I could always find him in front of a sunny window.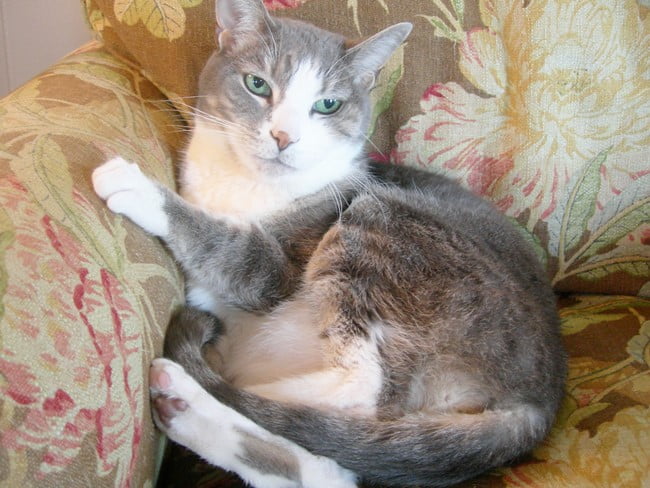 We've both spent many hours in this chair where I usually sit when I'm working on the computer. Often Rascal could be found perched on the back of the chair while I was sitting in it. But as soon as the computer left my lap, he was ready to jump down and take its place.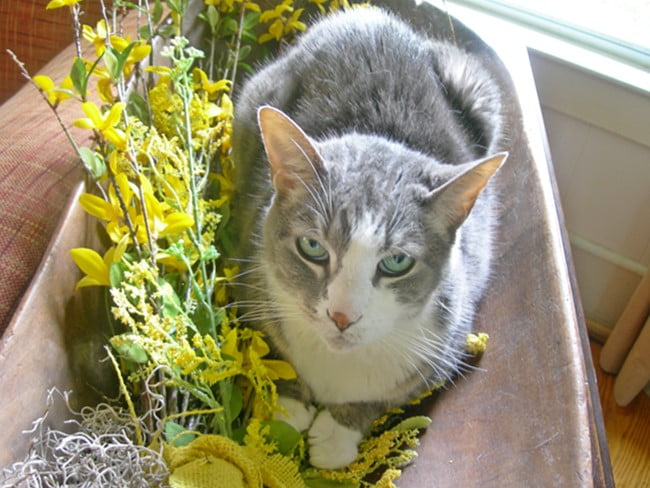 If I ever changed out the decoration in the dough bowl, Rascal would climb inside it to nap. He didn't like it much when the decorations went back in. He's clearly showing his displeasure here, don't you think? I believe he thought the dough bowl was his personal "cradle!"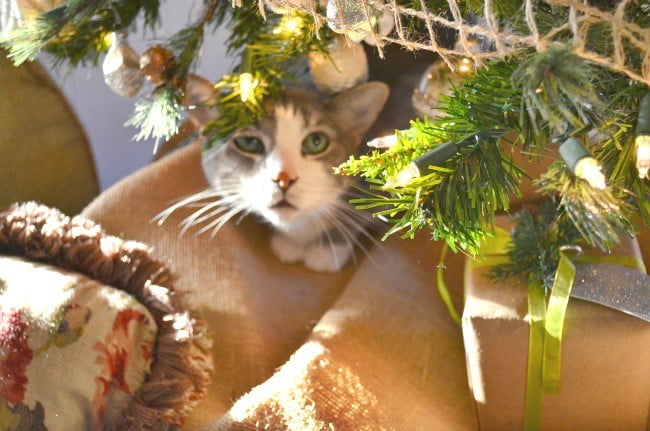 Rascal always loved Christmas! The first year we had him he climbed all the way to the top of the tree, and I would often find him sitting among the branches. When he was older, he was content to just get under the tree. This is one of my favorite photos of him because he has the look of wonderment on his face just like you would see on a child.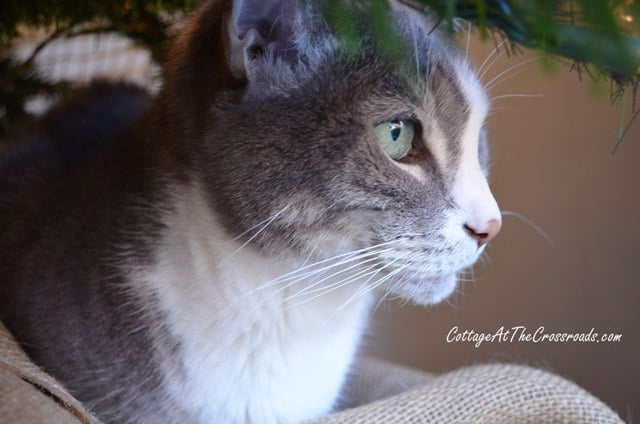 Rascal was my kitchen companion! Our kitchen is away from the living area so he would hangout on the stool in there with me while I cooked. It has been SO hard to be in that kitchen these past few weeks without him.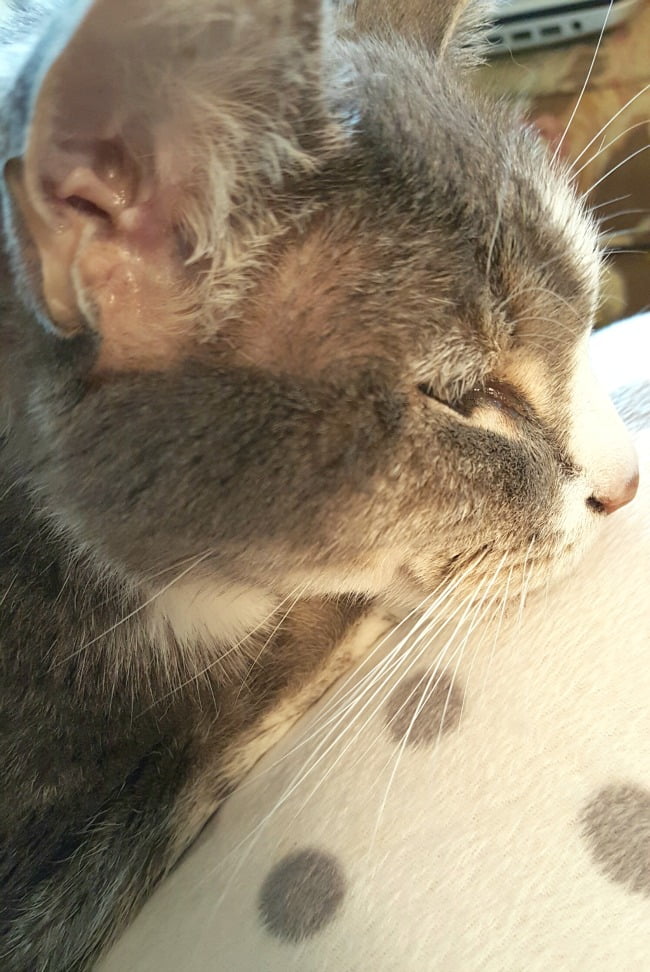 This past November, I had started noticing a few changes in Rascal, His thirst increased but he was eating well. I knew he was getting old and seemed to be craving warmth so I bought him a heating pad to sleep upon, which he loved. I had told myself that I was going to take him to the vet to get checked out in January. But on New Year's Eve, he stopped eating, and I knew he was very sick.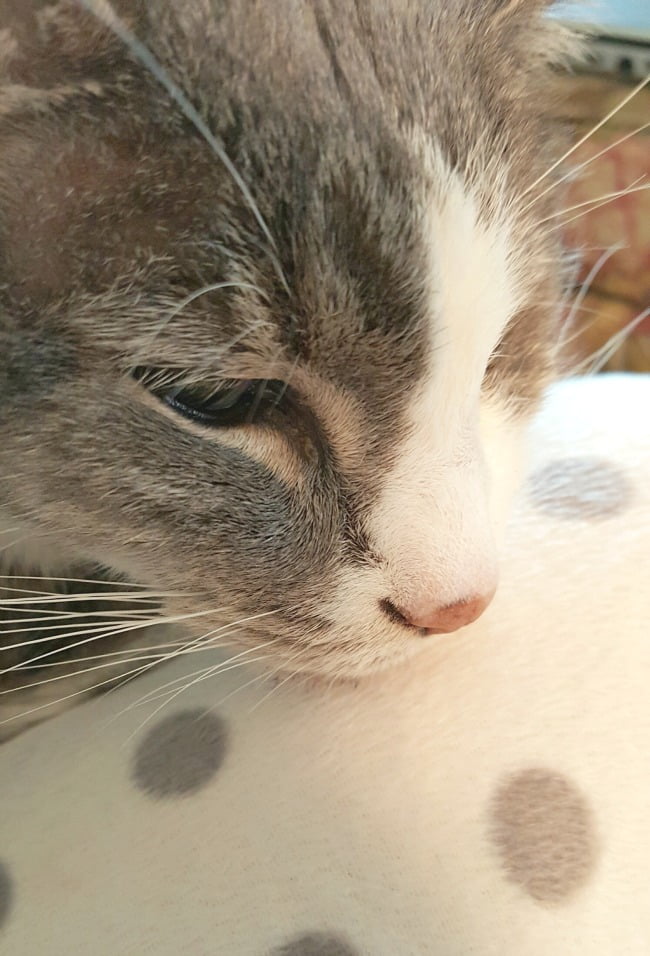 So I spent New Year's weekend holding him on my lap until we could get him to the vet on Monday morning. But the news was bad. He was in renal failure and our vet helped us make the decision to put him down. I had somewhat expected this but it was so hard to be hit with the reality! Leo and I were emotional wrecks for the rest of the day. It is only now, with the passing of a little time, that I can write about this, but not without tears. Pulling these photos together and writing this post, though, have been cathartic for me. So thanks for being part of my healing process.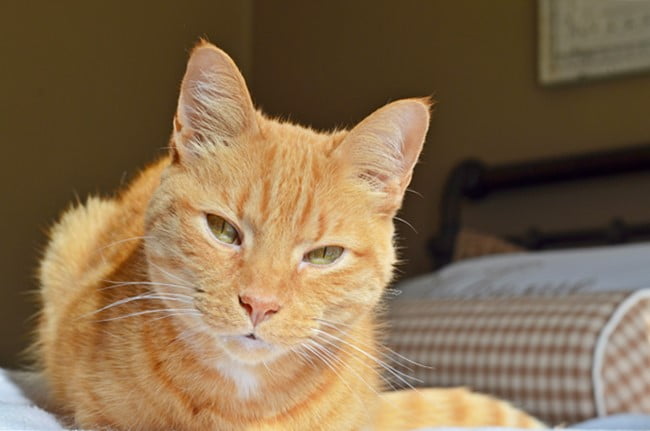 Henry, who is almost 15 years old, is grieving as well. I can just tell because he walks around the house looking for Rascal.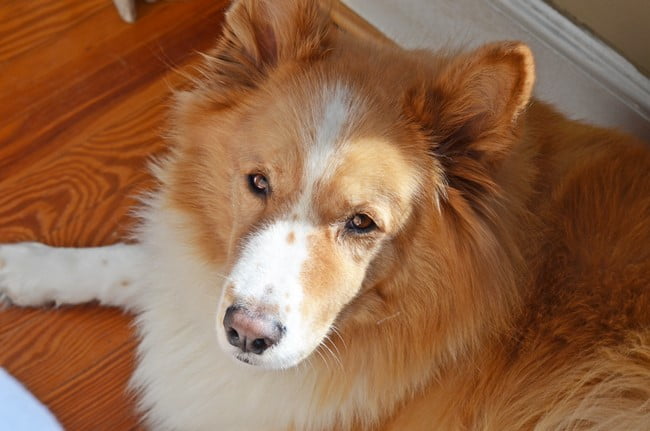 One of the sweetest things that Lucy did was to bring one of her new toys over to my lap when I was holding Rascal over the long New Year's weekend. She was offering her toy to Rascal, not me. She definitely knew that Rascal was sick.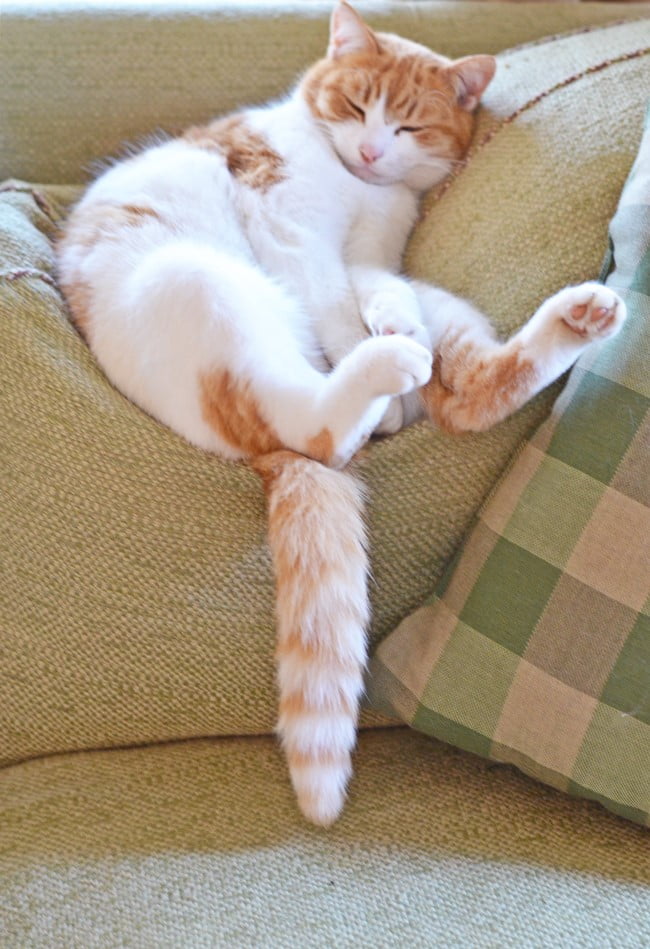 And our cat Juicy, who is an outdoor cat most of the time unless it's cold, has been spending a lot of time warming my lap lately. Oh, gosh! Pets certainly do enrich our lives but dealing with their loss is so hard! I take comfort in knowing that Rascal is not in any more pain and that perhaps I'll see him again one day. Thank you for listening, for understanding, and being my friend.