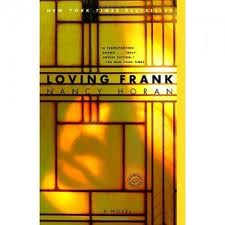 I just finished reading this book-Loving Frank by Nancy Horan. I belong to the Book Club at the public library in Lamar, and this was the selection for July.
I read the book and was looking forward to attending our monthly meeting yesterday, but the meeting time got changed. I realized I had a hair appointment at the same time, so what's a girl gonna do? I had to keep that hair appointment.
I was looking forward to the discussion of this book because I wondered how people felt about this book. I enjoyed reading the book, but I hated the characters.
The book is historical fiction, but it is based on the real love affair of Frank Lloyd Wright and Mamah Borthwick Cheney. I have always admired Wright's architectural genius, but I really disliked him as he was portrayed in this book. He and Mamah (pronounced May-ma) were incredibly selfish people, but I couldn't put this book down. Mamah was  involved in the Suffragist Movement and the early Feminist Movement, but I kept thinking that she was making all her choices based on the wants of one man.
Regardless, I was intrigued with this story as soon as I began reading. This is the author's debut book, and she did a marvelous job weaving fact and fiction. And I was totally not expecting the story of their love affair to end the way it did.When I finished the book, I wanted to see the home that Wright built for Mamah.
I really regret missing my book club meeting as this book was very thought provoking.  It examines the expectations of women and mothers in our society. So if you want a book to get you thinking about these issues, then I really recommend this one.