If you're looking for an easy spring decorating project that won't break the bank, then you're going to love learning how to decoupage  large wooden Easter eggs!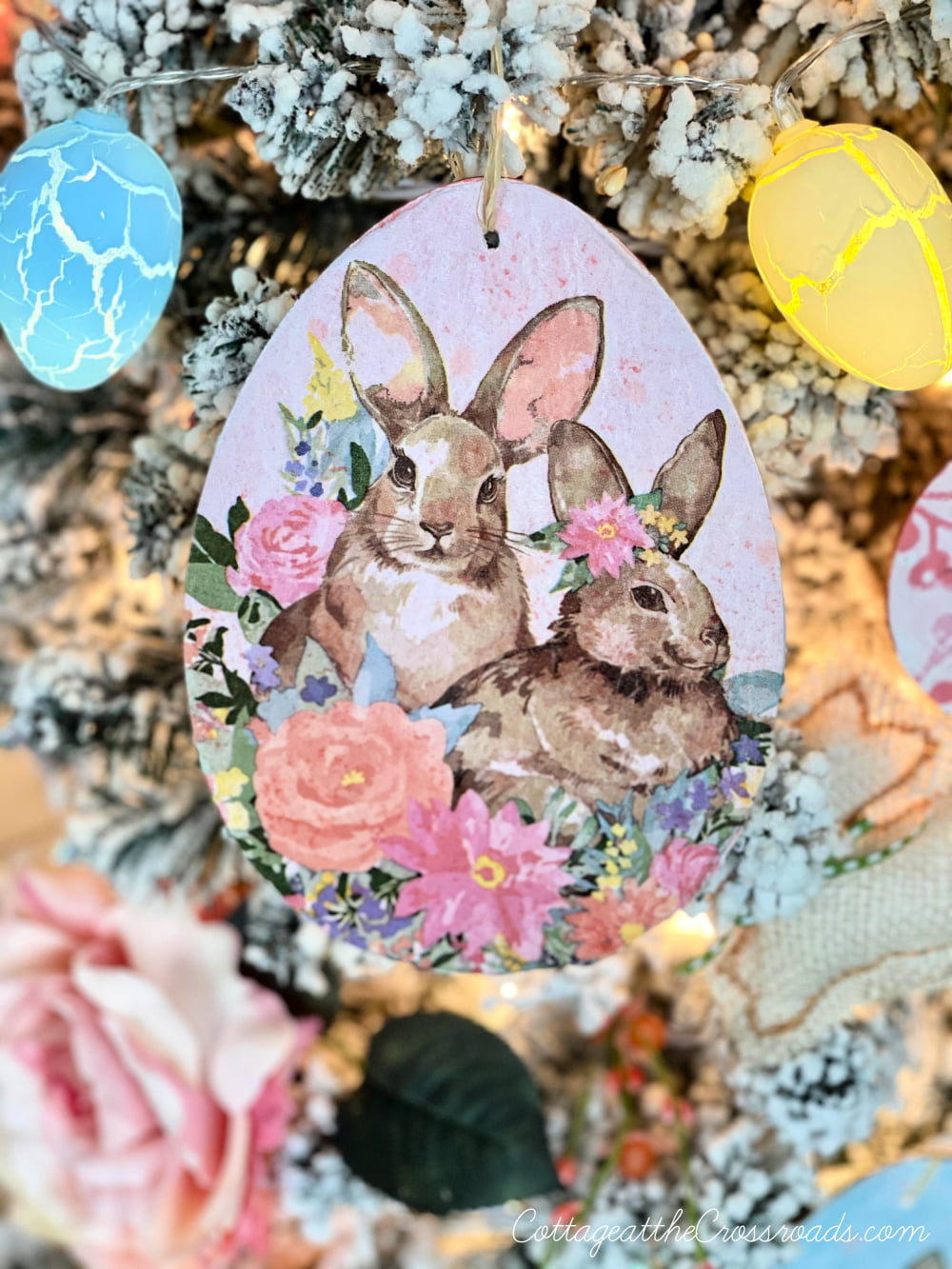 I left one of our Christmas trees up and now I'm decorating it for Easter. And because I was looking to create some large decorations for it, I kinda stumbled onto this project.
This post may contain Amazon or other affiliate links. As an Amazon associate, I earn from qualifying purchases. If you purchase anything through any affiliate link, I may earn a small commission at no extra charge to you. All opinions are my own.
You see, I had ordered some fairly large wooden Easter eggs from Michaels. They were designed to use in making a banner.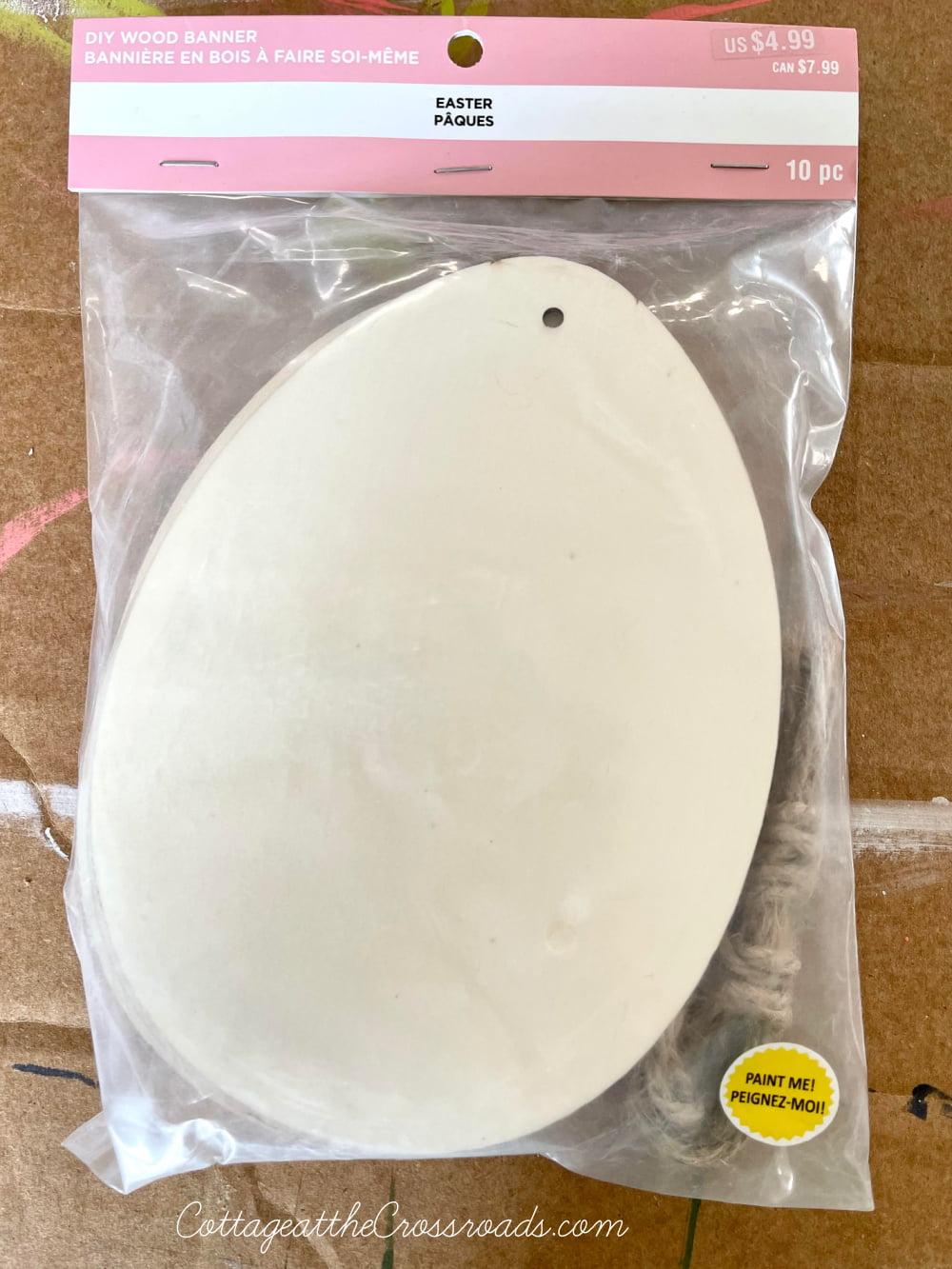 I wasn't quite sure what I was going to do with them but I'm always acquiring surfaces to apply some Chalk Couture.
Well, once I started decorating the Easter tree, I realized that I wanted some large decoration to create an impact.
So I thought I'd use some of the eggs on the tree and I promptly started painting them different colors with acrylic craft paint.
About the same time, I was shopping in Walmart and ran across these pretty Pioneer Woman napkins.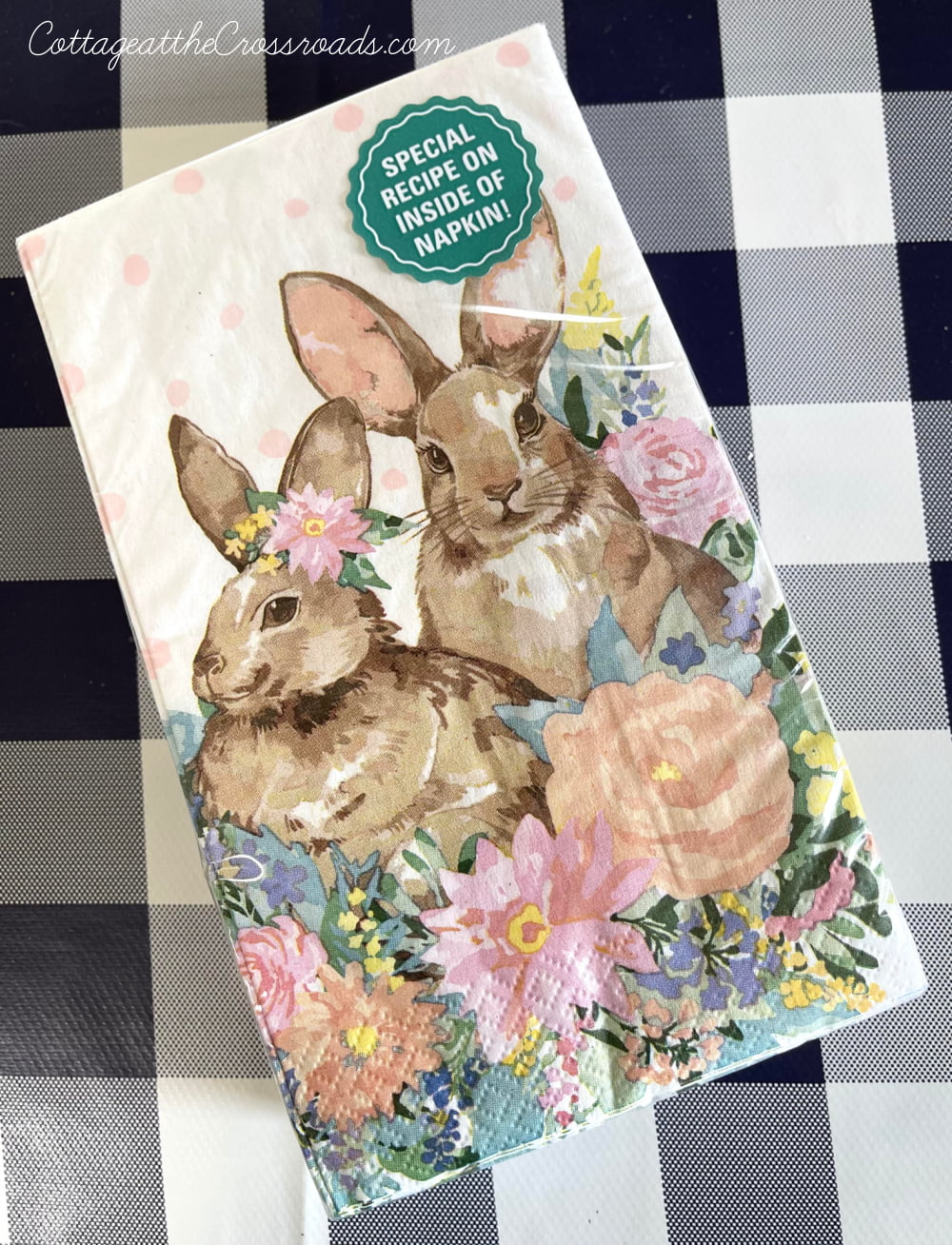 And once again, I had no idea what I was going to do with them other than to use them as napkins!
One day I got the idea to decoupage the bunnies onto the wooden eggs. I was discussing the project with my friend Ann when she told me that ironing the eggs after decoupaging them would remove any wrinkles.
Holy cow! How did I not know this???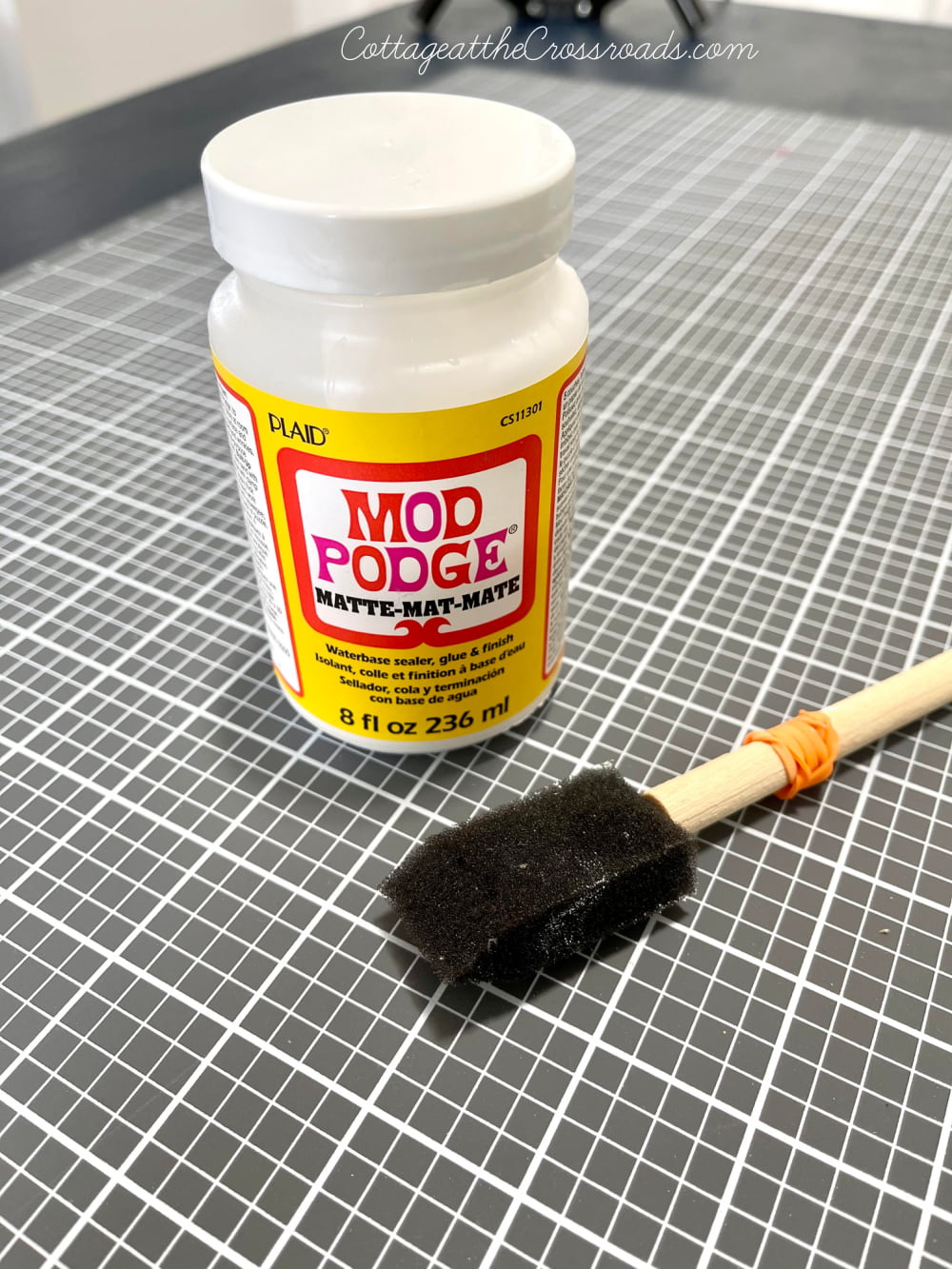 So I promptly separated the two layers of a napkin, cut out 2 of the bunnies, and got out my Mod Podge.
After letting the Mod Podge dry, I got out my iron and some parchment paper.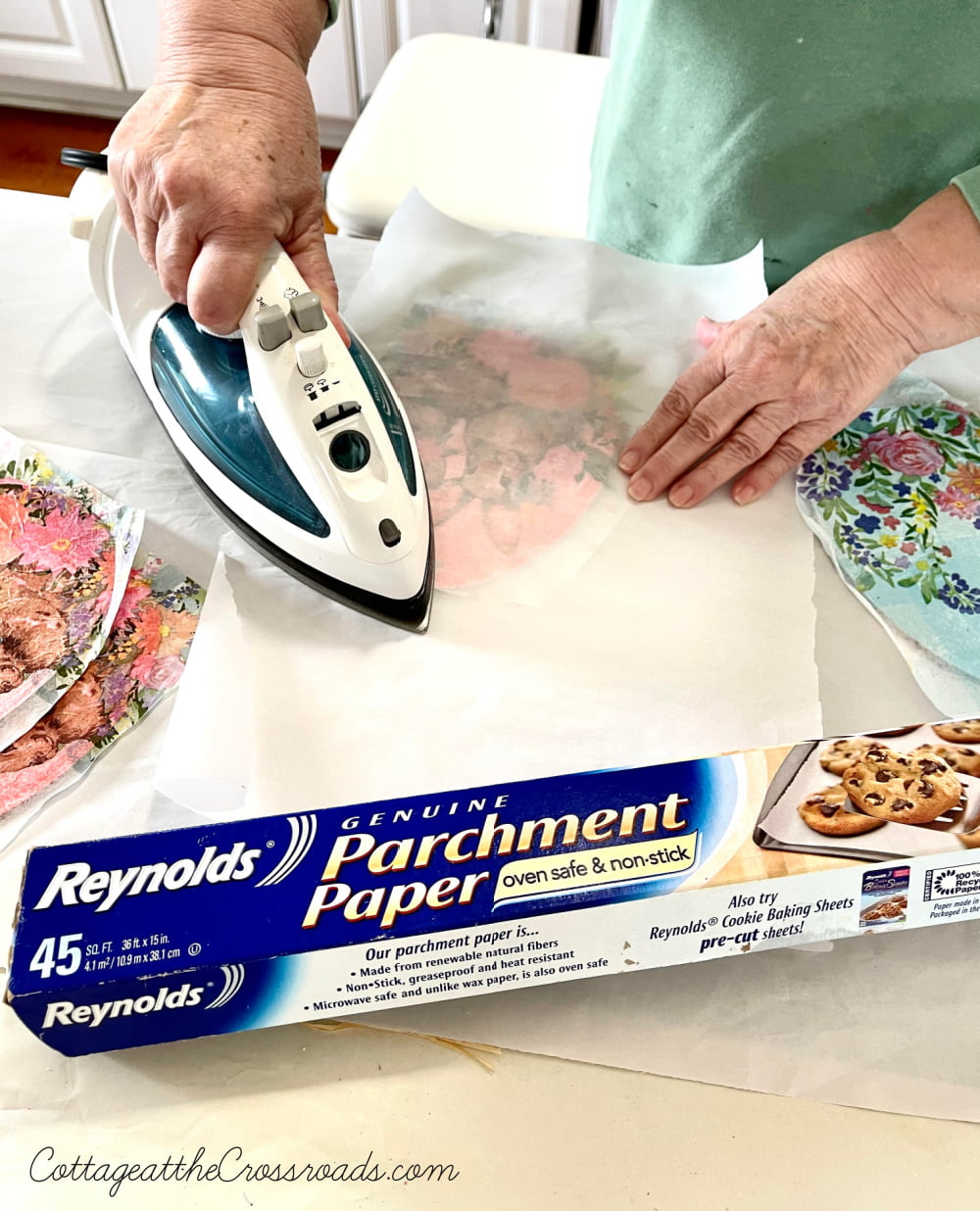 After ironing for about 10 seconds, I lifted the iron and the parchment paper and VOILA!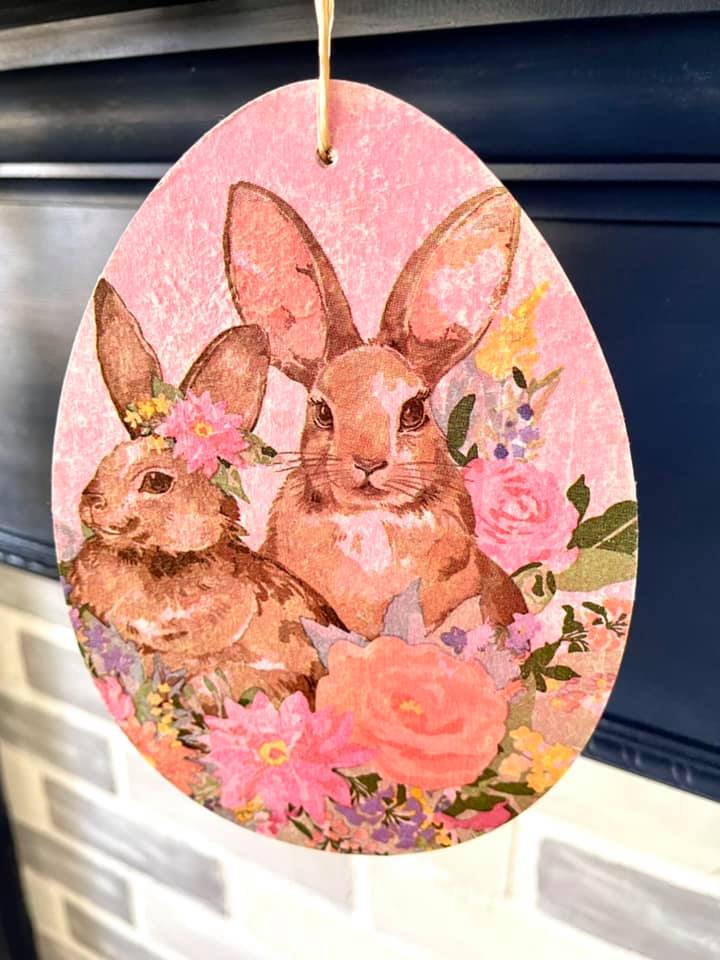 This is what it looked like! The heat from the iron magically removed any wrinkles!
Because the paper is sheer, you can see the color of the painted wooden egg behind the paper, and ironing seems to fuse the paper to the wood.
OH, MY GOODNESS! I was so delighted with how the wooden egg turned out!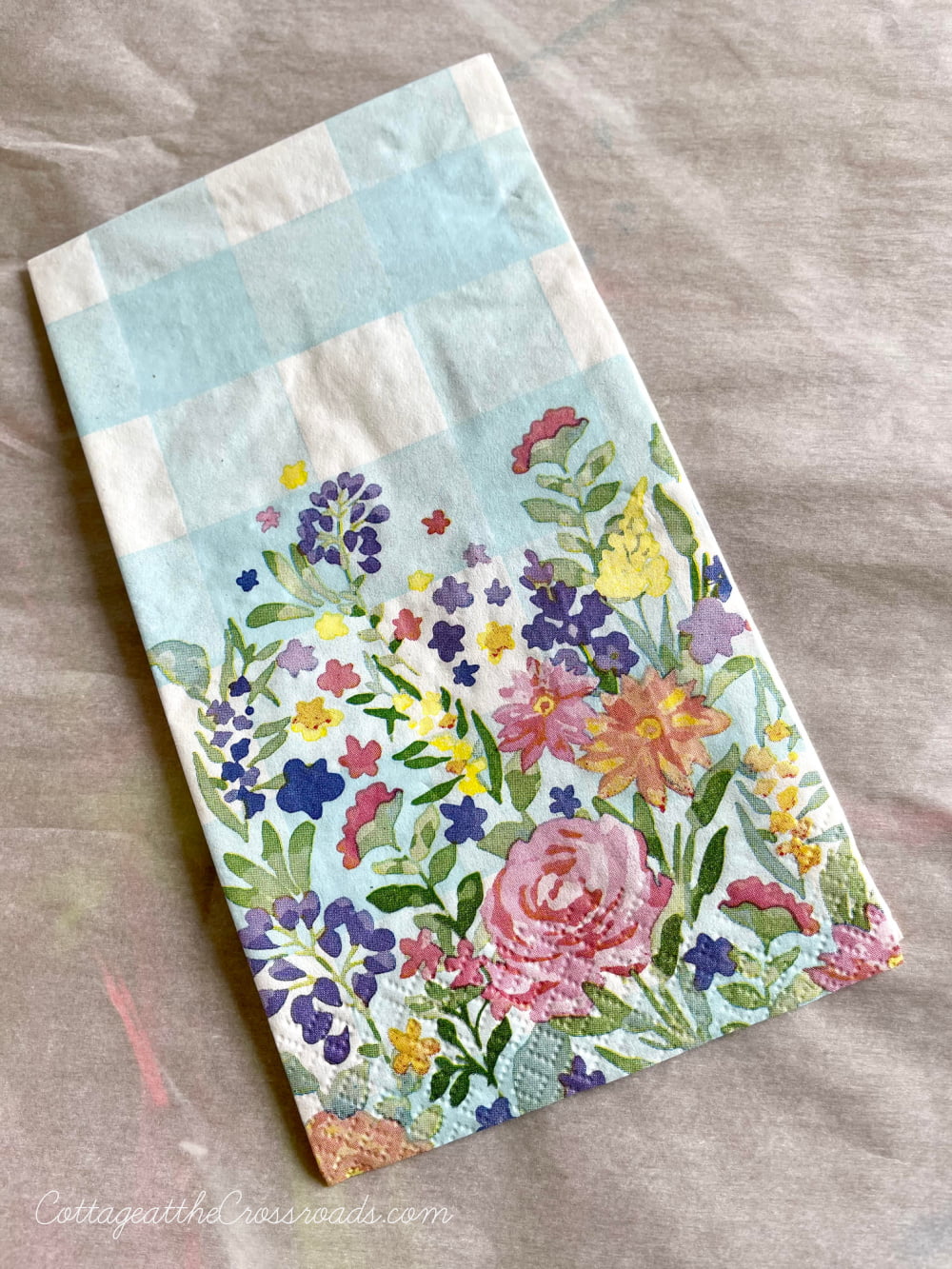 Well, I couldn't stop there! I purchased another package of Pioneer Woman napkins.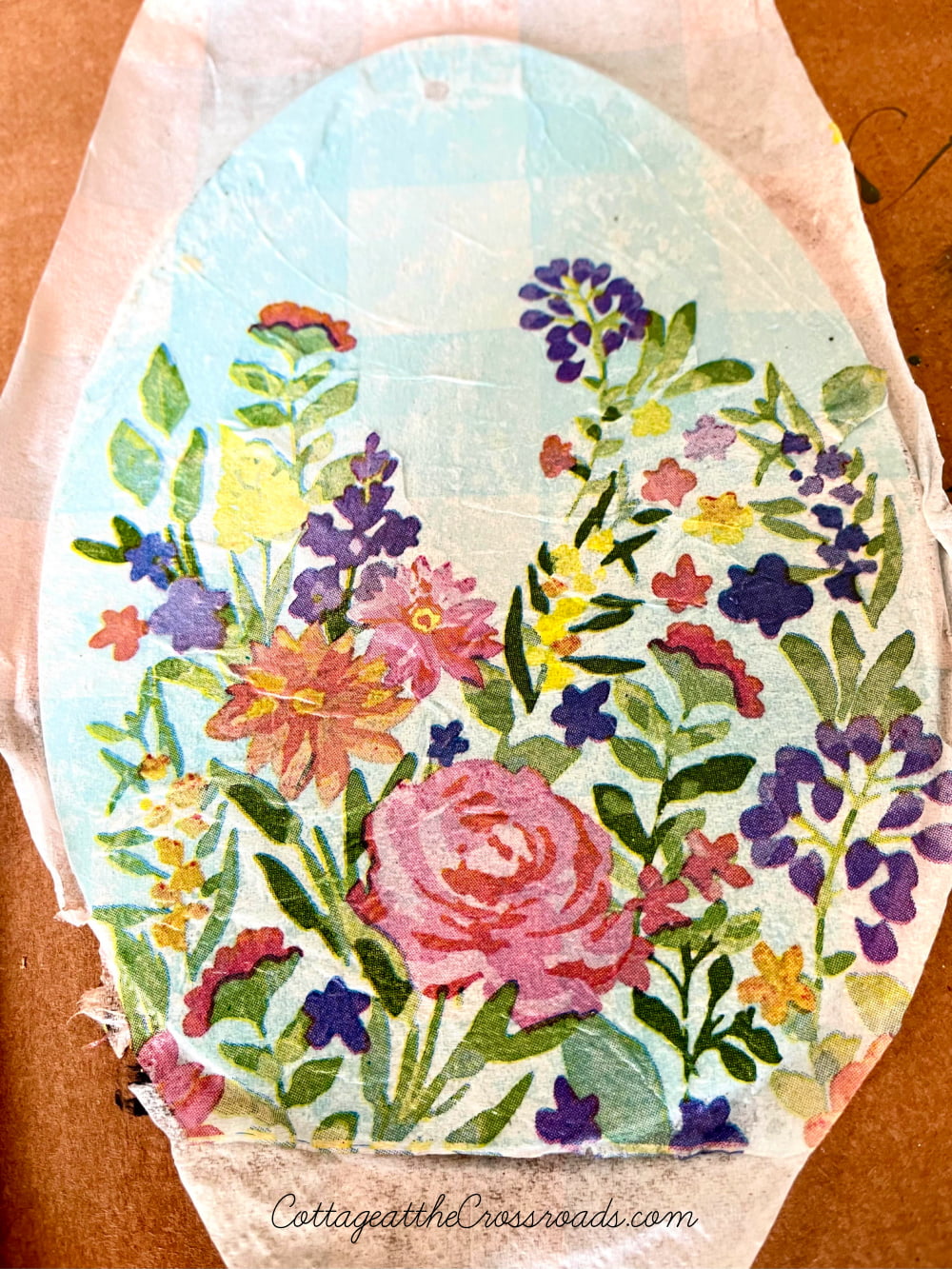 For this one, I first decoupaged the blue and white part of the napkin on the egg and then added the cut out flowers. In the photo above, you can see all the wrinkles after it dried.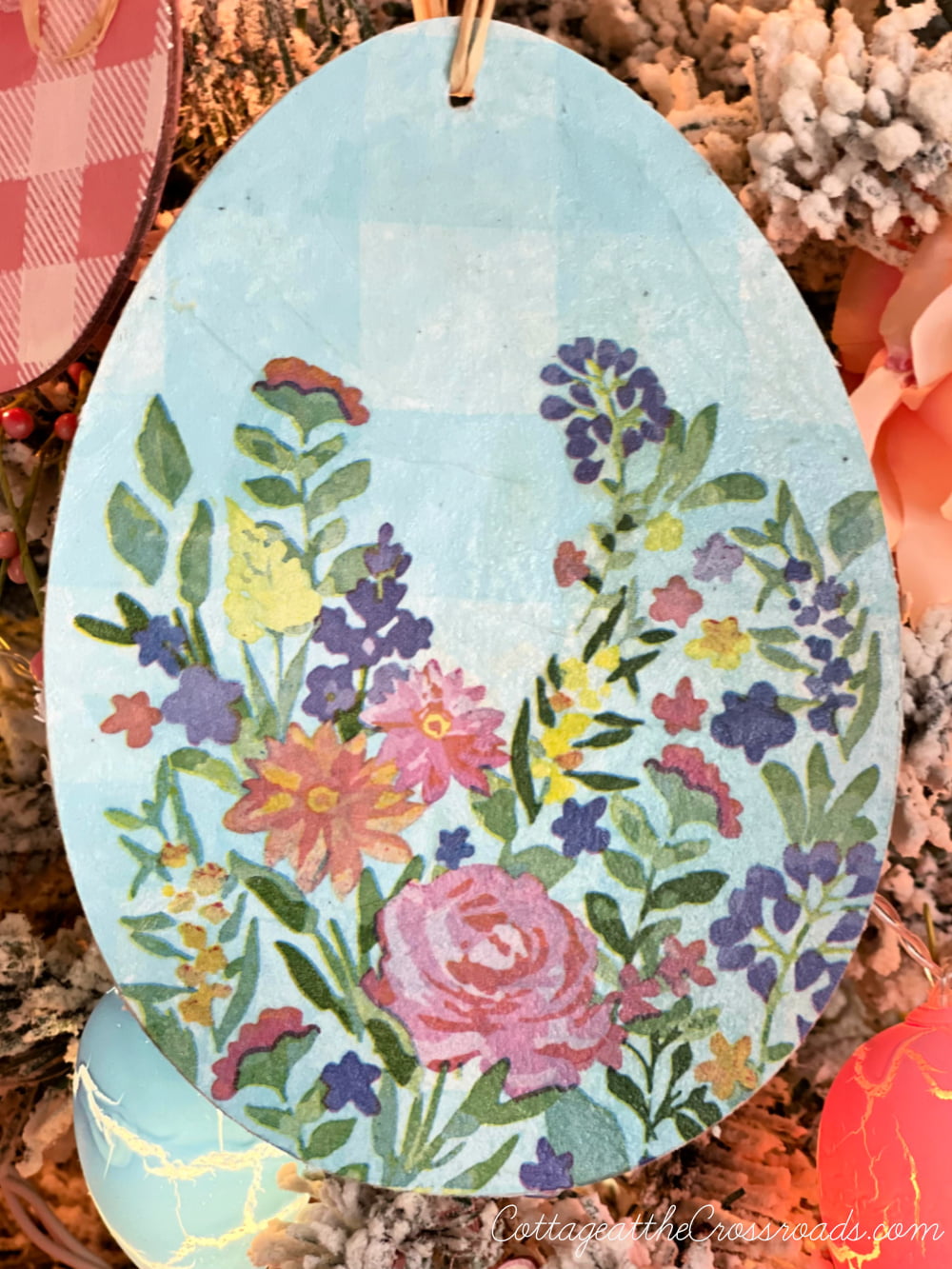 But look how smooth it looks after ironing. It is now hanging on my Easter tree.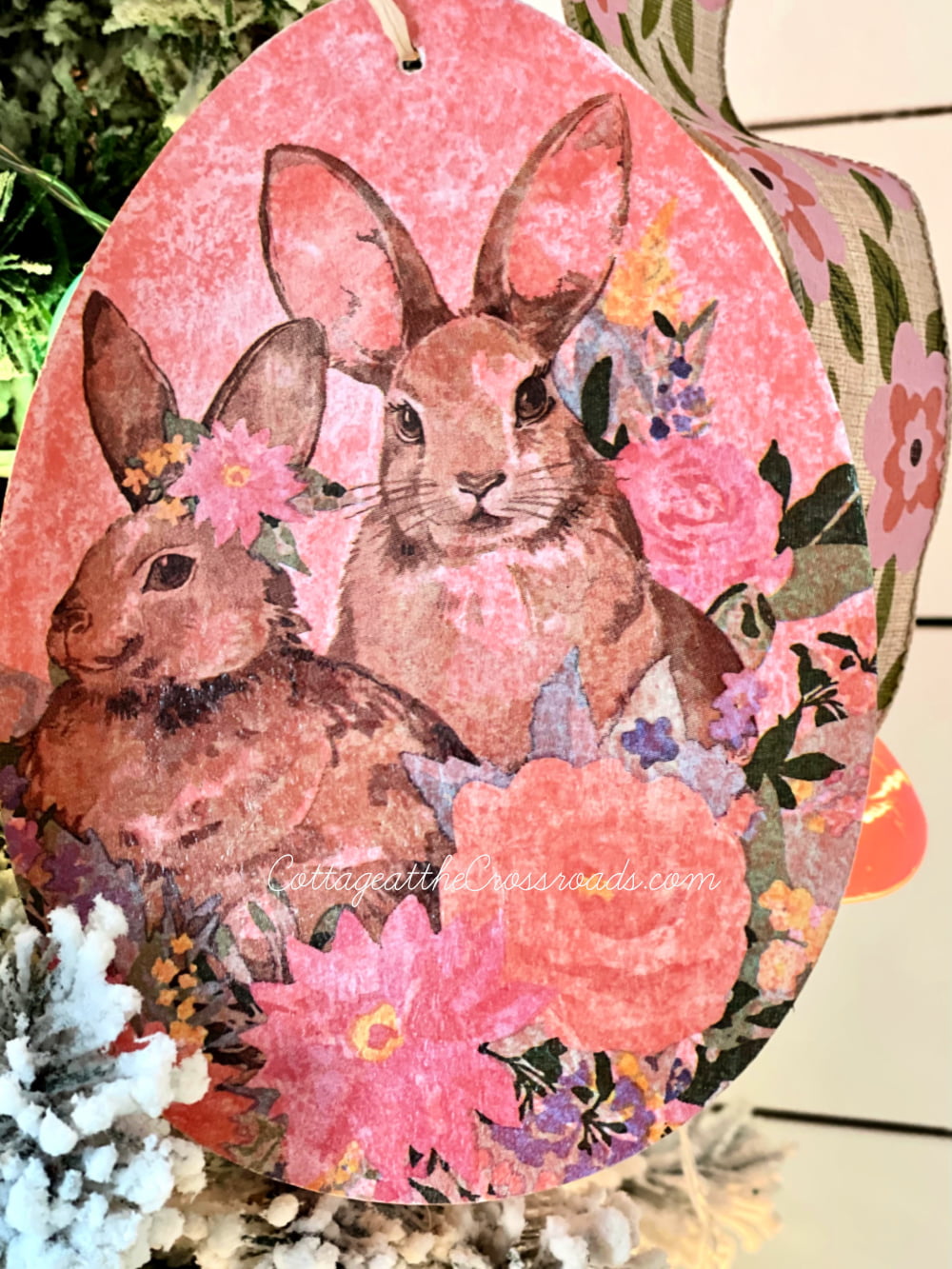 The one above has a lot of color because the napkin was decoupaged on a coral painted egg. I love it because that's the color that I use in the room where the tree is.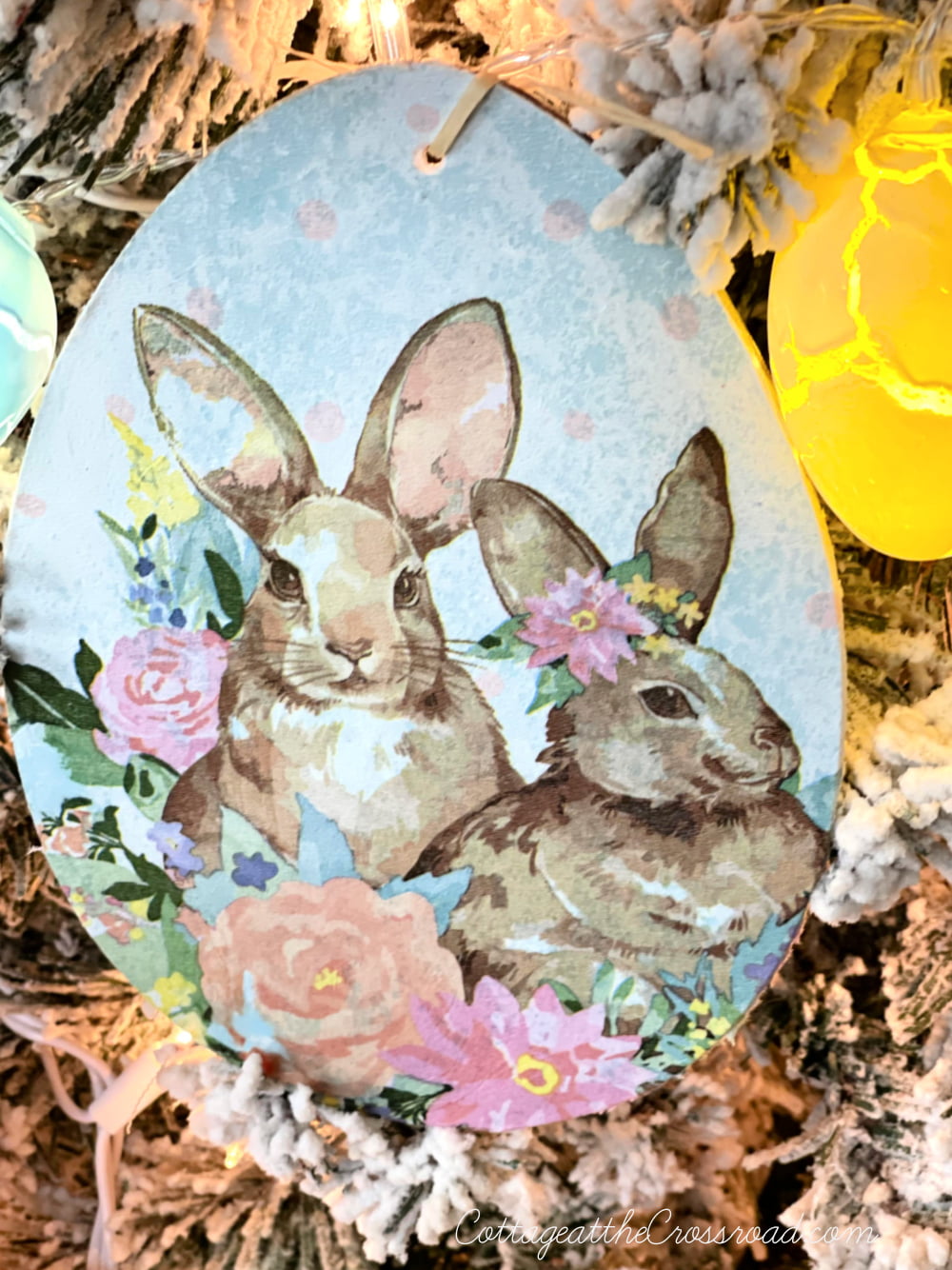 But I love the light blue ones, too!
supply list for decoupaged large easter eggs
*Some of the links below are affiliate links
paper napkins (Walmart)
scissors
acrylic craft paint in your choice of color
iron
parchment paper
steps in decoupaging wooden Easter Eggs
Instead of writing out the steps to make these eggs, I put it all in the video below.
Thanks for watching! Be sure to follow our page on Facebook.