This week I've been immersing myself into reading all about a REAL FOOD diet, and today I'm sharing the healthy cooking oils that I've started using. When I use the term REAL FOOD diet, I do not mean a diet to lose weight, although I'm hoping to shed a few extra pounds by eating more veggies and less meat.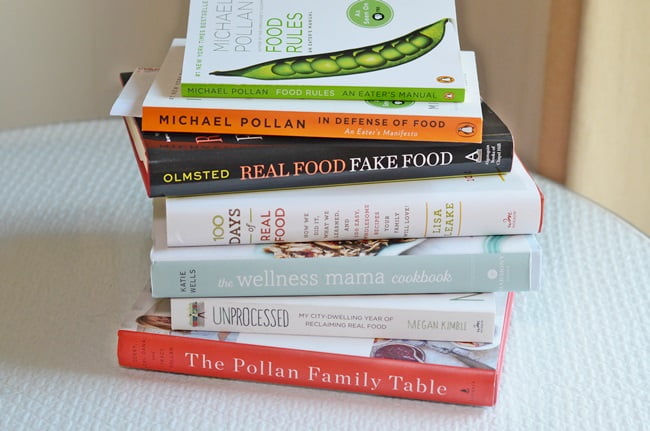 No, what I mean is a way of eating that is more like the way I ate as a young child before processed foods became so prevalent in our American diet. I grew up in a rural community where my father raised cattle. Our freezer was always stocked with grass fed beef alongside vegetables from our garden. I ate sweet cream butter made by my grandmother and drank whole unpasteurized milk. Those are the kinds of foods that I'm returning to in order to get healthier.
There are lots of books on the topic of eating REAL FOOD as you can see from the stack in the above photo. As I finish the books, I will be sharing the ones that I found most helpful. But the more I read, the more convinced I am that avoiding highly processed food is putting me on the right track to achieve my health goals.
You see, about 2 years ago, I was diagnosed with an autoimmune disease that affects my eyes so I am trying to rid my body of inflammation that has created all sorts of problems with my vision. I do plan to share more about my disease soon but my goal right now is to control the inflammation through my diet and get off the medication that I've been taking that has weakened my immune system.
So I'm choosing to follow a REAL FOOD diet to eliminate as much highly processed food as possible. First, I will have to admit that following this kind of diet can get expensive so I've decided to make changes gradually. To me, it makes more sense to start substituting healthy cooking oils for the ones that are refined.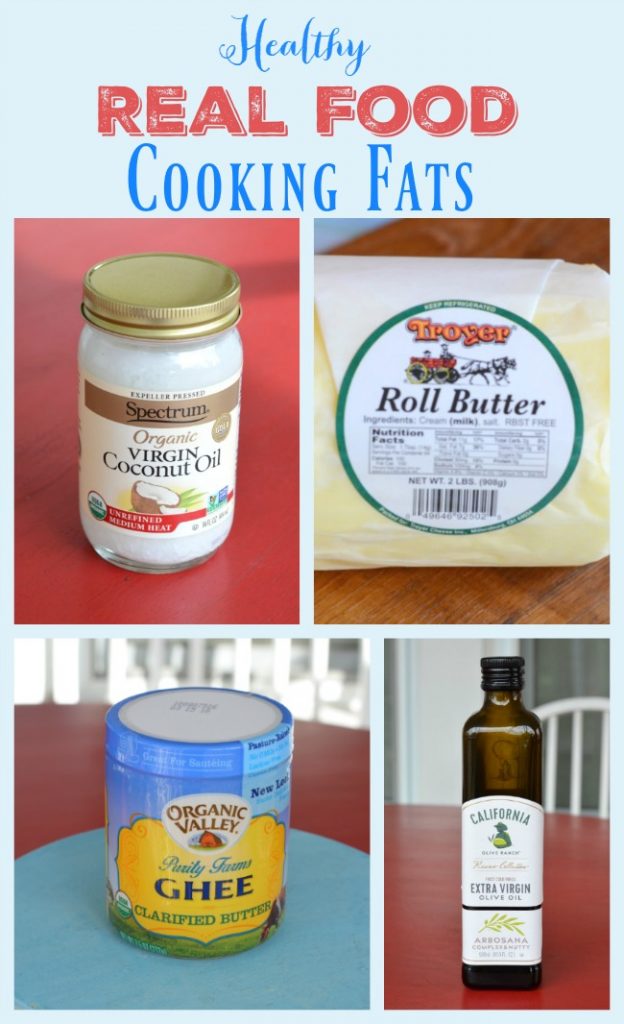 It makes no sense to me to seek out locally or organically grown vegetables or grass fed meats if you're going to be cooking them in highly processed fats!
The trouble with using refined oils is that in order for them to be extracted in large amounts from seeds or vegetables, they have to be chemically removed, deodorized, and altered. Because refined oils are chemically produced, they contain harmful substances that have been linked to all sorts of diseases and immune problems. (I'm no expert but that's what I've read!)
And, it's not enough to not use these oils in cooking but you have to look for them in almost any packaged product!
The oils that I'm avoiding are: canola oil, corn oil, cottonseed oil, grapeseed oil, margarine, peanut oil, safflower oil, shortening, soybean oil, sunflower oil, and vegetable oil.
The number one healthy oil on my list is extra virgin olive oil. You probably have some in your pantry too, right?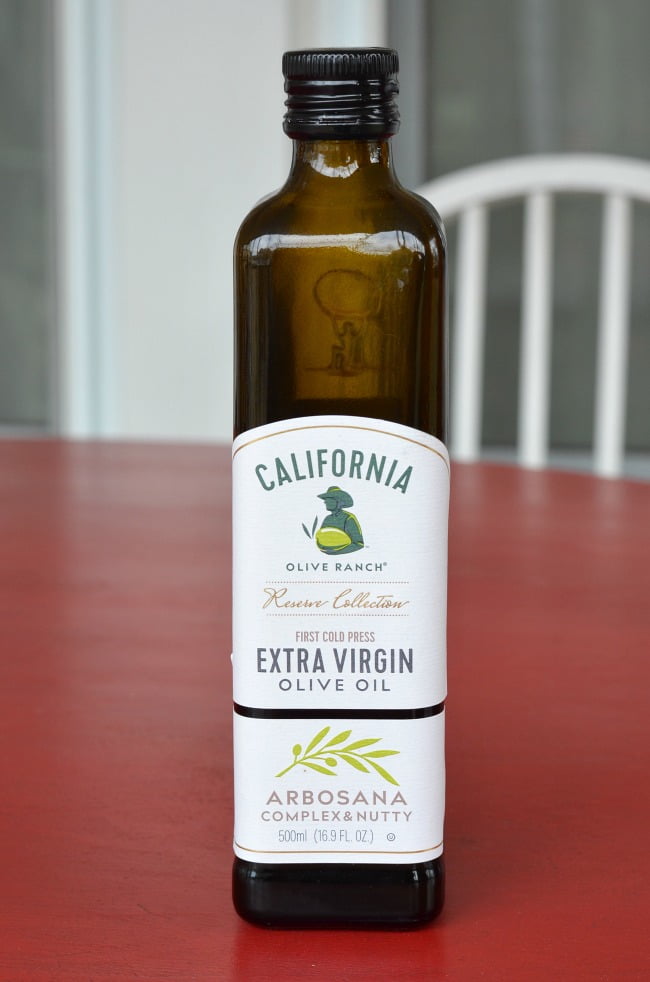 Well, I learned a lot about olive oils in the book Real Food/Fake Food by Larry Olmsted. Did you know that 75-80 percent of the olive oil sold in this country is fake, and some is even dangerous? So you have to be careful about the olive oil that you're buying and using. I consulted some lists and read reviews, and I have been ordering this (affiliate link) California Olive Ranch extra virgin olive oil from Amazon.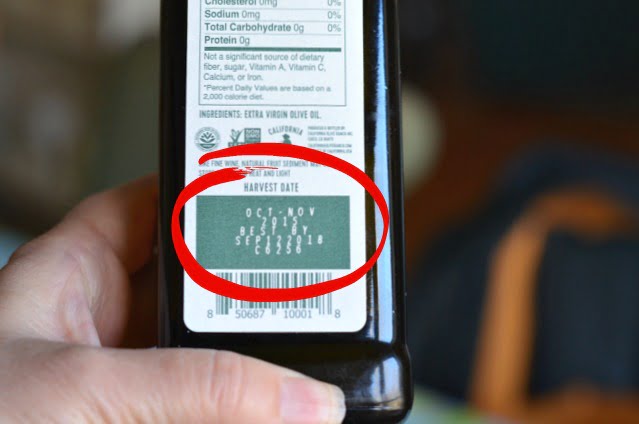 I have learned to buy your olive oil in smaller, dark bottles and to use it up fairly quickly. It is important to look for the harvest date and best to use by date as well since olive oil can go rancid. Yes, this olive oil is way more expensive that what I'm used to paying, but I have found that I need less of it for cooking and use it more for drizzling, dipping, or in making dressings. The only time I use it in actual cooking is when I roast veggies in the oven.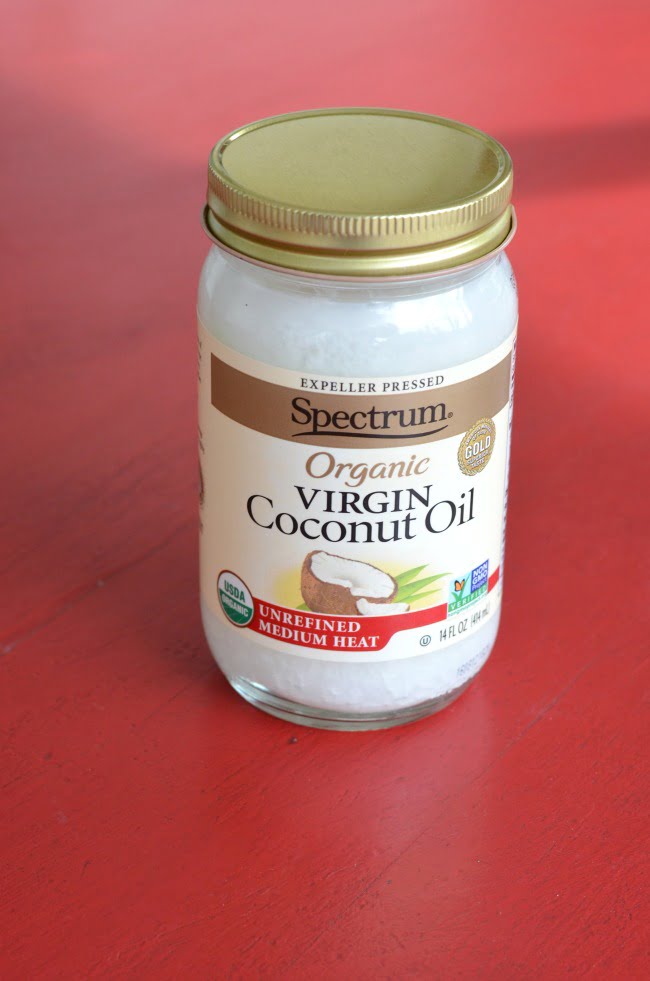 For everyday cooking, I'm using this coconut oil that I purchased at Walmart but you can order (affiliate link) this organic unrefined coconut oil from Amazon as well.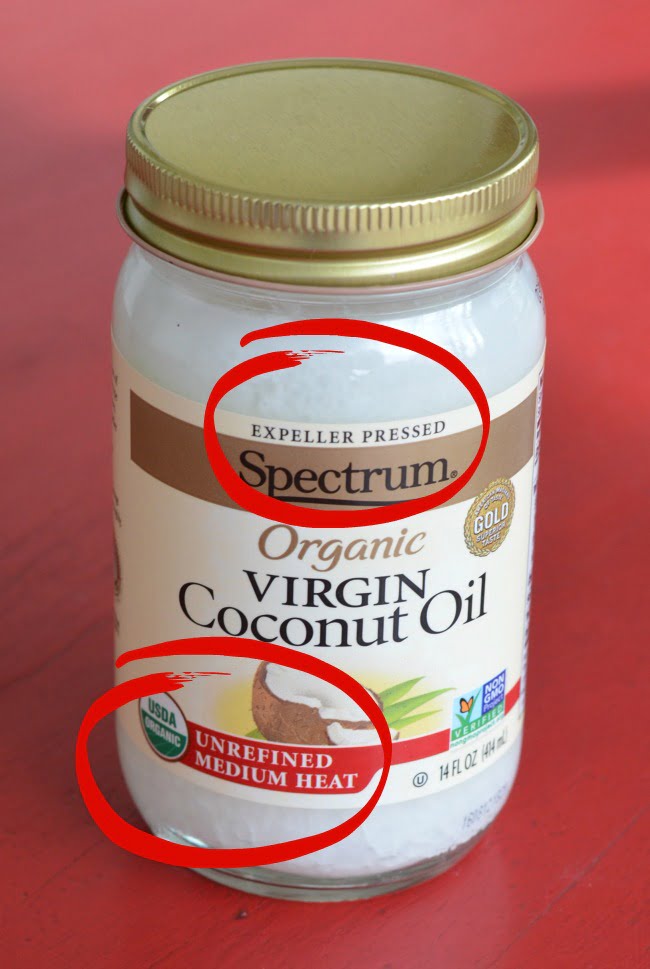 I have purchased and used coconut oil before, but I did not know that I should be buying organic coconut oil! Whether the coconut oil is refined or unrefined does NOT affect the health benefits. The unrefined oil has more of a coconut flavor and the refined is more odorless and flavorless.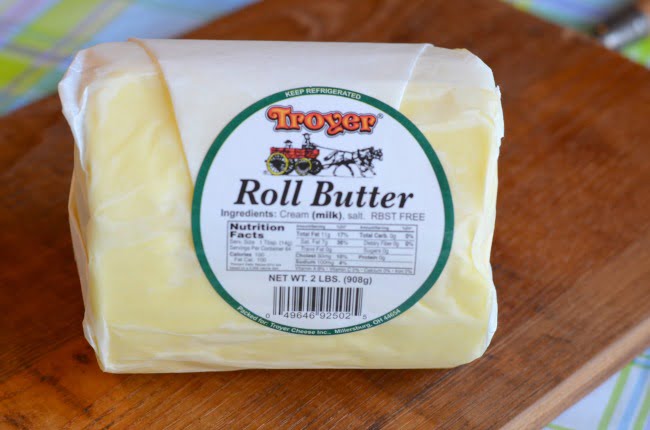 Now, on to my favorite thing! REAL BUTTER! I have never, ever jumped onto the margarine bandwagon, mainly because I had always eaten homemade butter as a child. (I still have my grandmother's churn and one of her butter molds!) Butter has gotten a bad rap health wise for so many years so I'm glad to see that the tide has turned. But unwisely I have been purchasing Land O' Lakes butter for many, many years.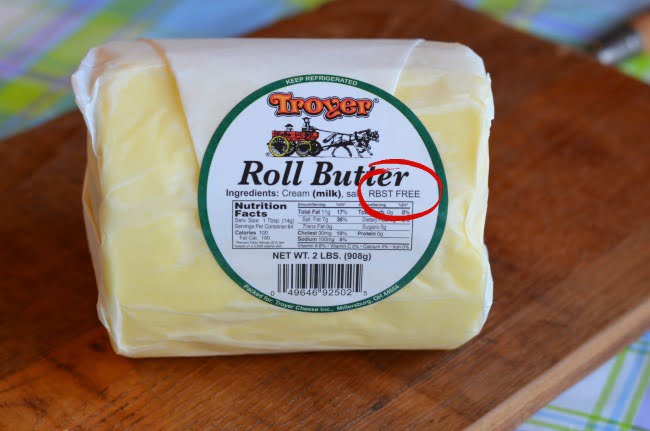 The butter that I'm using is rBST free which means that the cows were NOT given a growth hormone to increase their milk production. This hormone has been widely banned in so many foreign countries but not in the United States!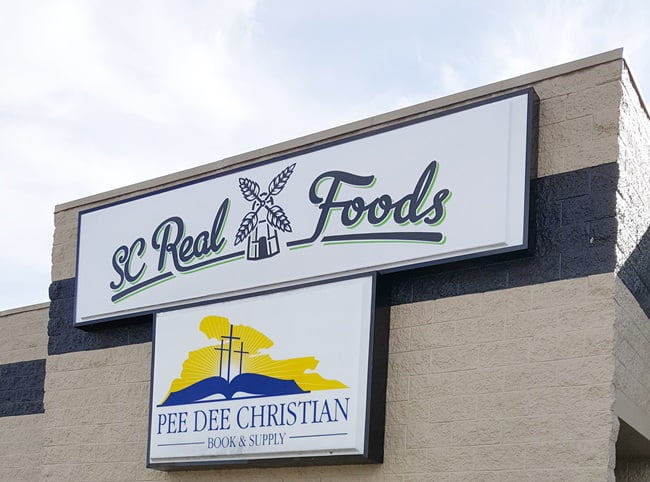 My sister-in-law turned me onto this butter last year, and we get it from our local health food store. Look! It's named REAL FOODS! You can order it online-just google Troyer roll butter. I'm not sure that this butter comes from cows that were grass fed or not. From what I've read, the butter should be more yellow. But the lucky cows didn't get a dose of hormones!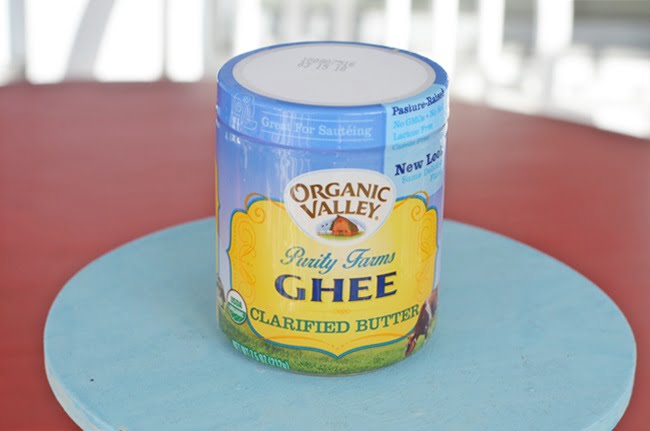 The last healthy cooking oil that I've started using is this ghee, which is another name for clarified butter. All that means is that the milk solids and water have been removed from the butter.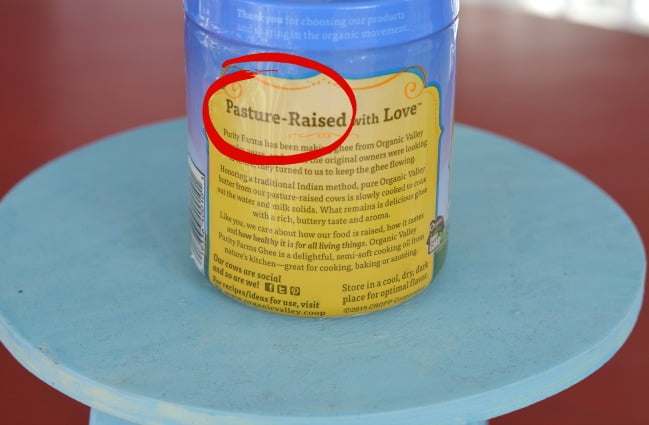 On the label, look for the words pasture-raised or grass fed when buying ghee.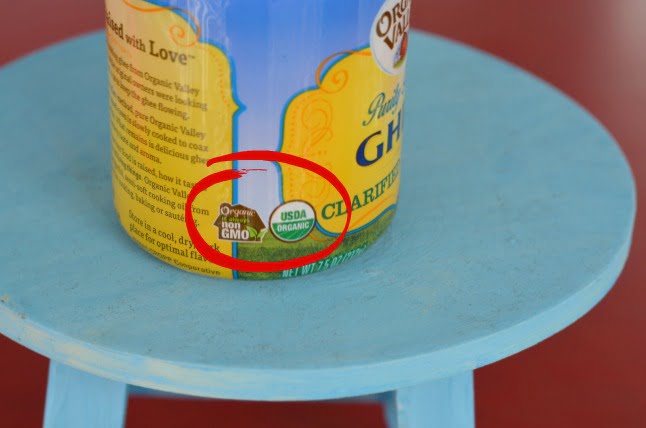 I like this one because it is nonGMO and has the USDA organic label which assures that the cows were not treated with growth hormones and antibiotics. You can order this (affiliate link) Organic Valley Ghee from Amazon as well.
Ghee keeps a long time without going rancid and can be used for frying at higher temperatures than regular butter. Although I have not done so, I understand that you can use it in any recipe that calls for butter or oil. If you have used it this way, please let me know.
I think eliminating refined oils from my cooking is a good start on my path for seeking better health. Let me reiterate that I am by no means an expert on this subject. I am definitely not a nutritionist or a medical doctor but am basing my information on a lot of research that I've been doing lately. As with anything, I think you have to use these cooking oils in moderation or you'll end up as wide as a barn!