If you have been wondering why there haven't been any new posts this week, it's because Leo and I have been working really hard this week on our town's golf benefit. It's called The Silver Fox Tournament of Champions and is held at Governor's Run Golf Club in Lamar. The benefit is the Civitans' major fundraiser of the year. The money raised is distributed to the community with the largest amount given to the Lamar public schools.
Leo and I have been attending almost weekly meetings for the past two months. Leo was on the golf tournament committee and I was on the committee that planned the social event  that was held the evening prior to the tournament.
On Monday I started making these table decorations.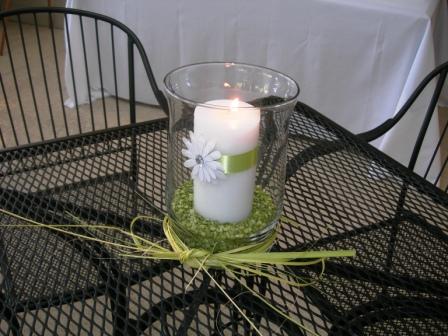 I made these by putting split green peas into the bottom of some clear glass candle holders that I got from Hobby Lobby.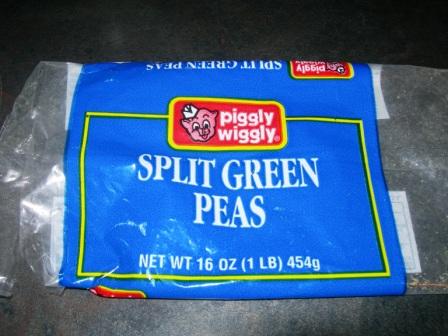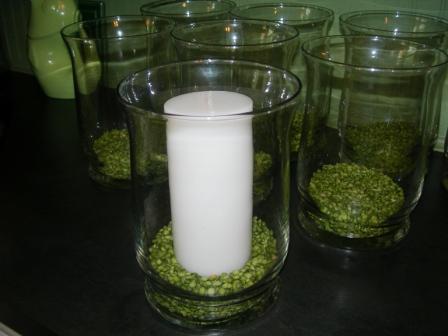 I used 5 inch candles purchased from Target and some apple green ribbon that I found at Jo-Ann's Fabrics. Our color scheme for the party was green and white.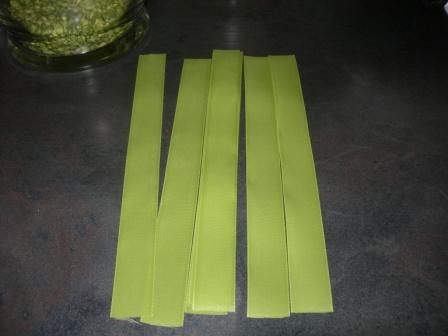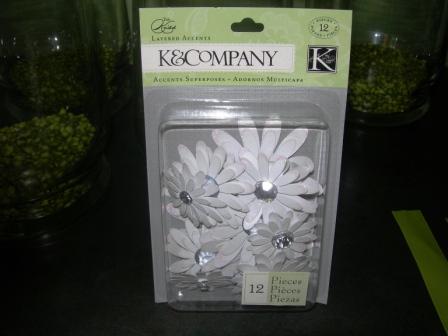 I found these cute flowers at Target to put on the candles at the place where the ends of the ribbon met.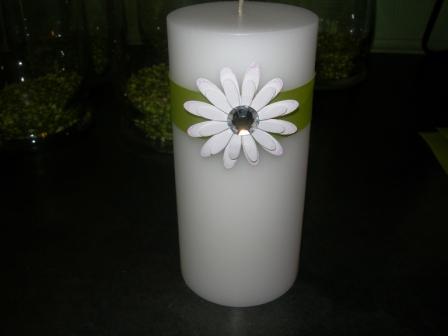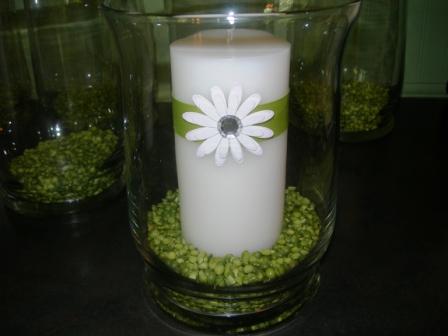 So I did this 8 times since we needed decorations for 8 tables.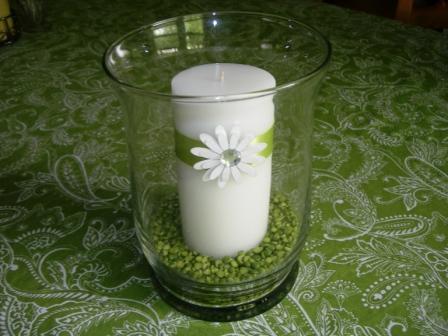 Do you think I like green?  The table decorations were ready to go. On the day of the party we tied palm fronds around the base of the candle holders for the final touch.
Monday afternoon Leo and I made 2 posters thanking our 50 hole sponsors who each donated $100.
On Tuesday afternoon Leo and I met some of the other committee members at the clubhouse to begin cleaning and rearranging furniture in preparation for Thursday night's party.
In addition to being on the committee, I was responsible for the fruit and cheese table. So Leo and I went food shopping on Wednesday. We went to 4 different grocery stores and the farmer's market to find everything that I needed. When we got home, I got to work making 5 different kinds of cheese truffles. It took a long time to make all those little cheese balls. I'll post the recipes for them soon because they were a huge hit.
Early Thursday morning we met again at the clubhouse to decorate. Now this sounds simple, right? OH, NO! It involves loading and unloading a lot of greenery, flowers, ferns, stands, bar supplies, etc. Hard physical labor!
As soon as I arrived home, I had to finish making my dishes for the fruit and cheese table. Thank heavens two of my sisters-in-law arrived to help me.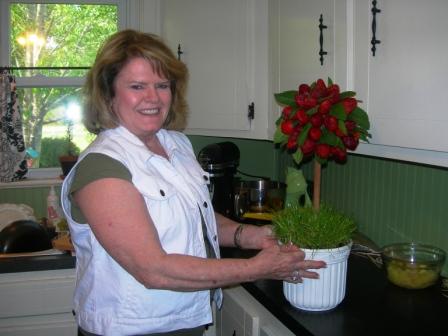 Here is Jean Windham completing a strawberry topiary.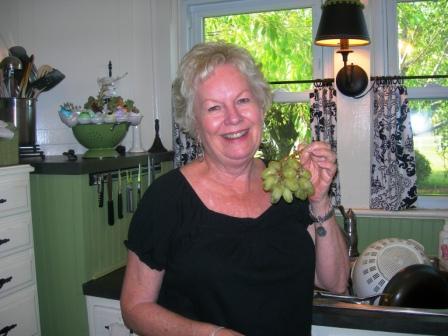 Here is Jean Windham playing with some grapes. No, I didn't make a mistake. I have two sisters-in-law named Jean Windham and the crazy thing is that both of them are named Gloria Jean!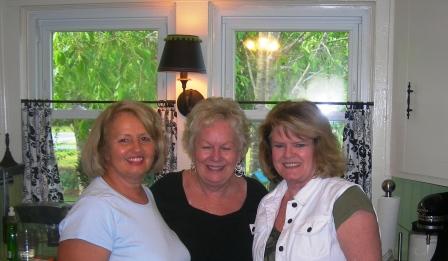 We were having fun but we were working hard to get everything ready on time.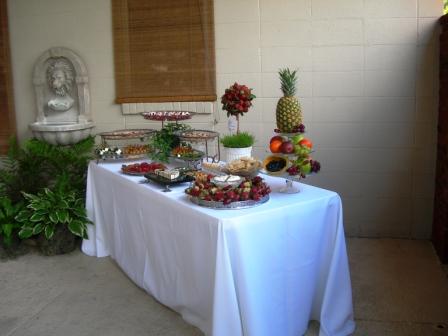 Here's my table. We got it together just in the nick of time.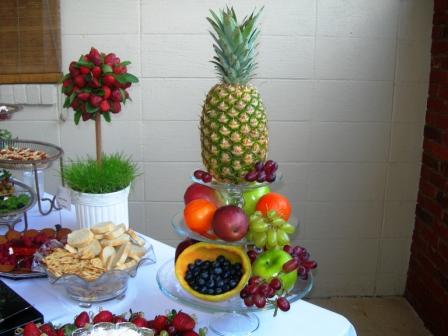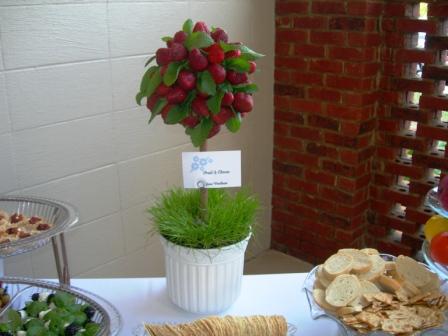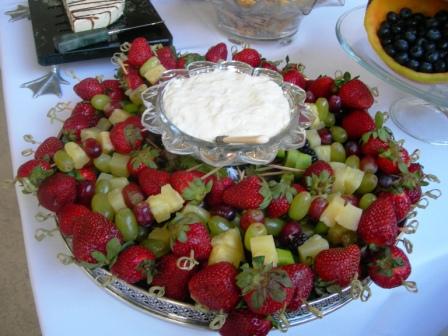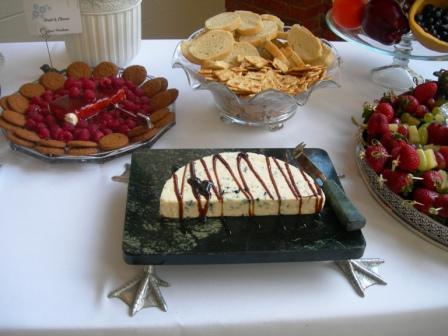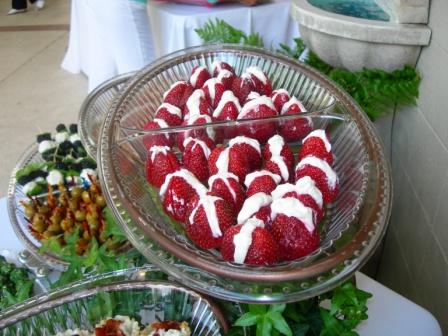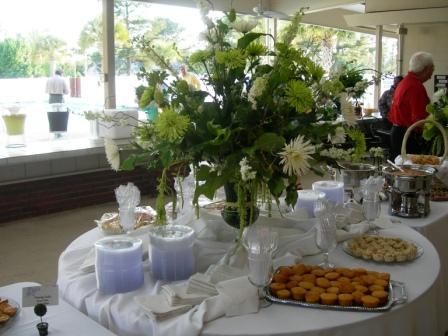 The  floral arrangements were made by Sandra Ard from Lamar Florist and Gifts.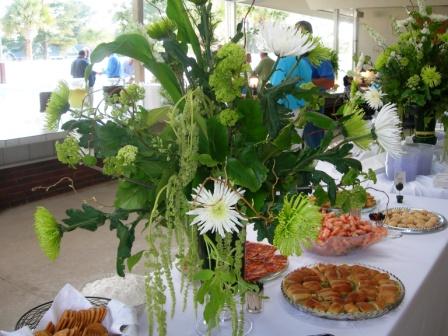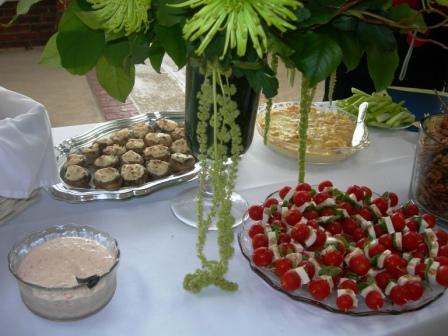 The variety table was filled with all kinds of wonderful foods.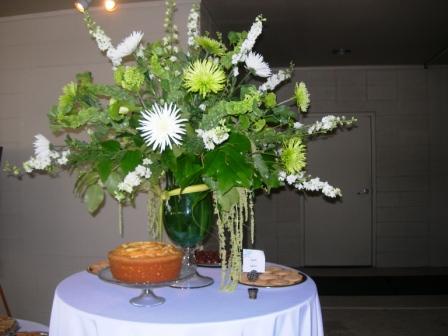 The dessert tables were laden with tempting  sweets made by local ladies.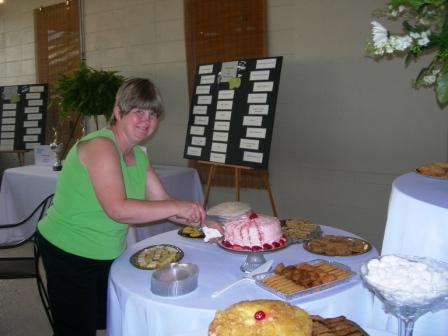 Here Kathy is cutting a delicious strawberry cake.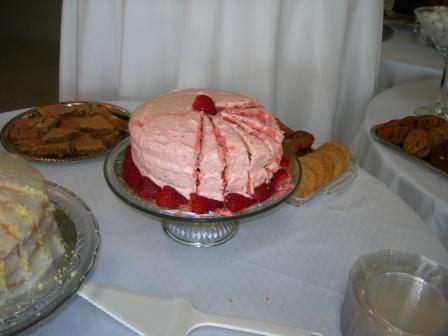 I just happen to have the recipe for this cake!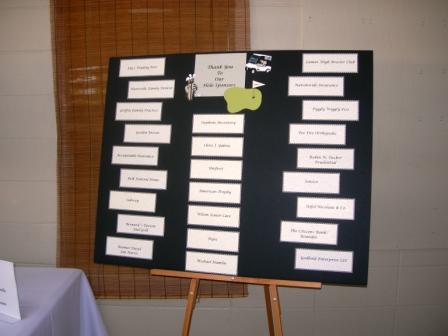 Here is one of the hole sponsor posters that Leo and I made earlier in the week.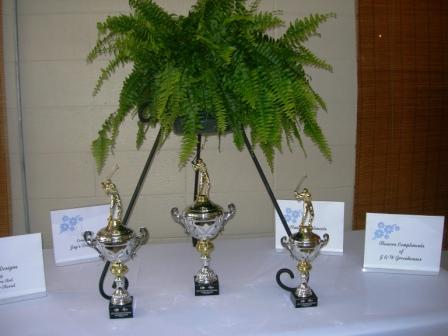 Trophies for the winners!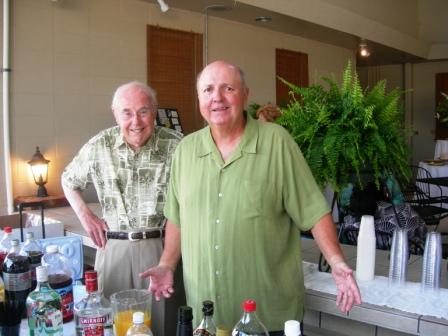 Leo and Dr. Gordon Brown tended the bar.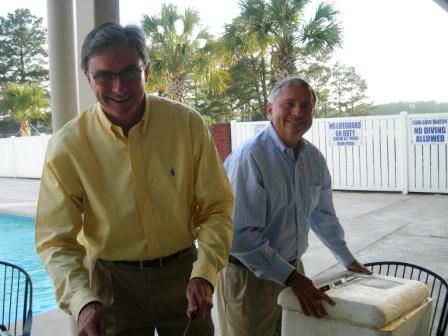 The Jeffords brothers, Warren and Al, cooked beef tenderloin and smoked sausage.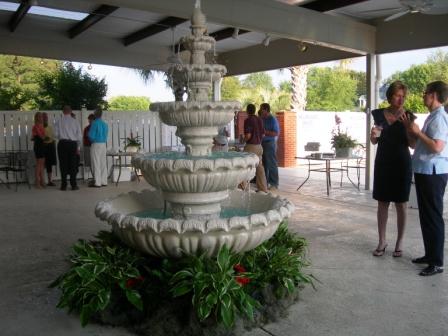 The club's new fountain was ready and working for the party.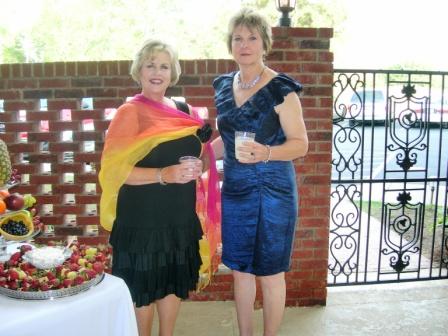 Kay Howell and Becky Dukes were enjoying themselves.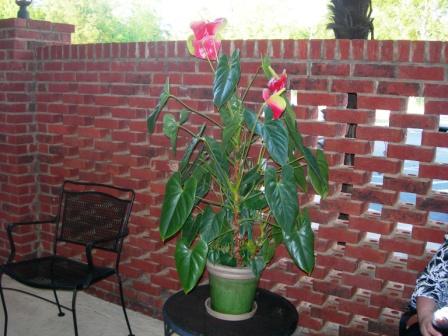 Sherry White's beautiful anthurium was a showpiece.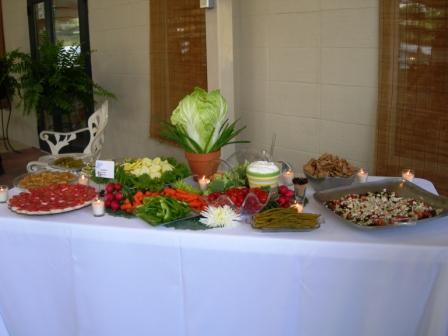 The veggies were so creatively displayed.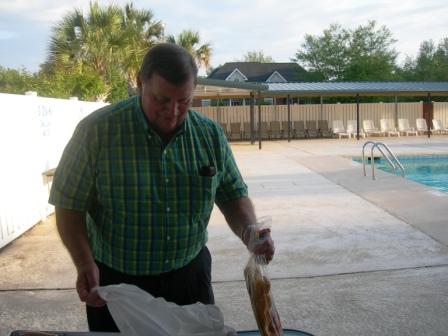 Hamer Parnell served some fantastic grilled sausage.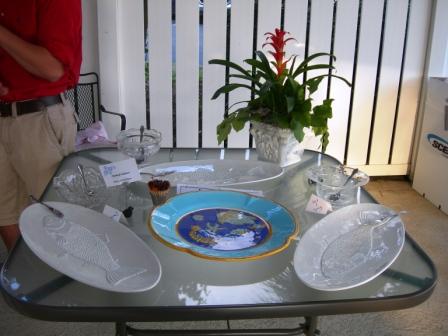 These fish platters were filled with smoked salmon.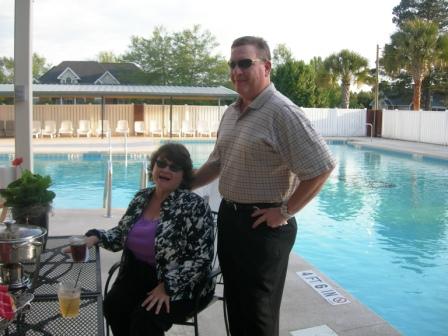 Dawn and Steve Katko's sliders were a hit with everyone.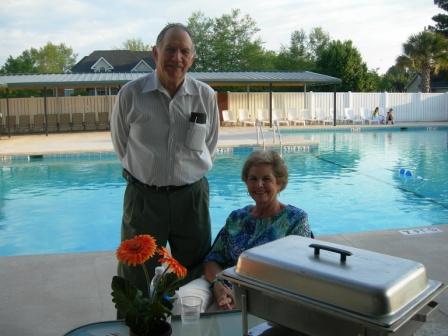 Some beautiful smiles were served up at this table.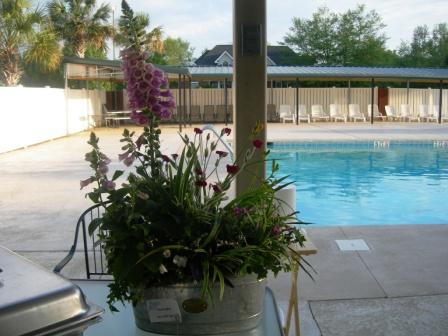 Look at the Tyner's beautiful arrangement for their table!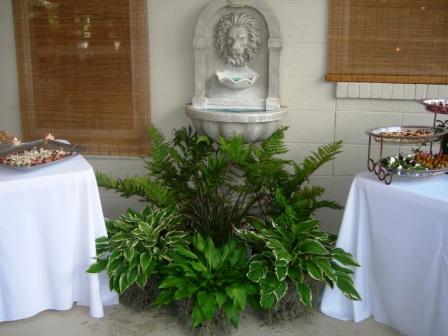 Beautiful greenery, flowers, and ferns were donated by Amerson's Nursery, J & W Greenhouses, and Jay's Trading Post.
Everyone had a wonderful evening although Leo and I were very tired.
On Friday morning I went to the clubhouse to help prepare a luncheon for the golfers in the tournament. Leo's brothers, Jim and Paul, and Paul's son, Dylan, made a Windham foursome.
On Saturday morning Leo and I went back to pick up the ferns and fern stands in order to return them to their owners.
What a hectic week we had and what a lot of hard work, but we feel so proud to be a part of our great community.
I'm linking up to Debbie's Newbie Party. Come on over!