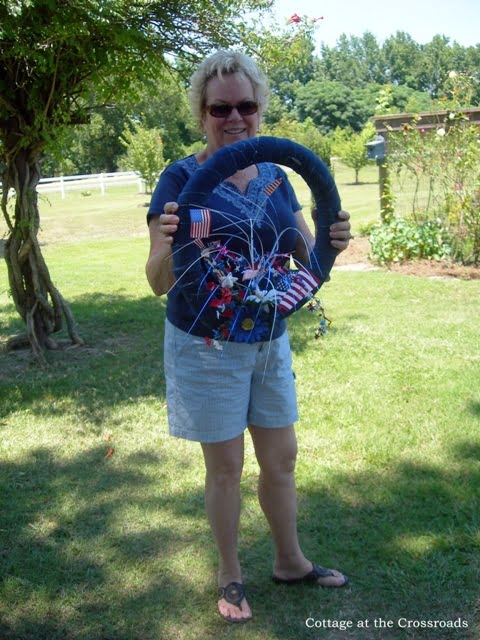 A few days ago, my sister-in-law Jean came over to show me her patriotic pool noodle wreath that she had made for the fourth of July. You see, Jean reads blogs and she had seen all kinds of amazing wreaths made with a pool noodle. (You can see mine HERE.) So she got her noodle on, made her own wreath, and brought it over for me to see.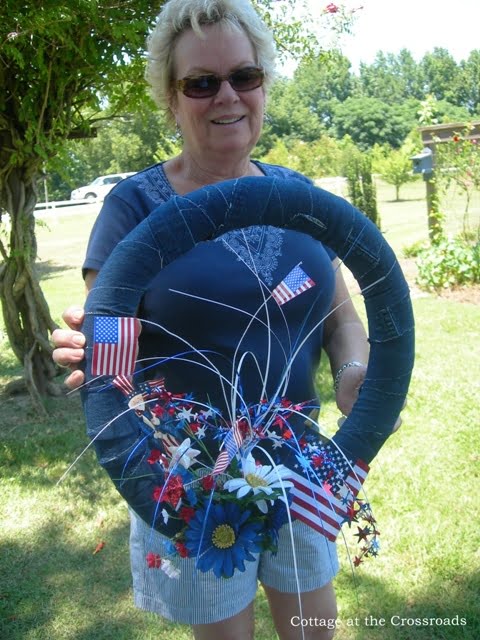 It's just awesome, isn't it?
She took it back home, added a bow at the bottom, and hung it on her back porch door.
But that afternoon, there was a noodle blowout!!!
Her husband Jim had not secured the ends of the noodle together very well, and the wreath blew apart! Things started flying everywhere, but she was able to get it back together in no time.
So if you make your own wreath with a pool noodle, just make sure you wrap plenty of tape around those ends!
So after Jean showed me her wreath, Leo and I got to thinking that maybe we had a lot of readers who don't blog who would like to show us their crafts, their gardens, their home improvement projects, or their recipes. Just about anything could be shared that relates to what we do around here at the Cottage at the Crossroads.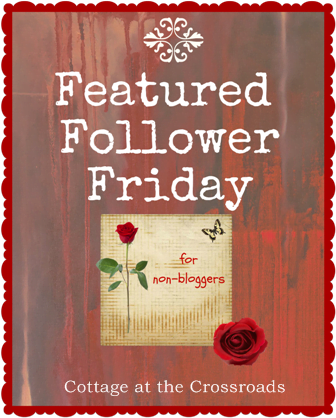 We've decided that each Friday we'll feature the projects of some of our followers.  Just email several pictures of what you'd like to show us with a short description. Send them to leowindham (at) gmail (dot)com or janewindham (at) gmail(dot)com. Please put "featured follower" in the subject line.
To be featured, you must be a follower of the Cottage at the Crossroads in some capacity such as an email subscriber, a Facebook follower, a Twitter follower, or a Linky follower.
When you submit your photos, it gives us the right to publish your photo on our blog or on Facebook. The selection of the featured photos will be at our sole discretion. We may or may not use your photos. (But if they're good, we probably will!)
And bloggers, you know we love you, but this is only for people who don't have a blog.
We'll start this Friday, July 6. So send in those photos! We can't wait to share your creative ideas!
Happy birthday America, and have a great 4th of July, everybody!