Hello and welcome to everyone! I hope y'all are enjoying the Olympics as much as I am, and I do thank you for taking a little time out to join our linky party.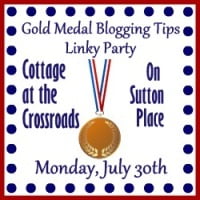 When Ann from On Sutton Place and I started planning this party, we decided to go with an Olympic theme because we all want our blogs to be the best that they can be.
This morning I was teaching a lesson in Children's Church about the Olympics, and I mentioned that the motto of the Olympics is "citius, altius, fortius"  which means faster, higher, and stronger. Most of you probably don't know that I taught Latin to elementary students for a few years. And if any of you parents ever want to give your child the most valuable gift, give them Latin lessons!
Teaching the Latin motto of the Olympics led me to thinking that those words could apply to life  and certainly our blogs. And I'm so glad that bloggers so willing share their knowledge with others. So in the spirit of friendship, Ann and I are co- hosting this linky party. We are certainly not techies by any stretch of the imagination, but since I have been blogging, I've learned to appreciate any technical tip that I've received from fellow bloggers.
We're hoping the links at this party will become a great resource for other bloggers or anyone who is thinking about starting a blog. We encourage you to pin anything that you may want to save and refer to later.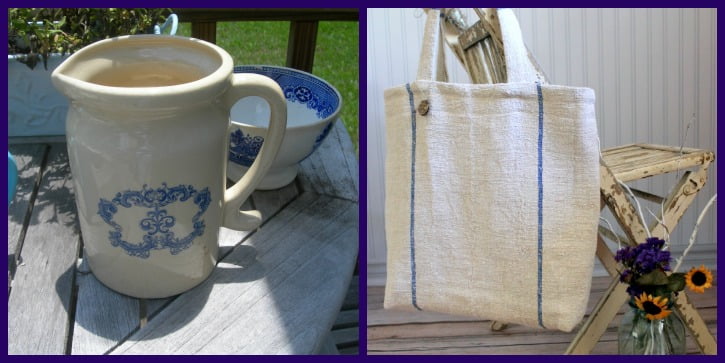 And don't forget. When you add your link, you will automatically be entered into our giveaway. When the party closes, we will randomly choose 2 winners. One person will win that awesome grain sack tote made by Ann, and another winner will receive the vintage pitcher that I donated.
Some things to keep in mind:
Please link back to your host blog. You can do a text link or grab the party button in this post or on the sidebar.
Link up as many posts as you like but just make sure the information is current.
Visit at least two links to spread the comment love.
This party is a hop. The links will be on both of our blogs…but you only have to link up once.
So, let the linking begin!