One of the first things we did when we moved to the Crossroads two years ago was to screen the front porch. It was just a concrete porch, and we made an effort to make it comfortable and livable. Since our home is old and the porch had been enlarged at some point, the concrete floor was unlevel. So we found an outdoor carpet that went with the furniture we already had.
For the past two years, we have left the porch the way it was since we moved here. But this spring, we decided that we needed to do a little refreshing by adding more color.
This post may contain Amazon or other affiliate links. As an Amazon associate, I earn from qualifying purchases. If you purchase anything through any affiliate link, I may earn a small commission at no extra charge to you. All opinions are my own.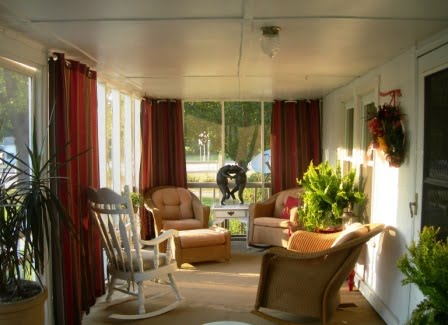 This is one end of the porch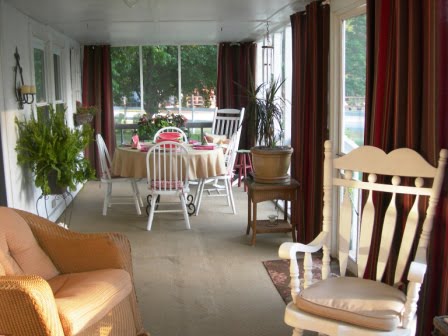 and here you can see the other end.
And what can be more refreshing than watermelon on a hot summer day!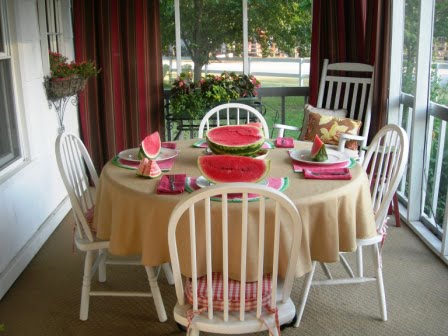 This table used to be in the kitchen in our other house. We use it out here because we like to eat on the porch when the weather is nice.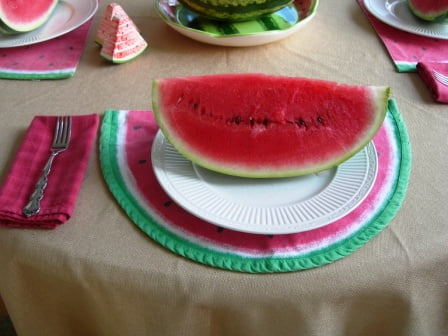 Oh, yum!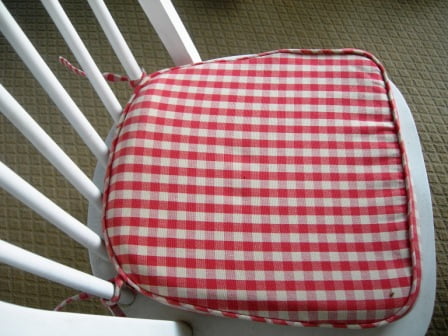 The color scheme on the porch has just sort of evolved as I have added a few items. I ordered these petite sized cushions from Ballards about a year ago.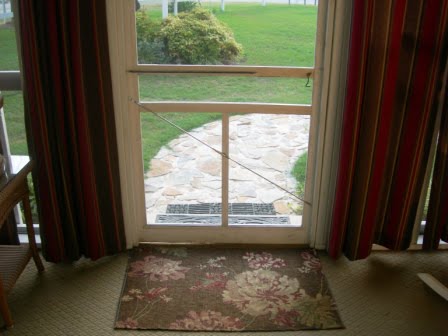 This rug, which is dark brown with red flowers, was purchased two years ago.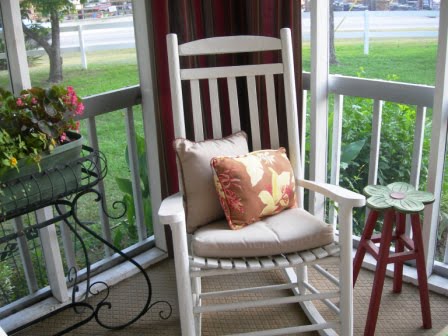 You can see similar colors in this pillow I bought the same day I got the rug.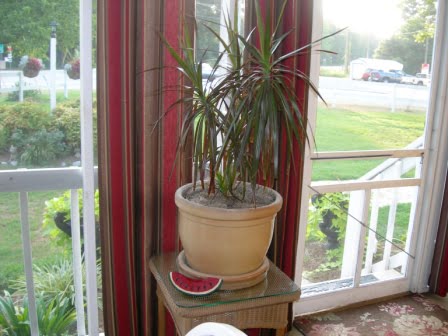 So the whole color scheme came together with these drapes. I can't believe I found some with just the right colors. By the way, the plant is on a table because our dog Lucy likes to dig in it.
Our porch faces the west in the afternoon. Between the hours of 4 to 6, we could not use the porch in the afternoon because of the sun. We desperately needed something to control the sun so I decided on some outdoor curtains. But have you priced outdoor curtains?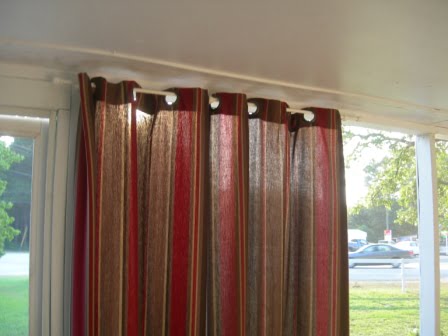 I found these at JC Penney's. They are not outdoor curtains. They are unlined. They will probably fade. I don't care. I got a bargain on them. I only paid $7 for some of them and $6 for the rest. So at this price, I can replace them. And we love them. They make such a huge difference in our porch. Now it feels like a room and the curtains give us a little privacy.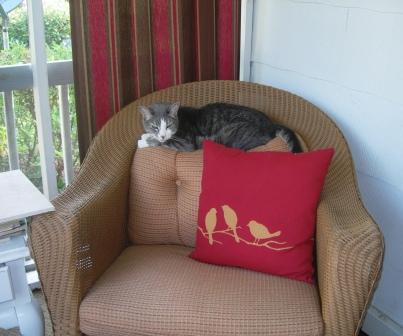 Once we got the curtains, Leo found this cute pillow at Lowe's. And Rascal has found a comfortable place to snooze.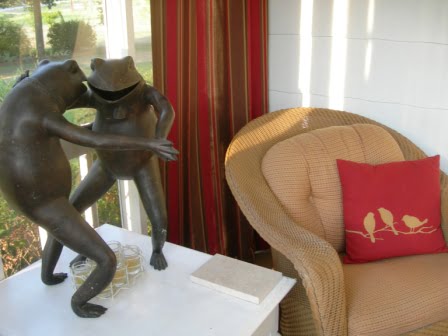 The dancing frogs we've had a long time. Leo's son, David, gave them to us.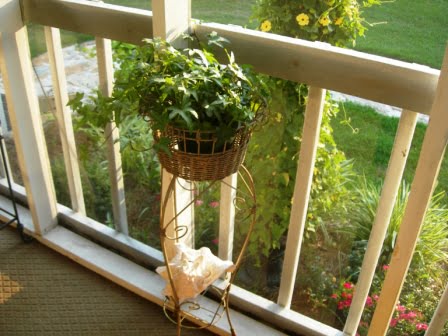 We've had this little planter for many years. It just gets filled with some new ivy each year. I do not have much luck with ivy but I love it so.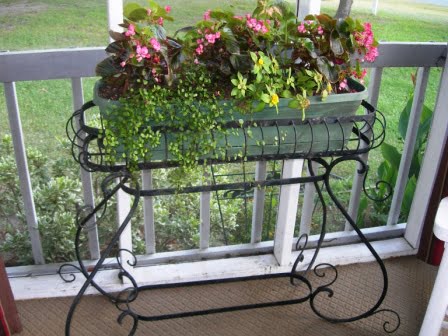 This planter is probably about 12 years old. I just replace the flowers each year.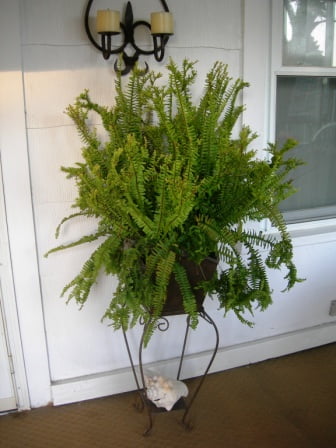 The ferns that I use on the porch are called Petticoat ferns. I had never seen them before this year. I got them from Jay's Trading Post across the street.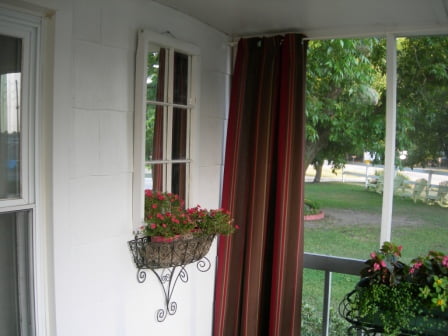 This old window we used in our other house. Same with the wire plant holder.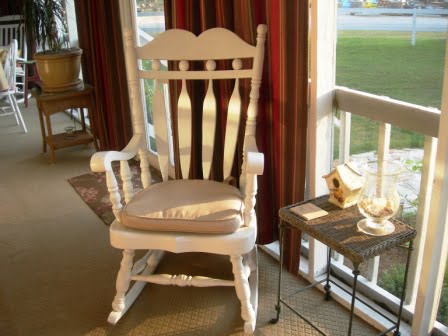 We've had this rocker a long time. I think it's been 4 different colors through the years.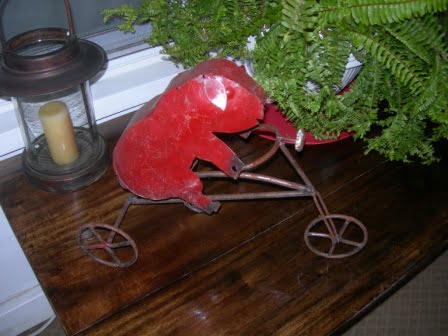 This little racing pig is on the table that I recently re-stained and painted.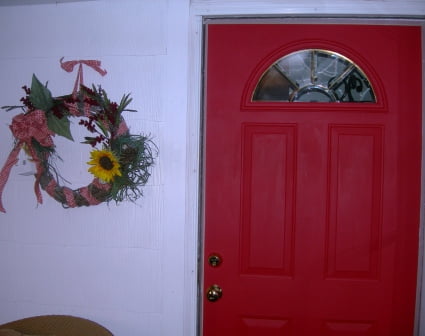 Here is the wreath I made beside the newly painted front door. I'm loving that red door. Really adds more color to the porch. I'm going to put the word WELCOME in vinyl letters on the door.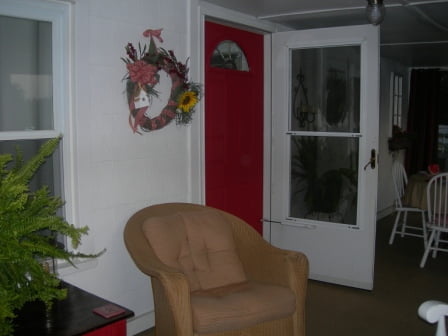 Right now we have a storm door in front of the other door. We aren't sure if we want to remove it or replace it.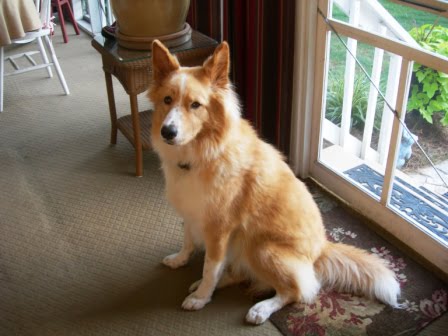 Lucy approves of the refreshing that we did on our porch. And I'll leave you with a few more pictures of that juicy watermelon.
Come see some other porches and patios by clicking here.
Sharing at:
Rhoda's Porch [email protected]Southern Hospitality