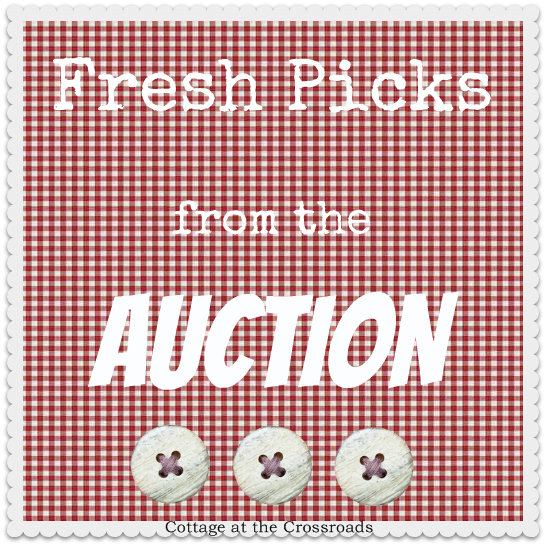 We're back with another week of Fresh Picks from the Auction. Let me walk you through what we do at the auction.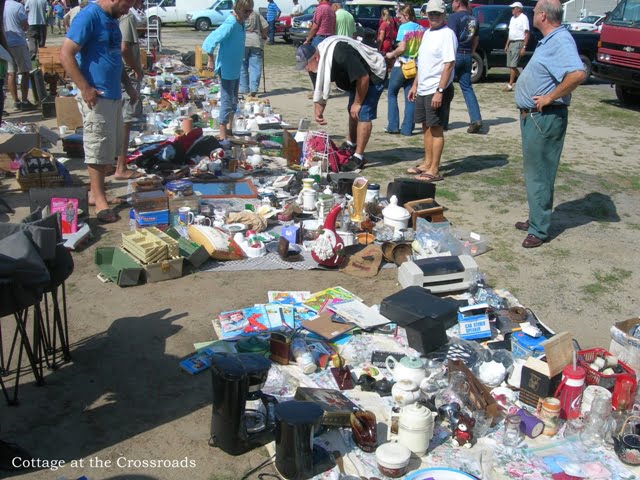 Rows and rows of items like these are laid out on the ground. So the first thing that I do is sift through and select some things that I'd like to buy.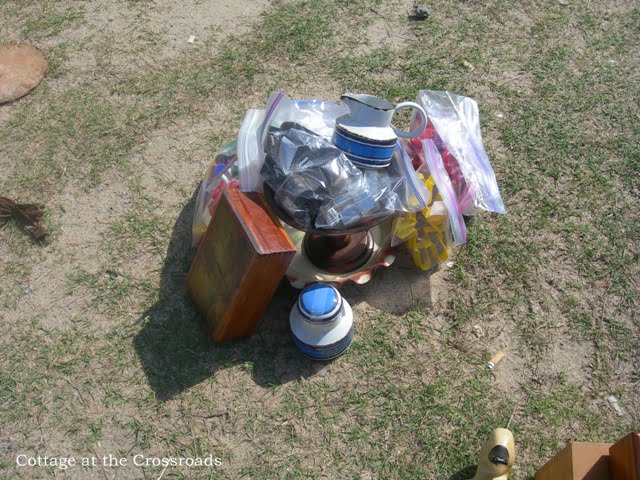 Here I've pulled out a little stack of things, and you wait by your stack until the auctioneer arrives. You can make the stack as small or as large as you want, and the minimum bid is $5.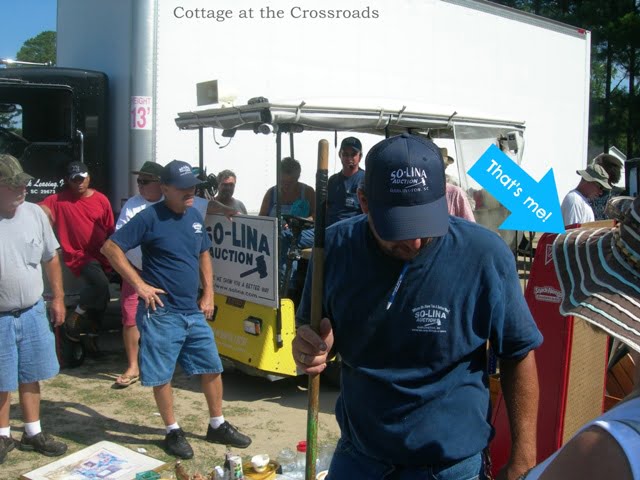 It's actually exciting when the auctioneer gets near. You hope you get your stack for the minimum bid, but you never know if someone is going to bid against you. You hope no one does.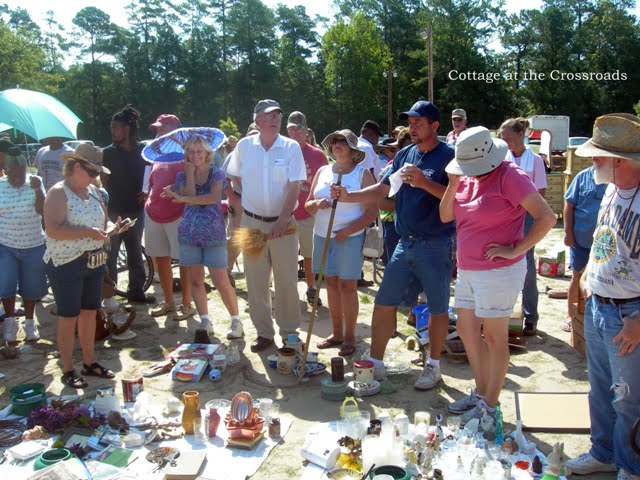 Here the auctioneer has drawn a circle around one of my stacks and the bidding has begun. Unfortunately, some other people wanted my little stack, too, and I had to pay more than $5. Bidding can be a little intimidating. You just need to decide what you are willing to pay for your items, and it's important not to get caught up in the excitement of the competition. Sometimes it's hard to keep a cool head.
Leo and I had a list of the items that many of our readers submitted. Unfortunately, we didn't find any of those except for a few pieces of blue and white china, but we'll be here again next Monday.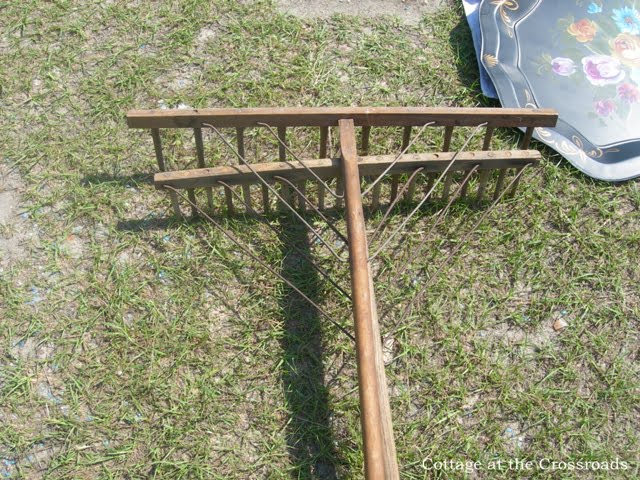 We had our eye on these wooden rakes, but $80 was more than we were willing to pay.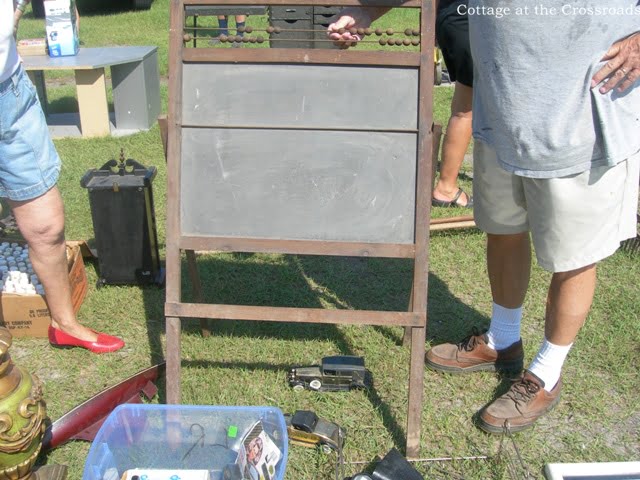 I waited in the hot sun for at least 30 minutes to bid on this old chalkboard. It went for $45. You win some and you lose some.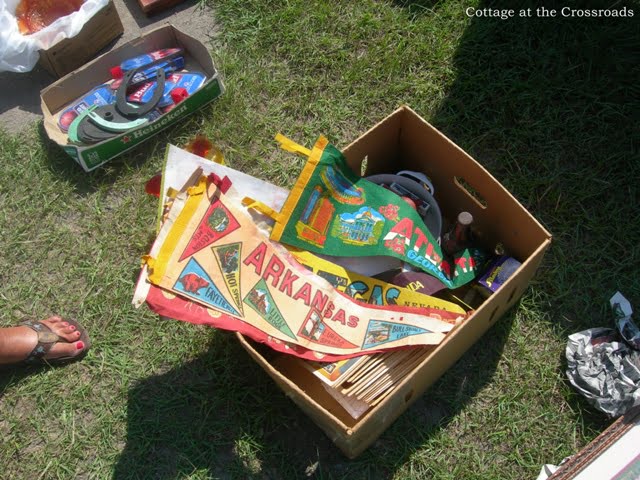 I know these vintage pennants are very collectible, but I didn't have the patience to wait on these.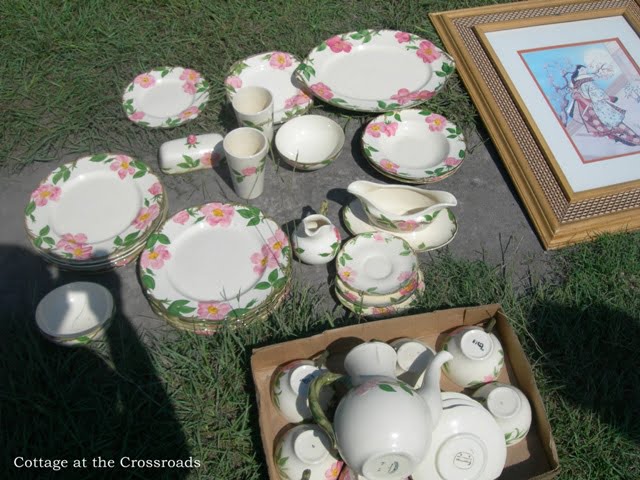 There was a whole set of this china today.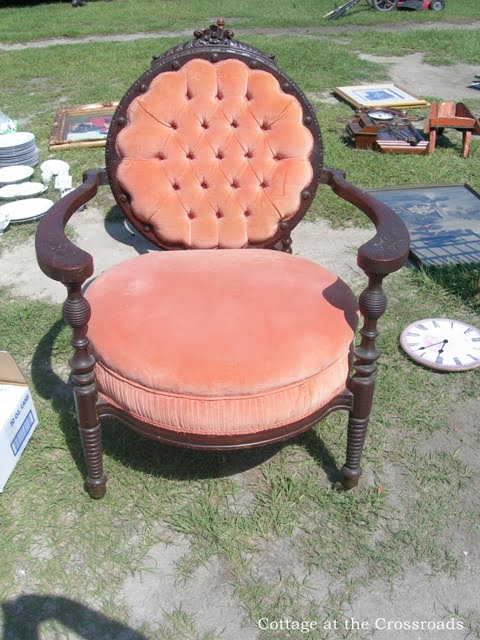 The upholstery on this old peach chair was in fantastic condition, but it was a little too fancy for our cottage.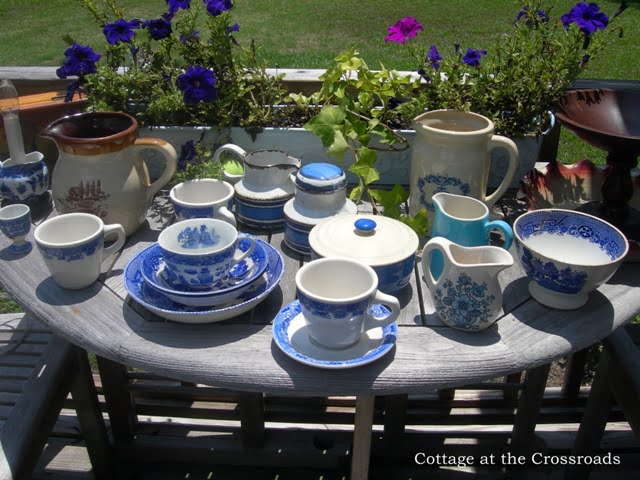 It was so hot today that we didn't stay long at the auction, but these are the things that we brought home.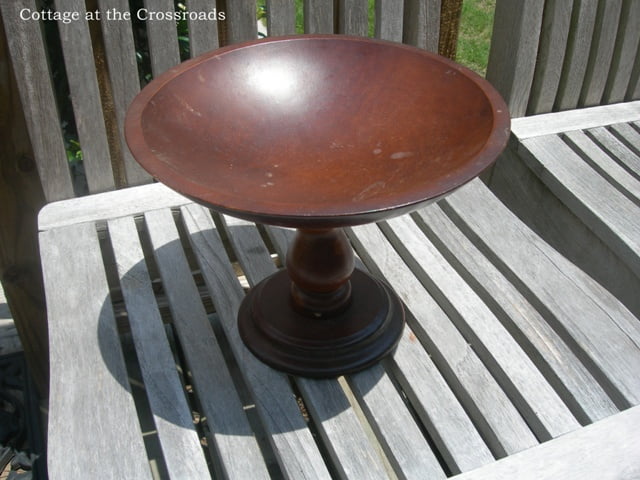 Another wooden pedestal bowl to add to my collection.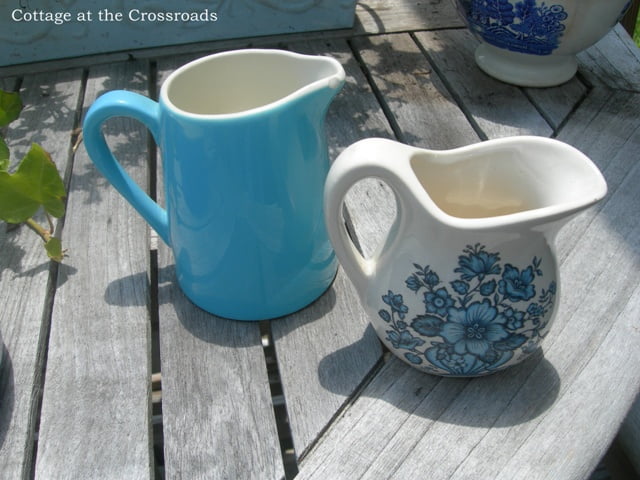 Two cute little creamers. The one on the left is turquoise!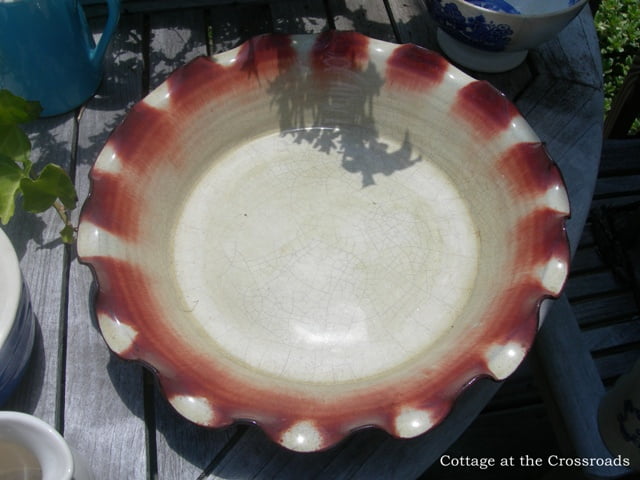 I can see an apple pie in this ruffled edge dish!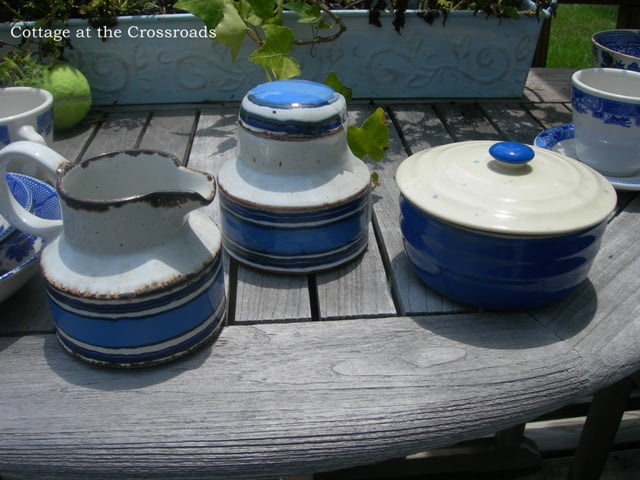 I don't believe these  items were old, but the blue color of the creamer and sugar dish as well as the covered bowl is very pretty.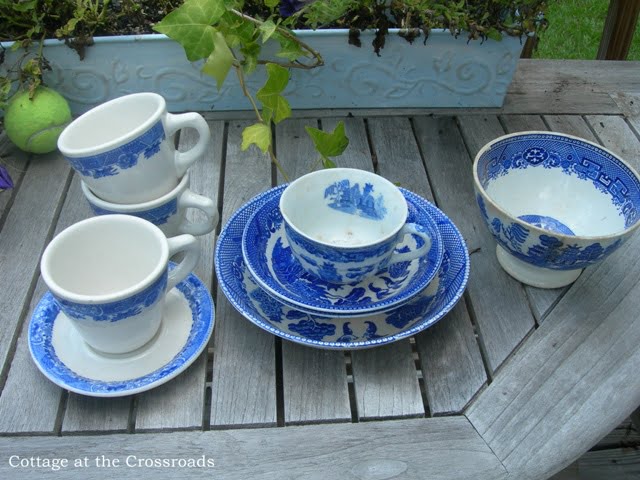 I did find a few pieces of blue and white china that some of you requested.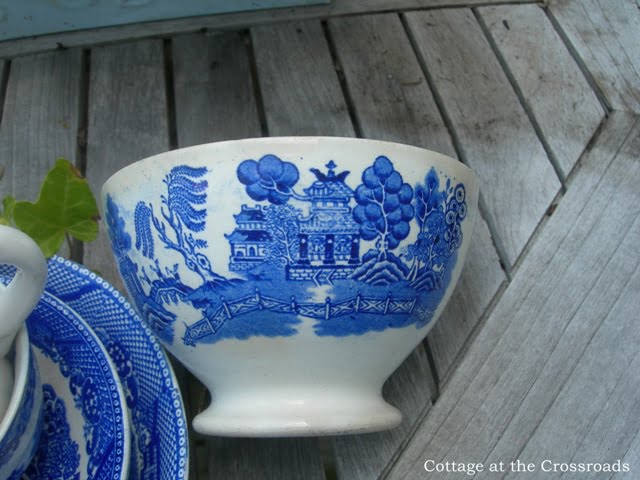 This small bowl appears to be very old.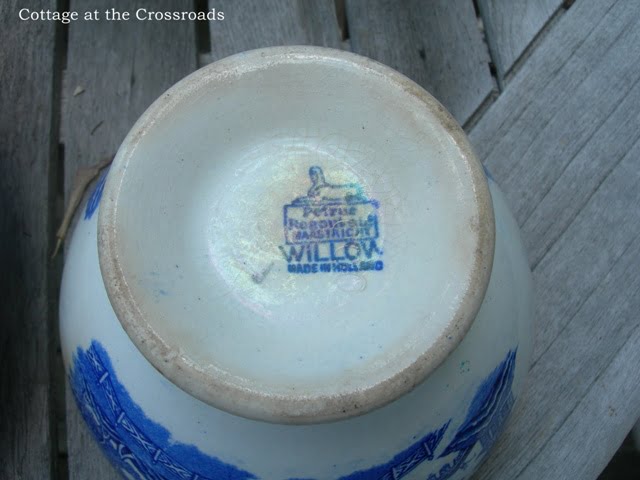 It was made in Holland.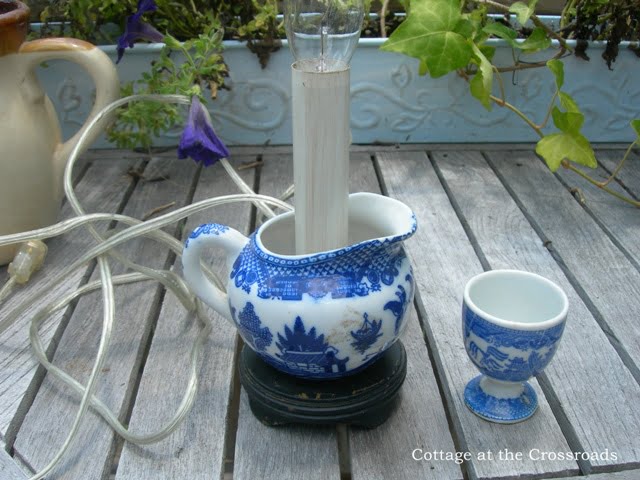 Look at this adorable, little blue and white lamp and egg cup.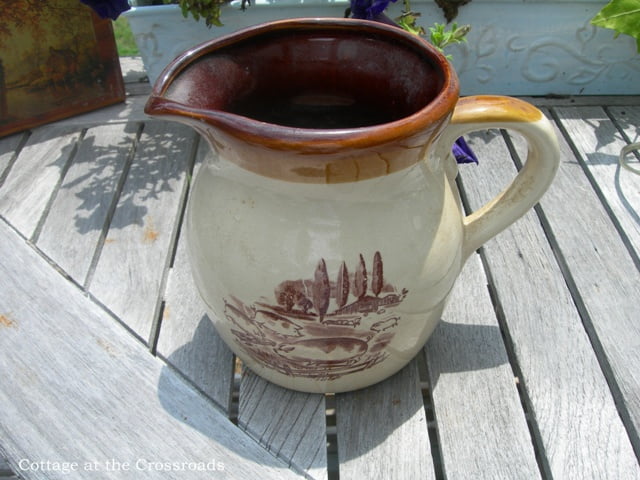 This little brown crock would make a great kitchen utensil holder.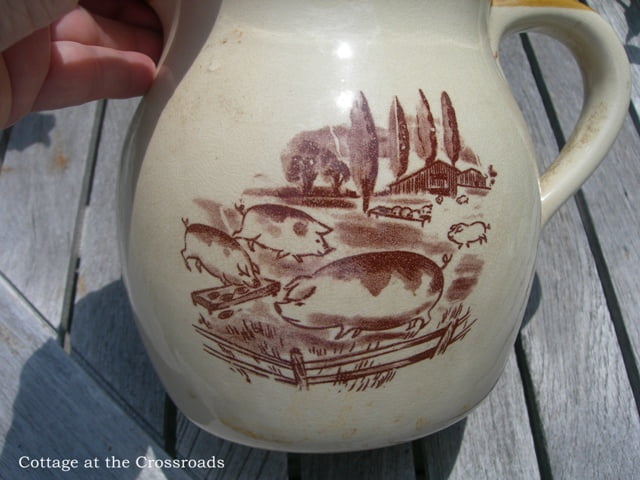 Look at the pigs on it!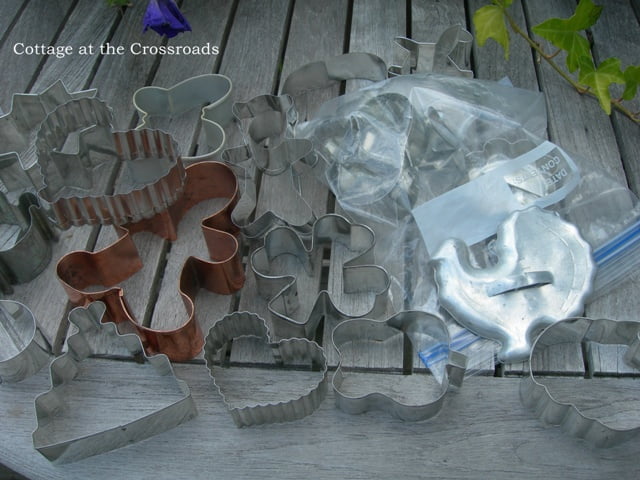 And more cookie cutters.
We go to the auction every Monday. It's just what we do. If you'd like to send us your wish list, we'll be glad to keep our eye out for what you want.
And I'd like to announce the winner of the 3 cans of Fish Foam window cleaner from our newest sponsor.
It's Emily Willingham, an email subscriber of our blog. Congrats, Emily. I'll shoot you an email in order to get your mailing address.
I'm sharing at: