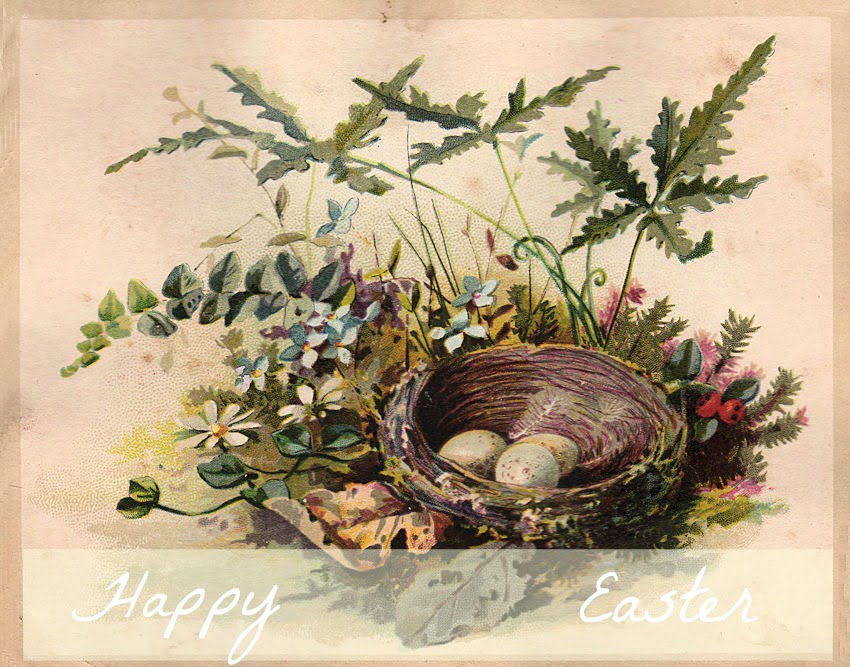 Leo and I wish all the blessings of this Easter season for each and every one of you!
We were reminiscing about Easters in the past, and we thought we'd share some old photos with you.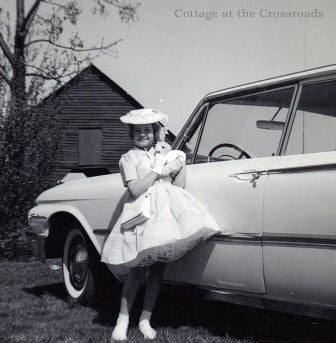 This is a photo of me from the early 1960s. Back then, ladies and young girls wore hats and gloves to church on Easter.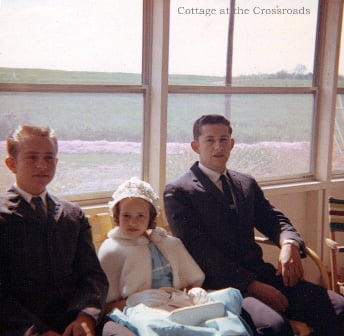 Here's a photo of me with my two brothers from another year. It was tradition in my family to get new clothes to wear Easter Sunday, and we always had a photo taken before we went to church.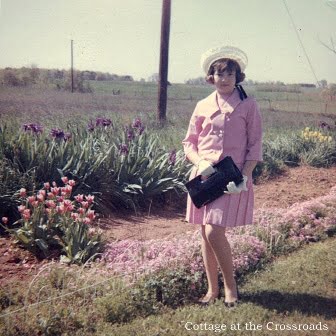 This picture was taken when I was eleven years old. I remember because that was the first year I was allowed to wear "heels."  My mother always had beautiful flowers blooming at Easter, so I naturally got my love of flowers from her. I  grew up in a community called Cross Roads, but it was spelled as two words.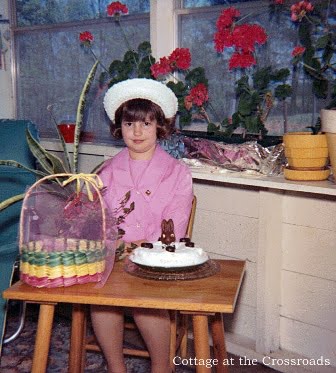 I was interested in cooking from a young age because I remember making this cake that year. I stuck a chocolate bunny in the middle of the cake.  See the hat? I still have a thing for hats and love to wear them to this day. I didn't buy a new Easter outfit this year, but I did buy a new hat.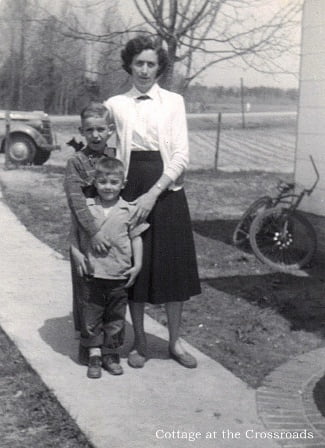 Here's a photo of Leo, his brother Jim, and his mother Sarah from the early 1950s.  Leo couldn't remember if the photo was taken on Easter or not, but it was taken here at the Crossroads.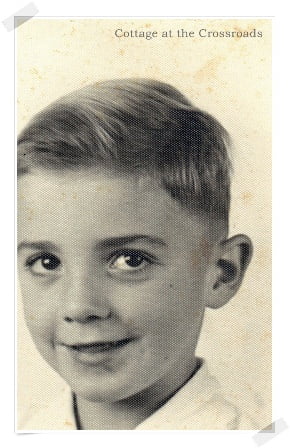 Here is a photo of Leo when he was a little older. He still has that same sweet smile!
Our small town has a springtime celebration. It's called the Egg Scramble Jamboree, and many of the townspeople get into the spirit and decorate their homes.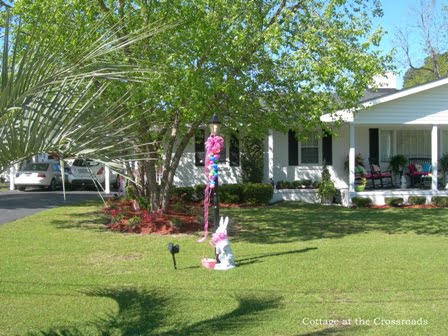 Here's a bunny in a yard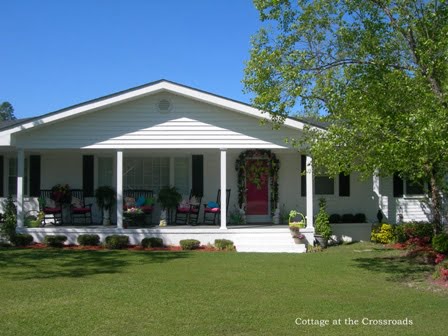 and the same house has the cutest porch decor and door decoration for spring.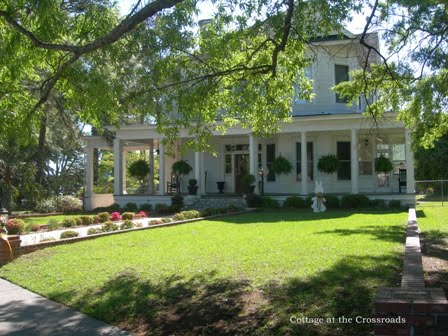 Another bunny was spotted here along with eggs and ribbons that you cannot see in the photo.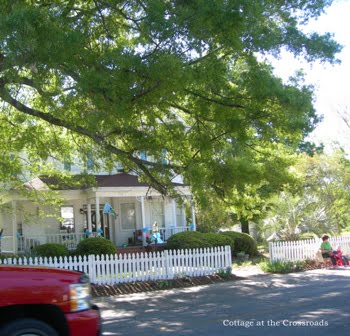 There was a parade today, and Leo and I watched it near this house.
This year's grand marshal was Dr. Sydney Griffin, our beloved, retired family physician from Lamar. One year Leo and his brother Woody were the grand marshals.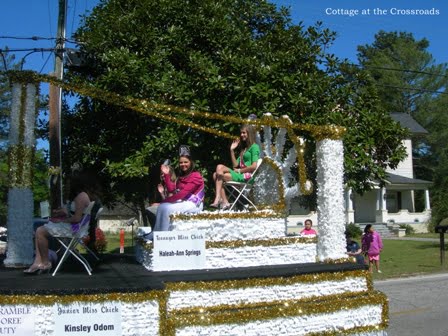 There were floats and beauty queens in the parade,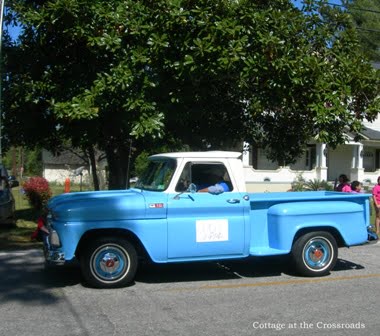 restored trucks,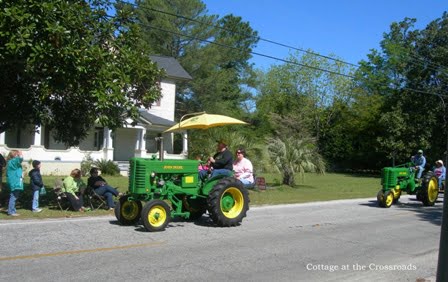 tractors,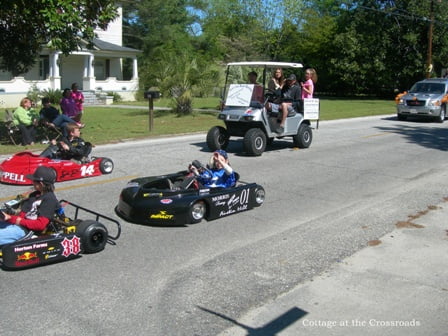 go carts and golf carts,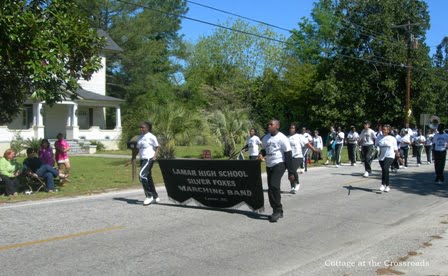 and what's a parade without a marching band!
When the parade was over, Leo and I took my mother to the antique car show and to the vendor displays downtown.  It was a beautiful day for one of our modern day traditions.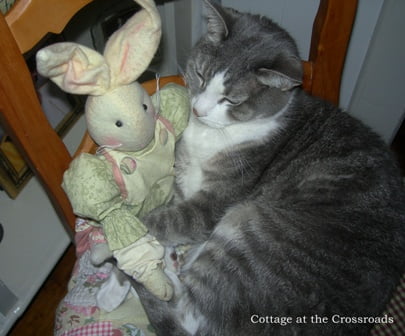 And speaking of new traditions, Rascal is still hugging up with "Honey Bunny," as we call her now!