Hello everyone! I hope that you had a happy new year. It was a quiet one here at the Crossroads but just a few days afterward, we had snow! I know that for many of you that is not unusual, but here in South Carolina, we get very excited about the pretty white stuff! So I'm sharing some pics of
Our Country Cottage in the Snow!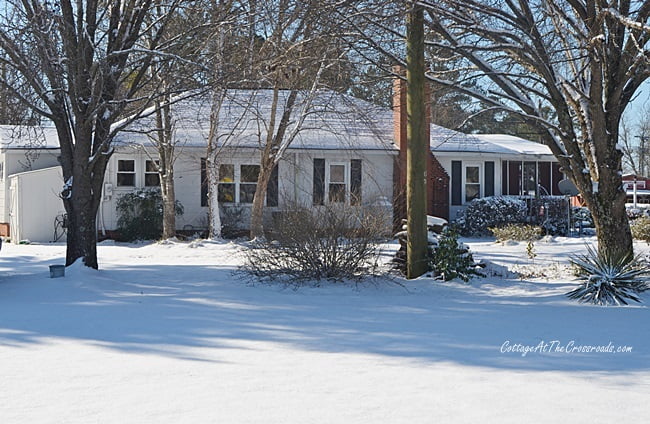 The last time we had this much snow was in January of 2011. I remember that because shortly after we started the blog, I posted about a snowfall that we had. But we have never had snow to hang around as long as this time.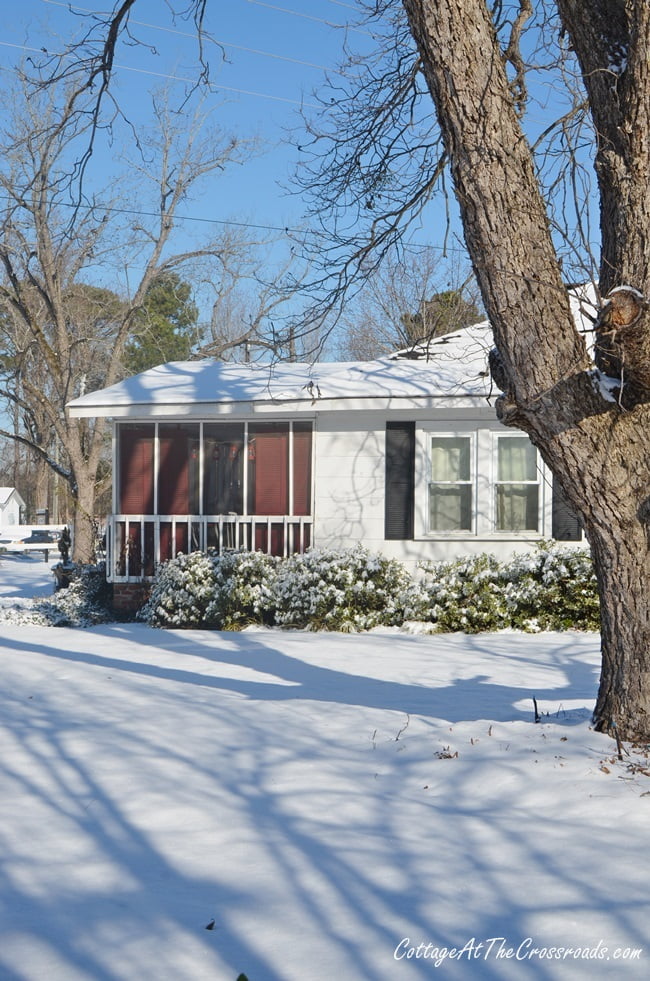 It started snowing last Wednesday afternoon, and it continued way into the night. Usually the warm ground temperature causes any snow that we get to turn to mush very quickly, but we have been having record low temps lately. The snow stuck and accumulated very quickly.
So the next morning I had to get out and take some photos of nature's pretty white blanket.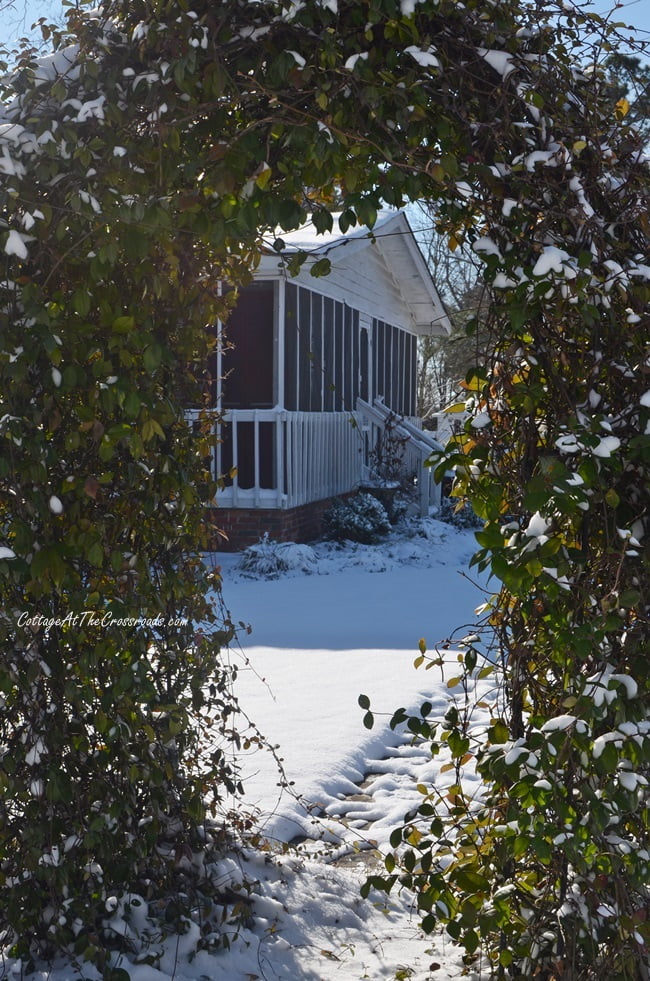 Well, today is Saturday and that white blanket is still on the ground in many places which is so unusual. We've had beautiful sunny days but the daytime temps have only gotten up to 34 degrees. We are not used to this cold weather at all, and I'm not sure how the confederate jasmine on this arbor is going to fare.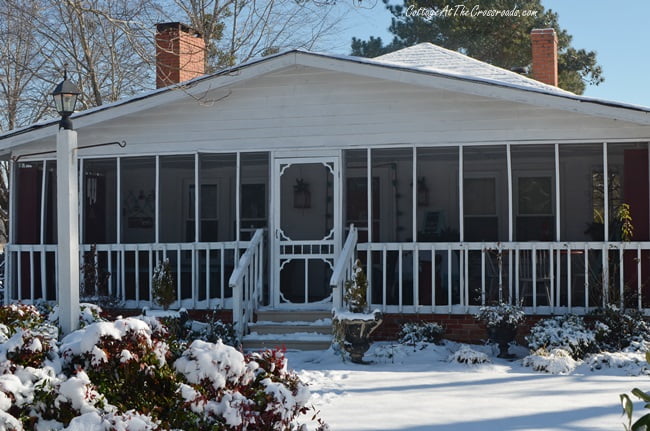 I'll have to tell you that I am not a cold weather girl. This long cold spell has practically paralyzed me. I can't seem to get anything done other than cooking up some hot, comforting food! Most of the Christmas decorations are still on the porch because it's so cold out there!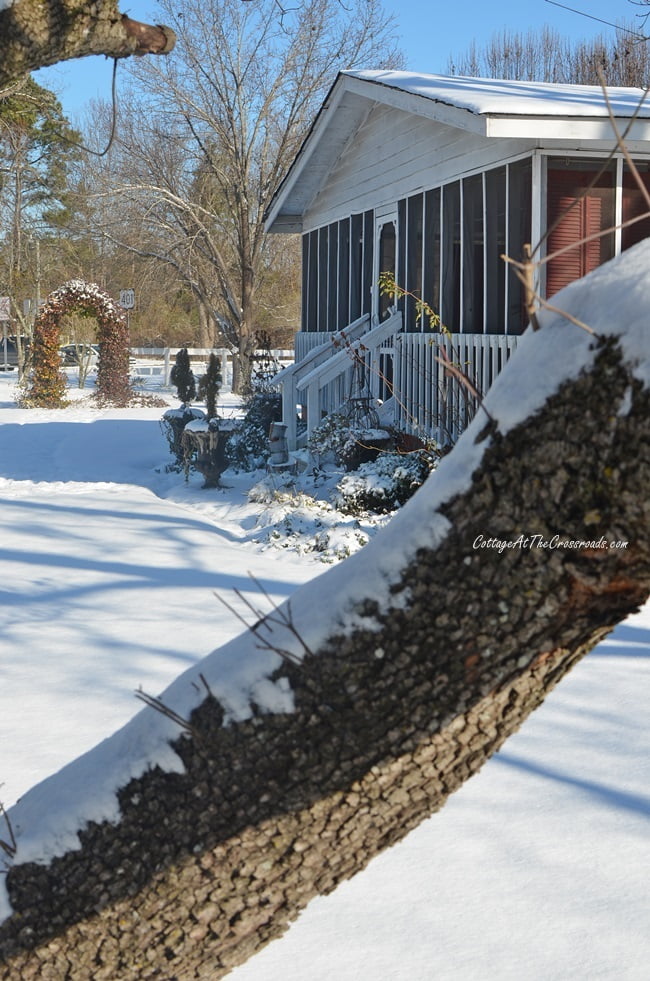 The snow is so beautiful, though.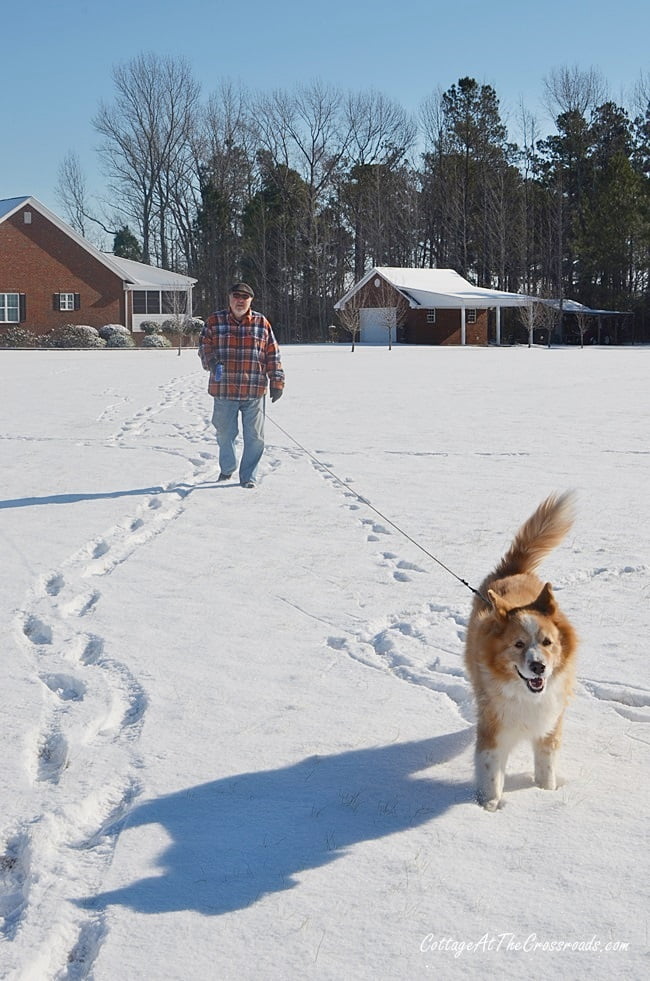 Lucy loves to romp in the snow. In fact, every time she goes outside, she licks as much snow as she can.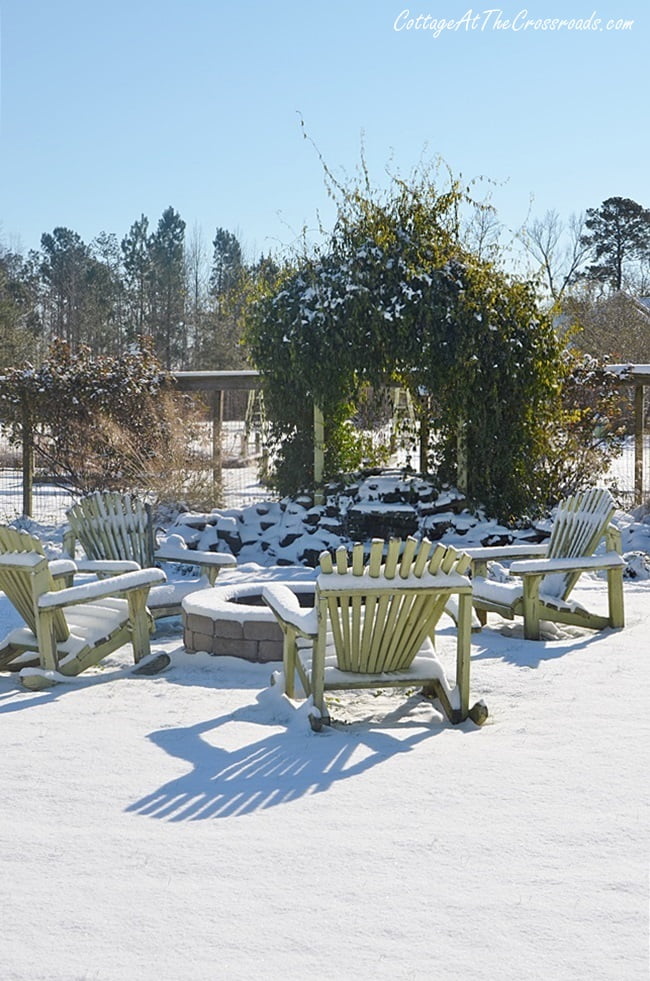 Here is the fire pit and the waterfall covered in snow.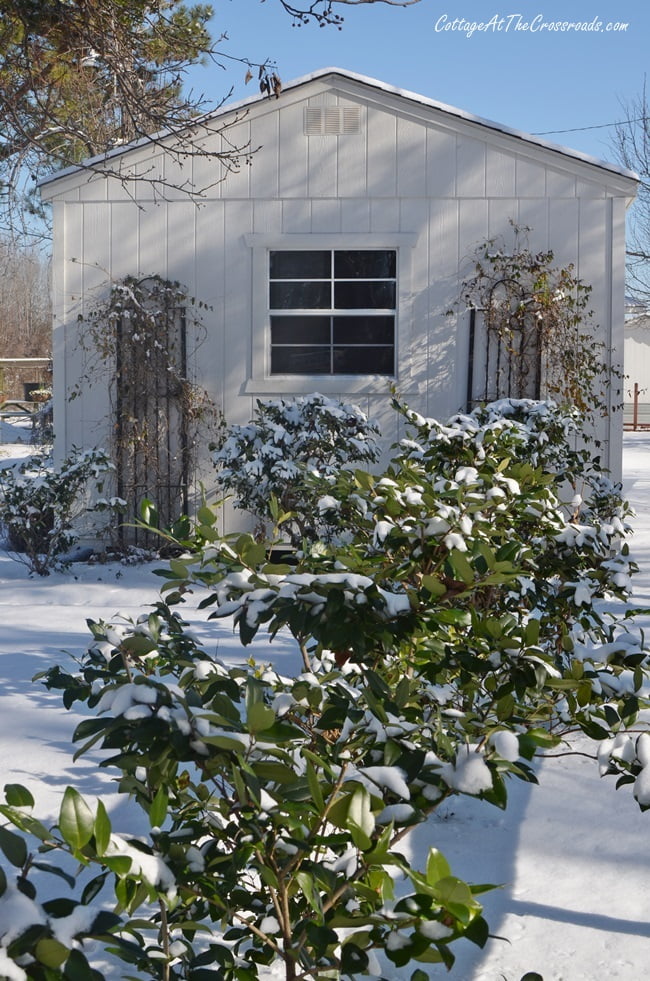 And here is the side of our storage building that you rarely see. If you've ever wondered where I keep all of our seasonal decor, it's inside there.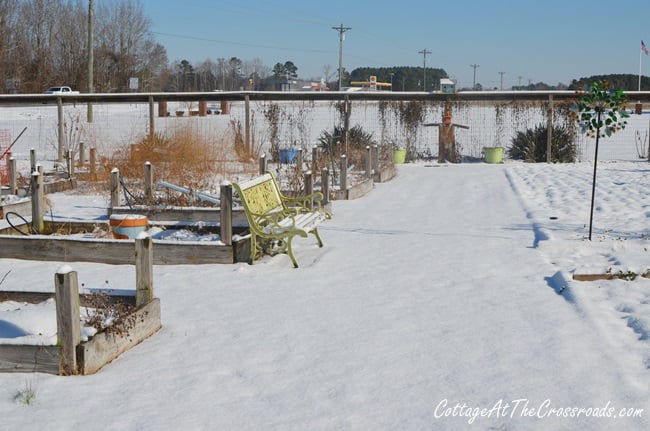 I went out into the garden to snap a few pics. Did you know that snow is actually good for the soil in the garden? It must be all those trace elements that it brings down from the atmosphere.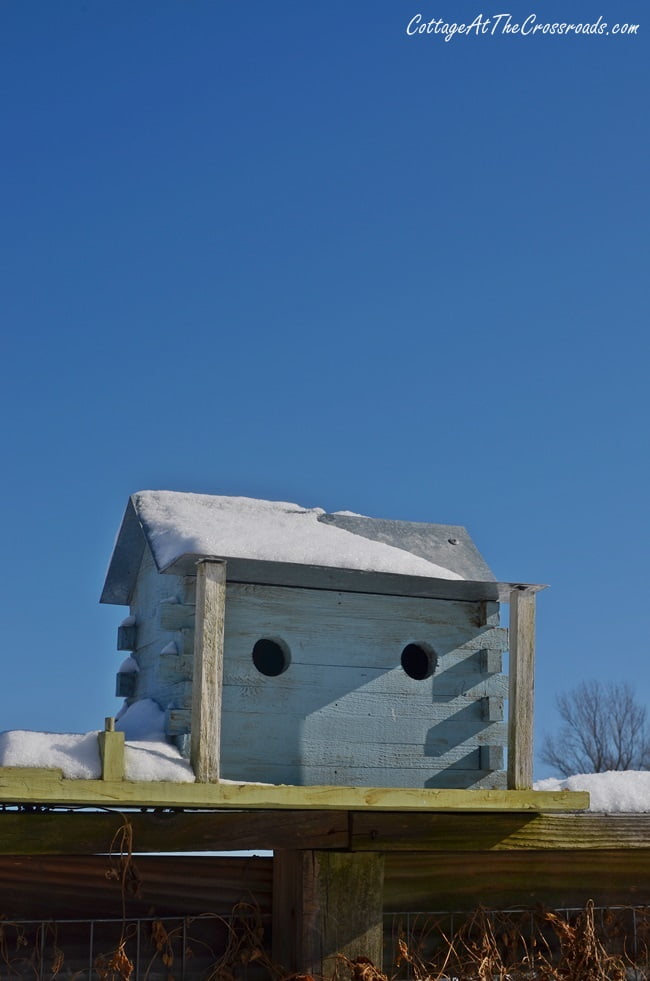 One of the birdhouses has a dusting of snow on its roof.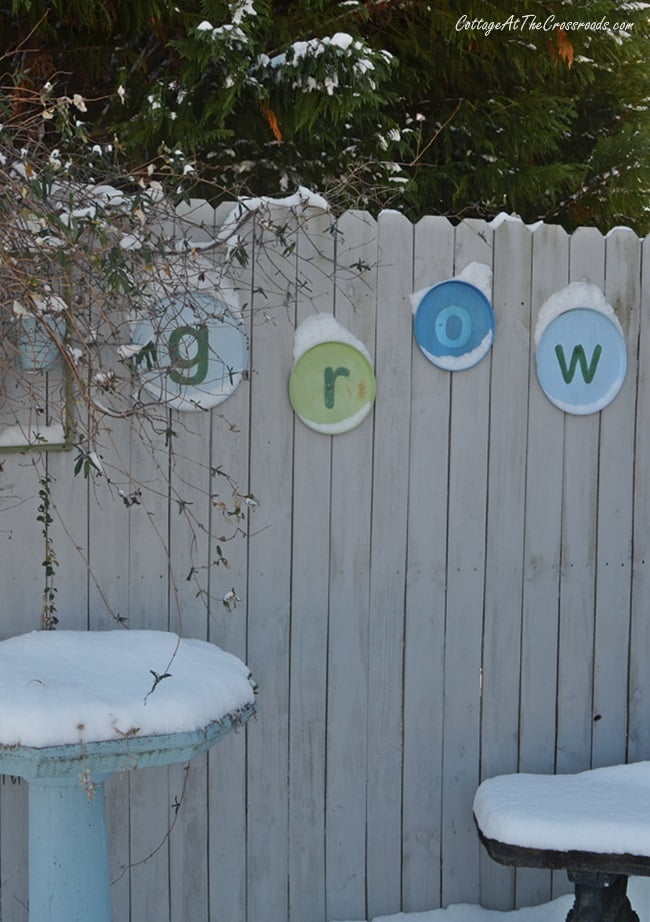 I'm not sure how the succulents growing in the birdbath are going to fare, either! But this whole corner of our garden sure is pretty in the snow.
I hope you've enjoyed seeing the scenes around our country cottage in the snow. I just love how peaceful and pretty it looks with its white blanket.