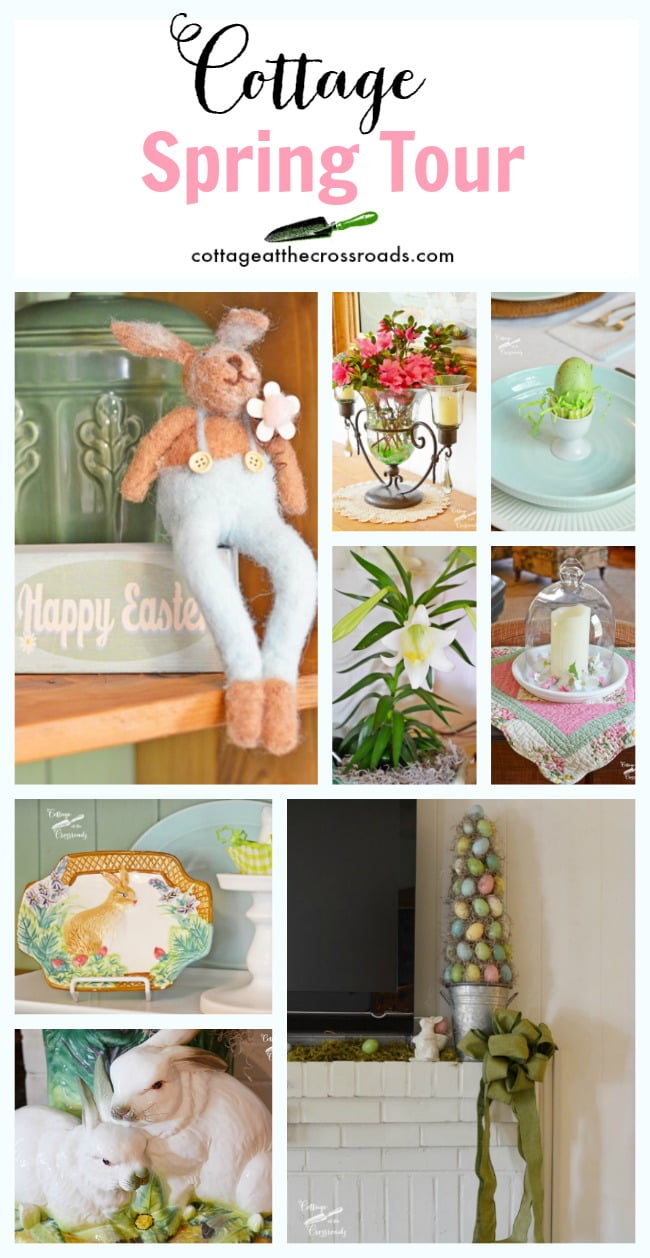 Happy Spring, everyone! I thought I'd take you on a little spring tour of our country cottage today. Ah, spring is my favorite season. Is it yours, too? It is filled with new life, new growth, and contains promise and hope. What's not to like about it except the pollen, of course! But I suppose even that's necessary in the grand scheme of things, too.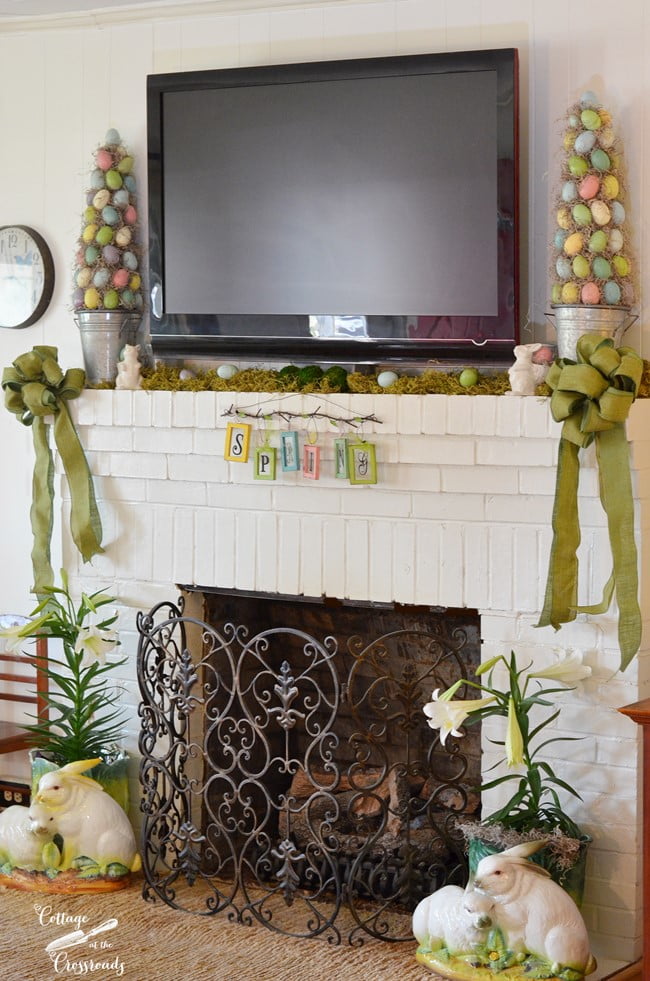 First up is our spring mantel featuring those egg topiaries that I made. I knew that I wanted something tall beside the TV so I created the topiaries for that purpose, and I'm delighted with how they turned out. If you missed the tutorial on how I made them, you can read my post EASTER EGG TOPIARY.
This post may contain Amazon or other affiliate links. As an Amazon associate, I earn from qualifying purchases. If you purchase anything through any affiliate link, I may earn a small commission at no extra charge to you. All opinions are my own.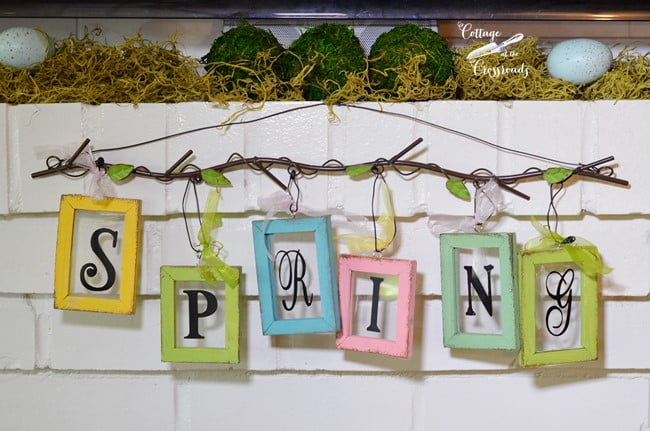 When choosing the colors of the eggs that I used in making the topiaries, I purposely selected ones that had the same colors to match this sign that says SPRING that I had purchased last year but never used.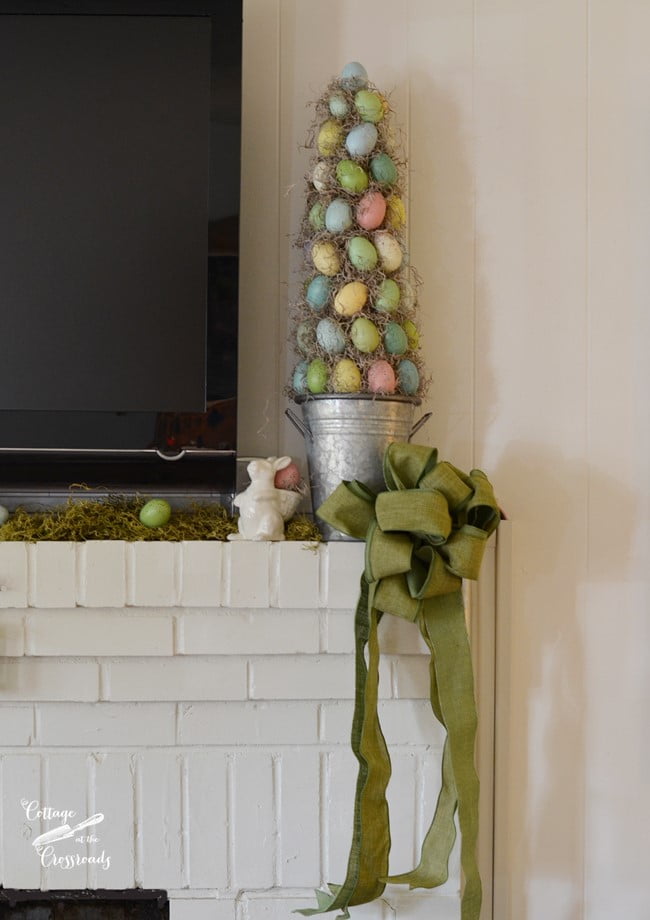 The large green bows were used on our Christmas mantel this past year.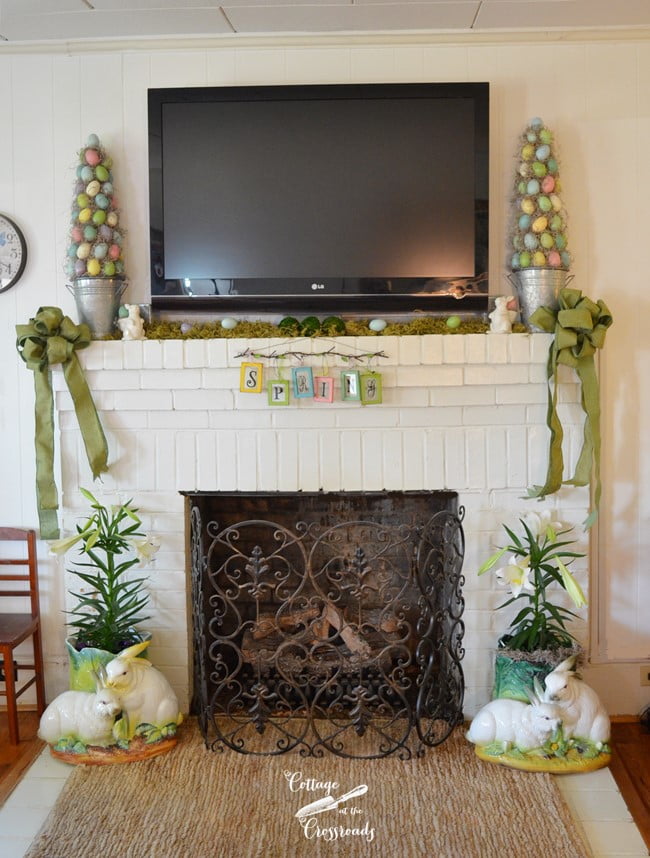 At the base of the fireplace, I placed 2 large bunny planters that I scored at the auction that we attend all the time. I found them about 3 years ago in the fall when no one was interested in bunnies, and I got both of them for about $35. At the time, I could not find any information about them online but just recently I found them HERE. You must click on over to that site to see what a deal I got on them!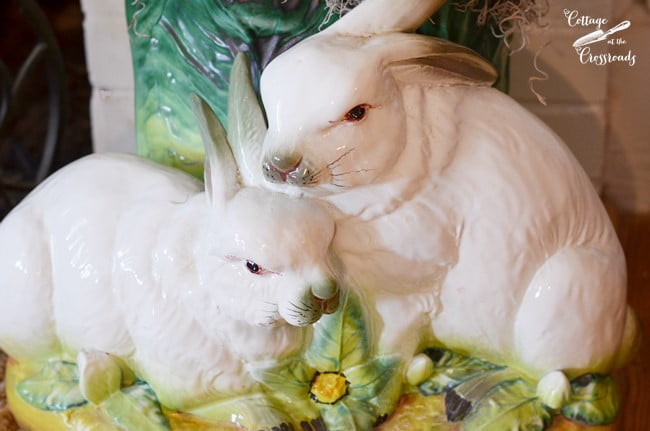 The 2 planters are slightly different but here you can see the sweet bunnies on one of them up close.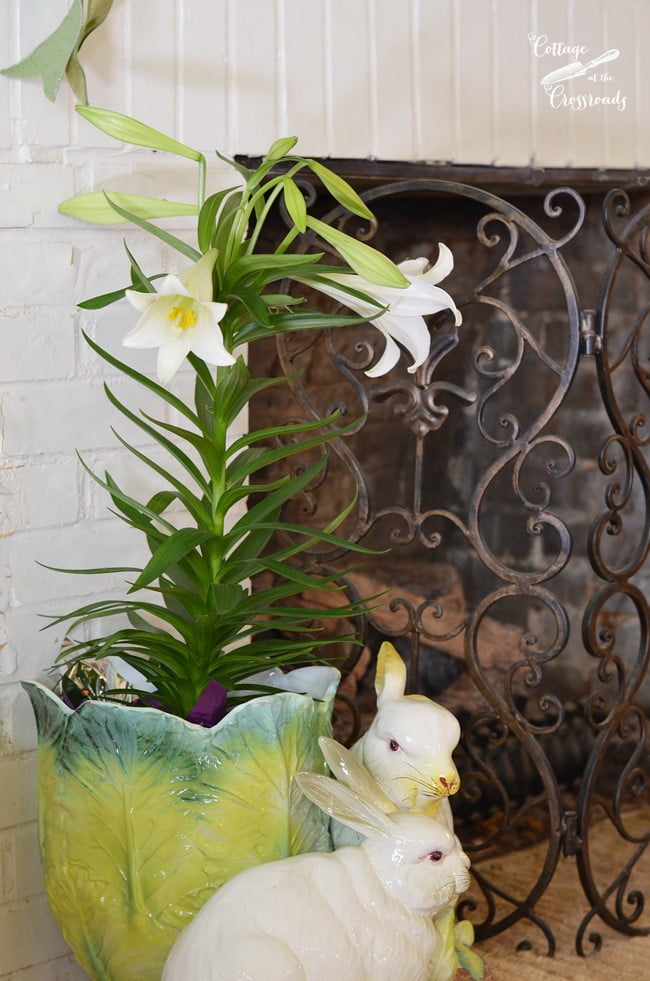 I decided to put the iconic flower of the Easter season in the planters. I will keep them inside until all danger of frost has passed, and then I will transplant them outdoors.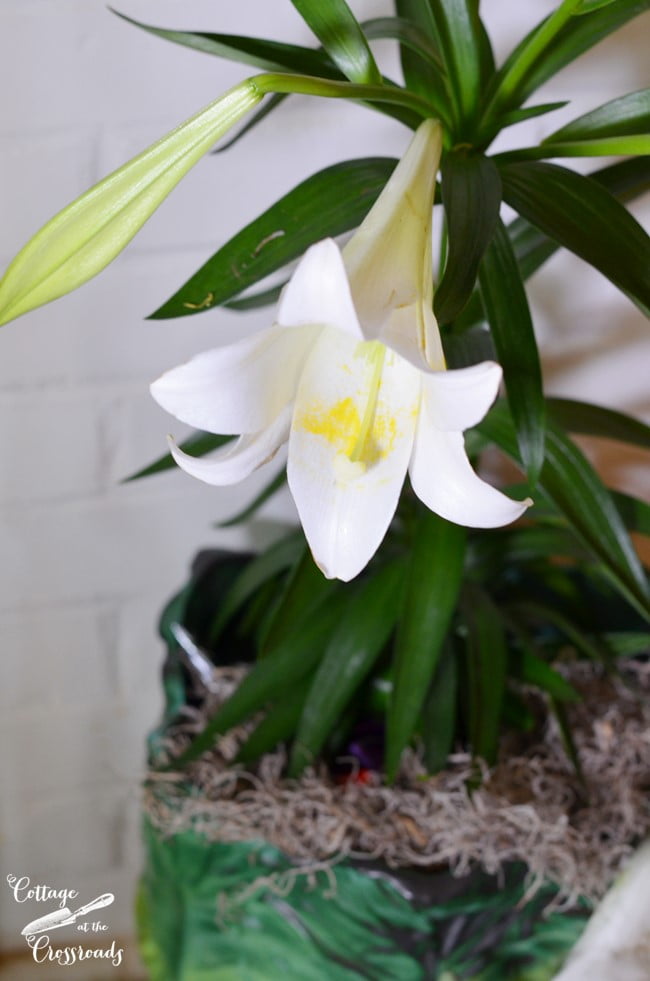 Given the right conditions, the bulbs should awaken again next spring to be enjoyed again. But did you know that Easter lilies are highly toxic to cats? Luckily, my little Henry has not been the least interested in the lilies.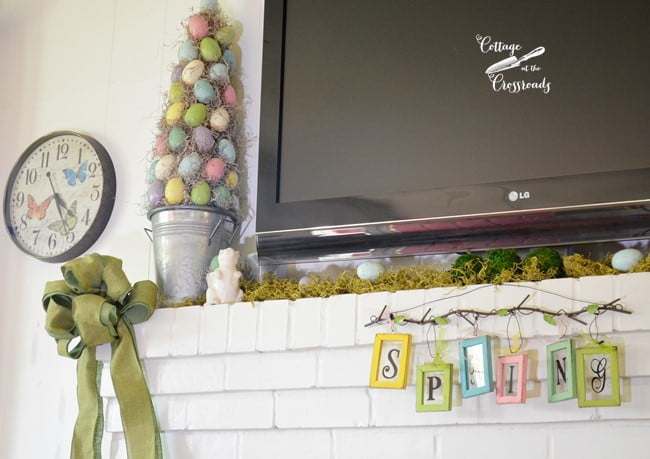 Beside the fireplace is a new clock. I ordered it from Amazon (affiliate link) when our other one fell and broke. The clock was very inexpensive, and I chose it to go with the artwork that is hanging on the other side of the mantel.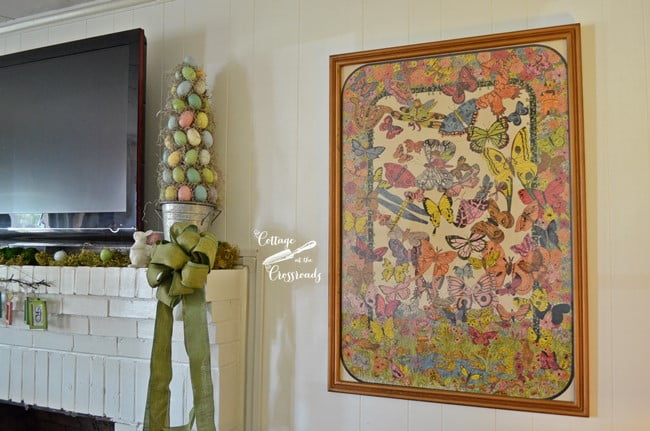 This piece looks like a tapestry from a distance, but it's actually a pencil colored print that my late mother-in-law, Sarah Windham, did over 40 years ago when she was being treated for cancer. Amazingly, the colors in it have not faded with time. So glad that we have this family treasure.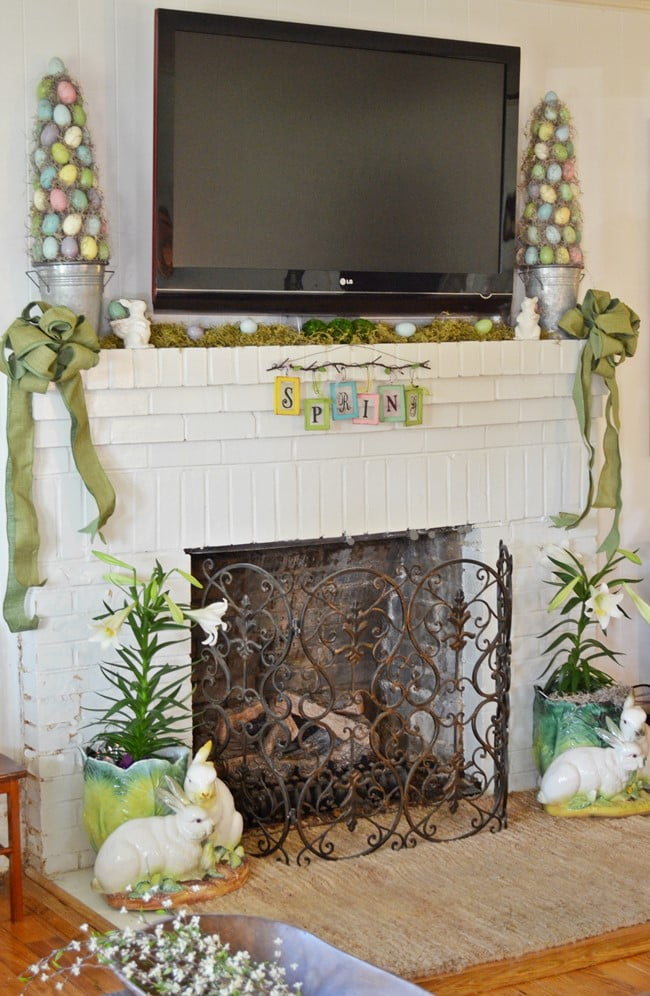 The fireplace screen we've had a long time, and I'm thinking about painting it white. What do you think, would you?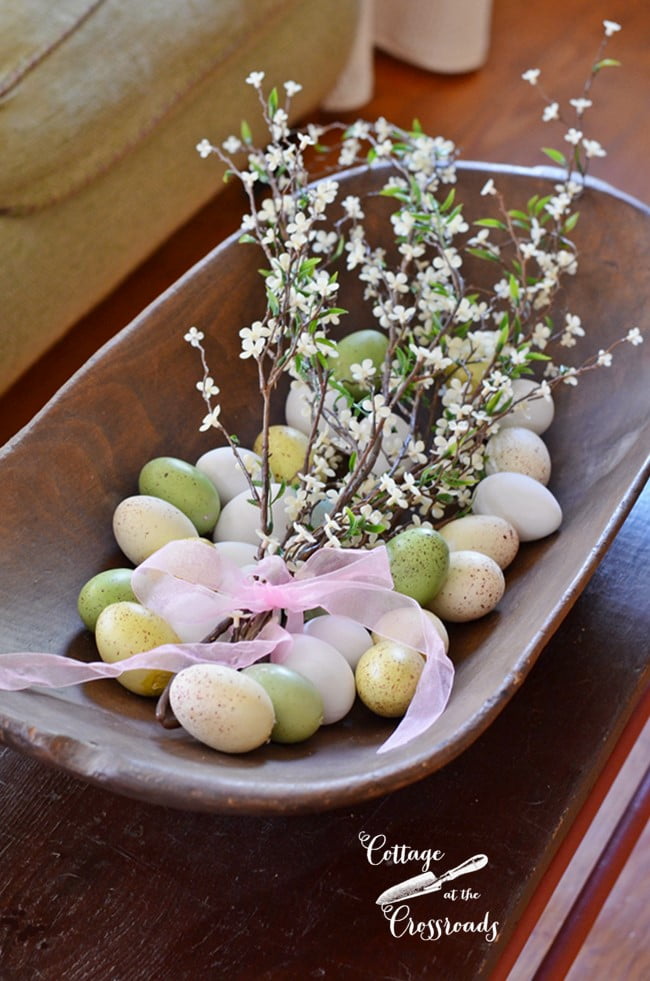 I moved the dough bowl over to the coffee table, and filled it with a little spring. One day I really must tell you the story of how I acquired it.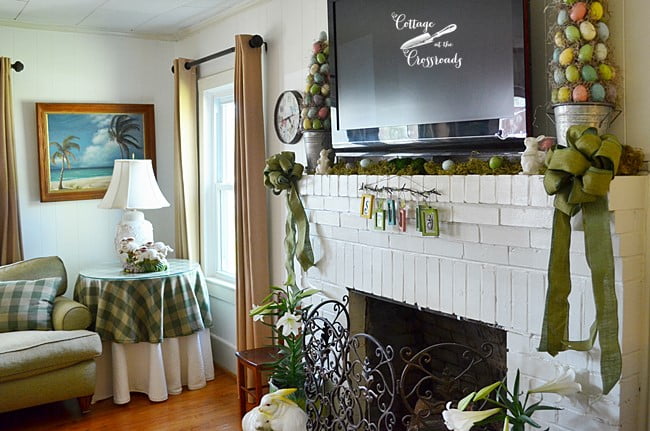 As you can see in this photo, I still have the green checked table skirt that I added at Christmas on the round table in the corner.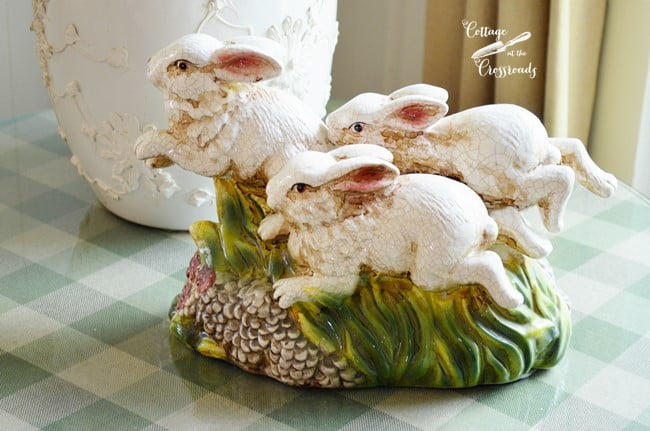 More bunnies that I've had forever are on its top.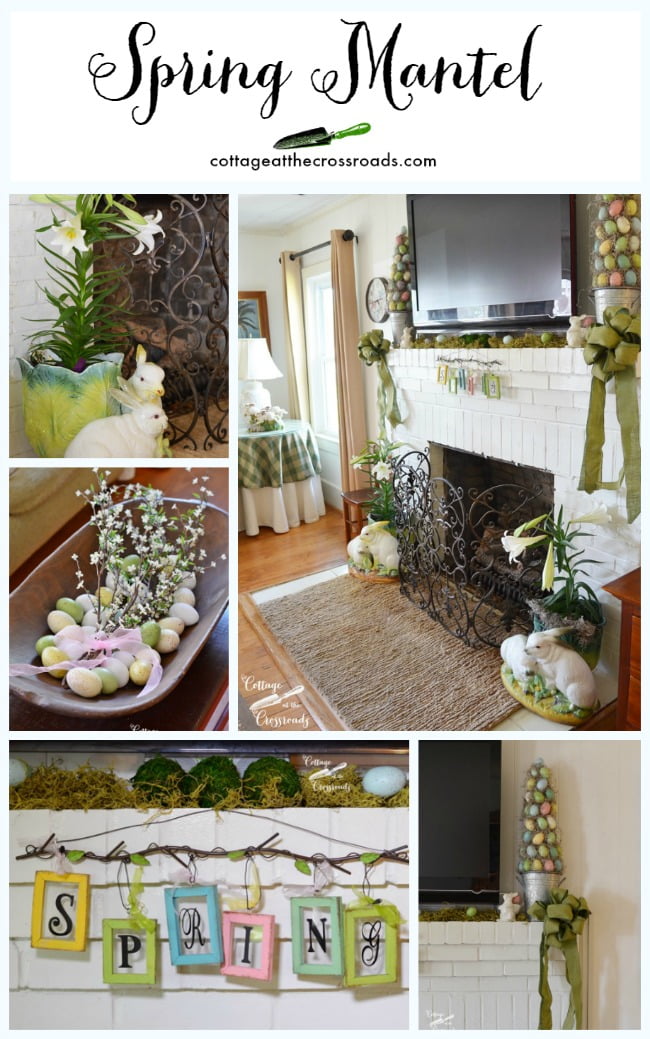 I hope you've enjoyed seeing our mantel all decorated for spring. But wait! There's more!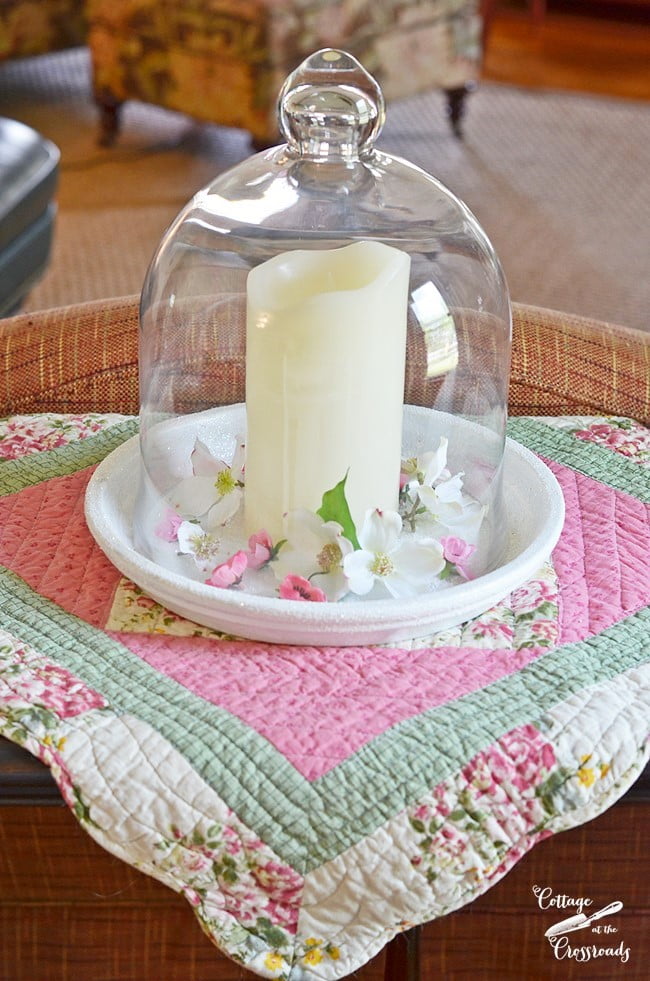 The sofa table is dressed for spring with this small floral quilt and a candle under a cloche. It's not a real candle but one of those that has a visible, electric flame that looks very realistic. It has a timer which comes on at dusk which we've enjoyed all winter. I found this one at Stein Mart, but here is a similar battery operated candle on Amazon (affiliate link.)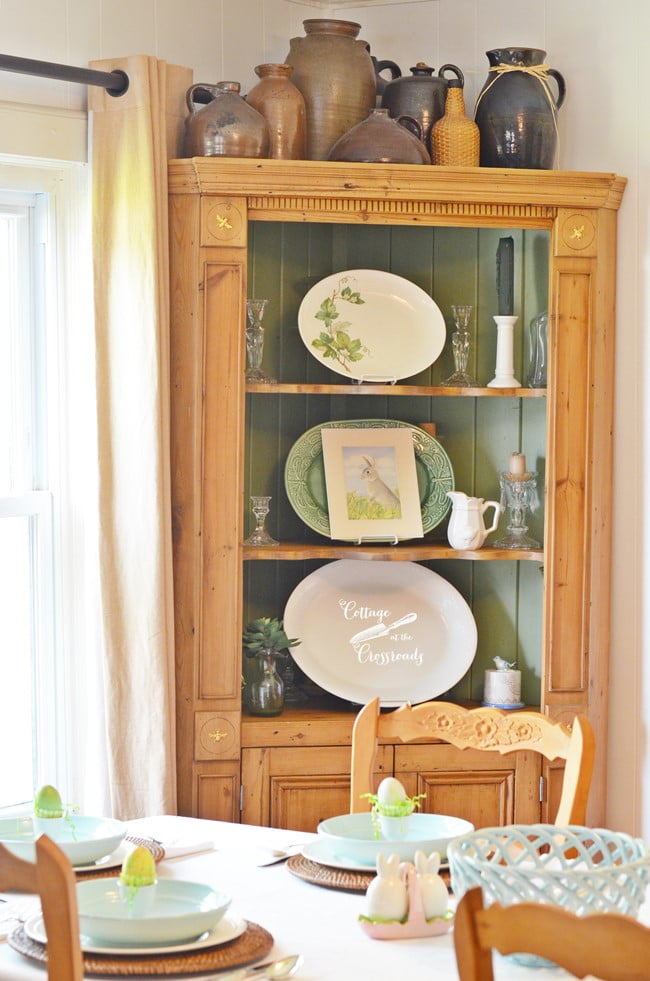 The dining room is all set for our Easter dinner.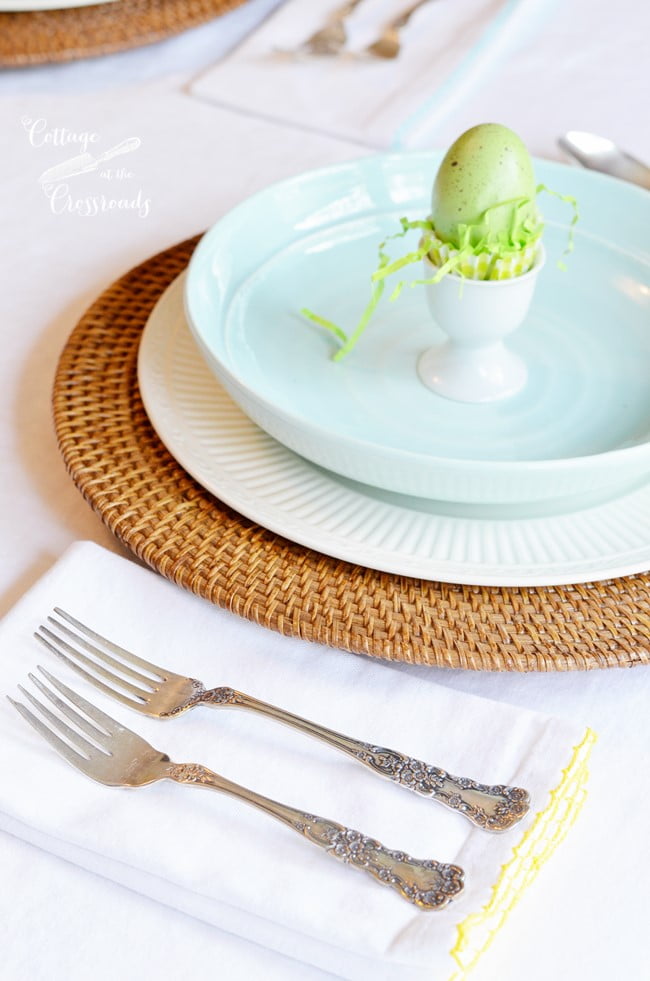 I used a white linen tablecloth with white napkins that have an little crocheted edge done in spring colors.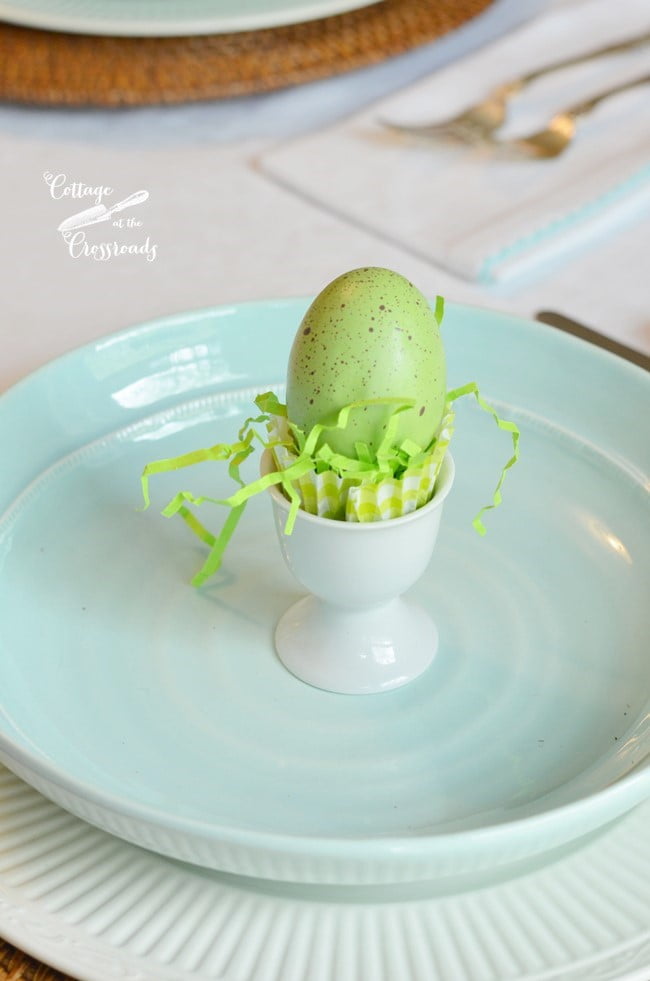 The egg cups got dressed for Easter by having a cupcake liner tucked down inside with some added excelsior and eggs.
My little bunny salt and pepper shakers came out to sit with the new bread basket that you see.
On the server is an arrangement of azaleas from our yard which helps celebrate the arrival of spring.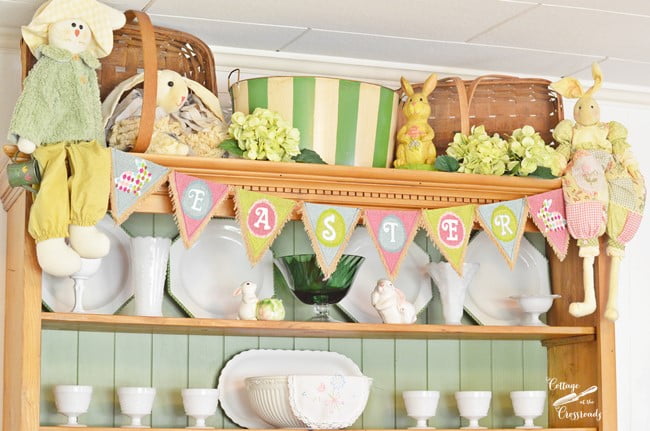 The cupboard has an array of bunnies on the top along with the Easter banner that I've previously used on the mantel.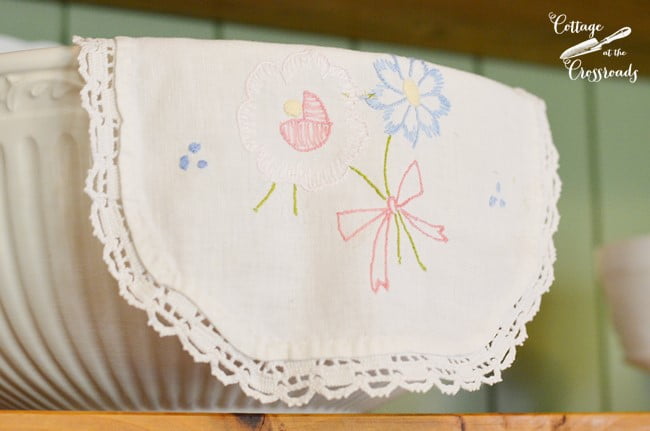 A bowl got a dash of pastel colors by hanging this little piece of embroidery work on its edge.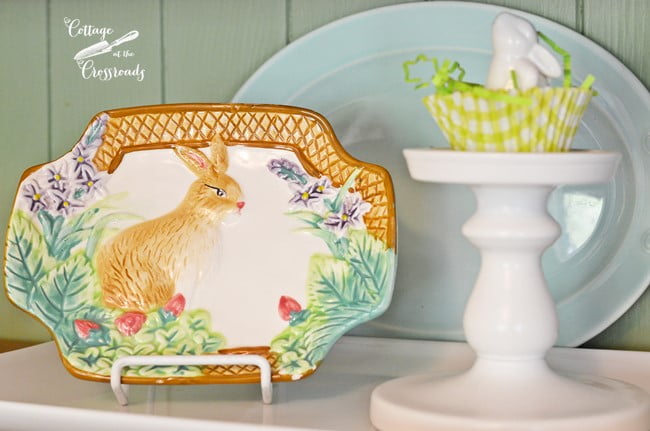 And a few more bunnies are displayed on the shelves of the cupboard, too.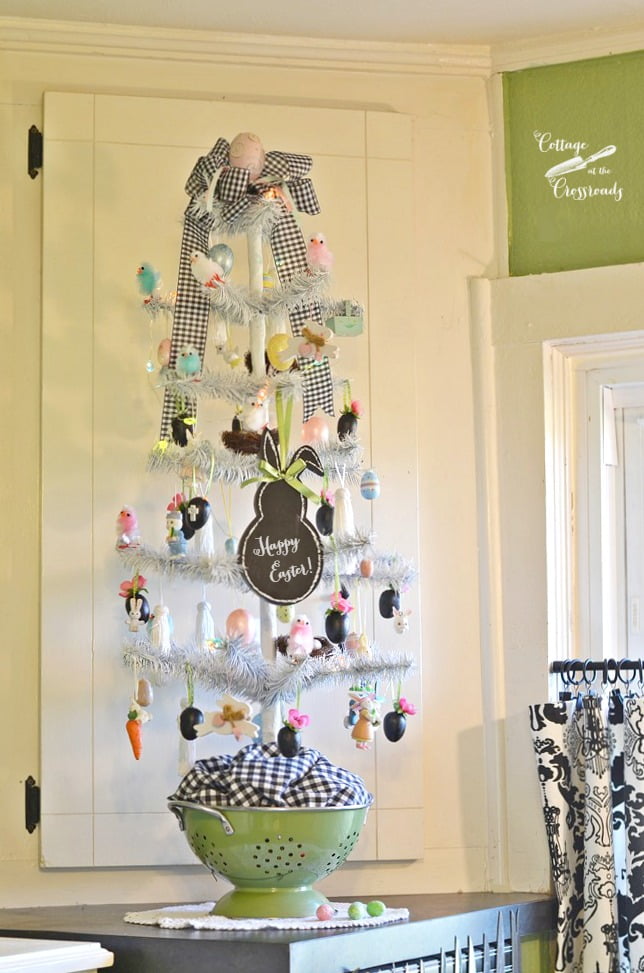 I've already shown you my Easter tree in the kitchen, but in case you missed it, you can see it HERE.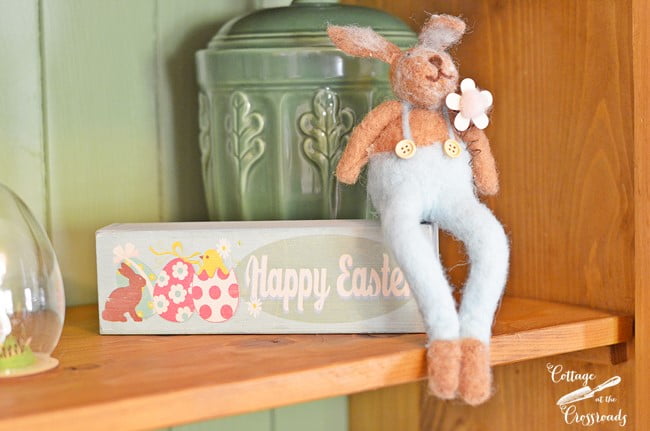 Thank you for taking the spring tour of our little country cottage. I'm wishing all of you a very happy Easter filled with the love of family and holiday traditions!