We've had some company at the Crossroads recently. Over a week ago, our grandkids and their parents were here for a visit.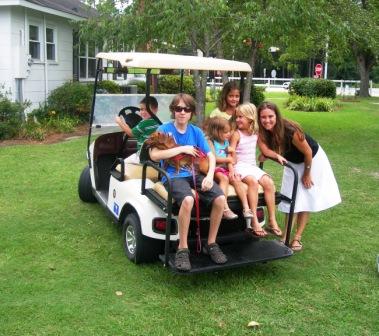 Here are Aren, Ruby, Rose, Sylvia, Jennifer and Chase, the dog, being chauffeured by Jackson. Jackson is the grandson of Leo's brother Jim and his wife Jean who live next door to us.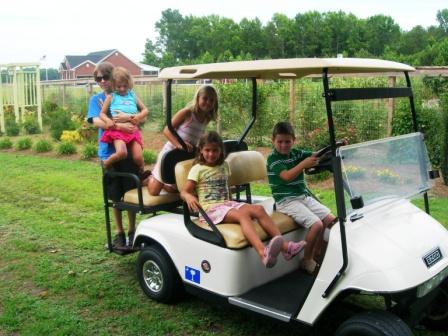 It's hard to believe that Jackson is only 5 and is driving his Poppy's golf cart, but he's a real pro already. The kids had a great time riding around the Crossroads.
We had a delicious lunch. Leo grilled some pork tenderloins, and the rest of the meal was composed of fresh veggies from the garden and some butterbeans we bought at the farmer's market.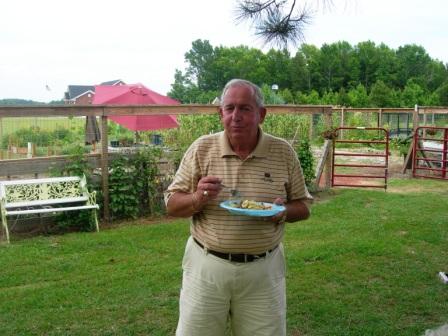 Here is Leo's brother Jim chowing down on some of that lunch.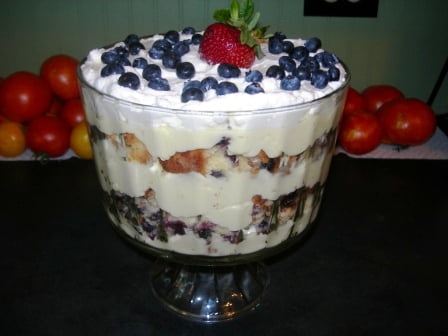 For dessert, I made this dessert in my new trifle dish given to me by my sister-in-law Jean. I had broken my other trifle dish, and Jean knew I was looking for a new one. So when she saw this one in an antique store, she bought it. Isn't it pretty?
After lunch, the kids went out into the garden to gather some vegetables.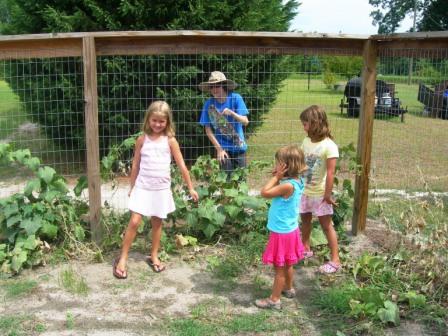 Here they are picking cucumbers off the vines.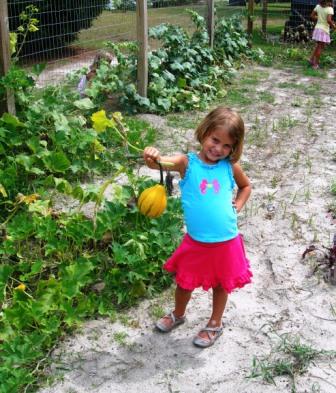 Ruby found a gourd that she liked.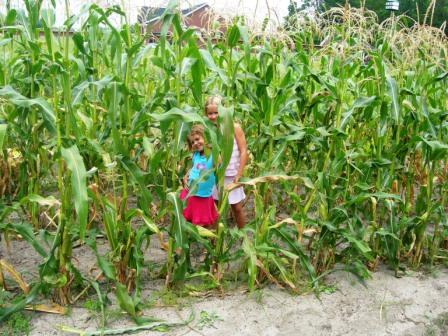 Ruby and Rose are looking for some ears of corn.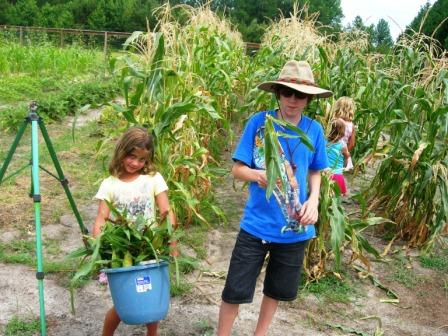 Looks like Sylvia and Aren found plenty of corn.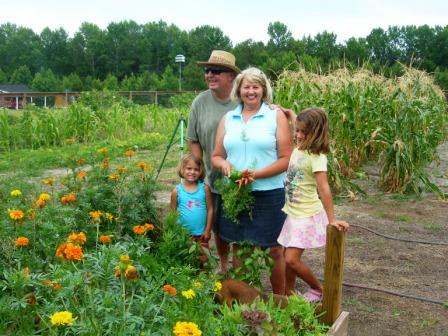 Here we've pulled some carrots from the raised bed.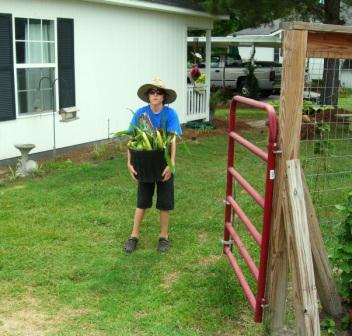 Aren's got a bucket full of corn to take home with him.
We all had a wonderful day visiting with each other but by the end of the day, Rose was a little tuckered out (not to mention Pop and Janie.)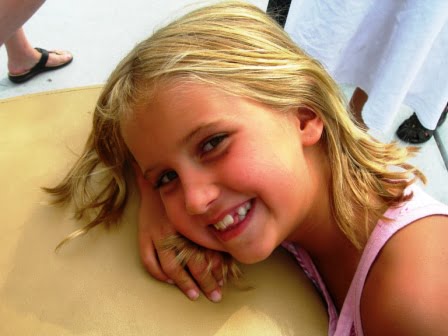 The next day Leo's son David, and Ginny, his significant other, stopped by the Crossroads on their way back from the beach. They brought 3 pounds of fresh shrimp, so we made a Beaufort stew with the shrimp, some smoked sausage, and fresh corn and new potatoes from the garden. Yum, yum, yum!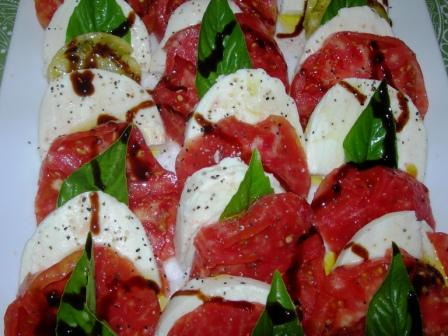 I made a Caprese salad to go with our Beaufort stew and we finished our meal with some left-over trifle from the day before.  It was wonderful to share such a great meal together.
Last Friday evening we were riding around on the golf cart with Leo's brother Jim and his wife and we came upon this field of sunflowers that was planted by Leo's cousin Mark.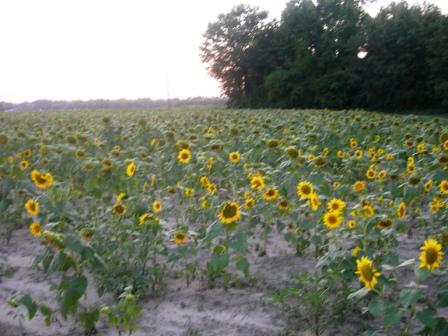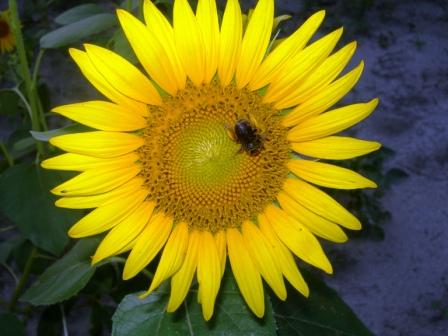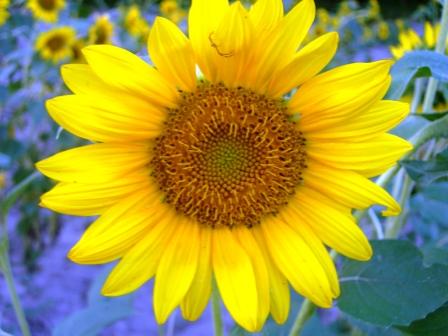 Couldn't resist getting a few close-ups of them.
This past weekend my other sister-in-law Jean came for a visit. We has some more good meals and some good times with her. On Monday, we went to the auction that is held not too far from where we live.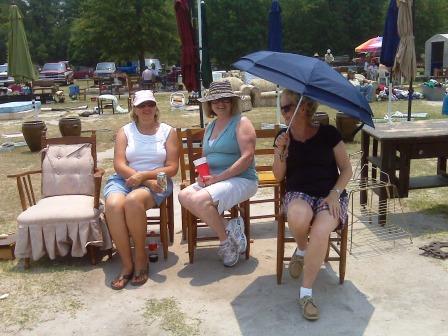 Here we are waiting on the auctioneer to come along. It was hot as blue blazes that day, but we got some hot deals. Like this stack of Wedgewood dishes that we got for $7.50.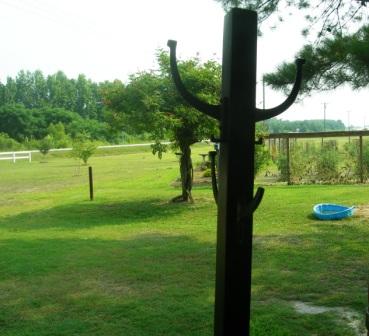 and a coat rack that we got for $12.50. Yes, both of them for that price!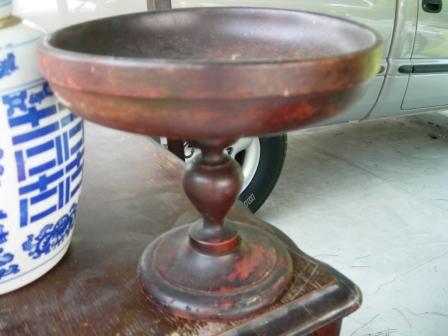 Got this wooden pedestal bowl and a box of wooden Christmas ornaments for $5.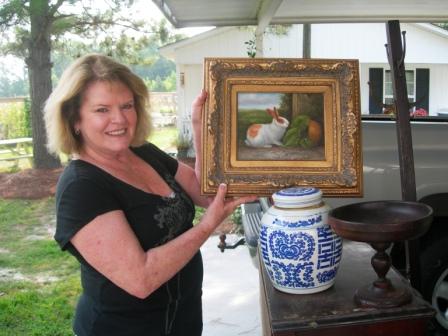 Here is Jean with a painting and one of her Ginger jars that she got for a sweet deal.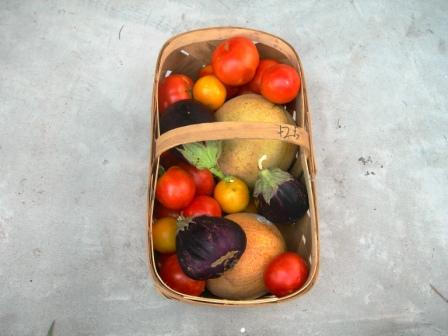 When Jean got ready to go, we loaded her up with a basket of fresh vegetables from the garden.
What a great time we've had recently with our family at the Crossroads.