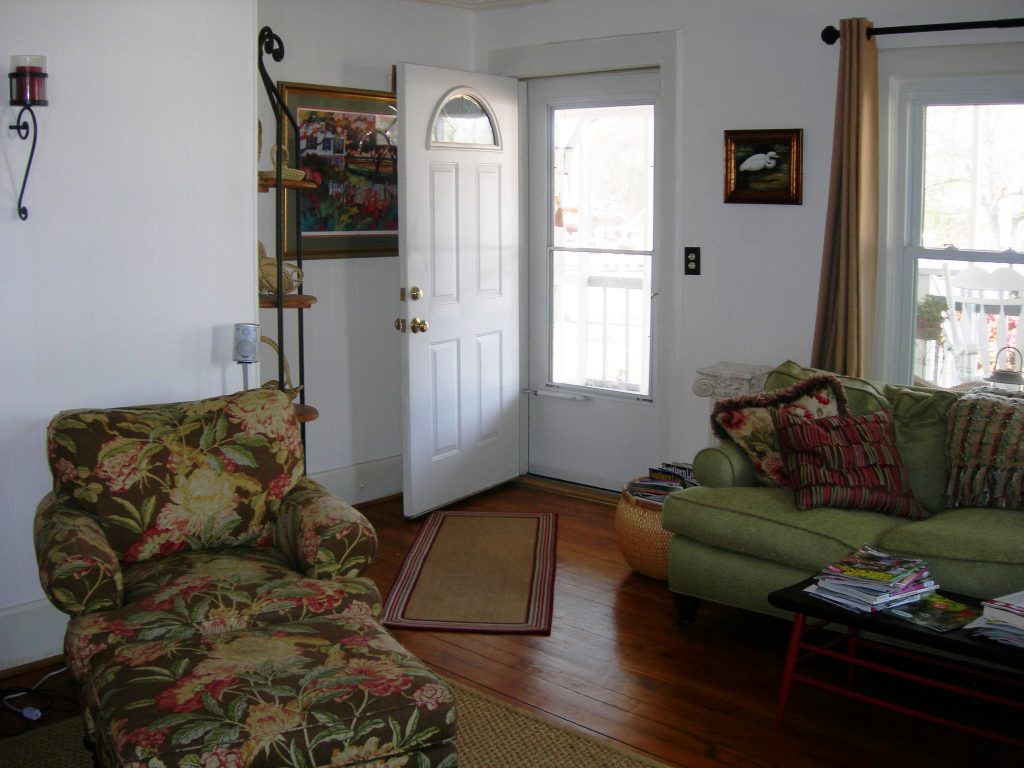 Hello! Come on into our cottage at the Crossroads. To bring you up-to-date, we moved here after I retired from teaching school. We've been here about a year and a half now, and we've really enjoyed renovating our home.  By the way, this is the house that Leo grew up in, so it contains many happy memories for him. Many people couldn't understand why we would want to live in this old, small house. In fact, some said that we should just tear it down and build a new house. But we welcomed the challenge of updating the house and maintaining the family home. Besides, we've lived in nice, new houses and we were ready for something that had some real character.
Before we moved in, we ripped up all the carpet and discovered, to our delight, these beautiful old pine floors which we had sanded and refinished. Every wall and even the ceilings in all the rooms received a fresh coat of paint. (wall paint-Valspar-Laura Ashley-Summer Field-eggshell finish; ceiling paint-Valspar-Brilliant White)
This post may contain Amazon or other affiliate links. As an Amazon associate, I earn from qualifying purchases. If you purchase anything through any affiliate link, I may earn a small commission at no extra charge to you. All opinions are my own.
Today I'm just going to show you the living room, the room where we spend most of our time. When you come in, this is what you'll see first.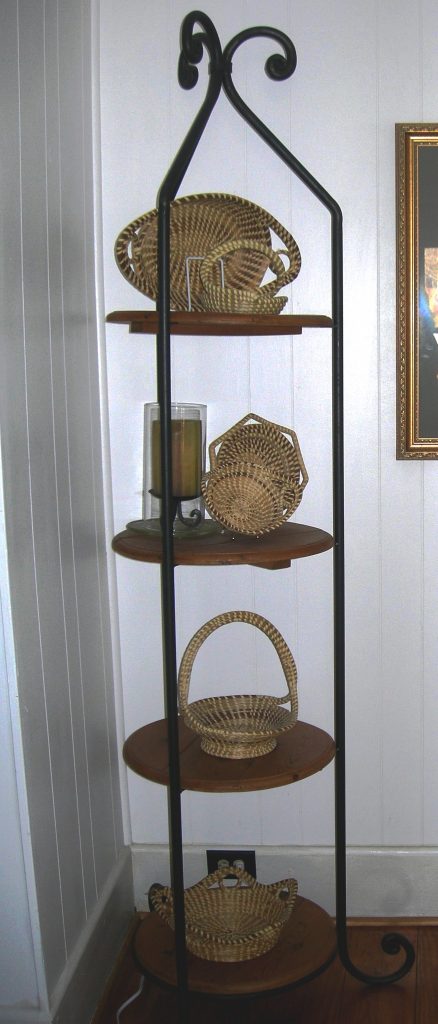 We found this iron and pine piece in an antique store in Charleston, SC many years ago, and this is part of my sweetgrass basket collection. Many of the baskets were gifts, and a few of them were made by parents of students that I taught.  All of them are truly treasures.
As you walk into the room, you will see the fireplace and the television.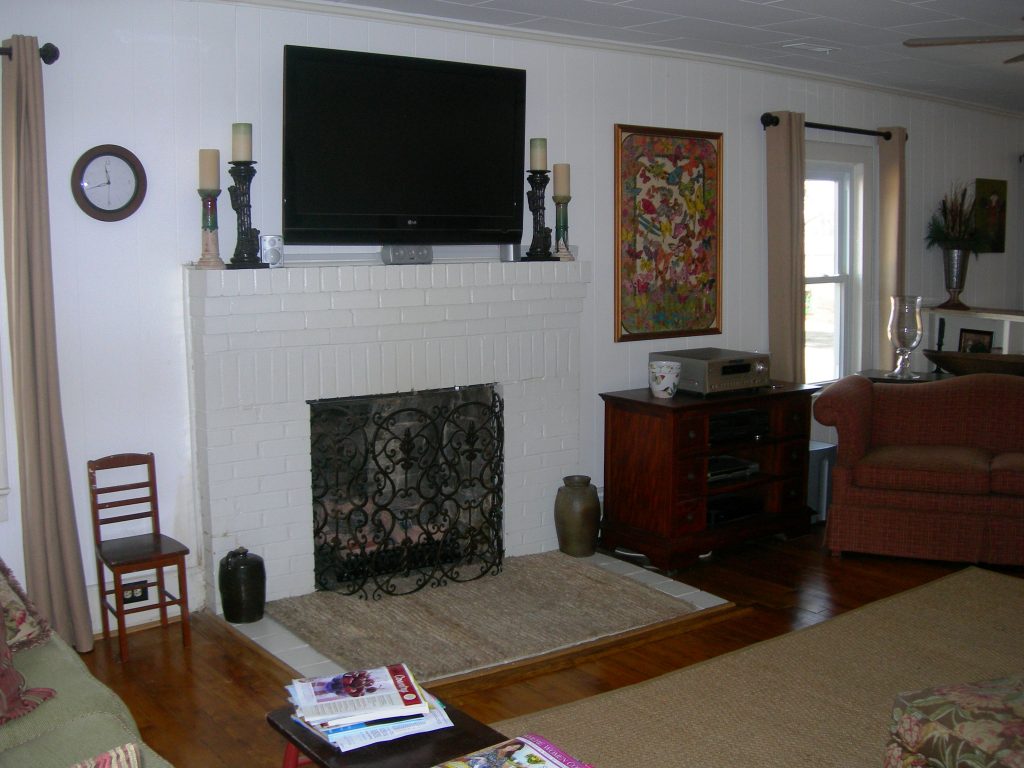 Painting the brick was such a major decision, but after I saw one almost exactly like it in a magazine, I knew we should do it.
To the right of the fireplace, you'll see something that looks like a framed tapestry.It's actually a "pencil colored poster." As we were cleaning out the storage building on the property, I found this tucked behind some other items. I asked my husband about it, and he said that his mother had done it when he was about 13 years old while she was     recuperating from cancer treatments. (She was a 50 year cancer survivor!) It has found its permanent place in our home.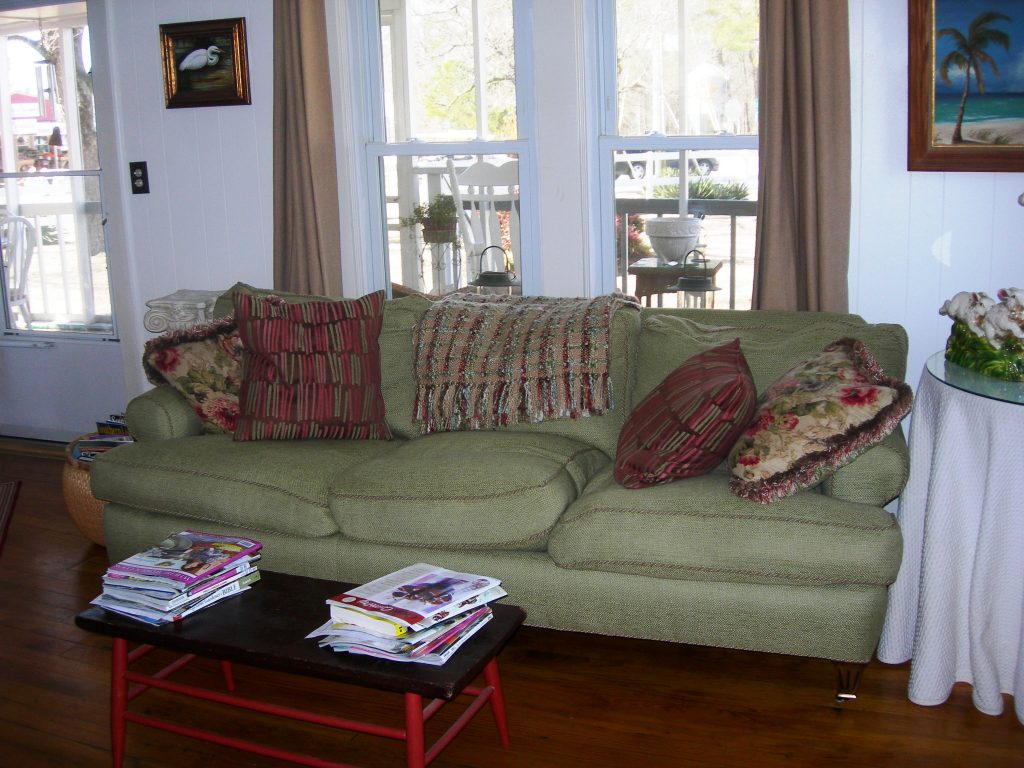 Here's our sofa. Those goose-down pillows always need fluffing. To the left of the sofa is one of my favorite paintings. The egret is another reminder of the Lowcountry.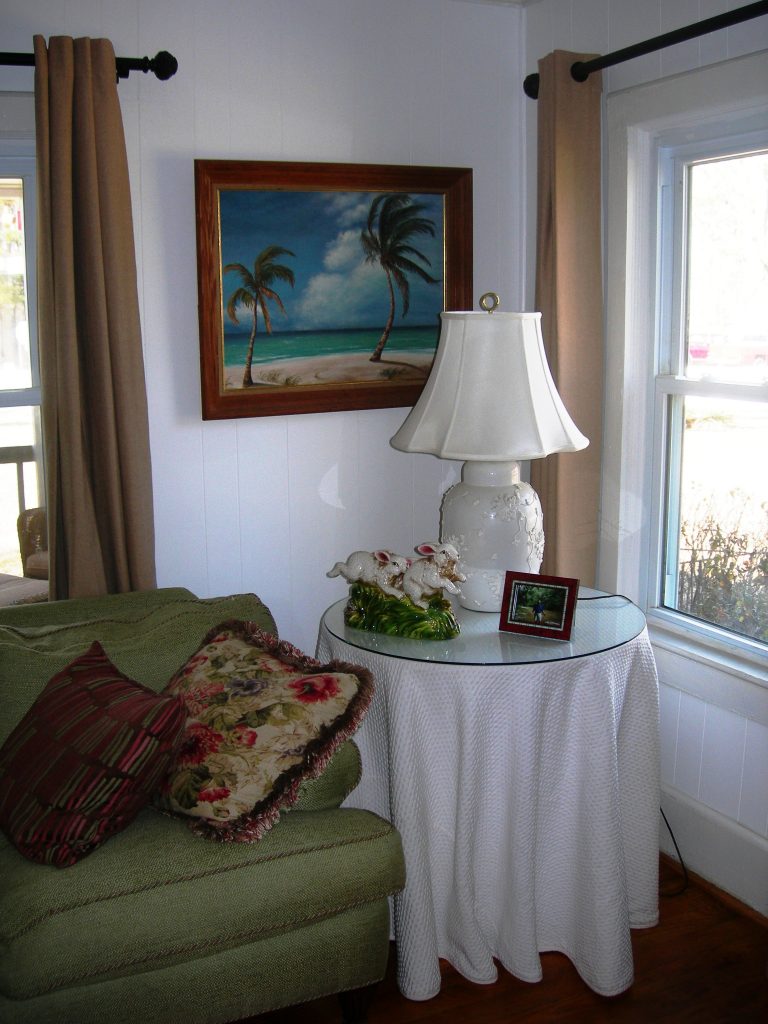 In the corner is a painting that we found many years ago in an antique store in Columbia. The window treatments are from Pottery Barn.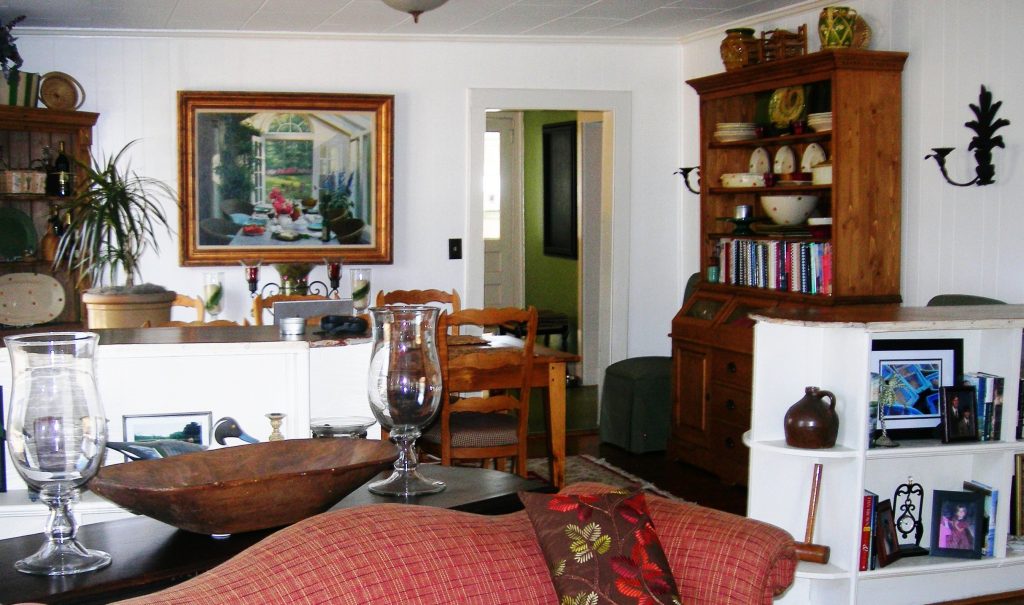 Behind the loveseat is a dough tray that I usually fill with seasonal decorations.  It's empty right now. I can't seem to find my seashells and candles. Storage is an issue in a small cottage! You can see that this is really one huge room, which is unusual for such an old house. Leo said the dividers have been in the house for as long as he can remember. We decided to keep them. The tops are pine just like the floors.
This is Leo's chair.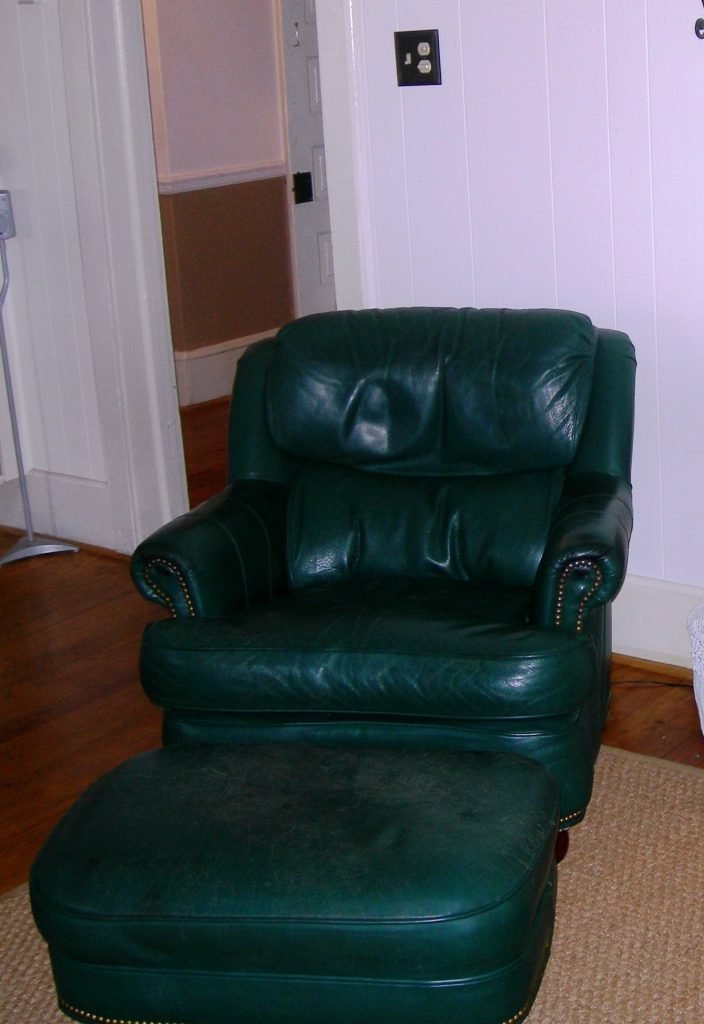 If that chair could talk, it would tell you the entire history of the NFL,  the PGA , and the SEC for the past 15 years. That means that chair is old!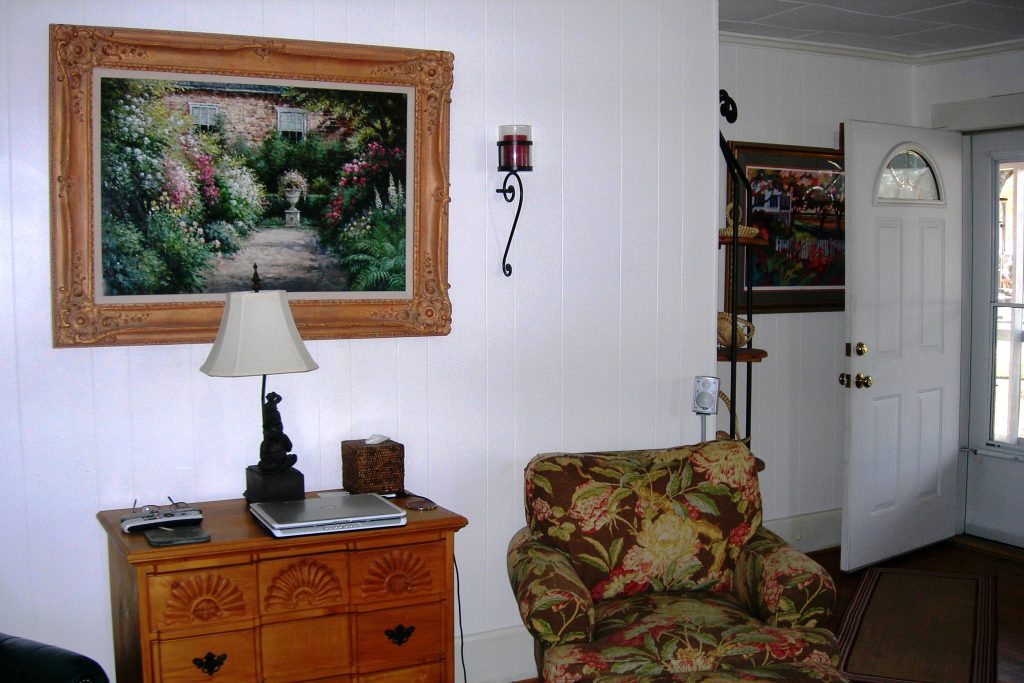 And this is where it all happens. NO, not s**, the blog! See the computer?
Linking to: