We love color here at the Crossroads.
You know, one of my favorite songs when I was a teenager was Color My World by Chicago. Well, I must have taken the lyrics seriously because I've always had to have color in my life! So I thought I'd show you a few pictures of some colorful things here at Windham's Crossroads.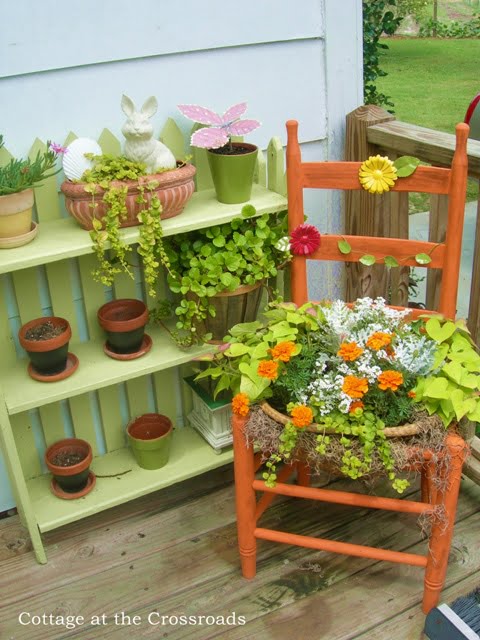 This spring I painted this old chair orange and filled it with colorful flowers. I used Barcelona Orange by Annie Sloan Chalk Paint, and it has held up well in the heat and the rain. I didn't even wax it so that tells you how durable the paint is. Beside the chair is an old bookcase that I painted green last fall.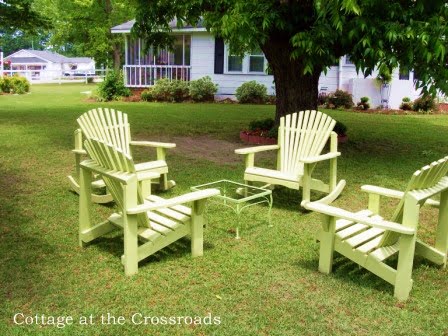 The color is Bella Mint by Valspar, and it's the same color that we painted our Adirondack chairs a few years ago.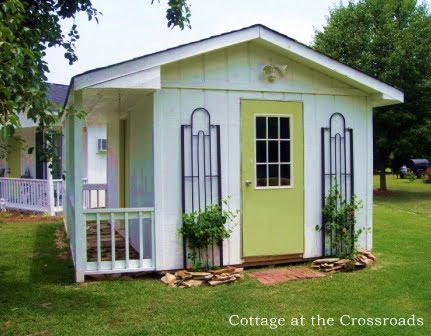 We used the same color on the exterior doors of Leo's shop and my mother's apartment.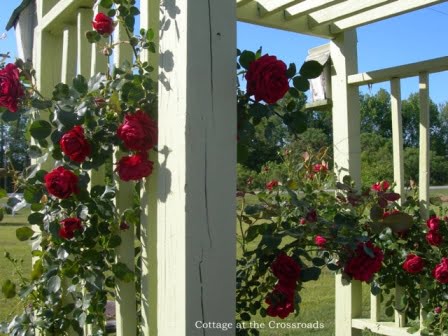 This color has become our signature color around our house and yard. This is the arbor that's in our flower bed that is in front of our vegetable garden.  Now I'm thinking that we need to paint our screen door on the front of our house the same color. What do you think?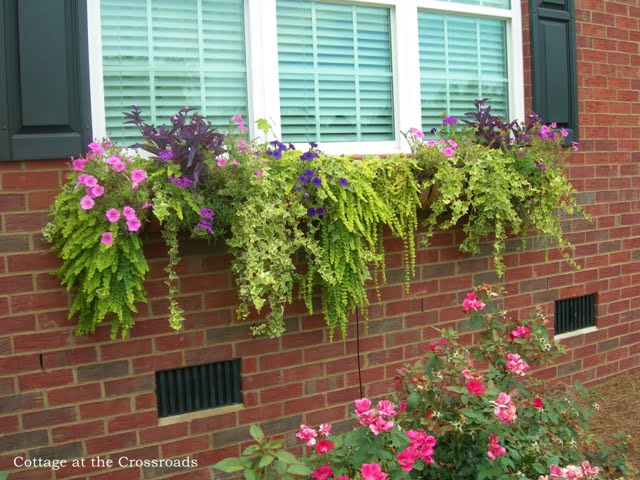 My sister-in-law Jean, who lives next door, loves color as much as I do. Look at her gorgeous window boxes!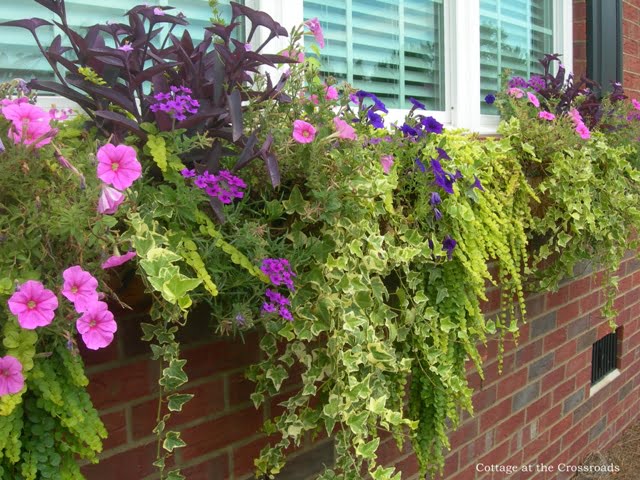 They are full of beautiful blooming plants and greenery.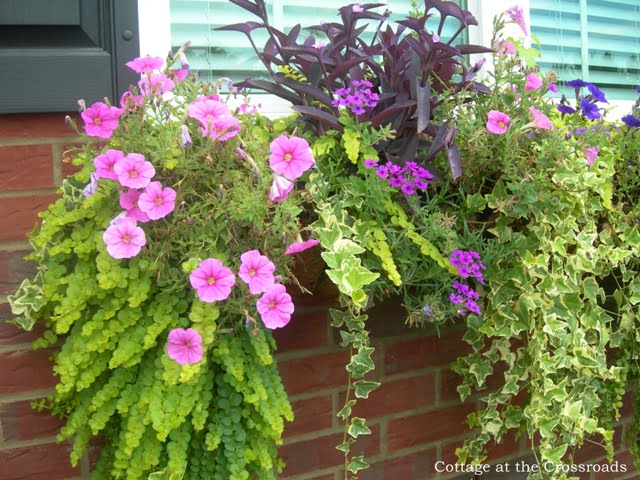 These window boxes face west, and it has been a hot and dry summer in South Carolina this year. Are you wondering how she is able to have such beautiful boxes in the middle of summer?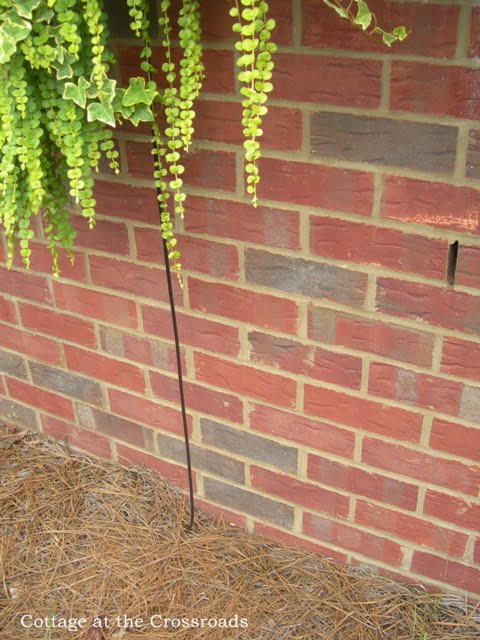 Here's the secret! Her husband Jim ran a drip line up to the window boxes, and he connected it to their irrigation system in the flower beds. What a difference it makes to get regular water to the plants. Jean also believes in regular fertilizing with Miracle Grow and it shows!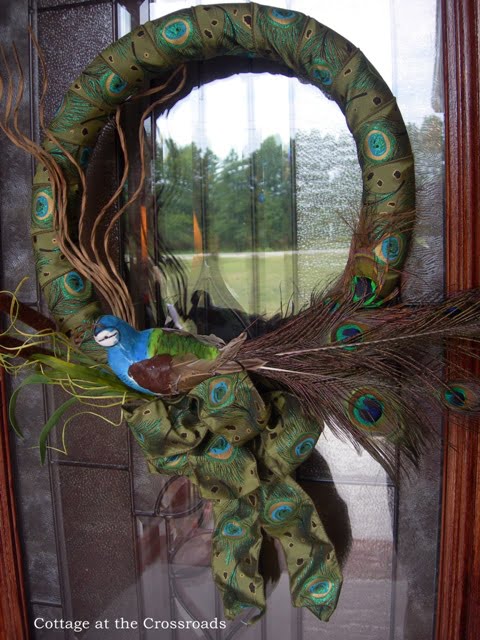 While we're over at Jim and Jean's house, I'll show you the most recent wreath that Jean has made. It's this beautiful, peacock wreath made from another pool noodle. You may remember Jean's Fourth of July pool noodle wreath.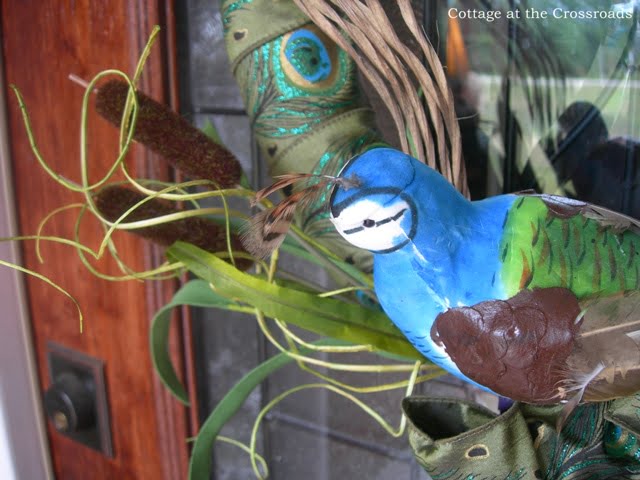 Well, she's done it again-made another awesome wreath with a pool noodle! She used materials she already had on hand. She actually used the peacock and the ribbon on a Derby hat this year. Sorry I didn't get a photograph of it before she took it apart.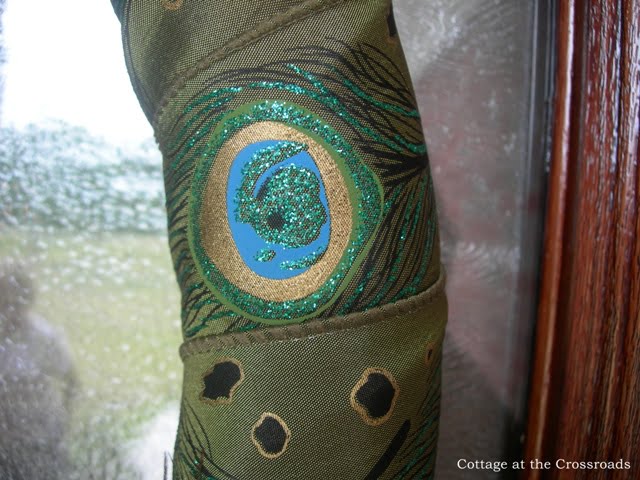 Here's a closeup of the ribbon. She got the ribbon and the peacock at Hobby Lobby.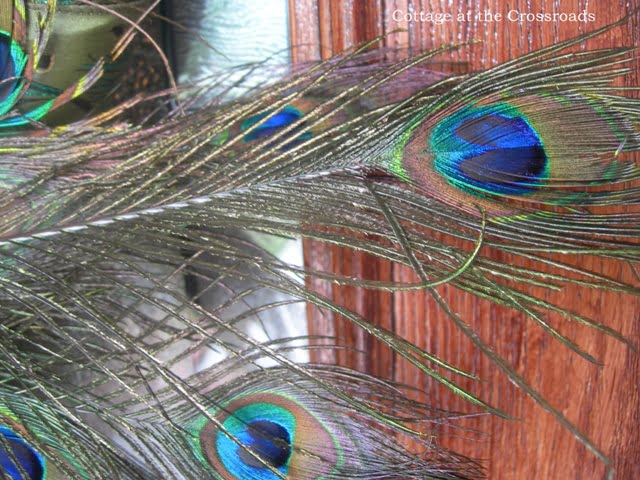 Look at the brilliant coloring on the feathers! Did I mention that we like color?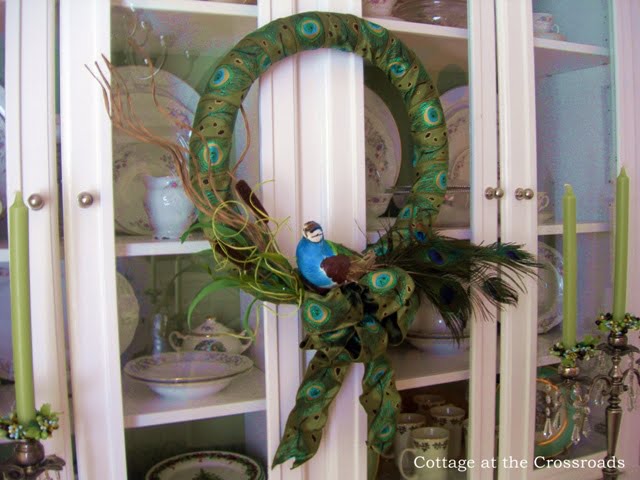 Jean has since moved the wreath indoors, and she hung it on the china cabinet in her dining room. The colors in the wreath coordinate perfectly with the colors used in there.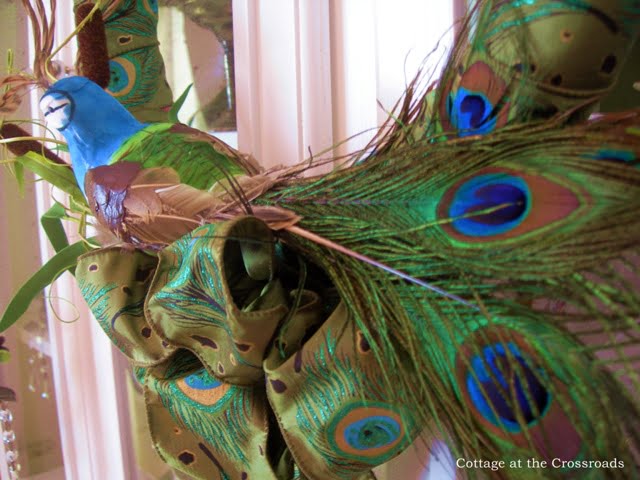 Yes, we love color around the Crossroads, particularly the colors found in nature.
I'm joining Kelly at her All About Color Linky Party. Won't you join me?