Hello there! It's been a while since I've posted but let me tell you why. Both Leo and I have been super busy planning and putting together this year's Civitan Golf Benefit Party as well the Silver Fox Tournament of Champions.
This event is the major fundraiser for our town's Civitan organization, and it takes months and months of work by a large number of people to make it a success.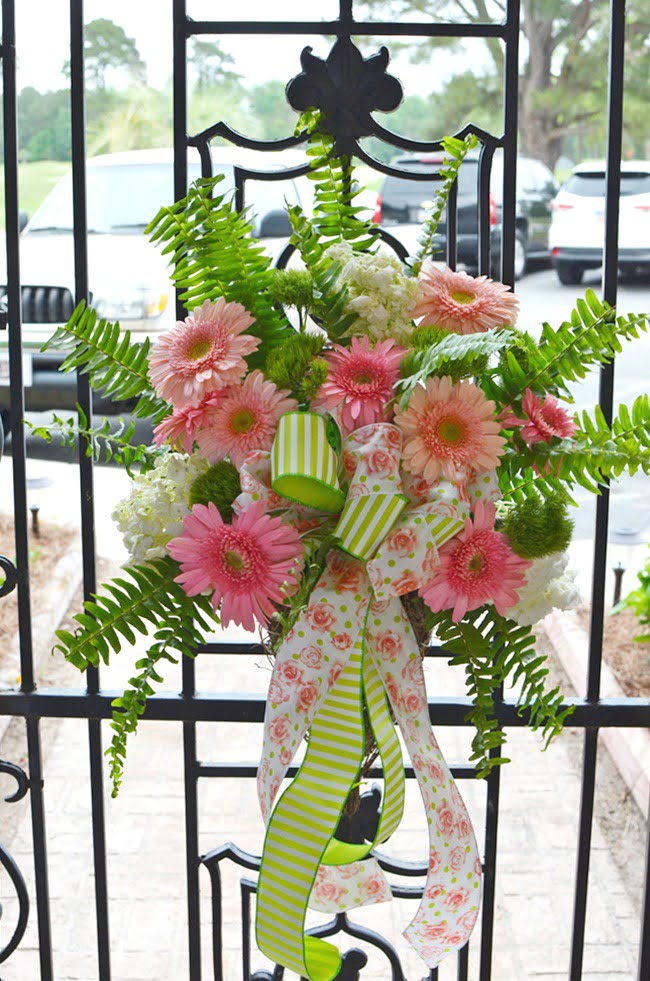 It all starts with meetings that begin in January to select the honorees of the party as well as deciding on a color scheme and decorating details. Since daisies and hydrangeas were the favorite flowers of the ladies that we were honoring, we used those extensively in the decorations.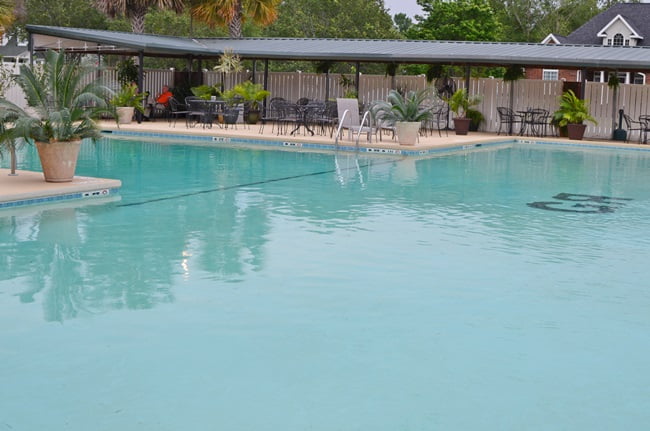 The party was held Thursday, April 29 around the pool at the Governor's Run clubhouse.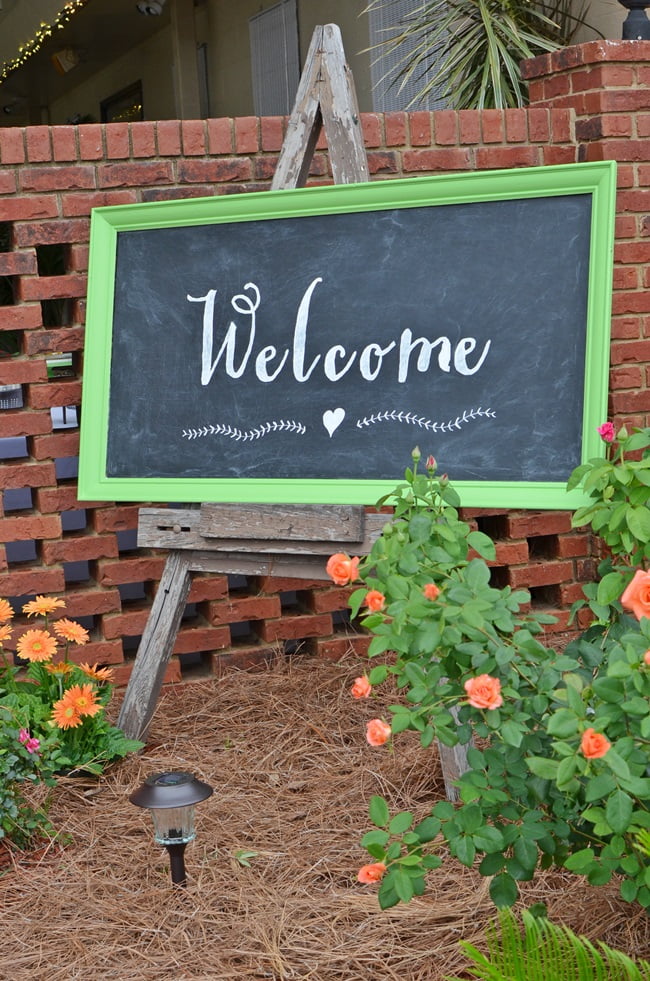 This large chalkboard welcomed guests at the entrance. You may remember seeing it last year, but it got a fresh coat of spring green color for this year's party. Directions on making a large chalkboard sign can be found here: DIY WELCOME CHALKBOARD SIGN.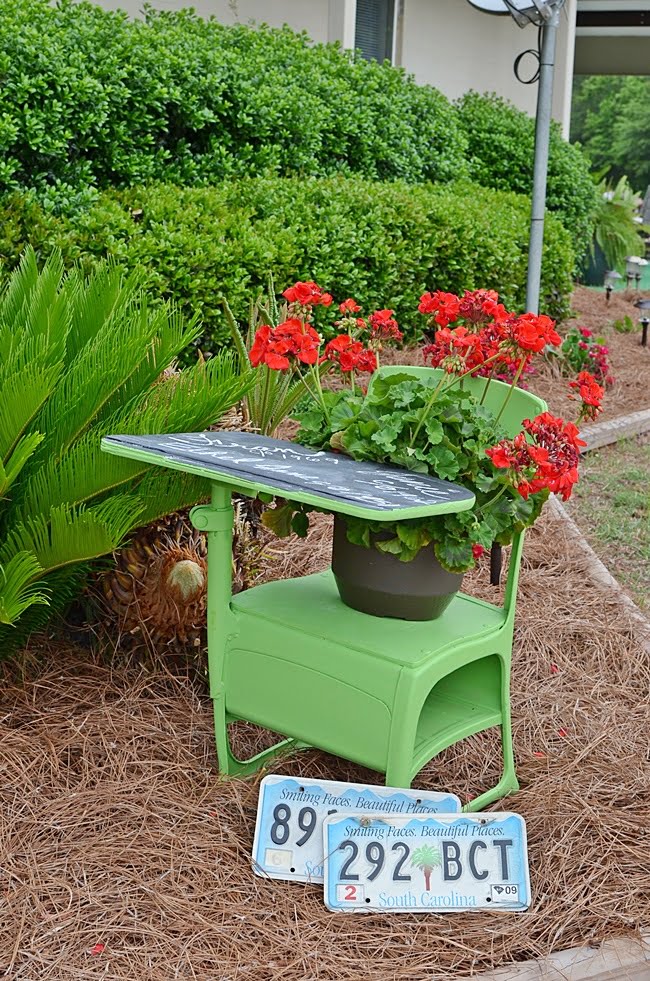 And because all 3 of the ladies that we were honoring were former school teachers, we painted an old school desk to use as a planter. Now, you may be wondering about those license plates. One of the honorees always has some license plates handy to assist in picking up trash around town. No dustpan, no problem!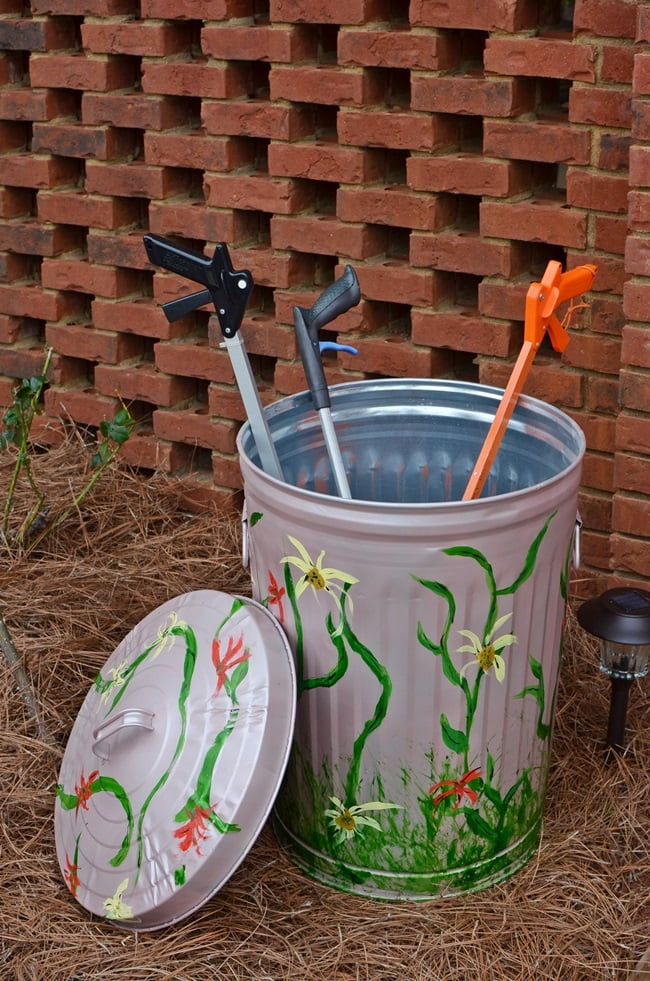 All 3 honorees work extremely hard to keep our town beautiful by picking up trash and keeping the grounds of our local library in tip-top shape so we couldn't pass up an opportunity to decorate a trash can!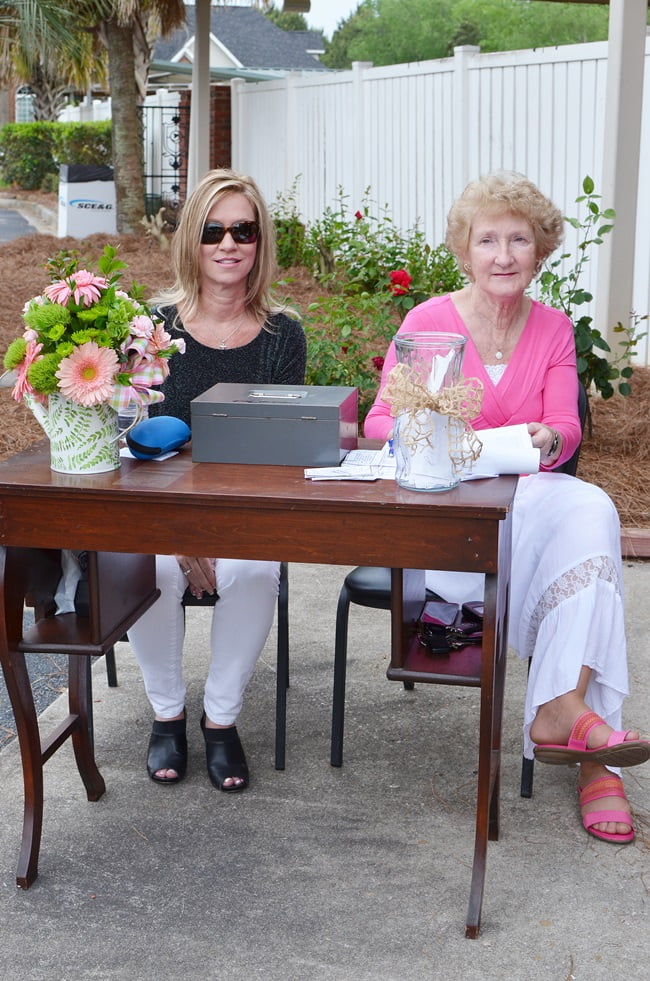 Here Jane and Desby are ready to collect tickets before the party started. Both of them are employees of Carolina Bank, a major sponsor of the golf tournament.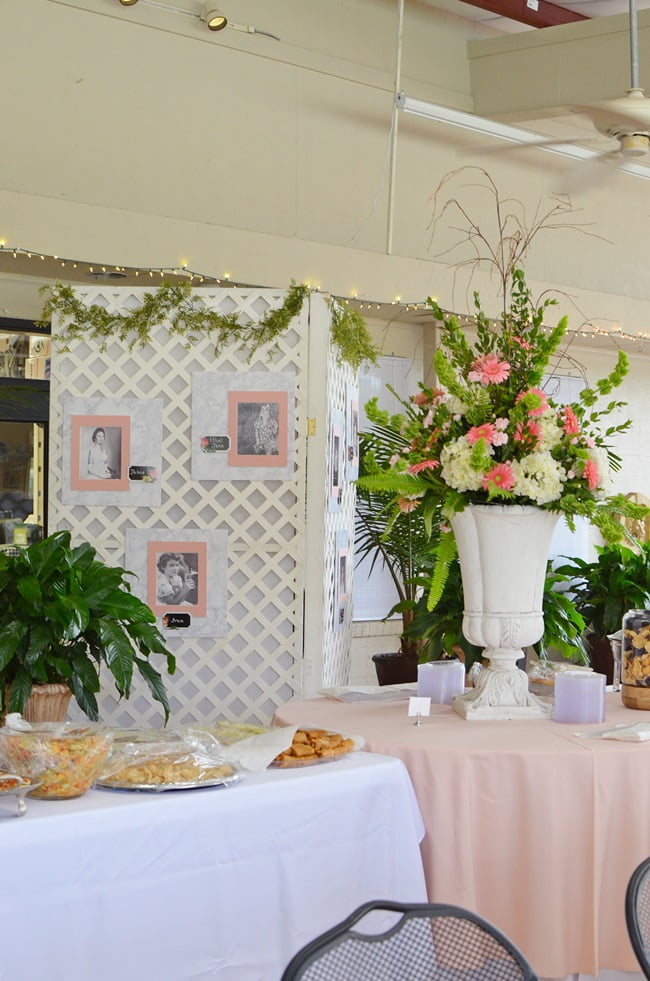 Here you see the main floral centerpiece as well as the variety tables laden with delicious food!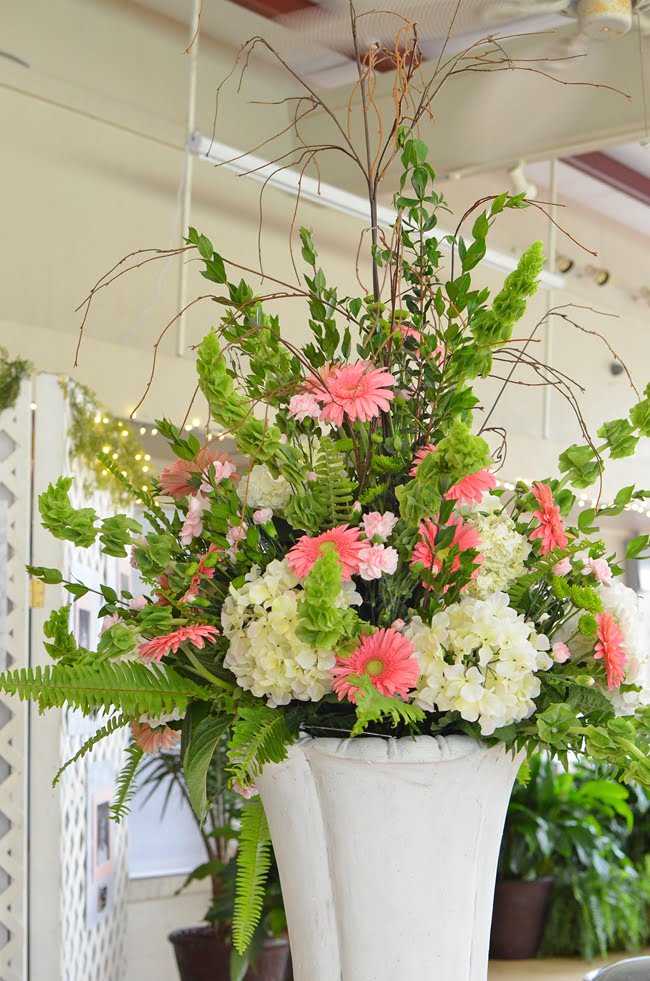 A closer look at those hydrangeas and daisies that were used in the main centerpiece. It was so pretty!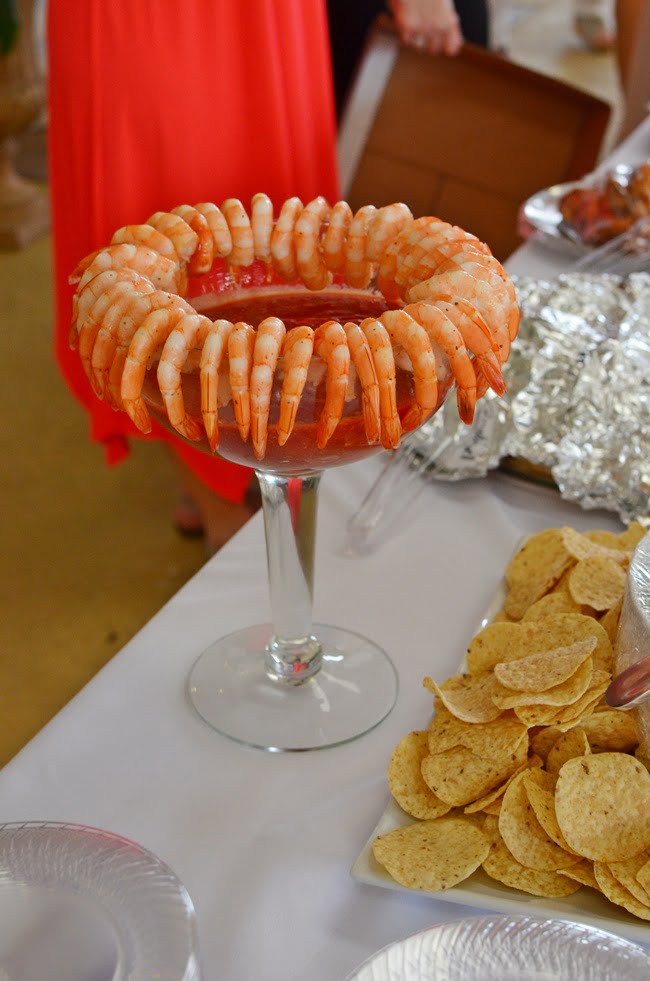 Lots and lots of yummy food was prepared by numerous volunteers from the community.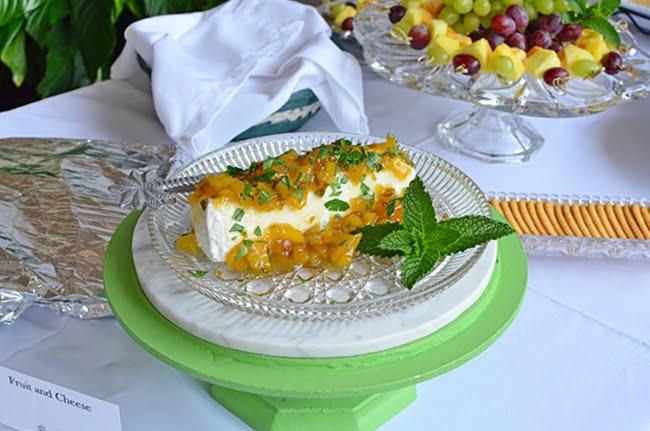 My 2 sisters-in-law and I did the fruit and cheese table. Above you see a goat cheese and mango jam appetizer that I made, but I'll have to tweak that recipe a bit before I put it on the blog!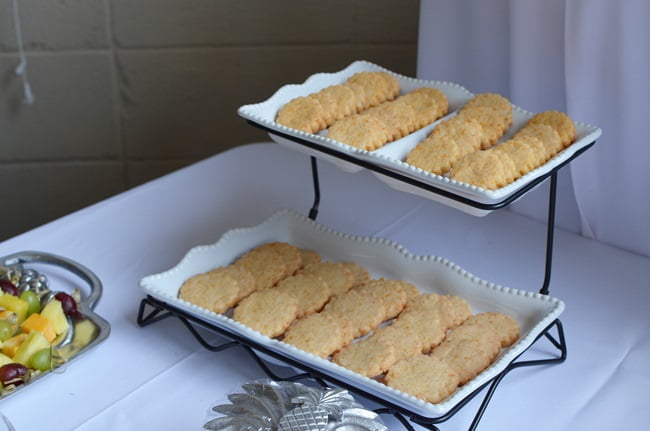 My sister-in-law Jean's cheese wafers were a huge hit. Y'all know that southerners cannot have a social gathering without cheese straws or wafers, right?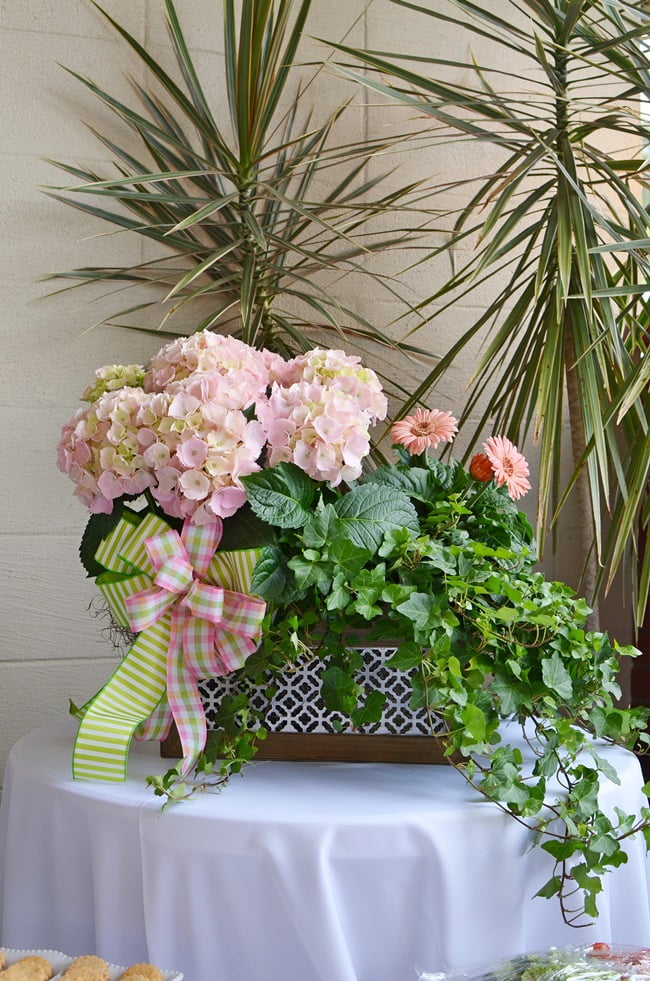 More hydrangeas and daisies were used in the centerpiece for our table.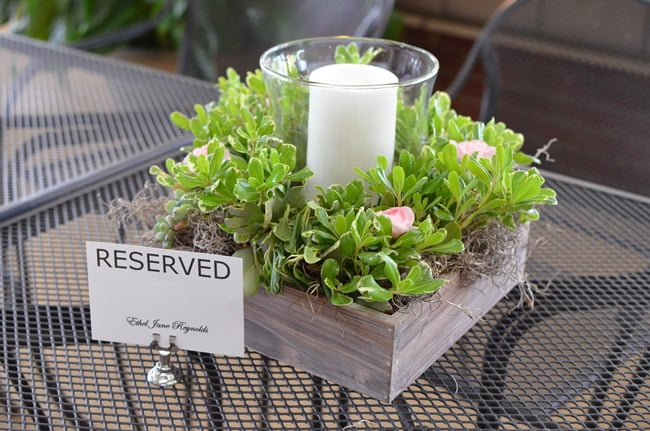 These smaller centerpieces turned out great. I had seen a similar idea on Pinterest, and my sister-in-law Jean and I went to 3 different Michael's stores to get enough of the wooden boxes. I placed 8″X 8″ aluminum pans down inside the boxes to hold wet floral foam for the greenery and flowers and that worked great to contain the water.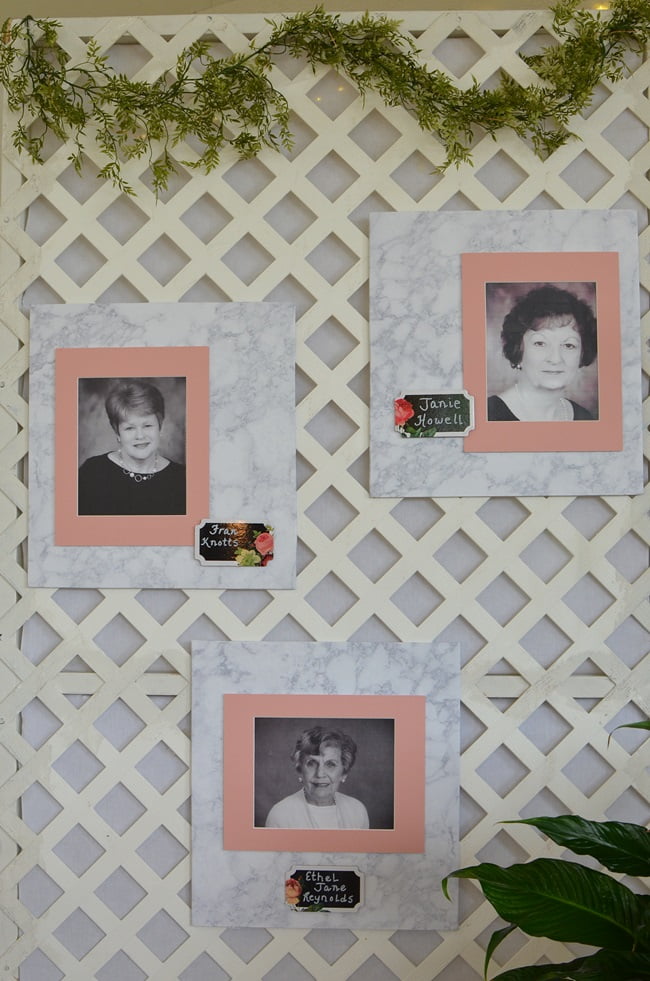 The 3 lovely ladies that we honored that evening were Fran Knotts, Janie Howell, and Ethel Jane Reynolds.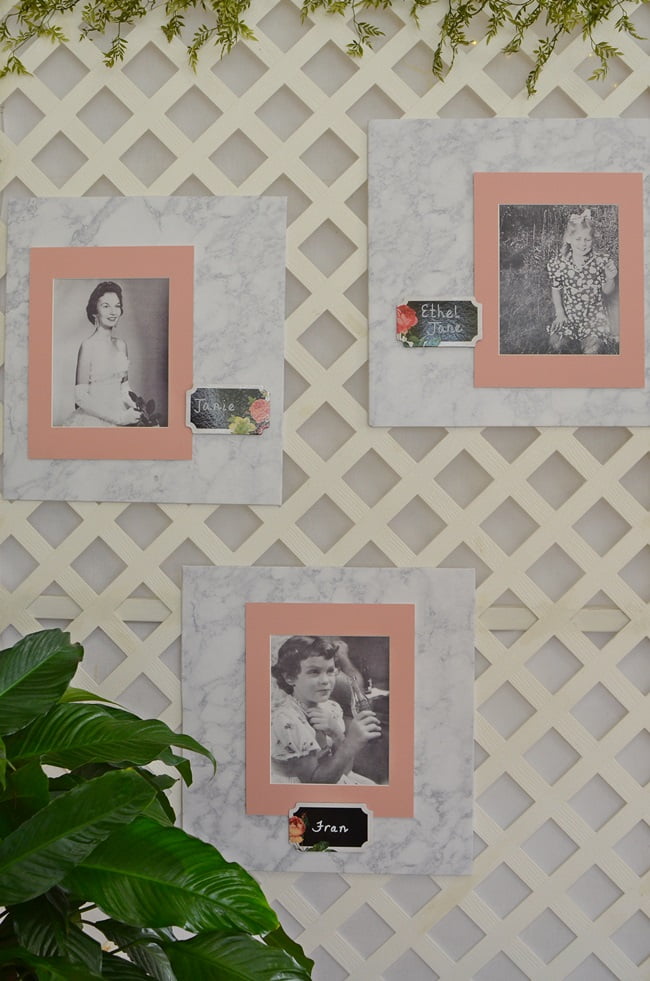 And it was fun to display these wonderful photos of the honorees as young ladies.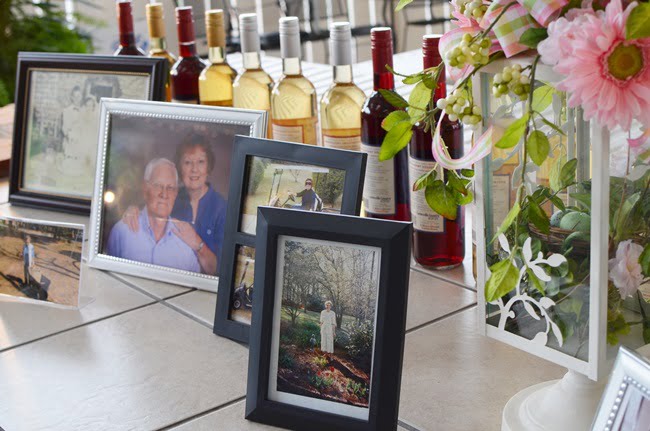 There were additional photos displayed around the venue for everyone to enjoy.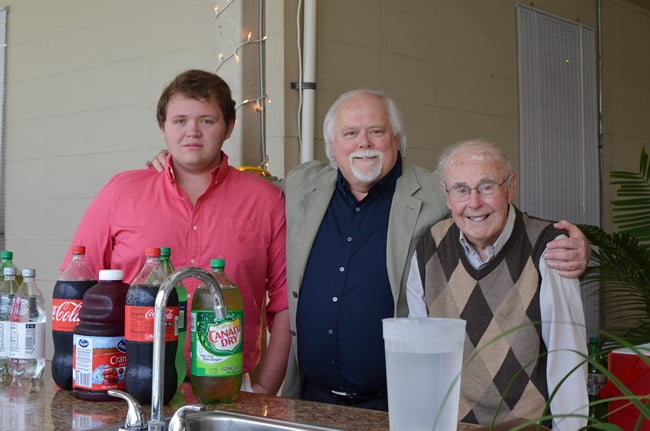 These three served as bartenders for the occasion. It's become a family tradition for the Browns.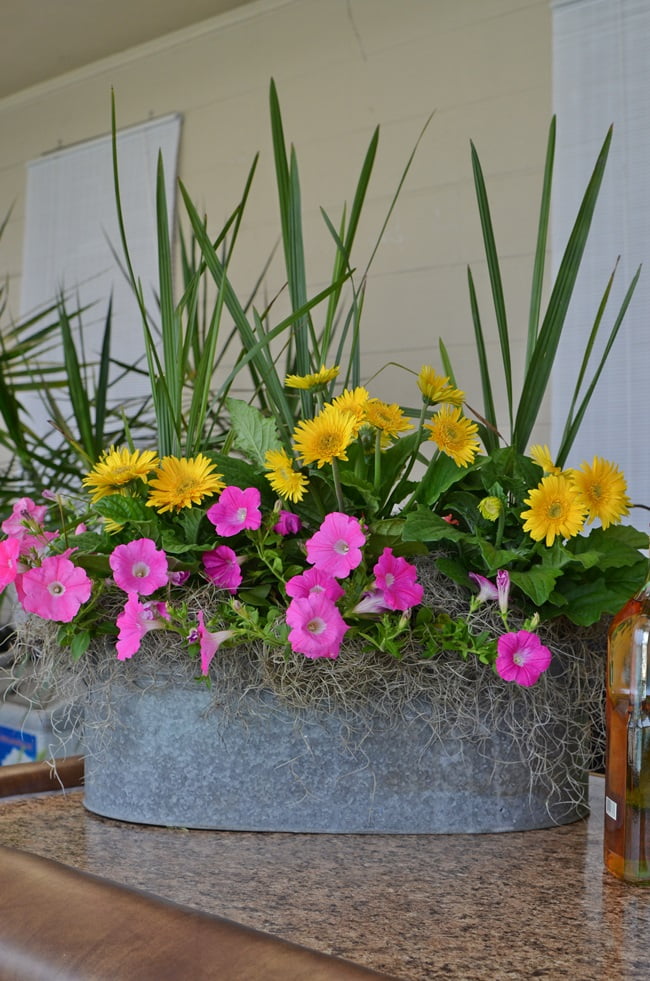 Another pretty spring centerpiece was located on the bar top.
Plenty of tea, lemonade, beer, wine, and water were also available all evening.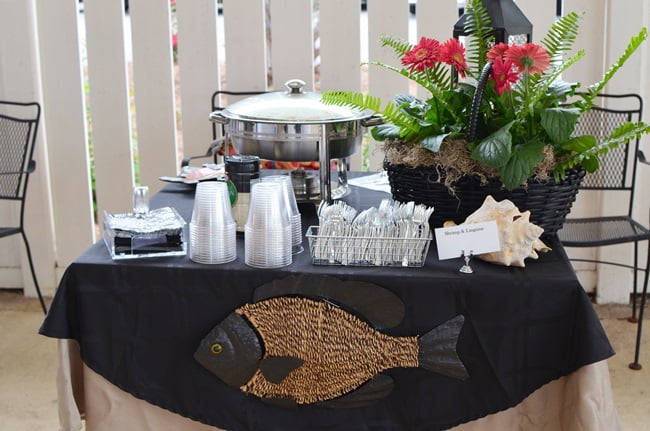 In addition to the variety table, the dessert table, and the fruit, cheese, and veggie tables, there were food stations set up around the perimeter of the party. Above is the shrimp fettuccine table.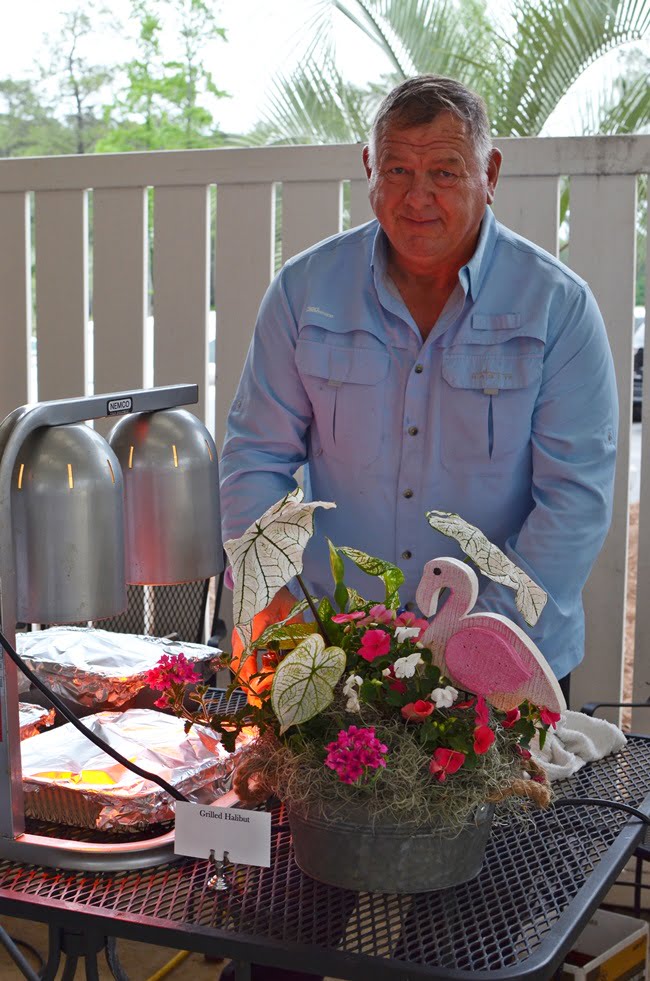 And this station had grilled halibut for everyone to enjoy.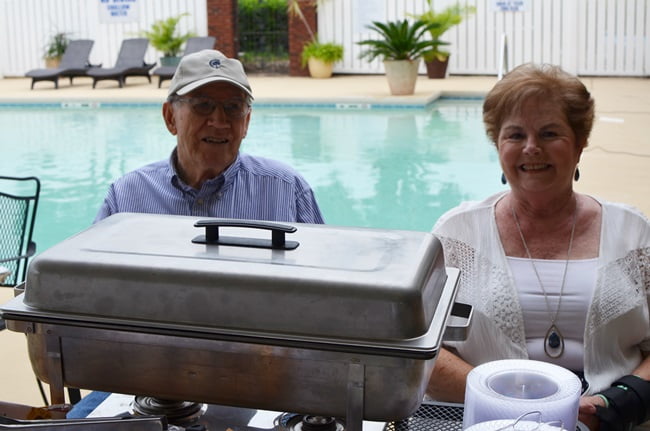 Harry and Linda prepared delicious fried turkey for us. Y'all! We simply could not put on such a party without the community and Civitan members generously donating their time and food for this occasion.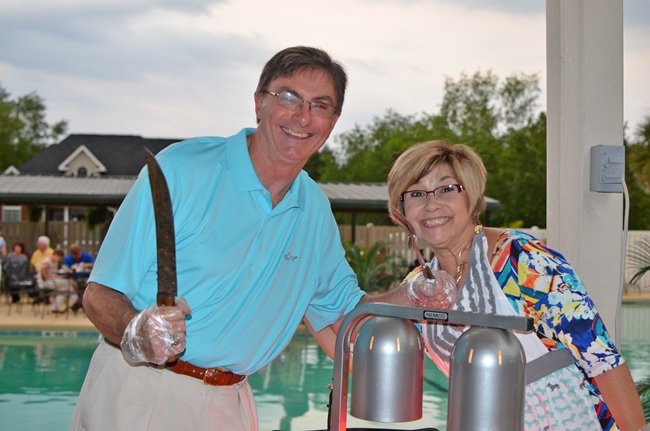 Here Warren is getting a little happy wielding his knife while slicing the beef tenderloin. Luckily, his assistant Sue kept him on track!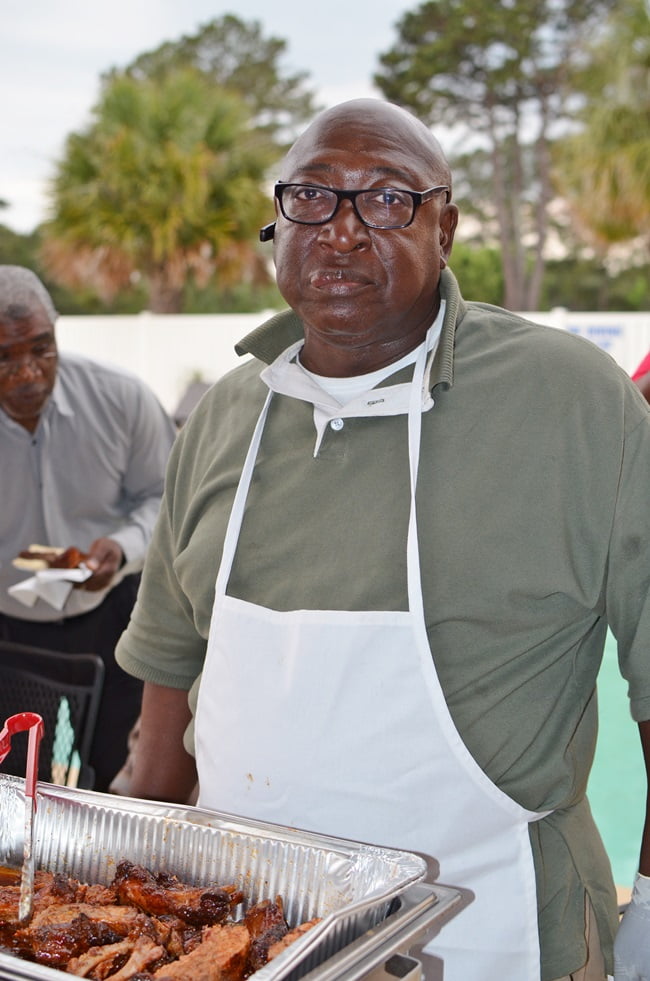 And the ribs made by Rev. Simon were outstanding!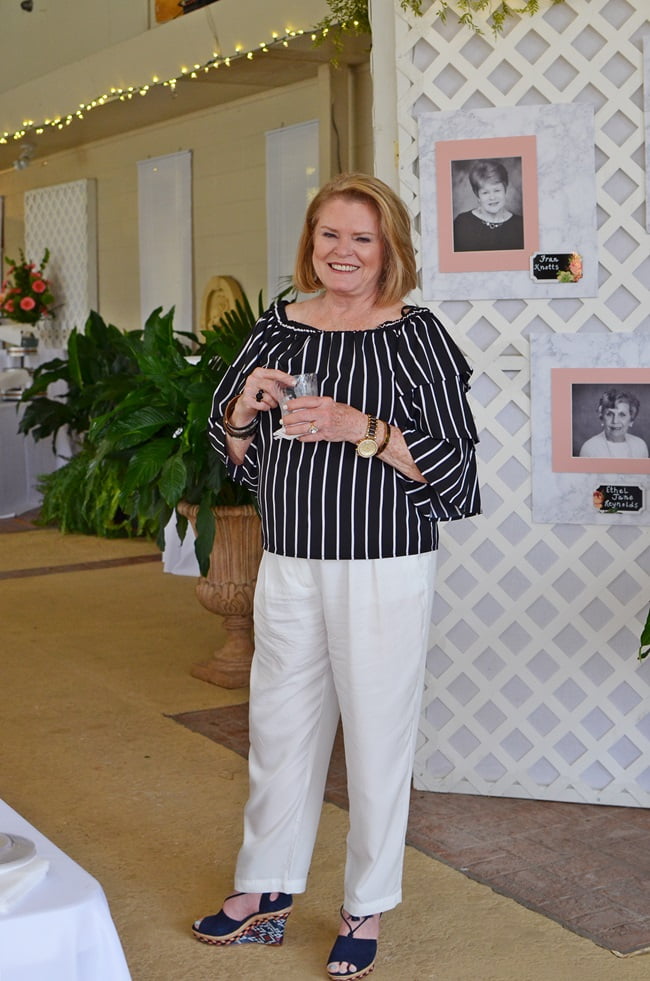 I snapped a photo of one of my sister-in-laws. Both of them are named Jean, and they played a huge part in the success of this party and the luncheon for the golfers the next day.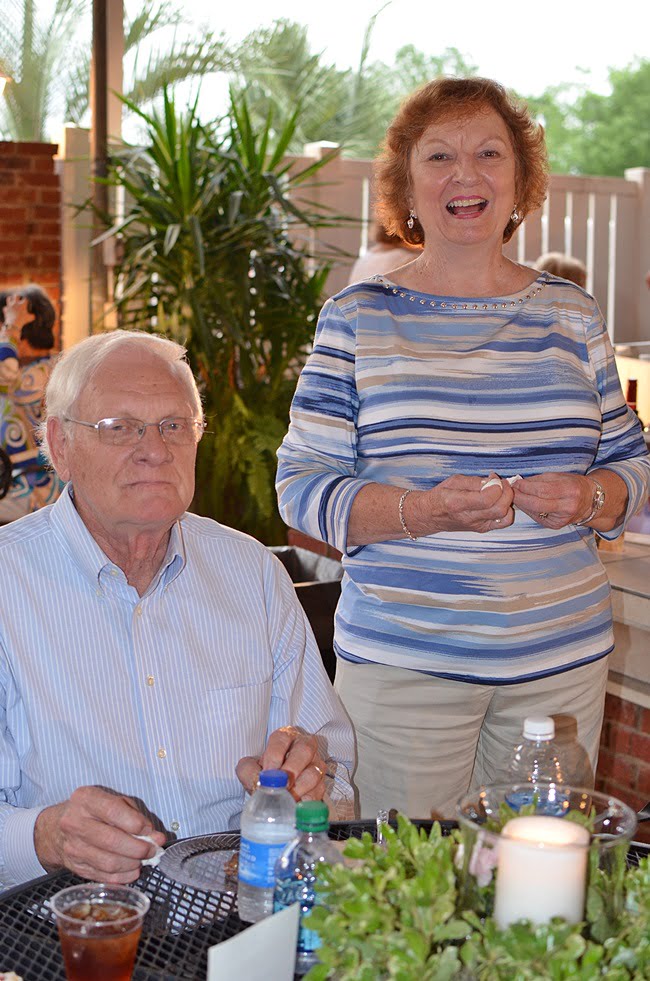 Here's one of the honorees of the party, Janie Howell and her husband Willie, enjoying the party.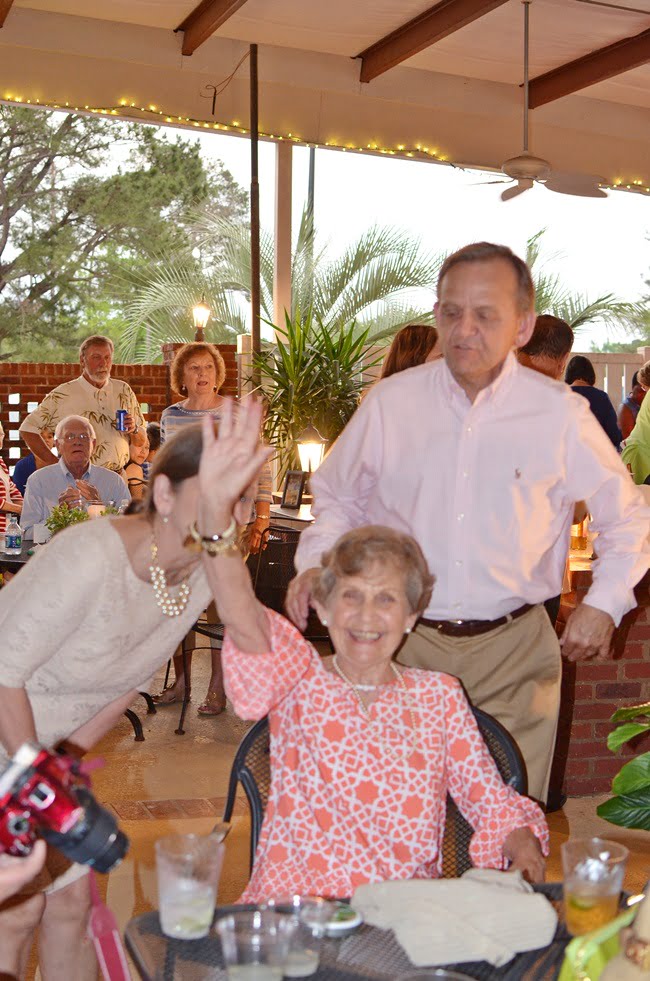 Another honoree, Ethel Jane Reynolds, is surrounded by her son and daughter as well as many other family members who were in attendance.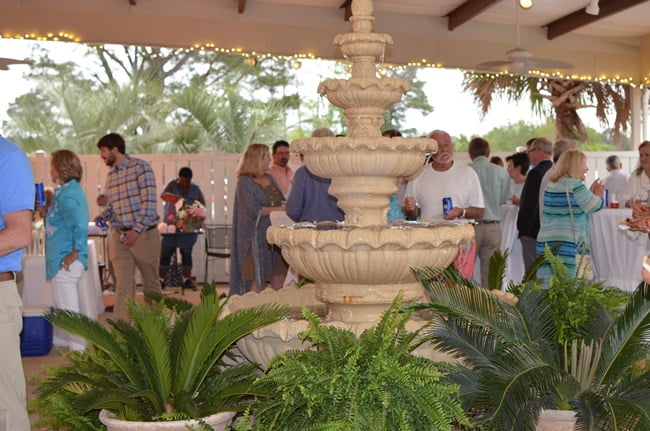 Good times and good food made for a fun evening at this year's Civitan golf benefit party.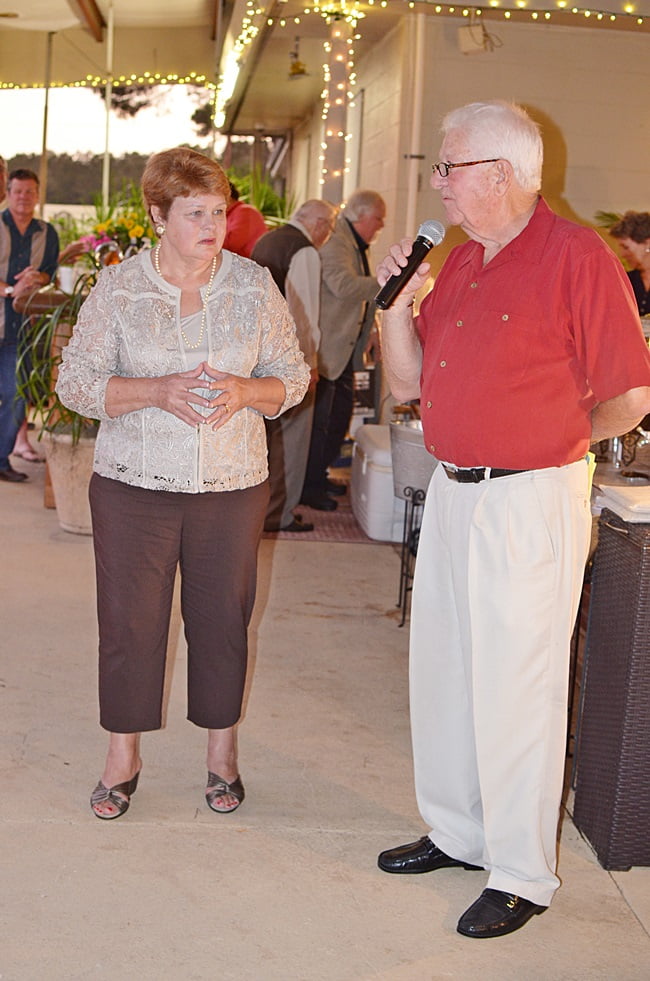 Fran Knotts, along with the other honorees, was presented with a plaque and a special monogrammed hat (to wear while cleaning up our town of Lamar) by Jim Newsome, chairman of the Silver Fox Tournament of Champions golf committee.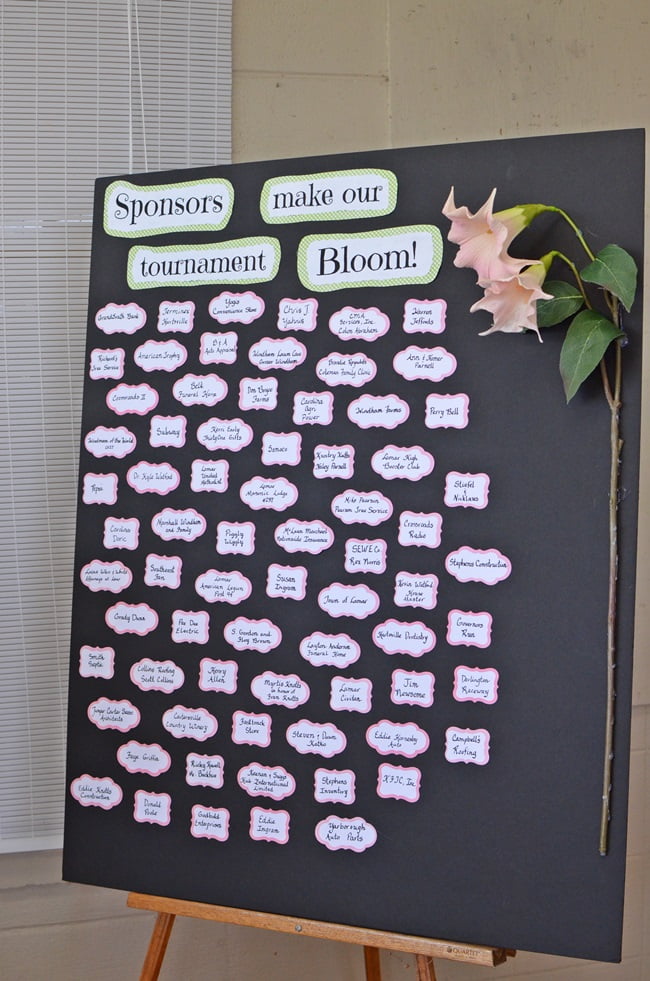 This year we had a record number of hole sponsors, golf tournament participants, and ticket sales! Those many months of work certainly paid off for this worthy cause.
Meanwhile, I've been resting this week, but I'll be back soon for Ten on the Tenth!
If you'd like to see previous year's party recaps, you'll find them here:
HARD WORK FOR A GOOD CAUSE 2011
GOOD FOOD, GOOD PEOPLE, AND GOOD GOLF 2012
SILVER FOX TOURNAMENT OF CHAMPIONS 2013
CIVITAN GOLF BENEFIT PARTY 2014
I think I missed posting about the party in 2015! We were building a waterfall that year!
CIVITAN GOLF BENEFIT PARTY 2016