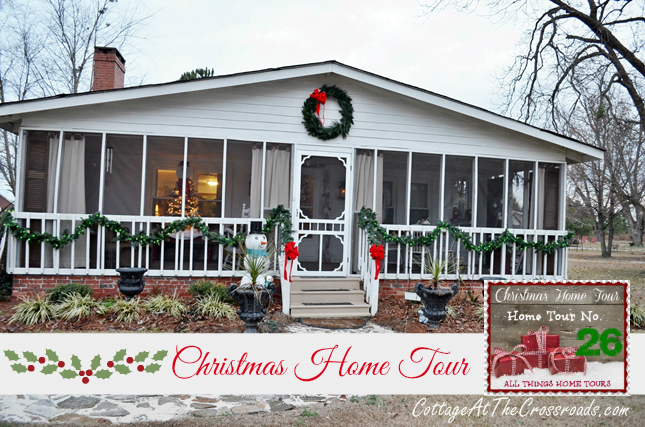 Ho! Ho! Ho! and Merry Christmas from the Cottage at the Crossroads. Our home is all decorated for Christmas, and we're so happy to share it with you. We're stop #26 on the Home for the Christmas Home Tour where 30 of us bloggers have opened our doors for you to visit.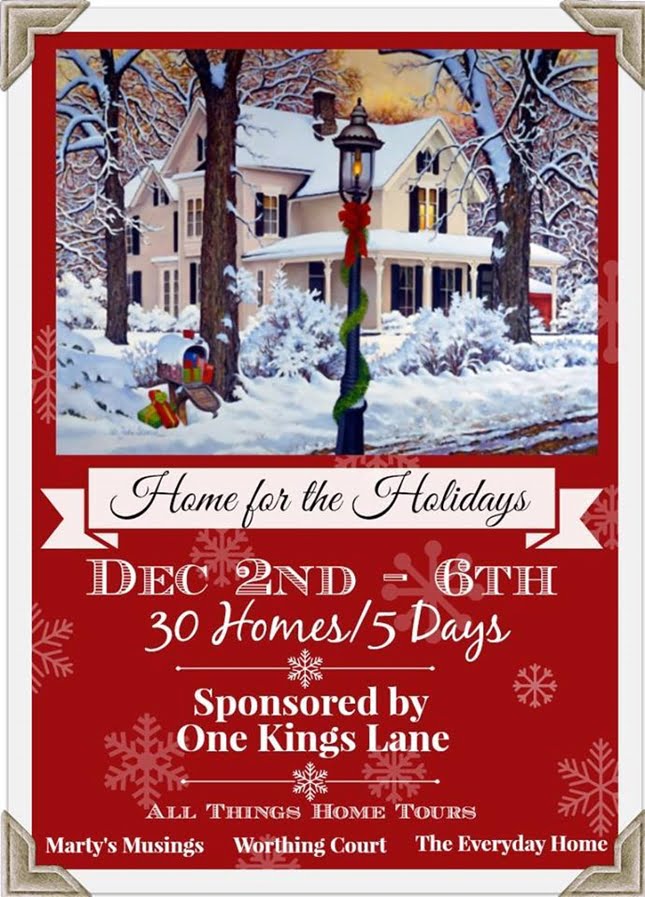 You can see the other homes by clicking on the links at the end of this post. And while you're here, you will probably want to enter the giveaway for a $200 gift certificate to the home decor site One Kings Lane as well as this swag bag of other amazing gifts. Yes, that's our shop listed below. You can check it out by clicking on the word "shop" on our navigation bar. To enter the giveaway, just follow the directions in the Rafflecopter form near the end of this post.
This post may contain Amazon or other affiliate links. As an Amazon associate, I earn from qualifying purchases. If you purchase anything through any affiliate link, I may earn a small commission at no extra charge to you. All opinions are my own.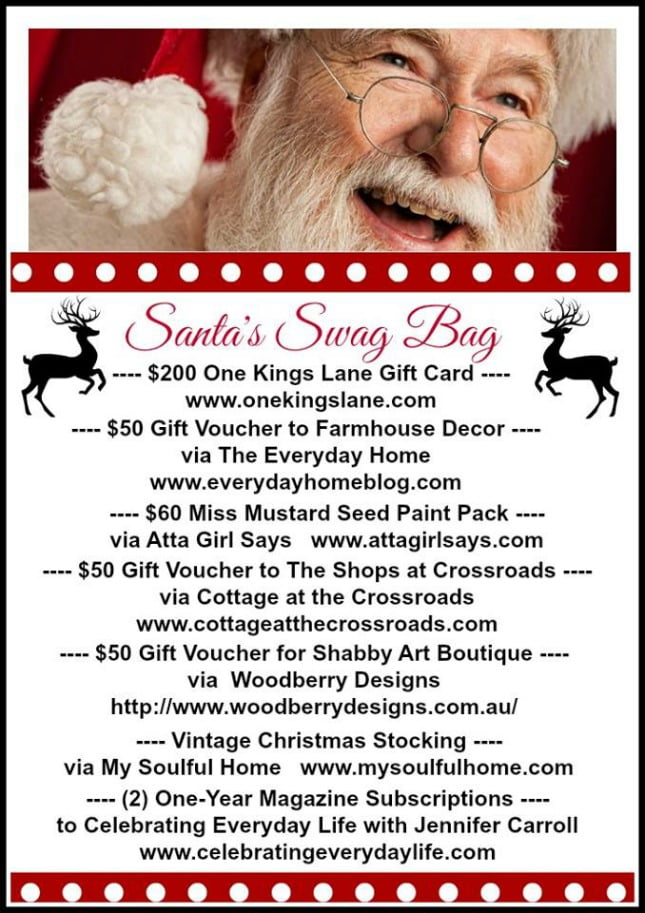 Now are you ready to tour our home? If this is your first time here, welcome!
Our home is a simple country cottage. We especially love to decorate it for Christmas because everyone in our family comes home on Christmas Eve. You see, we live in the home that Leo grew up in, and it was actually built by his grandfather about 100 years ago. There is nothing fancy here, and there's not a level floor or a straight wall anywhere to be found. But the house if full of memories for a lot of people, especially Christmas memories. So we get the house all decorated for everyone to come celebrate on Christmas Eve, even Santa! He always puts in an appearance!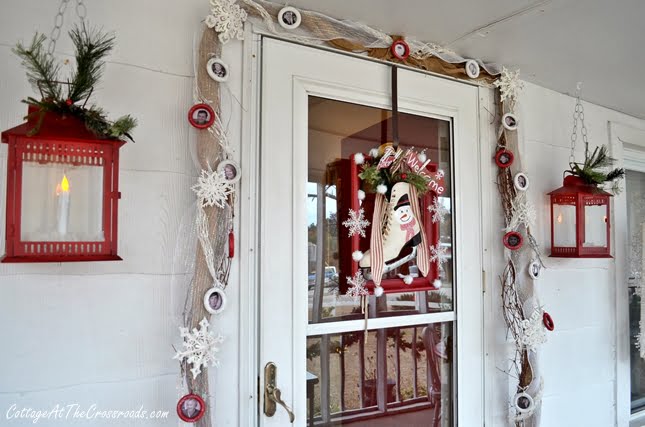 So to welcome everyone, I placed their photos in this garland around the front door. The photos were placed in wooden curtain rings. You may remember that I used some of them last year to create some homemade ornaments. Because our colors on the front porch are red and beige, I painted some of them red. The lanterns are new, and I put some battery operated candles in them for some Christmas glow! Love them!
Instead of a traditional wreath on the door, I made this skate wreath since I was trying to create a Winter Wonderland on the front porch. You see, we live in South Carolina, and we don't see very much snow. So we get real excited when we do!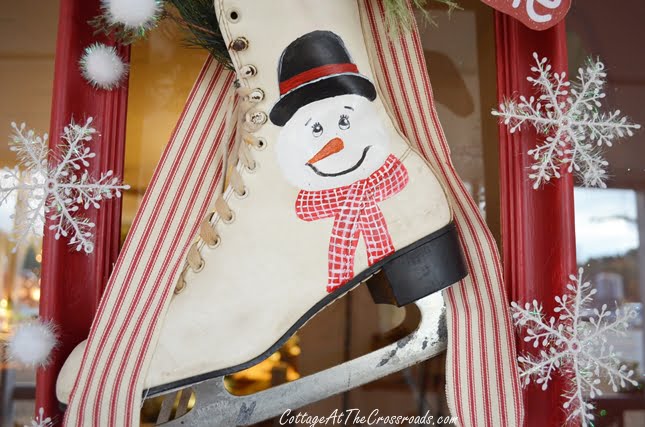 I found the old skate at the auction that Leo and I attend frequently, and I painted the snowman on him. I don't know if I've mentioned it, but I've been taking painting lessons during much of this year. And do you notice the red ticking bow? Well, it's a red ticking Christmas at our home this year. You'll see what I mean when you see a few more photos!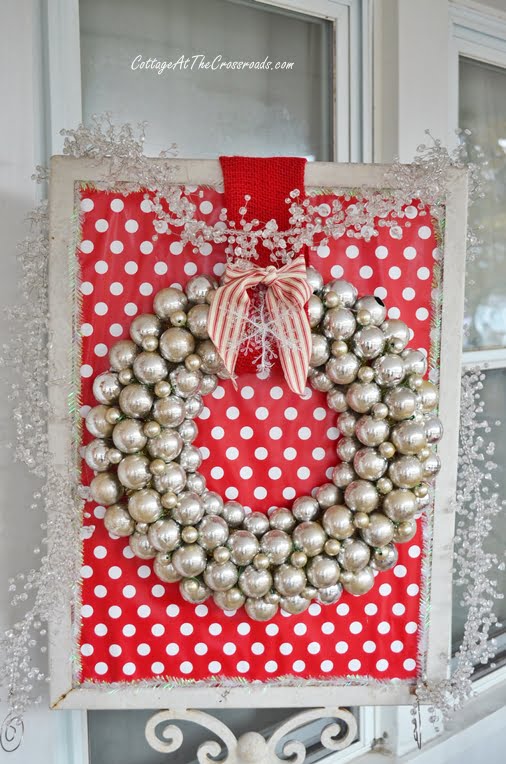 Do you remember this stand that I used in the fall? Well, here it's all decorated for Christmas!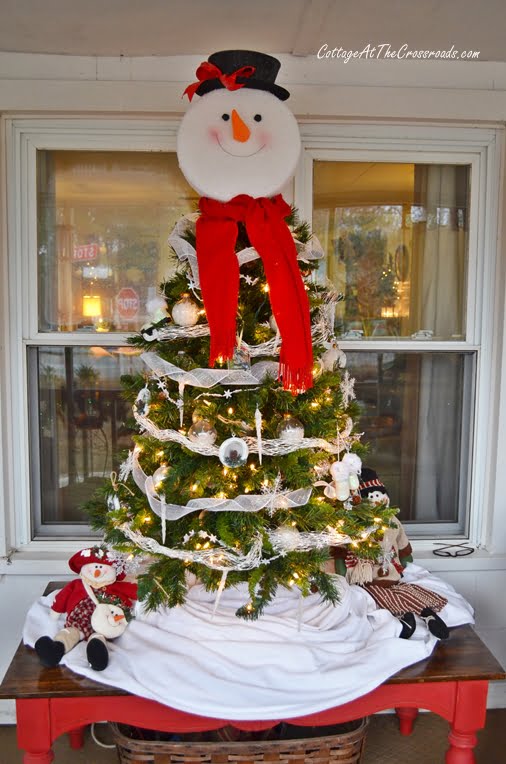 Here's our Snowman Tree on the front porch, and I placed a few snowmen under it as well. The children will have fun playing with them Christmas Eve, I'm sure.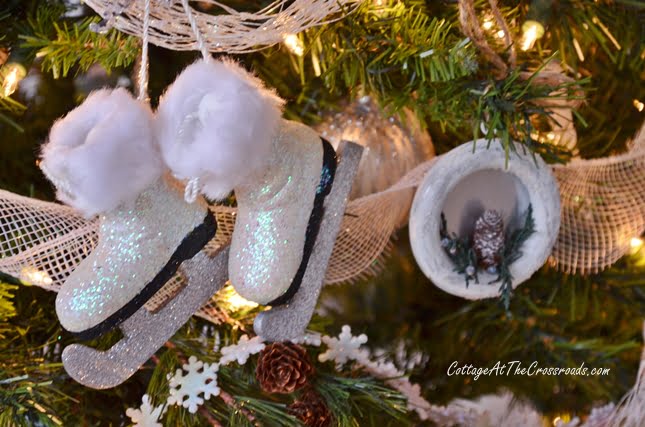 Love these skate ornaments that I found!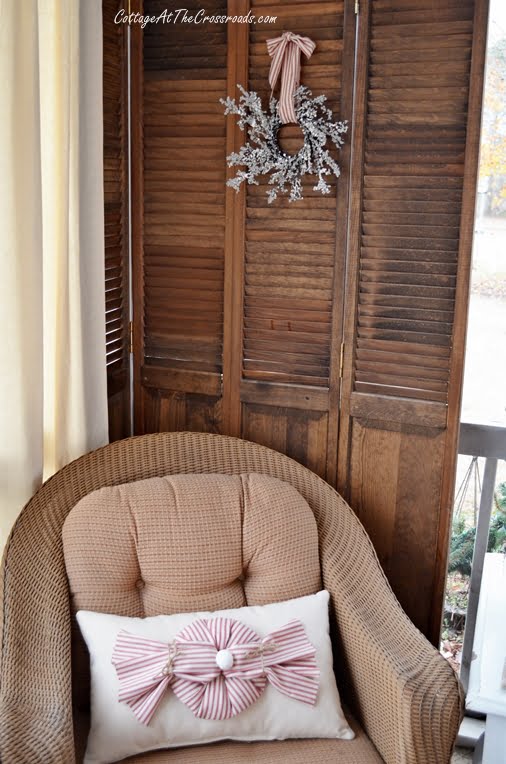 My new peppermint twist pillow is still hanging out on the front porch.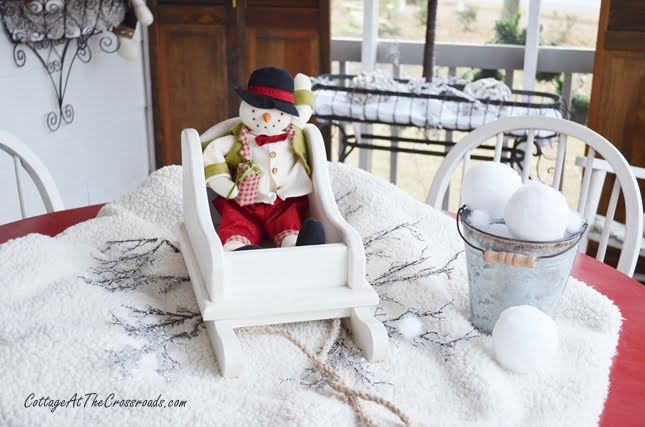 This little guy is taking a ride in a sled and dodging snowballs! I have lots more to show you on the porch, but I'll save some of it to show you next week. Let's move on into the house!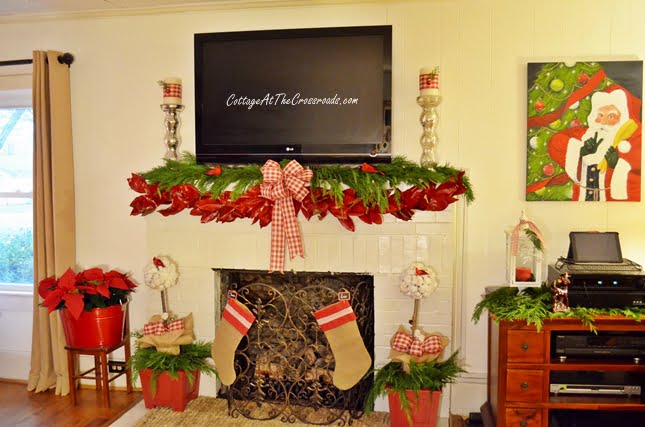 When you enter our home, you immediately see the fireplace (and Santa!)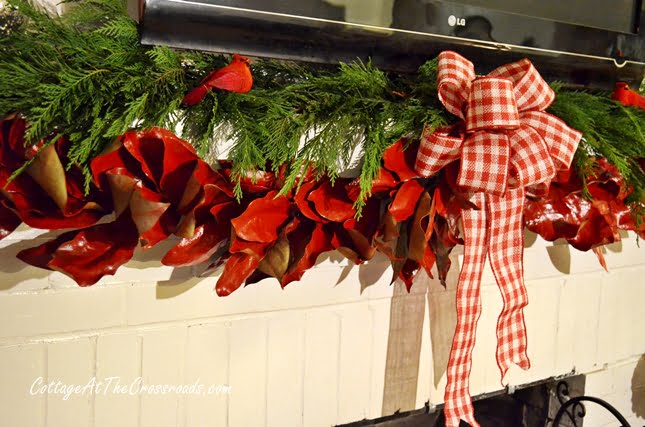 I made the garland using magnolia leaves that I spray painted red, and my friend Marti came to my rescue and made this pretty bow for me. There are some cardinals tucked into the greenery. Can you see them?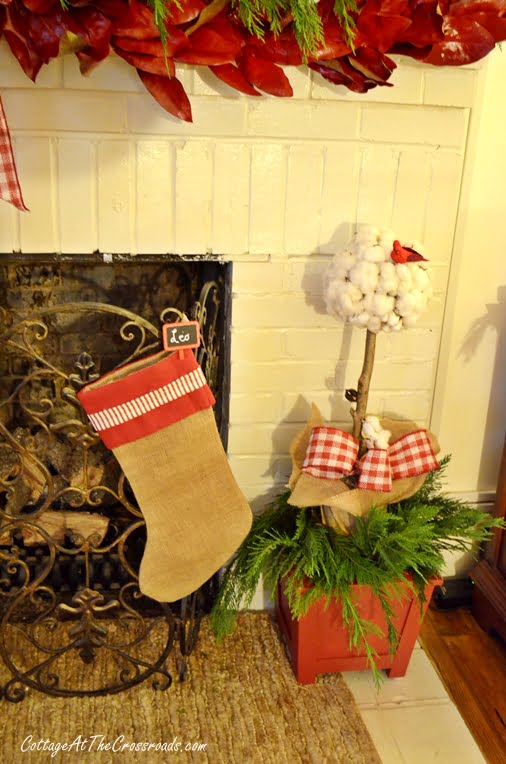 That's because I found these topiaries that were made using cotton, and there's a little cardinal roosting on each cotton ball.
The tree in this room is a table top tree with some red ticking on it, of course! The tree topper is a white Santa that Leo and I have been using since our first Christmas together, and the ornaments are a mix of white Santas and a few red ornaments.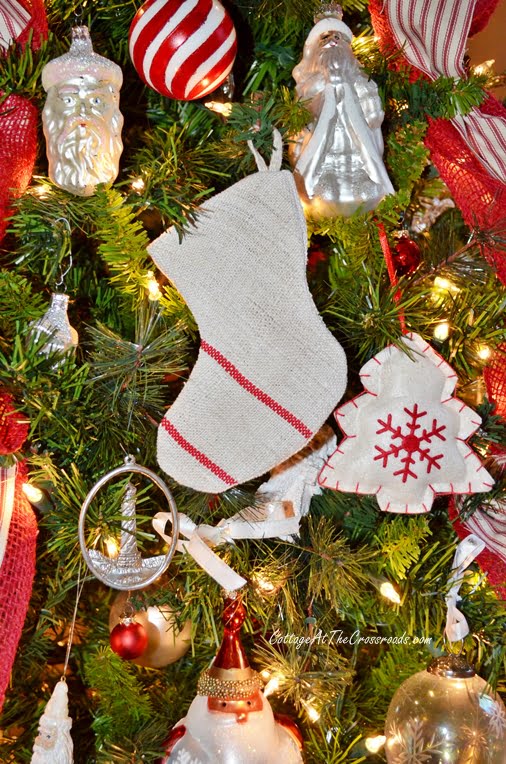 And this grain sack red stocking made by my friend Ann from Sutton Place Designs fits in perfectly.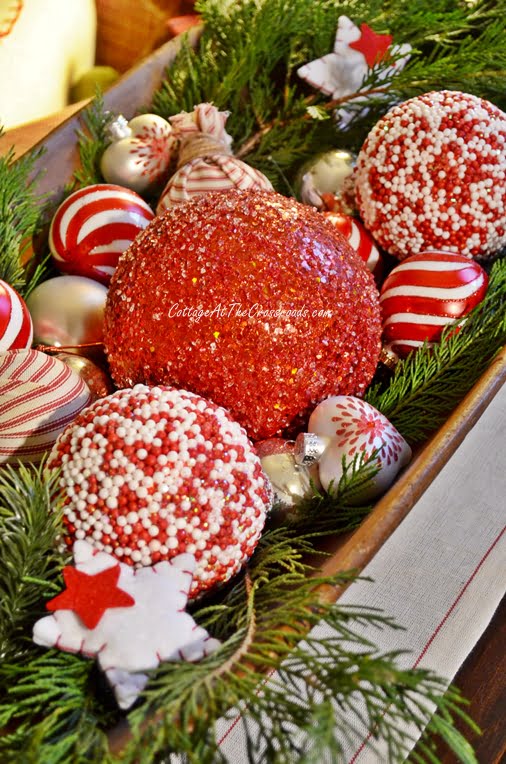 Love my old dough bowl filled with ornaments-some old, some new and a few homemade.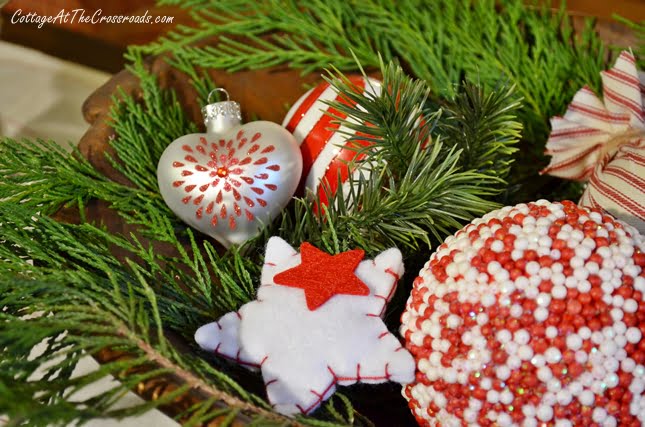 My favorite one is this heart-shaped one that I found at Hobby Lobby.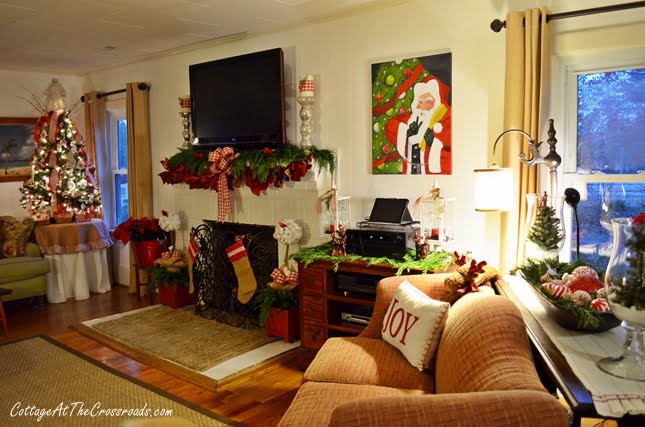 Here's a photo that shows more of the room, and if you notice, I've captured the blue hour. Did you know that when you take photos in early morning or late afternoon that there's a small window of opportunity to catch the special light. It's called the blue hour.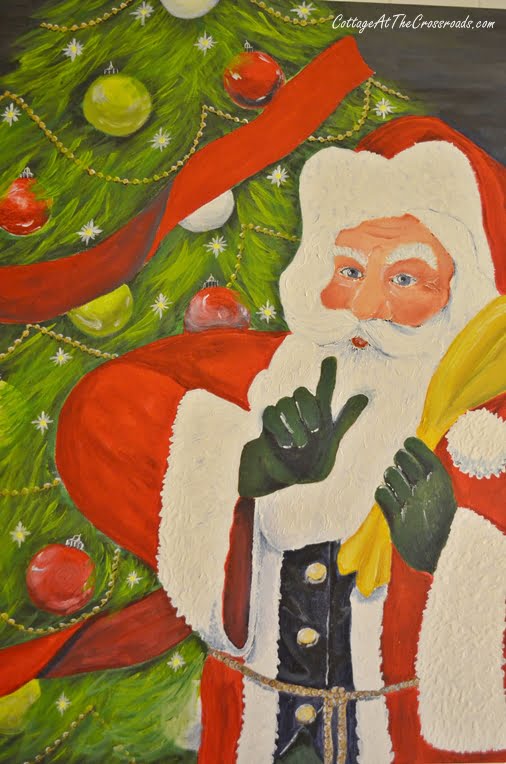 I painted this Santa in my painting class. I started working on him in October, but I will have to admit that my instructor helped me finish him by showing me how to shade his face and his vest. What I have learned is that painting is HARD WORK!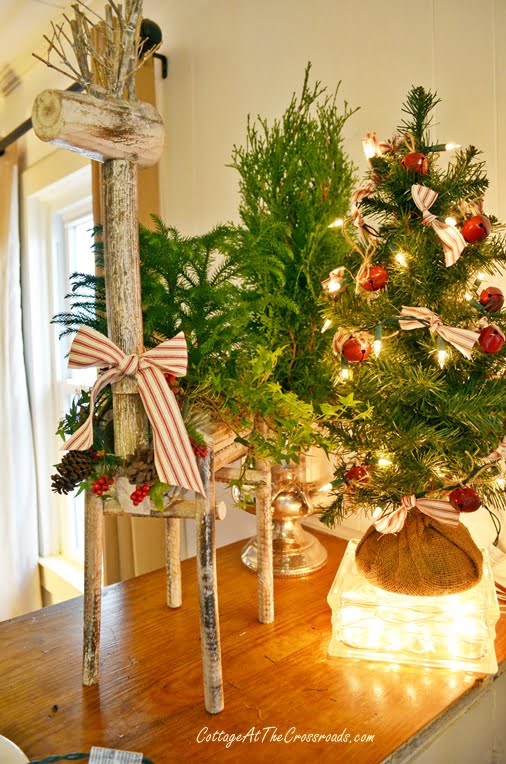 Our living area and dining room are separated by two large dividers, and this year I've put these deer planters on them. Look on his back and you can see a miniature tree and some ivy. I just had to put a red ticking bow on him! The artificial tree has red ticking bows and red painted jingle bells on it. I told you it's a red ticking Christmas this year!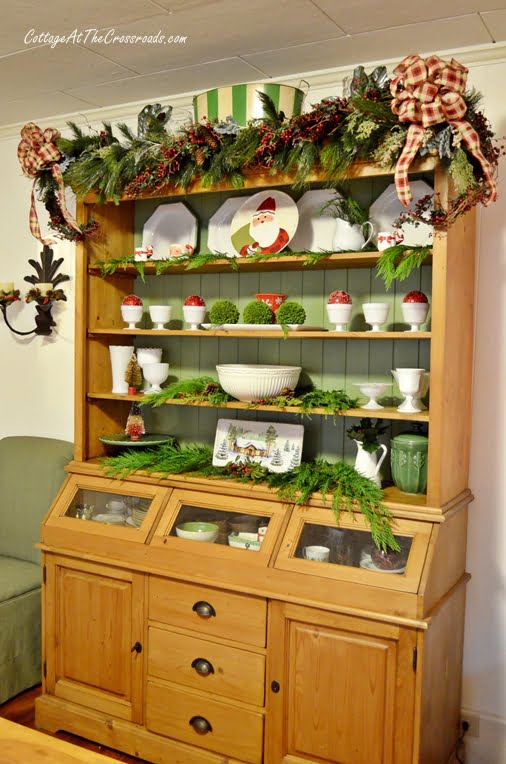 I recently painted the back of this cupboard green and filled it with some milk glass that I've started collecting this year.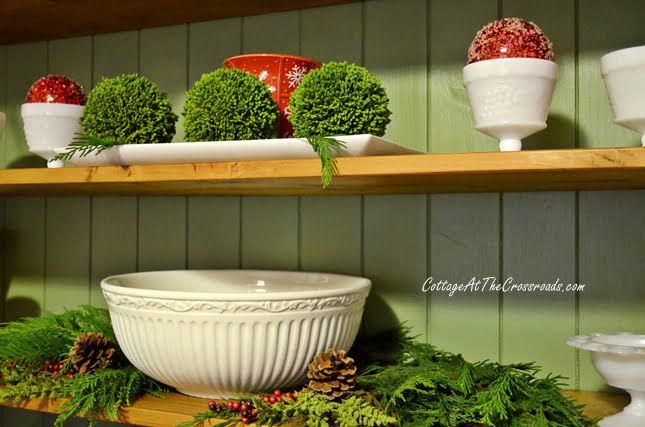 The greenery that I've placed on the shelves is Leyland cypress from my neighbor's yard. It lasts for weeks and weeks.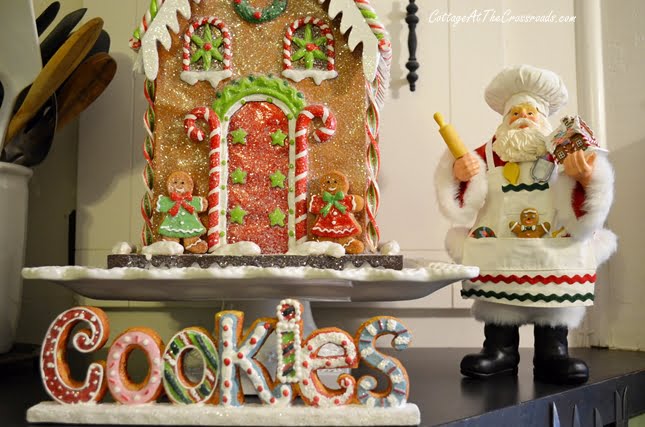 In the kitchen, I've gone with a gingerbread theme this year.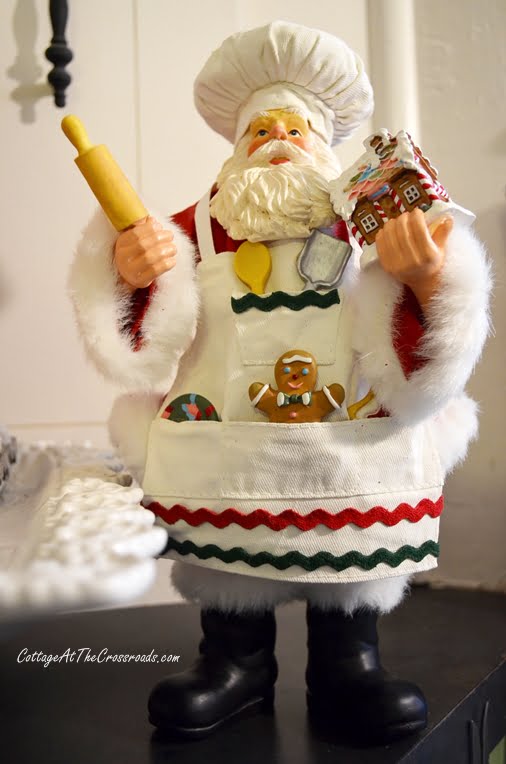 I found this Santa at the auction last year but look! He has a gingerbread boy in his apron and is holding a gingerbread house! I have lots more to show you in my kitchen, but I'll put all of that in an upcoming post. So be sure to come back to visit if you're new here, and the easiest way to keep up with us is to subscribe by email.
And did you know that we have a radio station on our blog? Click on "Crossroads Radio" on the sidebar to listen. And of course, we have some Christmas music sprinkled in.
Thank you for stopping by and don't forget to visit the other homes on the tour. Before you go, enter our incredible GIVEAWAY if you haven't already done so.
We'll leave you with this little video of some holiday cheer. It's the sign we made that's on the fence around our garden.
a Rafflecopter giveaway

Monday
Worthing Court
French Country Cottage
Atta Girl Says
Town and Country Living
Decor Adventures
Lilacs and Longhorns
Tuesday
Marty's Musings
Mom 4 Real
All Things Beautiful
Making Home Base
The Happier Homemaker
The Lily Pad Cottage
Wednesday
The Everyday Home
Craftberry Bush
Celebrating Everyday Life with Jennifer Carroll
AKA Design
Hymns and Verses
Our Southern Home
Thursday
Stone Gable
Adventures in Decorating
Newly Woodwards
Setting for Four
Back Porch Musings
All Things Heart and Home
Friday
Cedar Hill Farmhouse
Cottage at the Crossroads
Top This Top That
Domestically Speaking
Mommy is Coocoo
Shabby Art Boutique