Hi everyone! I am participating in the book launch of  the historical novel Born of Persuasion by Jessica Dotta, and to celebrate the launch, Jessica has been giving away some awesome things each day of the month of August.  Today's giveaway is for the gorgeous heart garland that you see below. Jessica picked it out especially for Cottage of the Crossroads readers!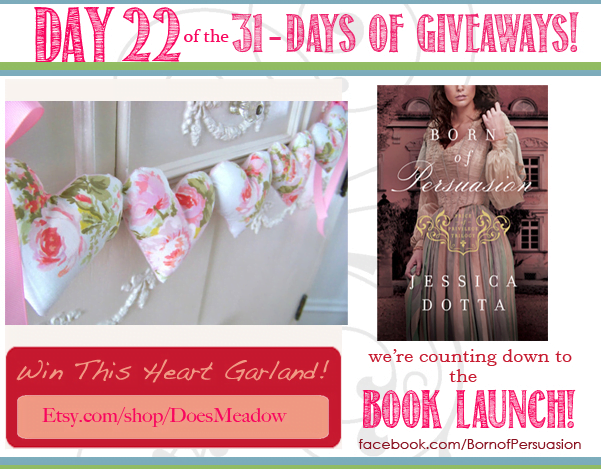 To enter the giveaway, just click on your invitation to tea below which will take you over to the Facebook page where you can enter the giveaway.
 When Jessica, the author, contacted me about participating in the giveaway, I was intrigued because she said that 2 of the main characters in her book had the last name of Windham (our last name!) So you know I've got to read this book.
The book is available on Amazon and I think all Downton Abbey fans would enjoy this book. It takes place in England during the early 1800s, and you can read a review of the book HERE.
So hop on over to the FACEBOOK page and enter to win that gorgeous heart garland. You have until Saturday, August 24, to enter the giveaway. Good luck everyone!