It's been a very big and busy week at the Crossroads!
First, it started off with our Gold Medal Blogging Tips linky party, which was our very first, inaugural linky party. Ann and I were so happy to have 27 links added to the party, and we both learned so much by reading all the tips and tutorials that you had to offer.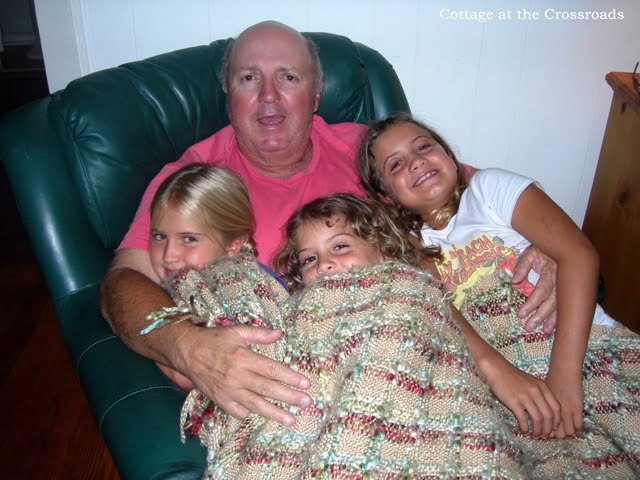 Monday afternoon, 3 of our grandchildren arrived with their dad for a little visit. These girls love their Pop!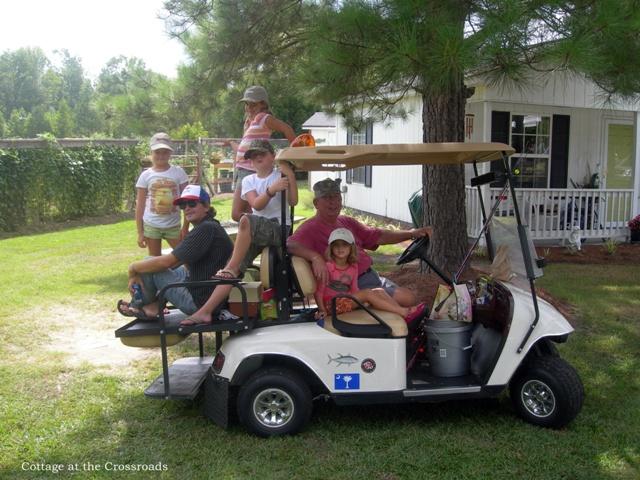 On Tuesday Uncle Jim and his grandson Jackson took the girls fishing. Little Ruby, the youngest and the one who had never been fishing before, caught the most and the biggest fish!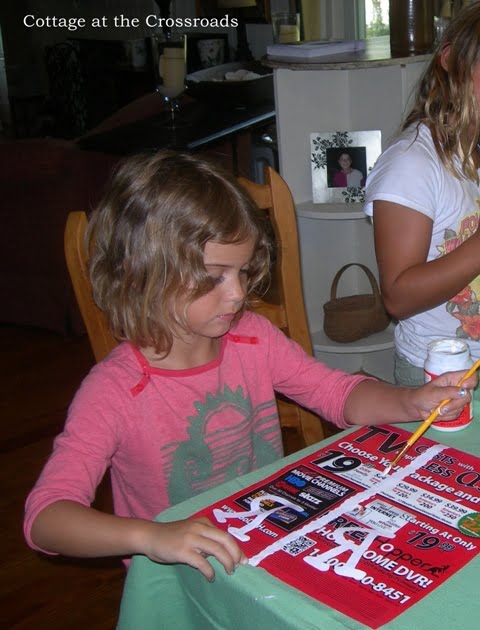 That afternoon, the girls decoupaged some candles. I saw this idea on Debbiedoo's blog and I copied her idea, planning to link up to her Copy Cat party. Well, I was a little late, so I'm posting the pics here.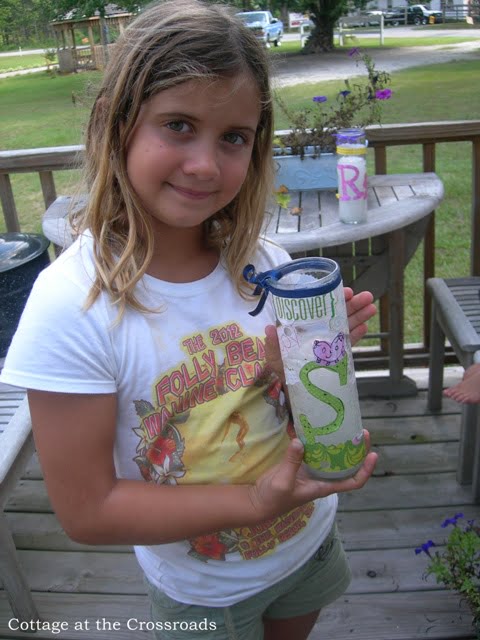 We used some scrapbook paper to decorate  some inexpensive candles in glass jars. Sylvia is showing you her candle that she made.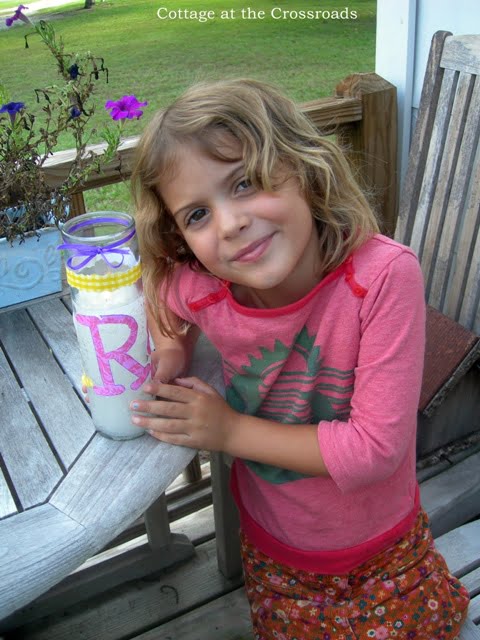 Ruby, who will be 5 in just a few weeks, made this one.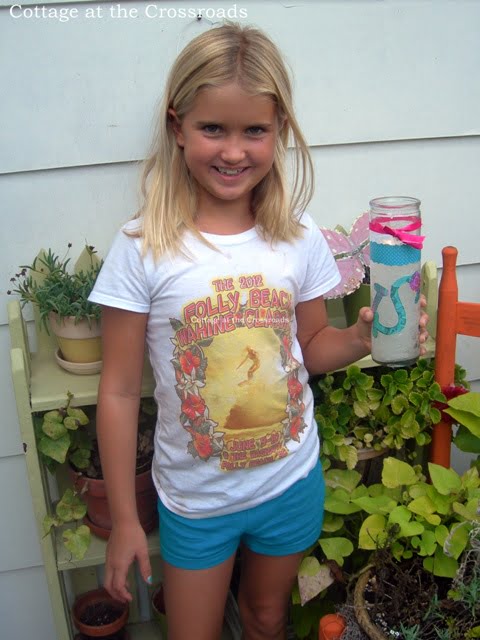 And this is Rose's candle. The girls enjoyed making their own candles, so thanks Debbie for such a great idea.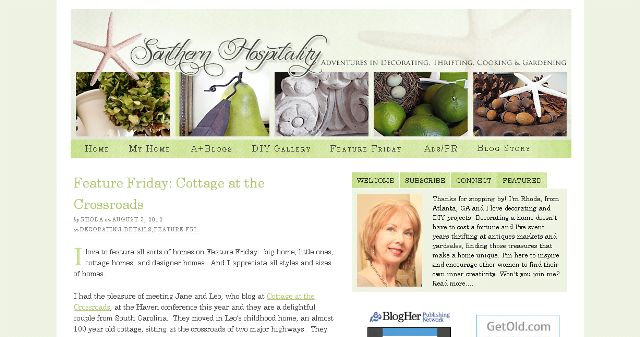 On Friday, we were just thrilled that Rhoda from Southern Hospitality featured our home! You can read the sweet words Rhoda wrote about us here if you missed it.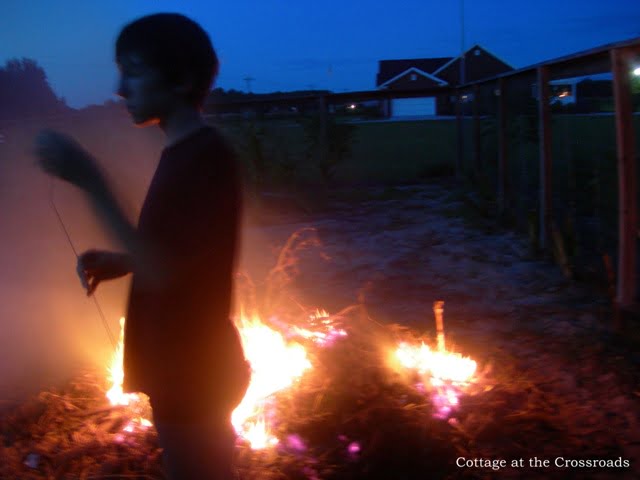 On Friday our grandson Aren, who is 14, joined us and we had a big bonfire in the garden last night. Leo had some dried cornstalks that he wanted to burn, so he started a roaring fire and we toasted marshmallows and made smores.  The kids had never used coat hangers to do this. Didn't you always roast marshmallows on hangers?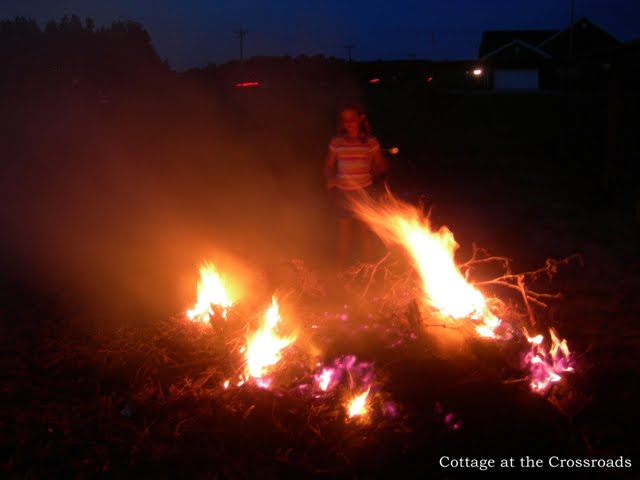 It was their last night with us, and the bonfire was a huge hit with them.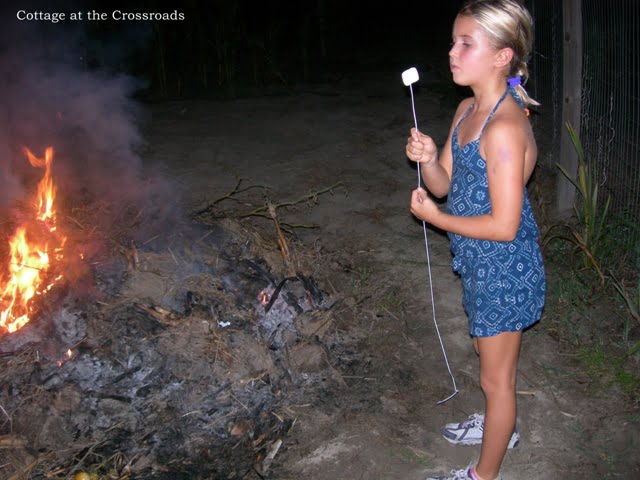 Ah, the simple joys of life!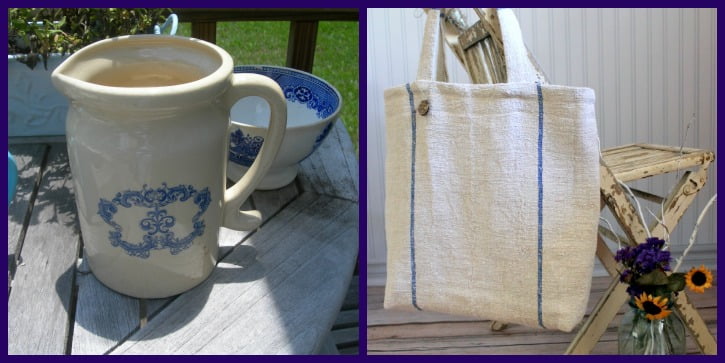 Before the grandchildren left, I had them draw two numbers to determine the winners of  our giveaway for the linky party. Ann from On Sutton Place donated the grain sack tote bag from her Etsy shop.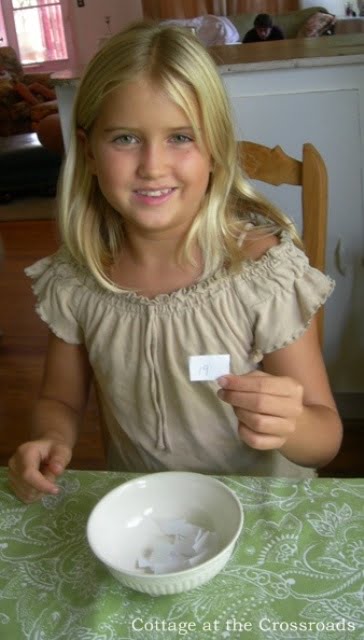 Rose drew #19 which means the winner of Ann's tote bag is Leigh from Hines-Sight Blog. Congratulations, Leigh, you are going to love that tote bag.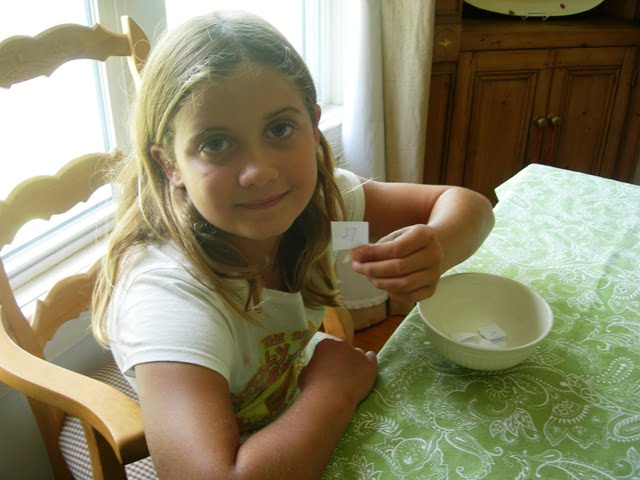 And Sylvia drew #27 which means Kathy from A Delightsome Life won the vintage pitcher that I donated for the giveaway. We will be contacting the winners by email shortly.
The grandchildren have gone home now. The cottage is quiet-almost too quiet. We hope they enjoyed their big week at the Crossroads as much as we did.