Mom went into a nursing home last Friday, and within an hour, I was told that I could not visit her any more! This has been the most heart-wrenching event that I've ever endured.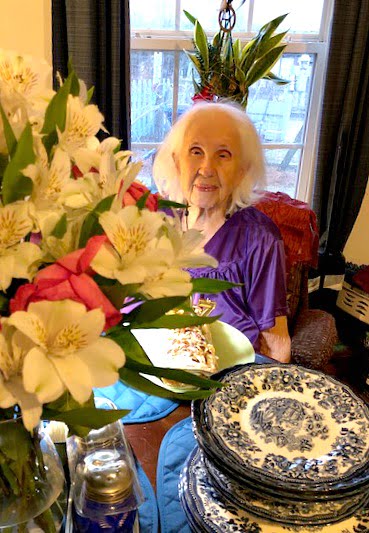 This is my mom on her most recent birthday. She turned 97 in December. Many of you know that we built Mom an apartment in our yard when we moved to the Crossroads over 10 years ago.
The apartment was a wonderful solution because it allowed Mom to live independently while having the reassurance that we were so near.
But I had started noticing changes in Mom during the past year that concerned me. In September she was diagnosed with mild dementia but with each month that went by, her symptoms increased.
At that point she was under palliative care which really didn't provide much except a monthly visit by a nurse. But they were helpful in getting her on medication to control hallucinations that she was beginning to have regularly.
In December I implored her doctor to refer her for long-term community care or hospice care in order for me to get more help with things such as bathing. She did refer Mom for long-term community care but explained that it sometimes takes a while to get that in place.
In the meantime, Mom fell on January 24th and hit her head hard. I was at a doctor's appointment but she was able to press her help button. The ambulance was in our yard when we drove up.
I had hired a local person who is a friend to be with her while I was gone. She gave my mom a manicure and pedicure, and I had told her that she could leave after Mom laid down for a nap.
Unfortunately, Mom got out of bed and that's when she fell.
Below, I'm going to share more photos of my mom so you can get to know her, too.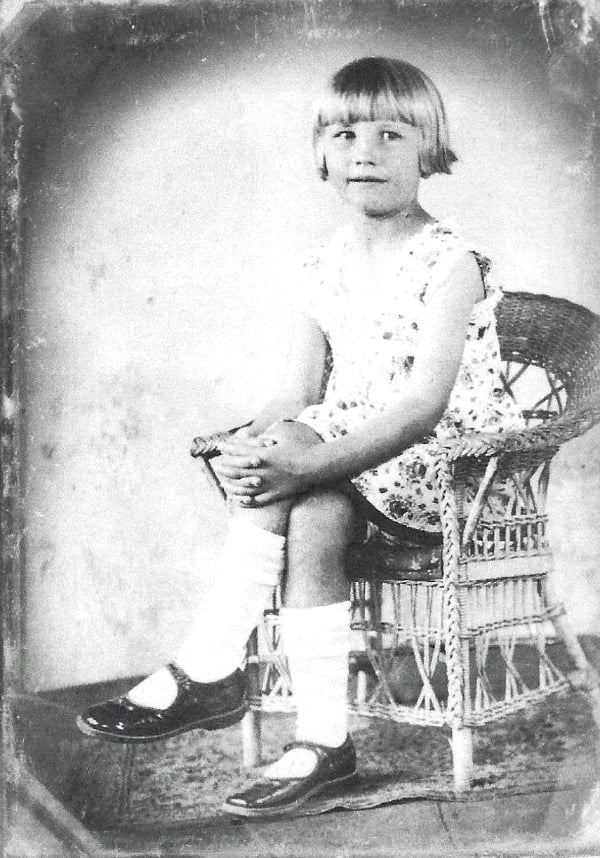 This is a photo of my mom when she was a young girl. I'm guessing that she was about 6 years old in this photo.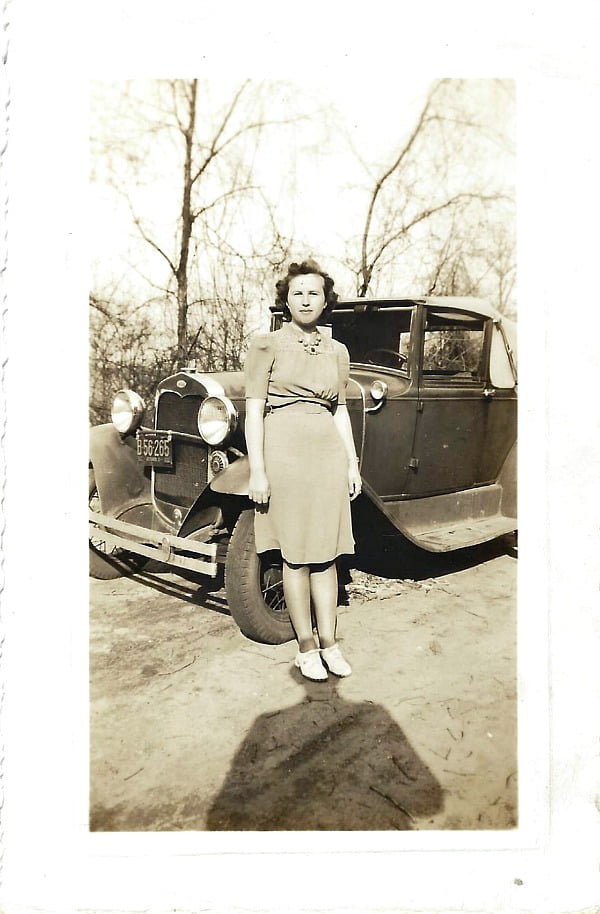 This photo was taken when my mom was still in high school. I'm pretty sure that the auto in the photo belonged to my dad. The two of them got married in 1940 as soon as she graduated from high school.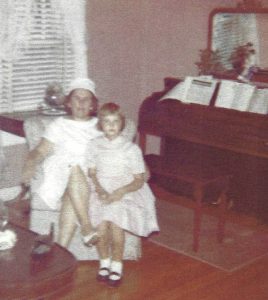 After my mom had two sons, I came along. Here we are together in the early 60s.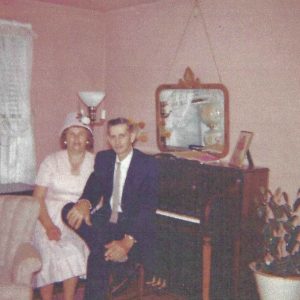 Notice the pink walls in the living room. My mom always had an interest in home decor, fashion, and gardening even though we lived in the country in an old farmhouse.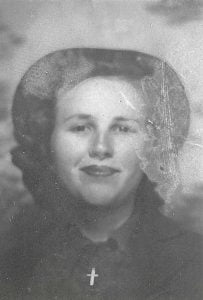 This is my favorite photo of mom. I vaguely remember the day when it was made because I had my photo made that same day.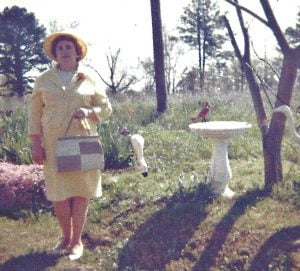 This is a photo of Mom on an Easter Sunday in the mid 1960s. As you can see, she loved flowers and yard ornaments.
My dad died in 1974 when I was just twenty. It was at that time that our roles began shifting. Although I was a young bride and still in college, I began visiting her almost every weekend.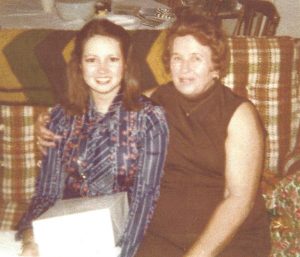 She did work until she retired in the early 80s and kept busy by volunteering at church and the local hospital.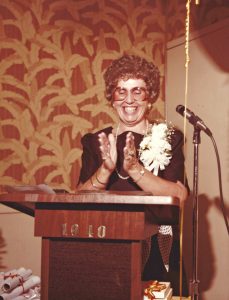 This photo is from one of her high school reunions which she organized. She was the class president.
Mom did a good bit of traveling during this time, but by the late 80s she became fearful of living by herself. So she sold her house and my husband at the time and I built her an apartment in Columbia, SC.
My husband and I eventually divorced, we sold the house and apartment, and my mom and I shared a home together for a few years.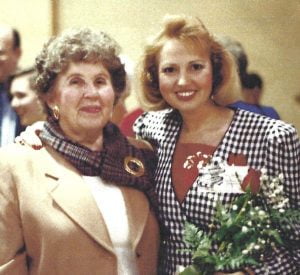 This photo is from that time period taken at a Teacher of the Year banquet.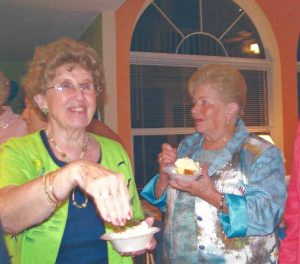 When Leo and I moved to Mt. Pleasant, SC, I bought her a patio home to live in. She made many friends there and kept busy with church and volunteer work.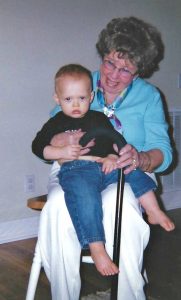 When great grandchildren came along, she enjoyed visiting with them.
Eventually the patio home was sold and my mom moved into our home for a few years. Then she decided to move back to Seneca, SC, which was home, and she lived near my brother. It was during this time that she began losing her vision due to macular degeneration, and she needed more help.
So in 2009, I retired from teaching and Leo and I moved her to Lamar so she would be close to us. A year later we built her an apartment in the yard.
So as you can see, I have essentially been looking out for my mom since my dad died many years ago.
After she fell in January, she spent 10 days in the hospital. She was placed in a rehab center that was old, dilapidated, and depressing. I left her there for one night and went back to get her the next day.
Although she could no longer walk, I thought that once I got her back in her little apartment that she would grow stronger and would get better. I immediately arranged for hospice services to begin, and I cannot say enough good things about Hospice Care of South Carolina and the help they gave me.
Because I am not physically strong, I had to depend on Leo to lift my mom from the bed to get her seated in her chair, and I hired a sitter to help me get my mom in the bed at night. She now needed care 24/7 and she begged me, and the hospice workers, to put her in a nursing home.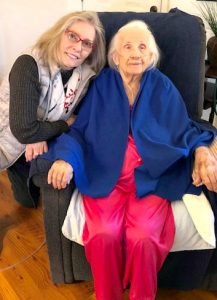 Since my brothers do not live nearby, I was taking care of my mom by myself. Our dear friend Charlene did come stay for a few days to help.
In the meantime, I started making arrangements to have her placed in a nearby nursing home, and we moved her in last Friday.
And just as we were getting her settled, that's when they dropped the bombshell on me. Leo had gone to pick up some hangers, and he got locked out even though he had been inside earlier.
I just don't know what's going to happen. In some ways, I think she is safer there as long as no one brings the coronavirus inside. Luckily, there are no known cases of it in our county.
The biggest question is, because her rapidly advancing dementia, will she know me when I get to see her again???
If you feel inclined, would you send her a card? If you have children, perhaps they could draw a picture to send. Any notes of encouragement will make her feel less alone and less isolated.
Her address is: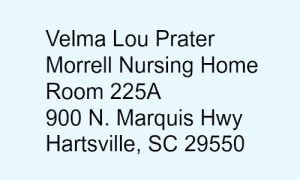 In the meantime, I'm staying at home as much as possible. My immune system is compromised and I'm anemic due to medication that I take for my auto-immune disease.
Praying for your health and safety as well during these uncertain times.