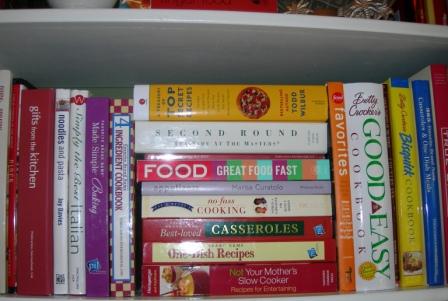 Y'all do know that I love to collect cookbooks, don't you? I thought I had a lot of cookbooks, but my sister-in-law Jean has me beat. Both of us love to find and cook new recipes.
Well, a few weeks ago, Jean asked me to help her organize her cookbooks on her new bookcase. You see, she and her husband Jim built a new house next door to us. And when they were planning the house, it was very important to Jean that she had a place to put all of her cookbooks. So they had their builder construct this very large bookcase in the sitting area next to the kitchen.
After the bookcase was built and painted white, I suggested to Jean that they paint the back of the bookcase green. I showed her this photo that served as our inspiration.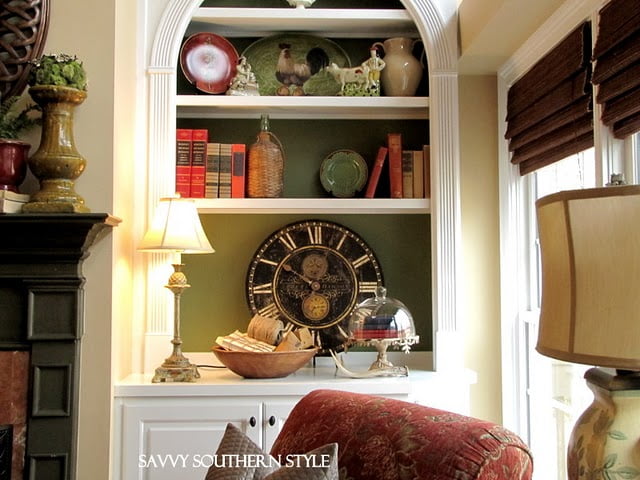 This is Kim's bookcase at Savvy Southern Style. The green just makes everything else stand out on this bookcase. Just another example of Kim's awesome decorating skills.
So Jim and Jean decided to have the back of their bookcase painted green. They also had the part of the wall underneath the chair rail painted the same shade. The upper walls are a very light gray-green.
Since the house was finished a few months ago, Jim and Jean have been moving some of their belongings over to the new house. They are in the process of selling their other house in Covington, Georgia, so they cannot move everything yet. But the cookbooks are here.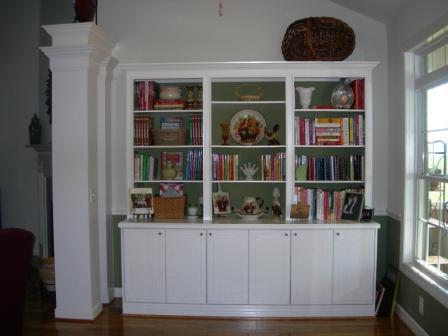 Here is Jim and Jean's bookcase after we finished arranging it a few weeks ago.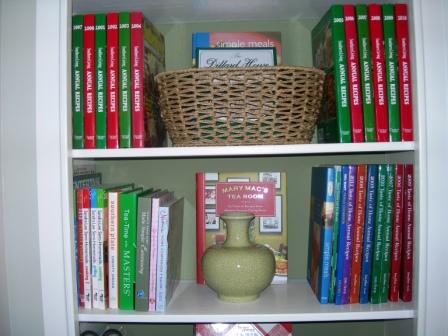 Jean has a lot of Southern Living cookbooks, so we decided to put all of those together.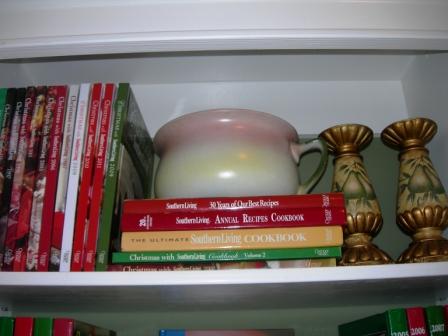 She has a lot of Christmas cookbooks so they went on the top shelf along with that container that she said has been in her family forever.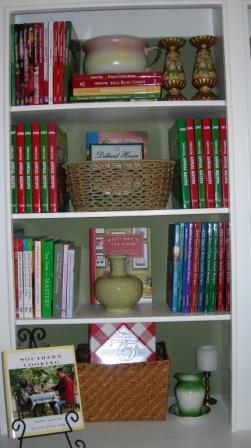 This is the left section.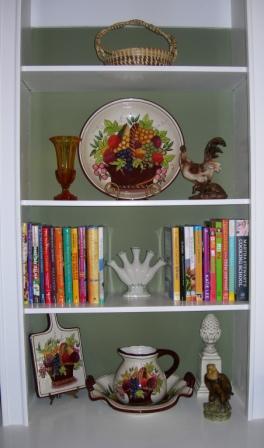 The middle section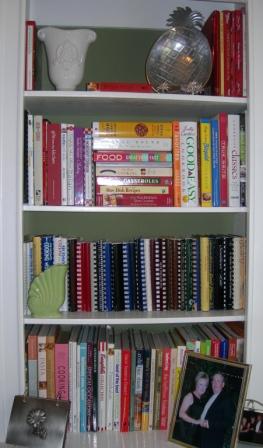 The right section
You can see that we put all the spiral bound cookbooks together.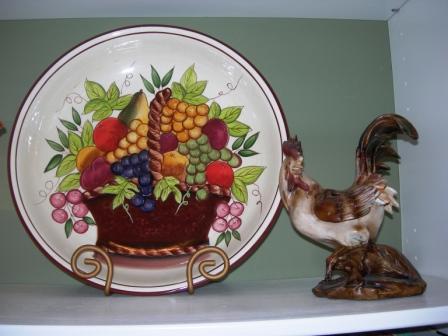 Here is a close-up of a decorative plate and a rooster that we put in the middle. Jim and Jean are big University of South Carolina Gamecock fans.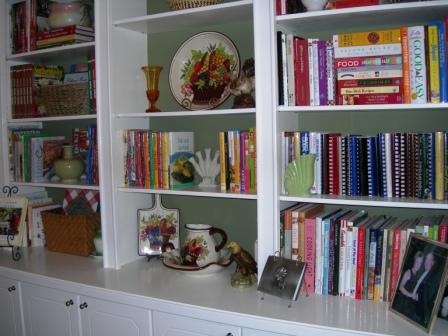 Here is the entire bookcase after we finished arranging it. We were all finished, or so we thought, until Jim found another box of cookbooks this past weekend. Oops! I guess this arrangement is just temporary until they get everything moved here to the Crossroads.
Our giveaway is still going on here. The drawing will be Friday, August 5.