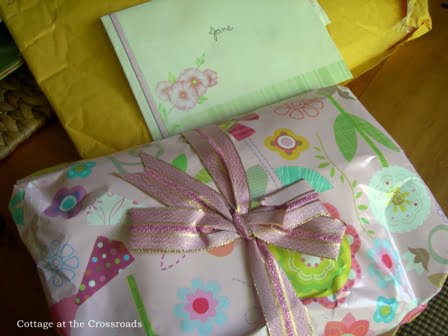 I hope everyone had a wonderful Easter holiday. We did, and Monday turned out to be a great day as well.
A package from Shannon arrived in the mail. I had recently won the Miracle Grow Giveaway on her blog
Cozy Home Scenes. I felt like it was my birthday because it was so beautifully wrapped.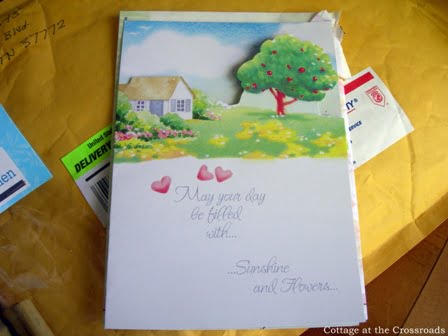 Inside was a lovely card with a personal note from Shannon.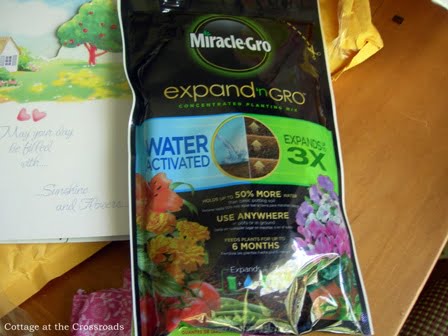 Inside the package was the new Miracle Grow product. It is a planting mix that you can put in a pot or in the ground. When you add water, it expands 3 times its size.  So what this means is that you don't have to lug around those huge, heavy bags of potting mix anymore. I'm going to put the product in one of our raised beds in the garden, and I'll give you an update on the progress of the plants in it.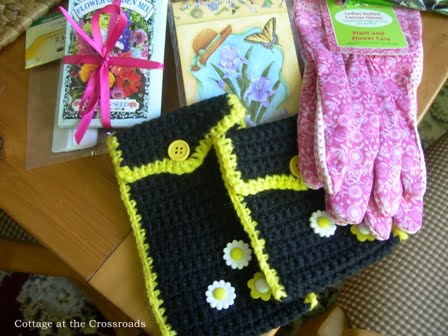 Not only did Shannon send the potting mix, she sent all sorts of items that a gardener would love such as gloves, seeds, a notepad, gardening stakes,  a wind chime,  and two of the cutest crocheted pouches you've seen.  I will definitely put all the items to good use,  Shannon, and I'm delighted with all of  them. Thank you!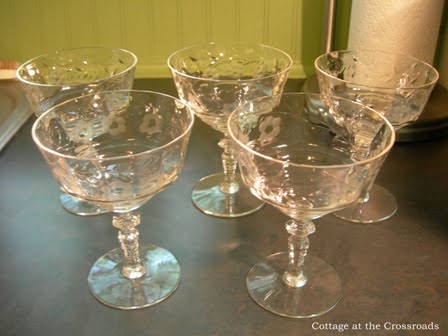 On Monday, we went to the auction as usual, but I really scored this week with some thrifty finds. I  bought 5 of these vintage dessert glasses .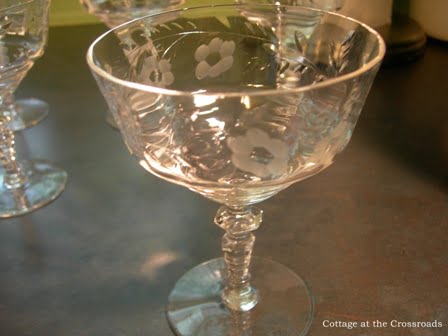 The etched pattern matches some stemware of my mother that I used in a tablescape that you can see here.  If I said that I paid $1 for each stem, you would think that was a bargain, right?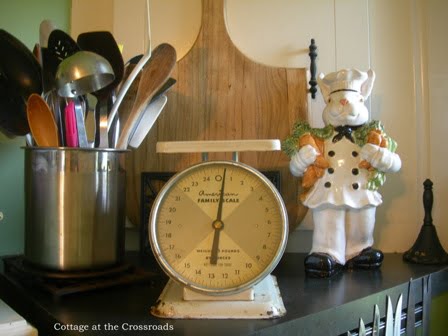 But I also purchased this kitchen scale. It's  a little rusty, but that just adds to its authenticity. The bunny chef that you see usually stays out all year in our kitchen.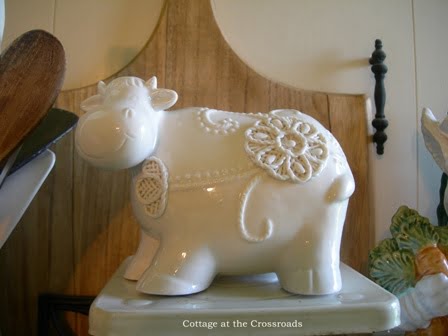 But he may be replaced with this adorable cow that my sister-in-law gave me recently. This is Elsie, and she is looking mighty fine on top of the scale. Are you wondering how much I paid for my scale?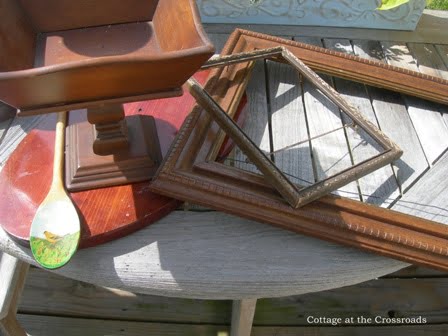 I also found another pedestal bowl, some old frames, a wooden plaque, and a handpainted wooden spoon. Hmm, wondering what kind of deal I got on these?  But wait, there's more!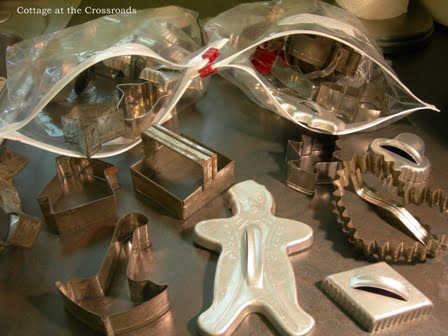 These 2 baggies are filled with vintage cookie cutters! Look at them! What would you pay for those?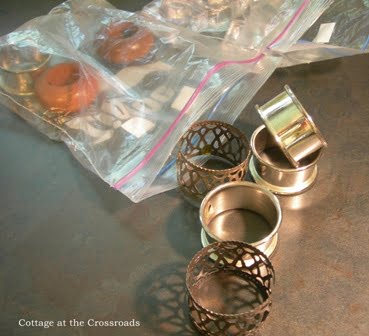 And these bags are filled with an assortment of napkin rings.
I haven't even shown you the vintage tablecloth, the silverplated Gorham Revere bowl, and the miscellaneous kitchen items that I also bought. Not to mention a few items that I shared with my sister-in-law.
Are you still wondering how much I paid for all these things? Well, Monday was a marvelous day at the auction because I only paid $10 for EVERYTHING!!!
I'm joining: