Jane and I just attended the Haven 2012 Blogging Conference in Atlanta. First and foremost, congratulations to all the ladies that organized this super event.
I'll admit that I was a little reluctant to attend the conference. I didn't know what to expect. The following is my male perspective of the conference, and I wasn't even sure that I qualified to be a maven.  You know, being a man and all.  I have to admit I had to look up the word "maven."  Guess what?  I am one.
Upon arrival Wednesday evening, Jane and I registered and were warmly greeted by Rhoda of the blog Southern Hospitality.  We were handed 2 swag bags stuffed with goodies from the sponsors.
All of a sudden there I was standing right in the middle of about 260 good looking, highly intelligent, and very creative women.  I didn't see another man in sight.  There were a few others there, but I didn't see them until later.  I felt like I was the only man in the audience at a male strip show.  Maybe it was just a fantasy.  Jane had to give me a sharp nudge to bring me back to reality.  If all the husbands who didn't come to the conference could stand where I was standing, they'd be there next year, too.  One lady walked by and said, "You're a brave man to be here!"  I replied, "No, I'm a lucky man!"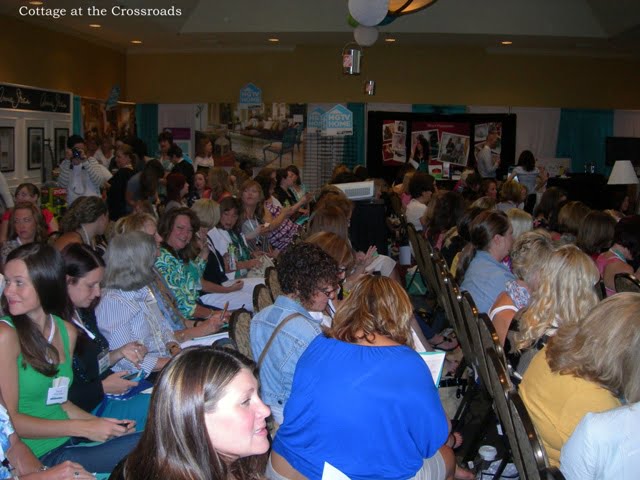 The next morning after breakfast we gathered for the opening session.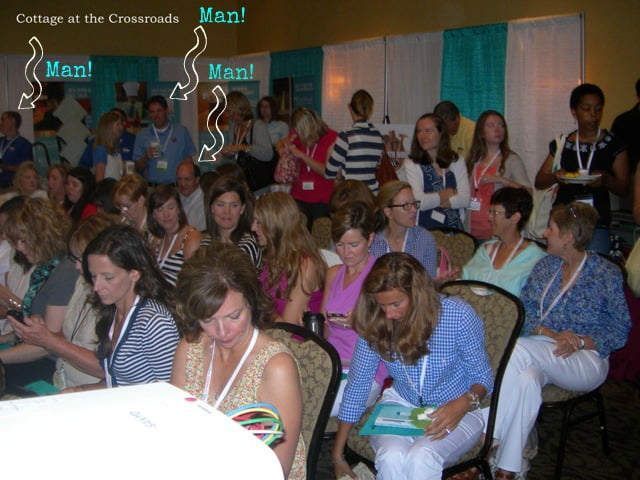 That's when I spotted a few more men at the conference.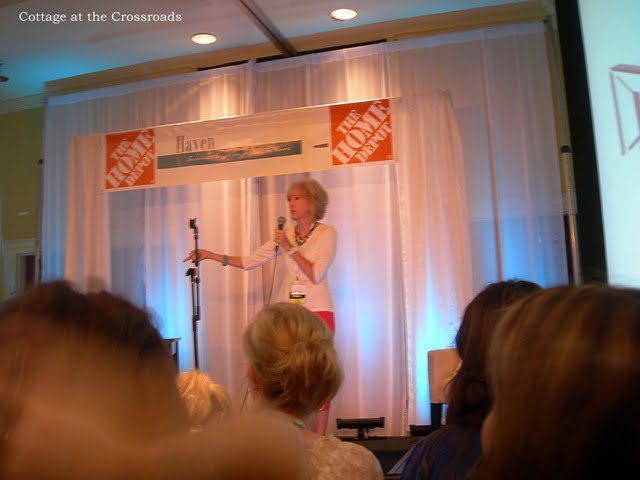 Rhoda introduced the featured speakers, John and Sherry from  Young House Love.
I didn't know that these people are rock stars in the blogging world.  I do now!
After they spoke, I was fired up and ready to get to the sessions to find out what it would take to make me and Jane blogging rock stars.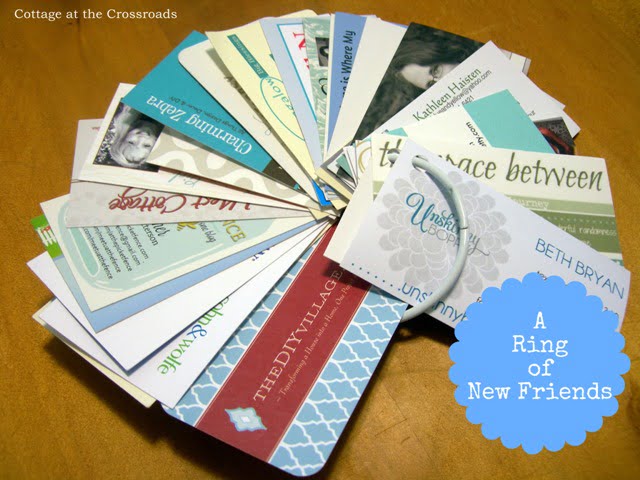 All the sessions Jane and I attended were informative and entertaining, but my favorite part of the conference was meeting and socializing with the other bloggers.  My overall impression was what a nice group of people.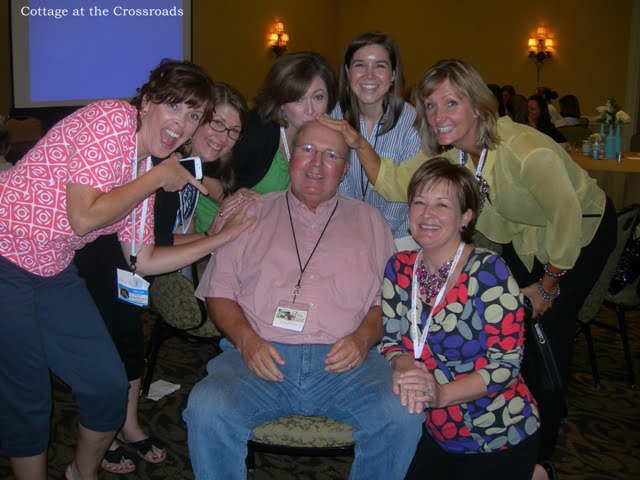 I was really starting to enjoy myself!  Don't worry, Jane didn't mind, she's the one taking the picture.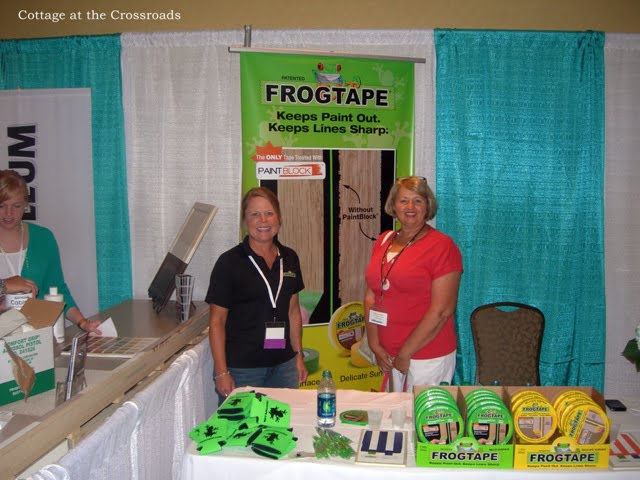 Jane and I took the time to visit every sponsor booth.  I've been meaning to try this Frogtape so we'll use it on our next project.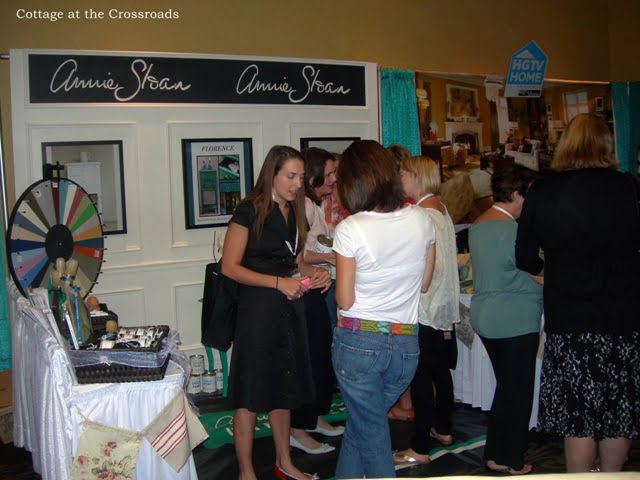 I got lucky and won a quart of Annie Sloan Chalk paint.  Jane and I are sold on their products.  And to answer your question, "No, I'm not being paid to say this."
We'll have a chance to try every bit of this.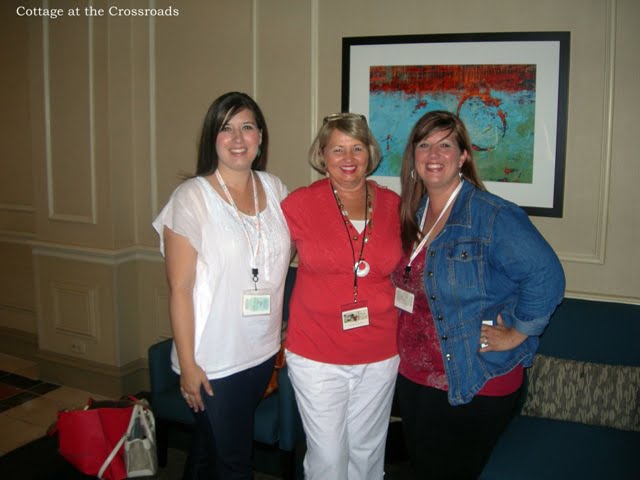 Here's Jane with Vanessa and Heather from  At the Picket Fence. Two sisters, one in Oregon and one in Kentucky, working as a team.  Now that's cool.  I was surprised at how many of the bloggers Jane recognized and knew, and I was especially surprised at how many of the bloggers knew Jane and the Cottage at the Crossroads.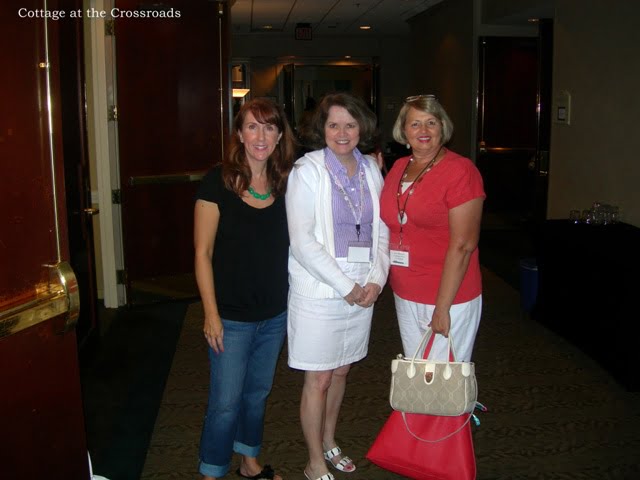 Here's Julia from Hooked on Houses and Susan from Between Naps on the Porch with Jane.
I wish I had room to mention everyone that I met.  But you know who you are, and I need to wrap this thing up.
So I'll leave you with my male Haven maven top 5 things that I learned at the conference.
I need to turn off the TV ( Swamp People, NASCAR,  golf…. well, maybe I'll keep golf!)  and be a more active partner.
We have got to have a new camera! We've worn out and outgrown our little point and shoot. Kevin and Layla's (from The Lettered Cottage)  session on photography and staging was my personal favorite.
The power, influence, and reach of bloggers.
I now recognize that even with my years of experience in old-school radio and advertising, there's a whole new world of opportunities. It's exciting and I love it.
Being a man in the female dominated DIY/home blogging world is a lot of fun. (Psst-don't tell the other guys!)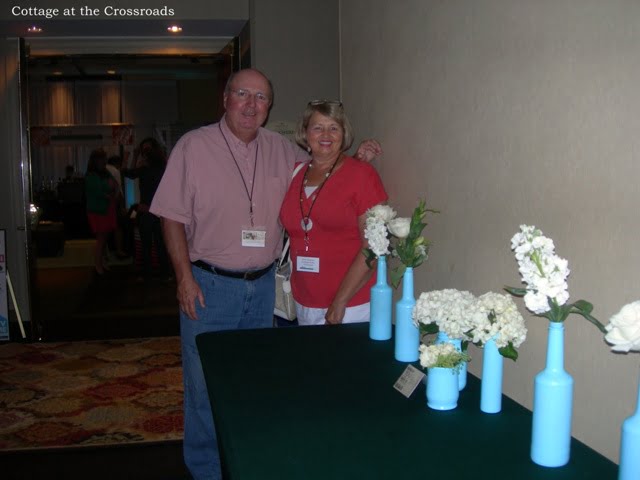 Jane and I had a great time at Haven 2012. Where do I sign up for next year's conference?
Want to read more recaps of the Haven conference? Click HERE.
I'm joining:
Inspiration Friday@At the Picket Fence
Live from Windham's Crossroads,