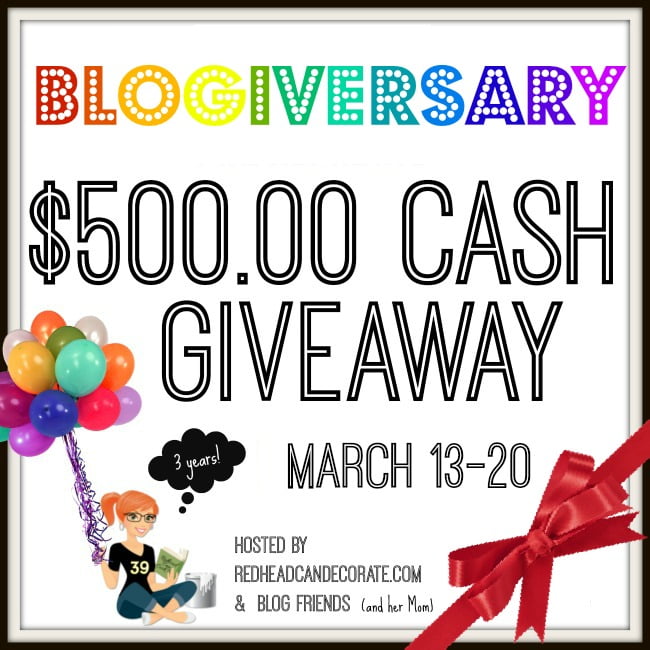 Hi there, friends! Are you feeling lucky today? Our friend Julie from the blog Redhead Can Decorate is celebrating her 3 year Blogiversary, and we've joined the party by contributing to the pot of CASH that she's giving away! Even her mom has pitched in! Here's the complete list of all the contributors to this great giveaway:
Redhead Can Decorate & her Mom | A little Claireification | From Valerie's Kitchen | Domestically Speaking | Dog's Don't Eat Pizza | Debbiedoo's |Little Miss Celebration | Glitter Glue & Paint | Setting For Four | Yesterday On Tuesday | I Should be Mopping the Floor | What Meegan Makes |Cupcakes and Crinoline | Nibbles by Nic | Tastes of Lizzy T | Cottage at the Crossroads | Cynthia Weber Design | Decor Adventures | The Coconut Head's Survival Guide | My Uncommon Slice of Suburbia | Chef Ron Lock | Top This Top That | Shabby Art Boutique | Create and Babble | Jo Jo and Louise | Cooking with Curls
Now who couldn't use a little extra cash right now? I know I sure could! But since I can't enter, I'm hoping that it will be one of our Cottage at the Crossroads followers that's the lucky winner! All you have to do to enter is to follow the directions in the rafflecopter form below. Good luck, everyone!